Driving a Lifted Truck Highway Tips
8 Tips for Driving a Lifted Truck

Highway
There are plenty of reasons to decide to lift your truck. Whether you're thinking about making the change, or you've already done it, it's never too early or late to learn some extra tips. If you decide to use your lifted truck as a daily driver, or intend to take it out on the highway, there are some things you should definitely know.
Ultimate Rides is an auto dealer that specializes in building custom vehicles, many of which feature suspension lifts. It's safe to say we know a little bit about towing with a lifted truck highway or otherwise. Check out our tips on the topic, and then stick around to learn more about Ultimate Rides. You may discover that we're the best place to shop for a lifted truck around the country.
1. For a Smooth Ride, Go with

Professional Installation
There are a number of common issues that can crop up with lift kits. However, the vast majority of those problems can be avoided by choosing the right team to install the upgrade. While at-home installation is possible, it's not something we recommend except for highly experienced mechanics. Safety and quality can both be put into question if installation isn't done with 100% precision. It's even important to choose the right team of mechanics to handle the installation. We strongly recommend going with someone who has plenty of experience in lift kits. Whether you go with Ultimate Rides or another custom shop is up to you. However, if you want the best results, we definitely encourage you to choose some kind of professional installation.
2. Choose the Right Tires for the

Best Results
Installing a lift kit opens up tons of different possibilities for tires. If you plan on doing a lot of highway driving, you must choose your tires carefully. Larger wheels and tires can help lifted trucks stay more stable on the road, but there may be some drawbacks there as well. Additionally you'll want to look for a strong sidewall.
We have a variety of guides here on our website that will offer up suggestions for different tires depending on your needs. That includes our recommendations on the best all terrain tire for highway driving. If you'd like advice tailored to your situation, get in touch with our team at Ultimate Rides. We'll listen to your needs and offer our recommendations, and we can even provide you with the tires you need for driving lifted truck highway and beyond.
3. Keep Your Fuel Tank

as Full as Possible
One thing to know about lifted trucks is that they'll consume more gas compared to a standard vehicle. While most drivers find that the extra money spent at the pump is worth it, it's still important to remember. If you're daily driving a lifted truck highway or otherwise, you'll want to keep an eye on the fuel gauge. You don't want to find yourself in a situation where you're running out of gas without a gas station in sight. That's why it's smart to keep that tank full. You'll also find that it has benefits for long-term care of your vehicle, especially in the winter.
4. Slow Down on

Turns
Raising the height of your vehicle will inevitably raise the center of gravity. The biggest way this will affect your vehicle is that it'll be easier to flip. This might sound worrying, but as long as you drive carefully you won't have to worry. Be sure to slow down when making turns, as when hitting bumps and things like that. It will change the way you drive, but it doesn't have to be an ongoing concern. Get used to some new habits when driving and it's as safe as any other vehicle. For more information on this, get in touch with someone from our team.
5. Keep Your

Distance
One of the first things you'll notice when driving with a lift kit is that you're sitting at a higher point of view. This means you'll be able to see over most of the other vehicles on the road. However, it also means you'll have to be more careful up close. That means you should maintain a healthy distance from other cars, trucks and SUVs on the road. This will be safer both for you and for everyone else. It's another one of those little things you'll have to get used to as you adapt to driving a new style of vehicle.
6. Tire Alignments Are

Your Friend
After installing a lift kit, a tire alignment should be one of the first steps taken. If you opted for professional installation, it's worth asking if they took care of the alignment for you. If not, you'll want to book one right away. Lifting your vehicle, whether you use a body kit or a suspension kit, will change the tire alignment, and you'll need to straighten that out if you want the vehicle to handle correctly.
7. Add Inspections to Your

Maintenance Routine
In addition to tire rotations, you'll also need to get your vehicle re-torqued every 500 miles or so. It's not a bad idea to bring your vehicle in for a full inspection every once in a while. Maintenance becomes even more important when driving a lifted vehicle. It may see more wear and tear, and your safety is even more key in those situations. Be sure to bring your vehicle to a team that knows their way around lifted trucks.
8. Always Be

Prepared for the Worst
We recommend keeping a full-size spare tire somewhere in or on your truck. No one wants to leave their nice truck parked on the side of the road, or have to pay for unnecessary towing. Additionally, we encourage you to look into portable air compressor, battery jump starters, emergency lighting and more. This doesn't just apply to driving lifted truck highway situations, but can apply to just about everyone.
---
The Best Custom Trucks Come from

Ultimate Rides
If you feel ready to buy your next custom vehicle, or need a shop that will set up your current one, look no further. Ultimate Rides is the place to go for custom modifications of all kinds. We specialize in suspension lifts, but there's no limit to what we can offer. Stick around to learn a little bit more about us, including how to get in touch with someone from the Ultimate Rides team.
Customizing a Truck in the

Lift Center
Our team has the ability to build custom trucks as well as alter existing ones. Whatever it takes to get the ride you're looking for, we can do it. Whenever you buy a vehicle from Ultimate Rides, you'll have a chance to customize it in our lift center. Buyers will even have the choice to finance that cost or pay for it upfront. Whatever you decide, our team will bring your vision to life. Just get in touch and we'll be able to work something out right there over the phone!
Quick and Easy Shipping, Dedicated Customer Service

and More
No matter where you live, Ultimate Rides can get a vehicle to you. We offer fast and reliable shipping, all across the country. If you want us to upgrade your current ride, you'll find our office about an hour south of Chicago. We're a family business, and we treat every single customer like they're a VIP. Just give Ultimate Rides a try and you won't regret it. Get in touch with us at 815-634-3900 if you'd like to hear more. For drivers in the Chicago area, you can visit our office at 38 W. Division St., Coal City, IL 60416.
---
Two Brothers With a Dream

,

Building The Best Ultimate Rides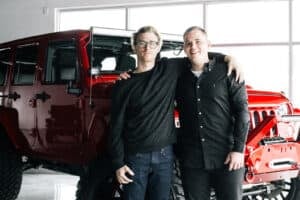 Ultimate Rides consists of two brothers who have been buying and selling custom vehicles for over ten years. Selling lifted trucks by day and writing these awesome reviews by night! They started their Ultimate Rides journey with a third brother Jake, who was a big part of building the business they have today. In 2016 Jake passed away and losing their brother was the hardest thing they ever had to deal with. Even though they had a tragic loss they plan to continue to set a new trend for the auto industry, keeping customers number one. Pushing the envelope on the lifted truck market, these guys love researching and learning about everything in the auto industry!
 — Nick and Alex Bulanda, Founders of Ultimate Rides