Chevy Trucks Lifted Sale at Ultimate Rides
Rust Free
Chevy Trucks Lifted Sale
Anyone who has shopped for a used truck in recent years no doubt already knows how hard it can be to find one in good shape, especially in the Midwest. Years of driving on bumpy and salted roads causes a whole lot of wear and tear, as well as rust. Nobody wants to buy a pre-owned vehicle that looks and drives like it's been through a war, but oftentimes it seems like that's what we're stuck with. That is something that we at Ultimate Rides are trying to change, however.
At Ultimate Rides, we only sell trucks that we know are completely and entirely rust free. We send out our expert buyers to look at pre-owned vehicles from around the country, specifically in areas that don't put their vehicles through the same kind of wear and tear that we do. Each vehicle is put through a detailed inspection process, and as long as they meet all our requirements, we bring them back here to sell to you! We specialize in lifted trucks here at Ultimate Rides, and it always feels like we're having a Chevy trucks lifted sale with our excellent prices. If you pay us a visit, you'll be able to spend some time with our personable staff, and it won't be long before you'll be able to drive off in a stunning truck lifted to your specifications.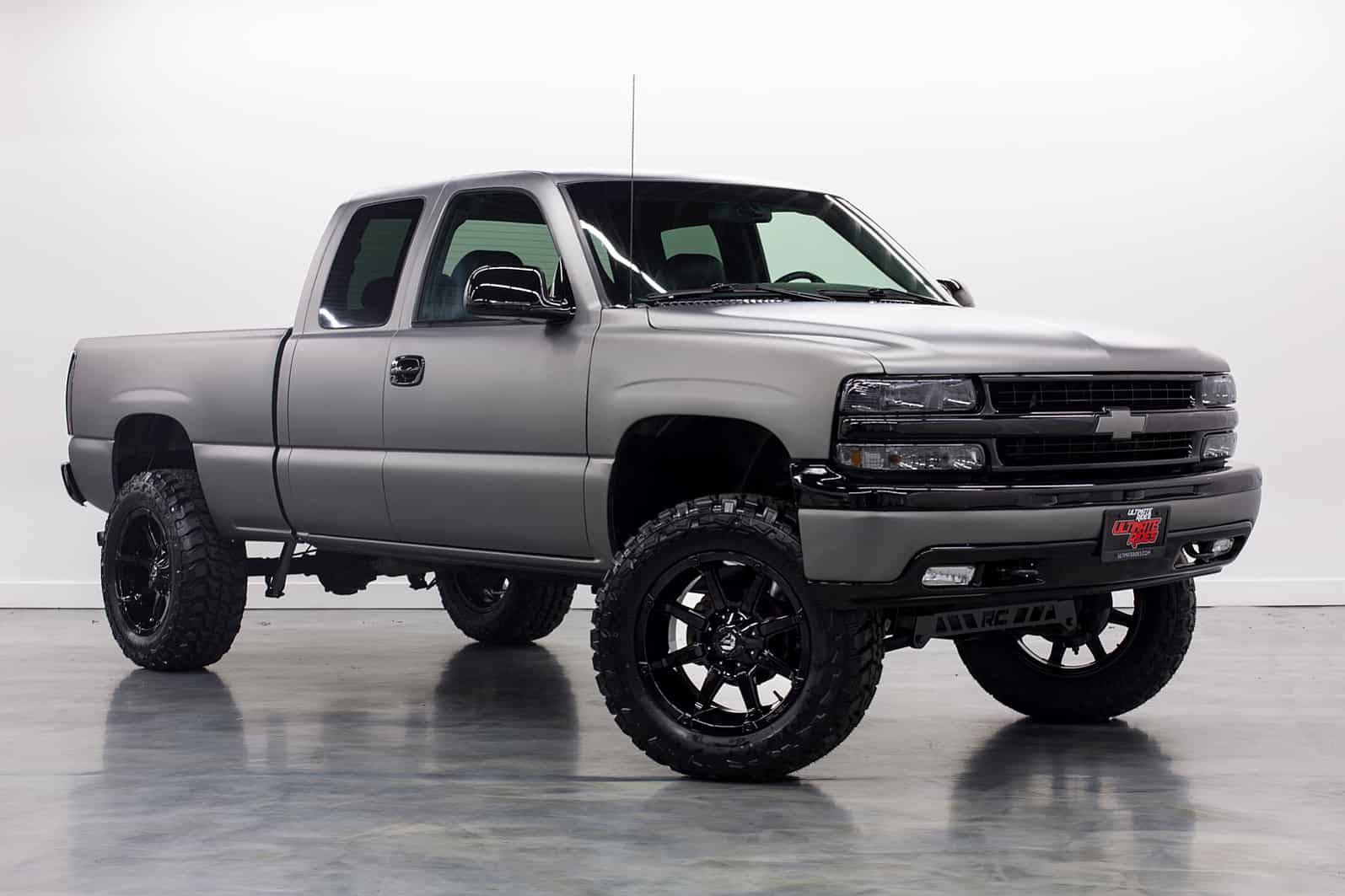 Send Your Ride to
Our Lift Center
One of the many customer advantages gained by purchasing from Ultimate Rides is the ability to have your vehicle sent over to our lift center before you drive it away. Here you'll be able to further customize your truck by specifying the type of lift, wheels and tires you would like. We absolutely love working on trucks and installing lifts, and we try to make the process as smooth and easy as possible for our customers. That's why you can even have the cost of your lift included as a part of your financing deal. By doing this, you'll only be paying a few extra dollars every month to have your truck lifted to your ideal height.
Wondering why you might want to lift your truck? While there are some physical advantages to a lift, like a better offroad driving experience, much of the appeal of driving a lifted truck comes from the experience driving and visual look of the vehicle. For many drivers, once you've driven in a vehicle that is raised that high up, it's hard to go back. It might sound like a cliche or a sales tactic, but it's very true. Having a higher vantage point of the road gives you a confidence driving that is hard to replicate any other way.
Visually, you just can't beat the gorgeous look of a lifted truck all decked out with personalized features. Find out today everything that we can do for you with our Chevy trucks lifted sale. Whether you want something lifted or not, there's a good chance we've got a truck for you. Call us or stop in today to find out our latest inventory additions.


Changing the Business
at Ultimate Rides
When Ultimate Rides came to be over 10 years ago, it was founded on the idea of shifting the dynamic between auto dealers and customers. We don't want to take advantage of the people that come to us to buy their next truck. Instead, we believe that this process works much better as a partnership, so we decided to treat our customers like individuals instead of numbers on the bottom line. This mentality guides our business from the top down.
If you come and see us at Ultimate Rides, you'll be met with a smile and a casual atmosphere. You'll be able to have a conversation with one of our team members rather than be given a sales pitch. We'll be happy to answer any questions or provide recommendations based on what you're looking for, but we know that our customers know what they want better than we do.
We know that you're used to dealing with the old run-around when you're out shopping for a new car, but we hope that you will believe us when we say you will not get that experience at Ultimate Rides. Over the years, much of our success has stemmed from our relationship to our customers, whether or not that results in five star reviews or word of mouth being spread about us. When you visit us, we'll do everything we can to make sure your vehicle is to your liking, as well as your experience purchasing it.
The Best Place to
Find a Chevy Trucks Lifted Sale
Though we're located about an hour south of Chicago, through our website and over the phone we are actually able to serve customers living pretty much anywhere around the world. The Midwest isn't the only place it can be difficult to find Chevy trucks lifted sale in this good of a condition. More than half of our business is done with buyers not local to the Chicago area, so we do our best it simple to buy from us no matter where you live. All you need to do is get in touch with one of our sales team members to find out more information about what you'd like and where you are located. We are able to add in the cost of transporting the vehicle to you as part of your financing offer, so there's no need to worry about paying a huge bundle of money up front. Instead, pay the cost over time as you pay off your truck.
At Ultimate Rides, we pride ourselves on the high bar that we keep on both our customer service and our product. We are eager to work with you and find the perfect Chevy trucks lifted sale that you could possibly dream up. Whether you already have a picture in your head or not, we encourage you to get in touch with us to find out more today.