Best Jump Starter for Diesel (Review & Buying Guide)
Best Jump Starter for

Diesel Trucks
Do you drive a diesel truck? They're great to have. They have great gas mileage, and offer excellent towing capabilities. The trucks can even be more durable. However, if you run into a dead battery, not just any old jump starter will be able to get the truck going. It's important to invest in the best jump starter for diesel trucks to ensure you don't find yourself stranded in an unfortunate situation.
But how do you find the right jump starter? That is where this guide comes in. Here at Ultimate Rides, we know our way around pickup trucks. That even includes knowing about important accessories like jump starters. Below you can find our list featuring our favorite picks. Read through each short review to learn about the products, and then continue on to our buying guide.
In that section, we'll tell you more about the process of shopping for a jump starter so you know exactly what to keep your eyes out for. If you have any questions for our team at Ultimate Rides when you get to the end, you can always give us a call. Someone from our office will be glad to help you out!
---
1. NOCO Boost X GBX155 UltraSafe Portable Lithium Jump Starter (ASIN – B08WZFPXFM)
Specs: 12V and 4250 Amps
If you want true power at your fingertips, the NOCO Boost X is the way to go. With it, you'll have access to 4250 amps of electricity, which is enough to charge the battery for a 8.0L diesel engine. The NOCO Boost series of jump starters are some of our favorites, and there are a number of different options out there (some of which can even be found on this list). It only takes a few minutes to get a jump, and less than 3 hours to charge the jump starter from dead to full. There's a one-year warranty on the product, and it can charge multiple devices including your phone as well. It's our number one pick as the best jump starter for diesel vehicles.
NOCO Boost X GBX155 4250A 12V UltraSafe Portable Lithium Jump Starter, Car Battery Booster Pack, USB-C Powerbank Charger, And Jumper Cables For Up To 10.0-Liter Gas And 8.0-Liter Diesel Engines
---
2. NOCO Boost Pro GB150 UltraSafe Lithium Jump Starter Box (ASIN – B015TKSSB8)
Specs: 12V and 3000 Amps
Our next option is once again from NOCO, but it's a smaller and more reasonably priced jump starter. You'll be able to use this tool to jump start a 7.0L diesel engine, along with a huge range of other options. The device is very easy to use, safe, and will last a long time. Like the other NOCO devices, the product is also water-resistant, which is always important for outdoor use. There's little doubt in our minds that the company is at the top of their game with the Boost jump starters, and we encourage you to keep one in your pickup truck for those pesky emergency situations.
NOCO Boost Pro GB150 3000 Amp 12-Volt UltraSafe Lithium Jump Starter Box, Car Battery Booster Pack, Portable Power Bank Charger, and Jumper Cables For Up To 9-Liter Gasoline and 7-Liter Diesel Engines
---
3. HULKMAN Alpha100 Jump Starter (ASIN – B08TQFHW1C)
Specs: 12V and 4000 Amps
Another excellent portable jump starter to think about is the HULKMAN Alpha100. This powerful tool does great in extreme cold weather as well as a variety of other situations. With it, you'll be able to jump start a diesel engine that's up to 10.0L, if you can even get your hands on an engine like that. It's not cheap, but you'll be getting the best when you choose the Alpha100. The product even includes a two-year no-hassle warranty from the manufacturer. If you do find any problems, you'll have an easy solution to get a replacement. You'll even find that it can charge a wide variety of other items, from your phone to portable air compressors and more.
HULKMAN Alpha100 Jump Starter 4000 Amp 32000mAh Car Starter with -40℉ Start Tech PD 65W Lithium Portable Car Battery Booster Pack for up to 10L Gas and 10L Diesel Engines
---
4. AVAPOW Auto Jump Box (ASIN – B0928VN98C)
Specs: 12V and 4000 Amps
This jump starter is not as small as the others, but that may end up being a good thing for you. If you're anything like us, there's a good chance you'll lose something that's too small. This jump box isn't unwieldly but it's big enough that you'll notice it. It offers a lithium-ion battery that charges fast and can get your diesel truck going in just a matter of minutes. If you're on a tighter budget, this is almost certainly going to be a great option for you. It's fast, powerful and affordable. On top of all that, customers have great things to say. What's not to love about this jump starter?
AVAPOW Car Jump Starter, 4000A Peak 27800mAh Battery Jump Starter (for All Gas or Up to 10L Diesel), Battery Booster Power Pack, 12V Auto Jump Box with LED Light, USB Quick Charge 3.0
---
5. HULKMAN Alpha85 Jump Starter (ASIN – B08M41FX48)
Specs: 12V and 2000 Amps
Our last product from HULKMAN is a driver favorite, but not everyone needs a jump starter that uses that much power. If you'd like to save a little money, opt for the Alpha85 instead. It can still jump diesel engines up to 6L, which covers a huge swath of drivers out there. At the same time, you'll still gain all the same benefits of the Alpha100, from the LED lights to the two-year hassle-free warranty. The item even charges up from 0% to full in less than an hour and a half. We encourage you to try this out if you're looking for a small but reliable jump starter for your diesel truck. It should do just the trick.
HULKMAN Alpha85 Jump Starter 2000 Amp 20000mAh Car Starter for up to 8.5L Gas and 6L Diesel Engines with LED Display 12V Lithium Portable Car Battery Booster Pack (Space Gray)
---
Best Jump Starter for Diesel

Buying Guide
Was our list able to offer a jump starter that you think suits your needs? We definitely hope so. However, if you weren't able to find an option that fits, we encourage you to keep the search up. Here in our buying guide, we'll be able to provide all the details you should need to find the best jump starter for diesel trucks. Lastly, you'll learn about how to get in touch with Ultimate Rides, so you can get in touch the next time you're looking to buy an amazing custom vehicle!
Factors of Focus: Picking Out the

Right Jump Starter
The key to finding the best jump starter for diesel pickups is knowing how many amperes your engine needs. Stronger and more powerful engines, like diesel varieties, require more power to the battery. Each product should tell you what size engine they're able to handle, so that should be helpful. However, there are other factors to be aware of in addition to that. You always want to keep durability in mind. After all, no one wants to buy a jump starter that only lasts them a few uses before it stops working. Read through customer reviews if you're unsure about the quality offered by one of these products. That should give you plenty of information to go off of.
Custom Diesel Trucks Sold at

Ultimate Rides
Is it about time you began looking for your next vehicle? Here at Ultimate Rides, we have plenty of options that might work. We have a huge variety of custom trucks, built right here in our shop by our team. Take a look at our inventory and you'll see what we mean. You should also know that you can customize our vehicles any way you want before we ship them out to you. That's right! We offer nationwide shipping, so it doesn't matter what you live. Ultimate Rides can provide you with an amazing truck right now. Give us a call at 815-634-3900 to speak with someone from our team. You can also stop by 38 W. Division St., Coal City, IL 60416 if you'd like to check out our office.
---
Two Brothers With a Dream

,

Building The Best Ultimate Rides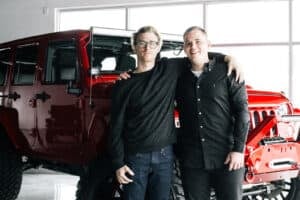 Ultimate Rides consists of two brothers who have been buying and selling custom vehicles for over ten years. Selling lifted trucks by day and writing these awesome reviews by night! They started their Ultimate Rides journey with a third brother Jake, who was a big part of building the business they have today. In 2016 Jake passed away and losing their brother was the hardest thing they ever had to deal with. Even though they had a tragic loss they plan to continue to set a new trend for the auto industry, keeping customers number one. Pushing the envelope on the lifted truck market, these guys love researching and learning about everything in the auto industry!
 — Nick and Alex Bulanda, Founders of Ultimate Rides