Lift Kit Installation In Chicago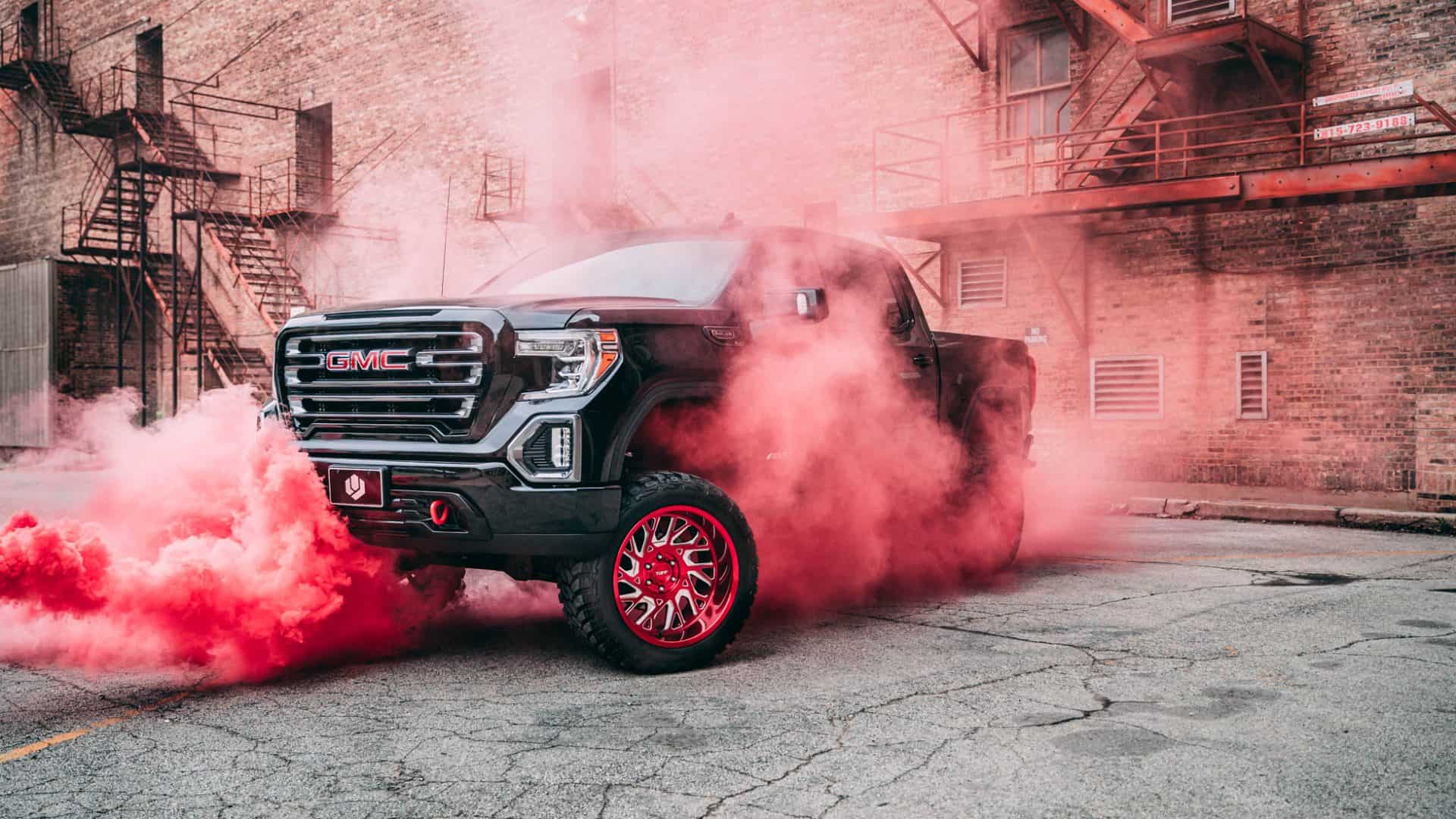 Start Driving a Lifted Truck with
Ultimate Rides
Lifted trucks are more popular right now than ever before. If you are thinking about buying one or upgrading your current vehicle, Ultimate Rides is the place to visit in the Chicago area. The quality we offer is next-level, because our team works with lifted vehicles each and every day. We are all about custom rides, so you can trust that our crew knows what they're doing. This is not always the case when searching for a team to upgrade your vehicle.
Lift kit installation can be tricky, especially when you get into some of the more complex and expensive options. You want your vehicle in the hands of a team you can trust. Get in touch with Ultimate Rides today and we'll be able to tell you everything you need to know about lift kit install Chicago. You can also stick around to learn more about us, and find out how we can help you start driving something that could change your life.
Have Us Install Your Lift Kit In

Chicago



If you're looking to get a lift kit installation in the Chicago, then you found the best shop in the midwest. A suspension lift kit or leveling kit can make a big difference in the look of your ride. And at Ultimate Rides we take pride in building that custom vehicle you will love. Our ASE certified techs build us over 400 lifted trucks a year so they definitely know their stuff. We have been building trucks and jeeps for over 10 years and build trucks to stock in inventory. Our sales staff has a great attention to detail, we design tasteful trucks we sell and ship all over the US. Come hang out in our brand new lounge and take a look at our showcase vehicles that we build for the shop. Located an hour south of Chicago take a nice little cruise down i55 to check us out. And yes we live up to our motto SMALL TOWN.BIG TRUCKS!
A Smooth Lifted Ride
Waiting for You
Not all lift kit installs provide a great end result. If you attempt the installation at home without the right knowledge, or choose the wrong team of technicians for the upgrade, you may end up with some issues while driving. Some of those issues could even put your safety at risk. That's why it is so important not to take shortcuts when it comes to installing your lift kit.
With the right setup, like you'll find here at Ultimate Rides, you should end up with a nice smooth ride. Your handling should be about the same, or at the very least quite easy to adjust to. Any time you make major changes to a truck or SUV's suspension, it's going to have an effect on your steering. However, as long as everything is done right, it's all still safe and completely easy to drive.
Our crew spends so much time lifting vehicles and working on lifted vehicles. You won't find anyone else in the Chicago area who shares our level of passion for custom trucks and SUVs. Whether you bring your vehicle to us for some upgrades or you decide to buy from our inventory, you can rest easy knowing that you're getting the absolute best. Let us know today if you feel that we may be able to help you out!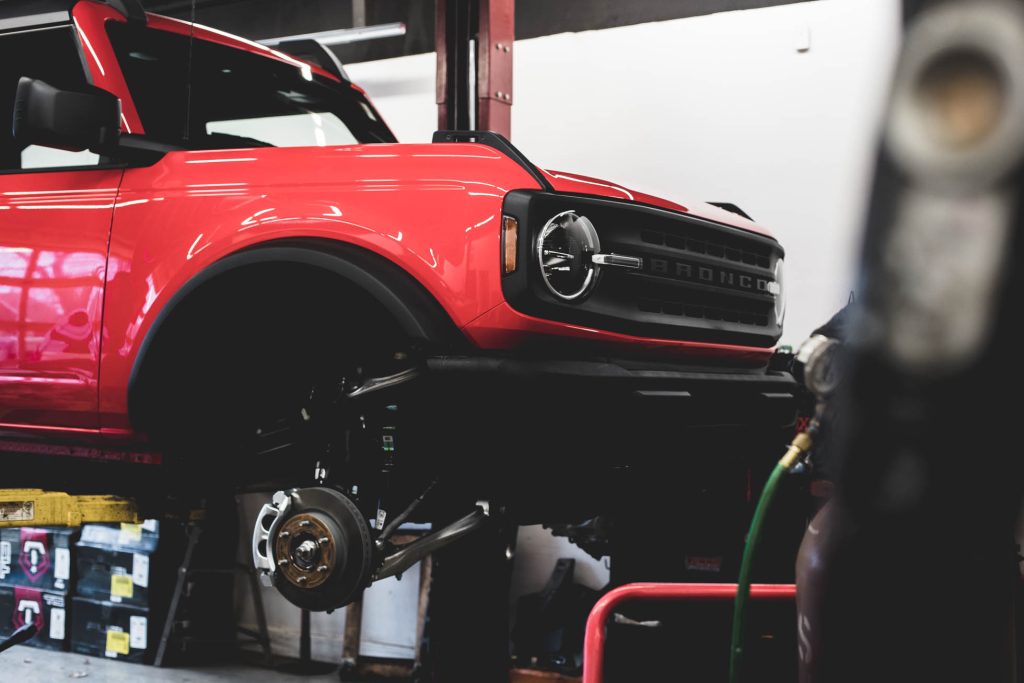 We Build Them.

The Right Way 
If you are like most of our customers in the Chicagoland area then you are looking for a shop you can trust to do a good job. A place to get your lift kit, wheels and tires in a one stop shop. Front grilles, 50″ light bars, colored led lights, and much more. We use trusted brands lift kits like BDS suspension, Rough Country, Zone, RCX and many more. We sell wheels from brands like Fuel, XD, Hostage and more. We are your custom truck suspension shop!
If you really want to go big then a full suspension lift kit is the way to go. Yes, they are more expensive, but if you are putting together a nice truck or if you really want to take your truck off-road then this is the route to go. The higher clearance from the lift kit and bigger tires also raises your vehicle's center of gravity, which can reduce handling a bit. Certain tires are designed for off-road conditions and can leave you with road noise when on the street.  We sell all the big names from Federal to Nitto, we have them all.
Buying Your Next
Custom Vehicle
When the time comes to get rid of your current ride and settle into something different, we encourage you to think about us at Ultimate Rides. We have a huge inventory on-site that our team customized themselves right in our lift center. That means the quality of the work is top-notch, and on top of that we only bring in the absolute best vehicles that we can find.
As you'll be able to tell from browsing our inventory, the vast majority of our vehicles feature upgrades from our team such as a suspension lift kit. While that's the most popular option, it's certainly not the only thing available. Each time a customer purchases a vehicle from our inventory, they'll have the chance to customize it in our lift center. Whatever upgrades you are after, our team will be able to install.
The list is quite long, and there's no way we'll be able to cover it all right here. We encourage you to reach out to the Ultimate Rides office for more details on the possibilities. For now, we can tell you that some of the most popular options include: LED lighting upgrades, running board installation, engine performance chips, interior sound system upgrades, and custom paint jobs. Contact us to start a discussion about creating your dream truck today with lift kit install Chicago.
Industry-Leading
Customer Service
For too long, the process of buying a car has become something that people dread. At Ultimate Rides, we're working hard to turn that reputation around. We treat every single customer with respect and care. Whether you're coming to us for lift kit install Chicago or your next vehicle, our team will listen to everything you have to say. Our goal is never to push any inventory or sale onto you. Instead, we want to provide you with your perfect vehicle however we can. If that means outfitting your current ride with a lift kit and an assortment of other upgrades, we're here. Otherwise, our inventory is ready for you to start digging into.
Our staff will go the extra mile to make sure you find what you're looking for. If you have any questions you think we might be able to help with, we encourage you to give us a call today. The team at Ultimate Rides even has the ability to seek out specific vehicle models for you. Simply let us know what you need, leave a small deposit with us, and our team of buyers will track down the vehicle you're after. We'll let you know as soon as we find it, and you can decide to buy it as-is or opt for some upgrades in our lift center.
That's just one of the ways we'll go above and beyond to impress our clients. If you can think of another way we can assist you, or whenever you're ready to start talking details, get in touch with our office.
Trust The Ones

Who Do It Daily
We have seen some 4×4 shops in Chicago do a really bad job and unfortunately, once you have a hack shop mess up your truck or wrangler suspension it's hard and expensive to fix or even just to put back to stock. Here at Ultimate Rides, we put together our own custom trucks that we build for our ready-made trucks for sale. Our ASE techs install lift kits on late model trucks every day, we also do a lot of the older trucks too. We install lifts for our own vehicles that we sell and stand behind. 2017 Chevrolet Silverado lift kit installations all the way back to a 2002 Chevrolet Silverado lift kit install. We do it all and know these kits inside and out and our truck lift kit installers know their stuff. All of our mechanics drive trucks and jeeps so we know what we are talking about when it comes to custom 4×4 vehicles. We will help you choose the best setup for your new or old truck and jeep. We never try to push you into something bigger than you want. We are a certified lift installer for many local dealers and many local customers. We install jeep lift kits for Chicago customers all the time. From Tinley Park to Bloomington we have you covered here at Ultimate Rides.
How a Lift Kit Changes
Your Vehicle
Do you plan on heading off-road with your vehicle anytime soon? If so, a suspension lift can be an excellent idea. They serve a number of purposes and benefits for off-road action. That includes providing you with greater clearance, preventing damage from rocks, stumps, and much more. You will also have a better angle of approach to work with across rough, uneven terrain. On top of that, there's also the added benefit of a higher vantage point. You'll be able to see farther out around you, though it can have an effect on your ability to see right up close to your truck or SUV.
There are multiple kinds of lift kits available out there. It's important to choose the right one for your needs and budget. If you can make the room in your funds, going with a suspension lift kit is the route if you care about performance. It'll maintain the integrity of your handling while offering a higher lift than is available with a body lift kit. With a high-quality suspension kit, your vehicle will be able to tackle city streets, highways, dirt roads, trails and even wild terrain with ease. Contact Ultimate Rides about getting set up with lift kit install Chicago sometime soon.
Have It Your Way

In The Lift Shop
In 2017 we built a brand new facility with brand new equipment specifically designed to build lifted vehicles. We always stock wrangler and truck accessories from lifts to LED lights and if we do not have your part in stock, we order in the next day away. We can also remove old parts that you do not want and we welcome you to bring in parts you already purchased online for us to install. Rather you have a Silverado lift kit install or a Wrangler lift kit install we help get our Chicago area people ready to go!
Customers always ask  "lift kit installation near me"  or "truck lift shops near me" or even "shops that install lift kits near me" but I don't think we are close enough. Here is the thing, If you need a lift kit installation in Illinois, you have found the best in the midwest. If you are looking for 4×4 shops in Chicago, then make the drive down to see us. We will still work on your truck, no matter what the circumstance, distance or case. We can do the repairs on your lifted truck or jeep even if you got the lift installed somewhere else. Our ASE techs road test our vehicles every day and know what to look for because we sell our ready-made inventory like crazy. They know common mistakes that backyard lift shops make. Trust the company that lifts trucks daily, we build and sell trucks because we have a passion for them. Give us a shout and let us help create that cool and custom look for your ride today!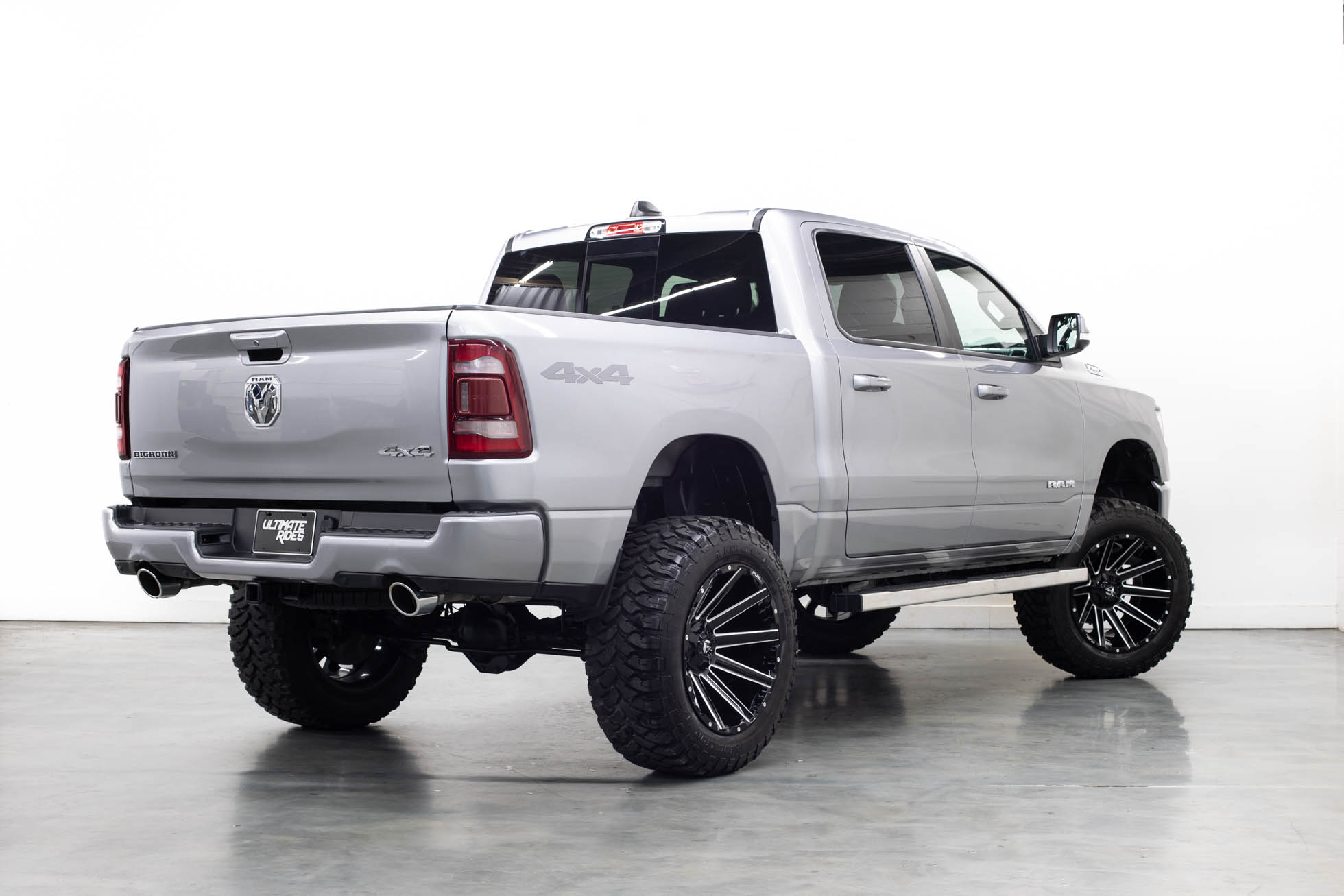 Nationwide Delivery
Available Now
If you don't live in the Chicago area, or you want to recommend us to someone you know, you should know that Ultimate Rides can ship our vehicles out anywhere. We truly believe that our vehicles are the best around, and we believe everyone deserves access to whah we have to offer. Our entire inventory is open to drivers from across the United States and beyond. Best of all, they'll still have the opportunity to customize the vehicle just the way they want before we ship it out.
Start by browsing our website, and give us a call when you're ready to learn more details. A member of the Ultimate Rides team will help you find the perfect model, and you can let us know if there are any changes you wish to make. You can choose if you'd like to include the cost of shipping in your financing deal, or cover that separately. Either way, we encourage you to reach out the next time you're looking to buy a vehicle. You won't even have to leave the comfort of your own home, and it'll arrive to you within a week from the time that it's ready!
Rust-Free
Custom Rides
Yet another thing that sets the vehicles at Ultimate Rides apart from a standard dealership is that all of our models are free of rust. We hand pick each vehicle that comes through our doors, making sure that each one meets our high standards. We want to offer the absolute best to our clientele, and we'll go well out of our way to make that happen.
We send our buyers out to the warmest areas of the United States, where it's easier to keep your ride free of rust. They pick out the best models they find that suit our inventory, and we bring them back to our HQ. Each vehicles goes through an inspection. As we long as we decide it's up to our standards, we set the vehicle up with some upgrades and list it in our inventory. Take a look at what we have to offer and see if anything catches your eye. If you'd like to know anything else about Ultimate Rides, you can always ask!
Closing

Thoughts
Does it sound like Ultimate rides may be able to help you start driving something you'll love? We encourage you to come visit or get in touch with us over the phone to learn more. Our team is always happy to talk details, and we're very confident that we can help upgrade your current ride into something truly special. If you're ready to upgrade into something different, we can always help you out there as well!
Give us a call today at 815-634-3900 if you have any questions for our staff! We'll also be able to set you up with an appointment so you won't have to wait when you come in for a visit. The Ultimate Rides office is located at 38 W. Division St., Coal City, IL 60416. We'll be happy to see you whenever you decide to stop by!
Frequently Asked
Questions
We've got one final section to share with you before you head out. Below we've tackled some of the most common questions Ultimate Rides hears from readers and customers. If there is anything you're still wondering, go ahead and see if we addressed it below. Otherwise give our office a call and we'll be glad to help you find whatever it is you're looking for.
Q: Do lifted trucks and SUVs require extra maintenance?
A: Some mechanics may have a harder time working on custom trucks and SUVs if they aren't used to them. That's why you're encouraged to choose someone like Ultimate Rides to work on your vehicle! However, beyond that issue, the only extra maintenance you'll need to worry about is occasionally ensuring the nuts and bolts of your setup are still tight. Apart from that, you shouldn't expect any other extra pieces of maintenance to concern yourself with.
Q: Is it possible to install a lift kit on my vehicle at home?
A: Depending on the lift kit you choose, it may be possible to install your own at home. Some of the more basic lift kits only require common tools, but you'll still need an understanding of how the process works. We strongly recommend against it in most circumstances for your own safety and the quality of your ride. Unless you know you have the technical knowledge and skills needed, as well as the commitment to researching exactly how the process is done for your lift kit, it's a much better idea to simply rely on the professionals to take care of the installation for you.
---
Two Brothers With a Dream,

Building Lifted Trucks

Ultimate Rides consists of two brothers who have been buying and selling vehicles for over ten years. Two brothers with a dream to buy, build and sell a lifted trucks from rust free states. Build a business on a great reputation and always make sure customers are happy with their purchase. In the auto business that sometimes is hard to do, but year after year their business grew and five star reviews started to come in. They started their Ultimate Rides journey with a third brother Jake, who was a big part of building the business they have today. In 2016 Jake passed away and losing their brother was the hardest thing they ever had to deal with. Even though they had a tragic loss they plan to continue to set a new trend for the Chicagoland market, keep customers number one and grow this business for their baby brother Jake.

 — Nick and Alex Bulanda, Founders of Ultimate Rides
Check out some more of our custom lifted truck builds, this is why we are the leader in lift kits here in Chicagoland! – Don't take our work for it, check our google rating!