Best Dodge Ram Running Boards and Nerf Bars
At Ultimate Rides, we know truck accessories. We spend part of almost every day upgrading our vehicles with accessories like running boards. These can be some of the most useful additions to pickups, especially those with lift kits installed. Without them, some drivers and passengers may have difficulty climbing in and out of the vehicle. That's why we encourage our customers and readers to always consider adding on a set.
However, the process of actually picking out the right running boards can be surprisingly difficult. That's because there are just so many options out there, and not all of them are going to be suited to you and your pickup. Most running boards are designed with specific vehicle models in mind. That means you'll need to find one that is particularly made for your ride. On top of that, you'll also need to consider the actual quality of the product.
We are happy to help with this. We have spent a great deal of time researching the best running boards. Take a look at our list below to see our recommendations for Ram trucks. Make sure you pay close attention to the model year compatibility, as well as the size of the cab and other fitment details. As long as you do, there should be no trouble finding an amazing set of running boards for your ride.
Quick Ram Step Overview:
---
Rough Country HD2 Side Steps
The first set of running boards we'd like to recommend comes from Rough Country. They are a brand that has built their name up over the years, showing customers that they're serious about delivering high-quality accessories to drivers. These side steps are basic but highly effective. No matter how high your truck is, these can help provide a needed boost, or a place to step on the way down. They're durable, can help protect the lower side of your doors from scrapes, and are useful on a regular basis. What's not to love about these impressive running boards?
Rough Country HD2 Running Boards for 19-21 Ram Truck 1500 Crew Cab – SRB01950
---
Rough Country Wheel to Wheel Nerf Bar Hoop Steps
There are a number of benefits to buying wheel to wheel running boards. They look great, offer added functionality, and can provide another degree of defense for your truck against rocks, mud and more. These textured black nerf bars feature a lifetime warranty from the manufacturer and include a drop step that can make it even easier to enter and exit the vehicle. They also sport excellent customer reviews, with the vast majority having only great things to say about the product. The installation process is close to what you'd expect, meaning some drivers may feel capable of installing at home while others will be more comfortable with professional installation. Either way, we believe these running boards are some of the most effective accessories you can purchase.
Rough Country W2W Nerf Bar Hoop Steps (fits) 2010-2018 Ram Truck 2500 3500 | Crew Cab | 6.4 FT Bed | RCD1098CC
---
Tyger Auto Dodge Ram Nerf Bars
Next up is the Tyger Ram 1500 nerf bars, well I guess it doesn't fit just the 1500. It also fits the 2500 and 3500. These steps will fit the Dodge Ram crew cab with the full four doors. So these will not fit the quad cab or the mega cab. Dodge has a lot of cab options and I will put nerf bars in this article that fits other models.  These running boards have a 4inch wide heavy duty step in steel. They powder coated it black so these things will never rust and they included non slip step pads which is cool. They are a pretty easy installation with minor drilling required to put the support bracket. These Ram nerf bars come with a five year warranty which is very good for a nerf bar company. Fits 2009-2018 Dodge Ram 1500, 2010-2018 Dodge Ram 2500/3500 Crew Cab
Tyger Auto TG-RS2D40078 RISER For 2009-2018 Dodge Ram 1500/2010-2018 Ram 2500/3500 Crew Cab 4inch Black Side Step Nerf Bars Running Boards
---
iBoard 5″ Custom Fit Side Steps
Next up is the iBoard Running Boards in a 5 inch width, which is a little bit bigger than the first Ram nerf bars. These Dodge Ram running boards are made from 100% aluminum which is very cool and different, making it one of the best running boards for Dodge Ram 1500 crew cab. Their idea behind the running boards was to mimic and iphone styling. They have a low profile design with the aluminum body which is very close to an iphone styling. Even though these nerf bars have the cool look, they still hold 350 pounds for the load capacity. They have a full pad that cover the entire running board which helps for them being slip proof went entering your Ram. Includes all the mounting hardware and brackets for an easy no drilling install, which is basically a bolt on board. Fits 2009-2017 Dodge Ram 1500 Crew Cab Pickup 4-Door, 2010-2017 Dodge Ram 2500 Crew Cab Pickup 4-Door, 2010-2017 Dodge Ram 3500 Crew Cab Pickup 4-Door, 2010-2017 Dodge Ram 4500 Crew Cab 4-Door, 2010-2017 Dodge Ram 5500 Crew Cab 4-Door. If you want something different and clean, I think this is the way to go!
iBoard Running Boards 5″ Custom Fit 2009-2018 Ram 1500 Crew Cab Pickup 4Dr & 2010-2018 Ram 2500/3500 (Nerf Bars | Side Steps | Side Bars)
---
Tyger Auto Armor Kit Crew Cab Textured Black Side Steps
Tyger is back on the list with this armor style off road looking running boards. These running boards look a bit different than the other ones on the list, because they really scream off road. They are a big beefy tube style nerf bar, which is why they rate these bad boys at 500 pounds weight capacity for each side. The tubing is 2 inches in diameter, so no need to worry about strength with these things. These off road style nerf bars have a bolt on install with minor drilling of 1/4″ holes for the pinch wled support brackets.. On top of all that they have a no hassle 5 year warranty, which is really cool. All in all if you have a big lifted Dodge Ram and you need some cool rugged looking running boards then these are the ones you will want to use. These fit 2009-2018 Ram 1500 Crew Cab & 2010-2018 Ram 2500/3500 Crew Cab. 
Tyger Auto TG-AM2D20078 Star Armor Kit for 2009-2018 Ram 1500 Crew Cab & 2010-2018 Ram 2500/3500 Crew Cab | Textured Black | Side Step | Nerf Bars | Running Boards
---
TAC 3″ Stainless Steel Quad Cab Side Steps (B071VFNYHF)
These classic looking stainless steel running boards fit on the 2002-2008 Dodge Ram 1500 Quad Cab and 2003-2009 Dodge Ram 2500 / 3500 Quad Cab models, with the exception of the Daytona, Rumble Bee and SRT-10 models. It is also a very affordable option, making a great case for itself as one of the best classic look running boards around as long as you have one of the required vehicles. The step pads on these bars are three inches wide, giving you plenty of foot space to help you get up into your truck. These running boards are also made from stainless steel, making them resistant to rust and long-lasting. Perhaps the best aspect of these TAC stainless steel side steps is the fact that installation is incredibly easy, with all the pieces you need included along with simple directions. Lastly, we want to recommend this brand to customers because of their three year warranty against manufacturer defects.
TAC Side Steps Fit 2002-2008 Dodge Ram 1500 Quad Cab /2003-2009 Dodge Ram 2500/3500 Quad Cab (Exclude Daytona, Rumble Bee and SRT-10 Models) 3″ Stainless Steel Side Bars Nerf Bars Running Boards
---
Tyger Auto Star Armor Running Boards Kit (B01HFMNYIU)
Next up we have some more nerf bars from Tyger Auto, and these ones have a truly unique and awesome sense of style. This set fits on Ram Crew Cab models with all four full-size doors. It fits 1500 models from model years 2009-2018 and 2500 and 3500 models from 2010-2019. These heavy-duty steps have a capacity of 500 lbs. on each side. These steps are comfortable, relatively easy to install even for beginners, and feature unique protection on the bottom side to help keep your truck clean. If you're looking for some durable, sturdy, heavy-duty running boards, this kit is for you. We believe it is one of the best running boards for Dodge Ram 1500 Crew Cab. It even includes a five-year warranty for manufacturer defects! Together, the boards have a total weight of 91 lbs., meaning each one weighs about 45 lbs. Directions are included, though setup is slightly more in-depth than some of our other included models due to the strength of this set. Despite that, we think you're going to be overjoyed with everything you find in this package.
Tyger Auto TG-AM2D20078 Star Armor Kit for 2009-2018 1500 2010-2019 Ram 2500/3500 Crew Cab | Textured Black | Side Step | Nerf Bars | Running Boards
---
TAC 2019 Dodge Ram 1500 Crew Cab 5″ Oval Bend Stainless Steel Running Boards (B07MVMVHNK)
If you're driving the 2019 Ram 1500 and need a set of running boards, these are the option for you. The boards feature five-inch foot pads, and you'll find that these bars are made from strong stainless steel that will also prevent wear and tear from building up too much. Customers have a lot of good things to say about this kit, including that installation is fast and easy, that the bars are sturdy and solid, and more. One thing to note, and this goes for all running board kits, is that it is possible to chip off some paint during installation, and this is something you will definitely want to be careful to avoid doing if at all possible. We think this kit is going to be an excellent addition to your 2019 Ram truck.
TAC Side Steps Running Boards Fit 2019 Dodge Ram 1500 Crew Cab (Excl. 2019 Ram 1500 Classic) Truck Pickup 5″ Oval Bend Stainless Steel Side Bars Step Rails Nerf Bars (2 pcs)
---
TAC 3" Texture Black Running Boards (B07KMHRP7M)
The last set of running boards on our list will fit on 2009-2018 Dodge Ram 1500 Crew Cab models, the 2019 Dodge Ram 1500 Classic, as well as 2010-2019 Dodge Ram 2500/3500/4500/5500 Crew Cab trucks. Like most other TAC products, customers have mostly all positive things to say about this product, praising it especially for its strength and durablity, as well as stylish look. One thing customers are seeming to have a problem on with this product is installation, as the directions are said to not be as clear as they could be. However, other customers said it took them a short time to get everything installed, so that might differ depending on experience level. Overall, we think this is an incredible set and one of the best running boards for Ram 1500.
TAC Side Steps Running Boards Fit 2009-2018 Dodge Ram 1500 Crew Cab (Incl. 2019 Ram 1500 Classic)/ 2010-2019 Dodge Ram 2500/3500/4500/5500 Crew Cab Truck Pickup 3″ Texture Black Side Bars Nerf Bars
---
Questions and Answers
Q: How do I decide between wheel-to-wheel and cab-length running boards?
 A: This is completely and totally up to personal preference, as well as whatever is best for your truck. For most folks, you probably only need cab-length boards, but people who spend a lot of time climbing in and out of their truck bed may want to opt for the longer running boards. Both variations are easy to install, and there is not too big of a difference between the two other than their length.
Q: Between cold-rolled carbon steel and stainless steel, which should I go for?
A: While both are strong and dependable alloys, our choice is stainless steel due to its ability to stay resistant to rust and corrosion. Cold-rolled carbon steel just doesn't have the same traits that keep rust from spreading. Additionally, stainless steel is a lot shinier and nicer looking when cleaned up. Though both are definitely solid choices, our top pick definitely goes to stainless steel over cold-rolled carbon steel.
Q: It looks like there is a dent or a dip in my running boards? What is that and why is it there?
A: Fear not! Most running boards have one or several of these, and it's there for a few reasons. First, it will help your running boards stay free of rust. These are also put in place to help keep the shape integrity and strength of the running boards. Many people notice these on their running boards and think that they came banged up, but you should know that those were put there with care and purpose to improve the product.
Q: I've never installed running boards before. What tools will I need to get the job done?
A: The answer to this question may differ from product to product, but on a general basis we recommend making sure you have access to a ratchet and socket set, some box end wrenches and possibly a set of safety goggles/glasses along with a pair of gloves. With that covered, you should have everything you need to get your running boards installed safely.
---
Finding the Right Product for Your Pickup
At the end of the day they have some other nerf bar options for the Dodge Ram. I just wanted to review the greatest options that looked like the best bang for your buck while keeping a good reputation. There is a lot of people that make Dodge Ram Running Boards. And a lot of people looking for side steps for dodge ram 1500, so I felt this article will help put you in the right direction to finding what you need. As I stated in this review, most of these running boards require very minor drilling to install them. If you need help installing your nerf bars for dodge ram 1500 quad cab or crew cab, and you're in the Chicago land area you can contact our service center and they will be able to give you a price quote. Running boards for Dodge ram 1500 quad cabs, crew cabs and everything in between we can do. Hope this mini review was enough to help you find your favorite ram 1500 side steps. Happy driving from Ultimate Rides!
---
Two Brothers With a Dream
,
Building The Best Ultimate Rides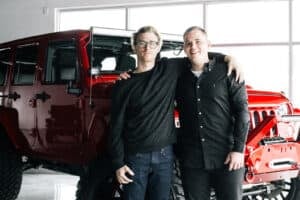 Ultimate Rides consists of two brothers who have been buying and selling custom vehicles for over ten years. Selling lifted trucks by day and writing these awesome reviews by night! They started their Ultimate Rides journey with a third brother Jake, who was a big part of building the business they have today. In 2016 Jake passed away and losing their brother was the hardest thing they ever had to deal with. Even though they had a tragic loss they plan to continue to set a new trend for the auto industry, keeping customers number one. Pushing the envelope on the lifted truck market, these guys love researching and learning about everything in the auto industry!
 — Nick and Alex Bulanda, Founders of Ultimate Rides