Used Lifted 4×4 Trucks For Sale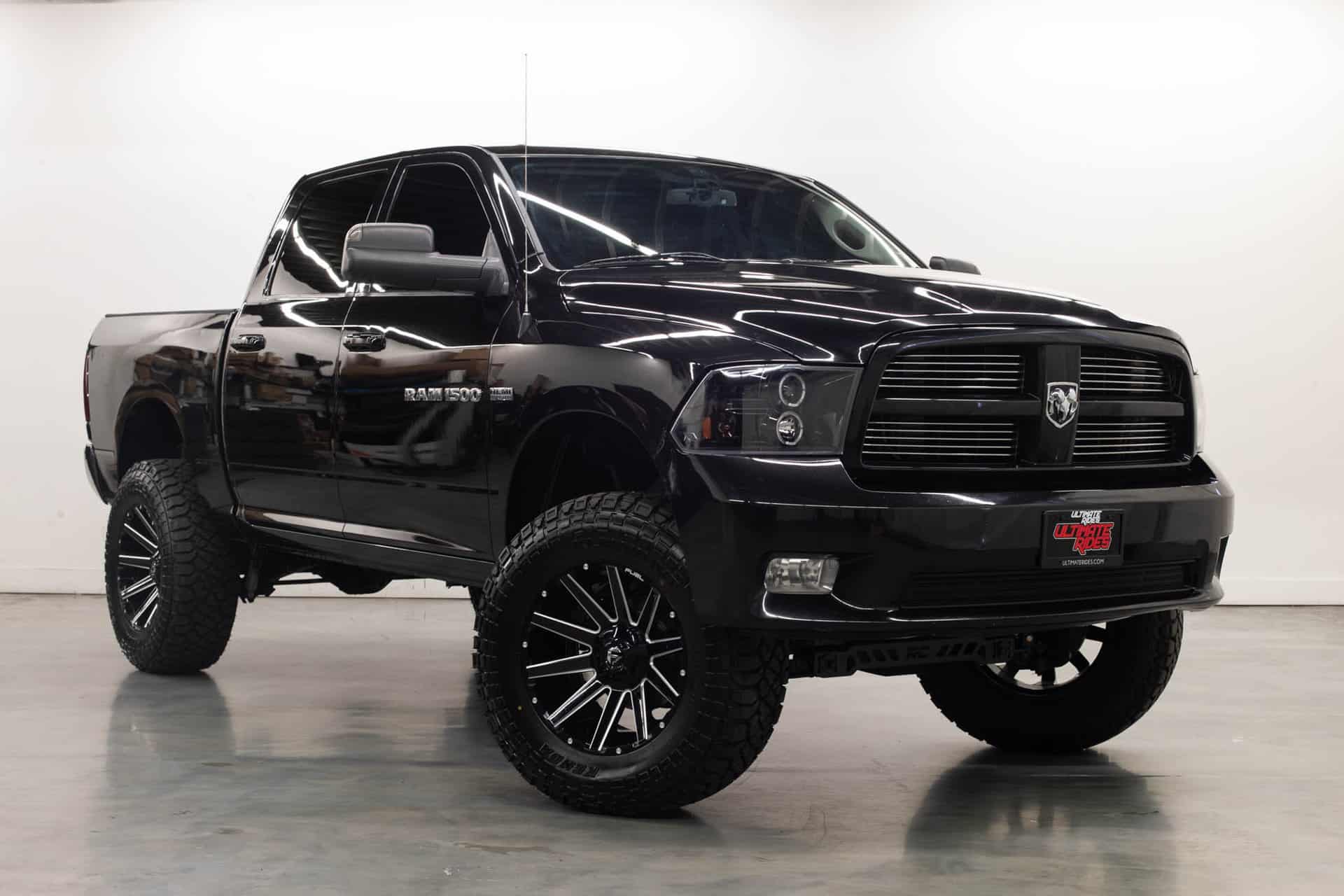 Used Lifted
4×4 Trucks for Sale Today
Buying a truck isn't always easy anymore. The auto sales industry isn't as welcoming as it used to be, and customer service doesn't seem to be very high on the list of priorities. That is what we're out to change at Ultimate Rides. We're your destination for used lifted 4×4 trucks for sale, featuring lift kits, aftermarket accessories, and whatever else you can dream up. We are an auto dealer located about an hour outside of Chicago, but with easy shipping, we provide vehicles to driver around the world. Take a look at our inventory and see if the right vehicle awaits you here. In the meantime, you can keep on reading to learn how Ultimate Rides may be able to help you into something special today.
Why Buy Lifted 4×4 Trucks 
From Ultimate Rides?
Lets face it, rust matters and when we start to build a truck to make it custom and lifted for our customer, we start with a rust free truck. We have two buyers that travel to Texas and California and send back rust free trucks, that spent their life in the sunshine state. Now that is an awesome start to a lifted truck, having an underbody that is rust free and ready to go. No rusty fuel lines, brake lines, gas tanks, axles or rotors all this matters. Having rust free suspension components when we go to install a lift, makes for a smooth transition from stock to lifted. Our mechanics love starting a lift with a rust free 4×4, and after years of repeat business its shows our customers love it too.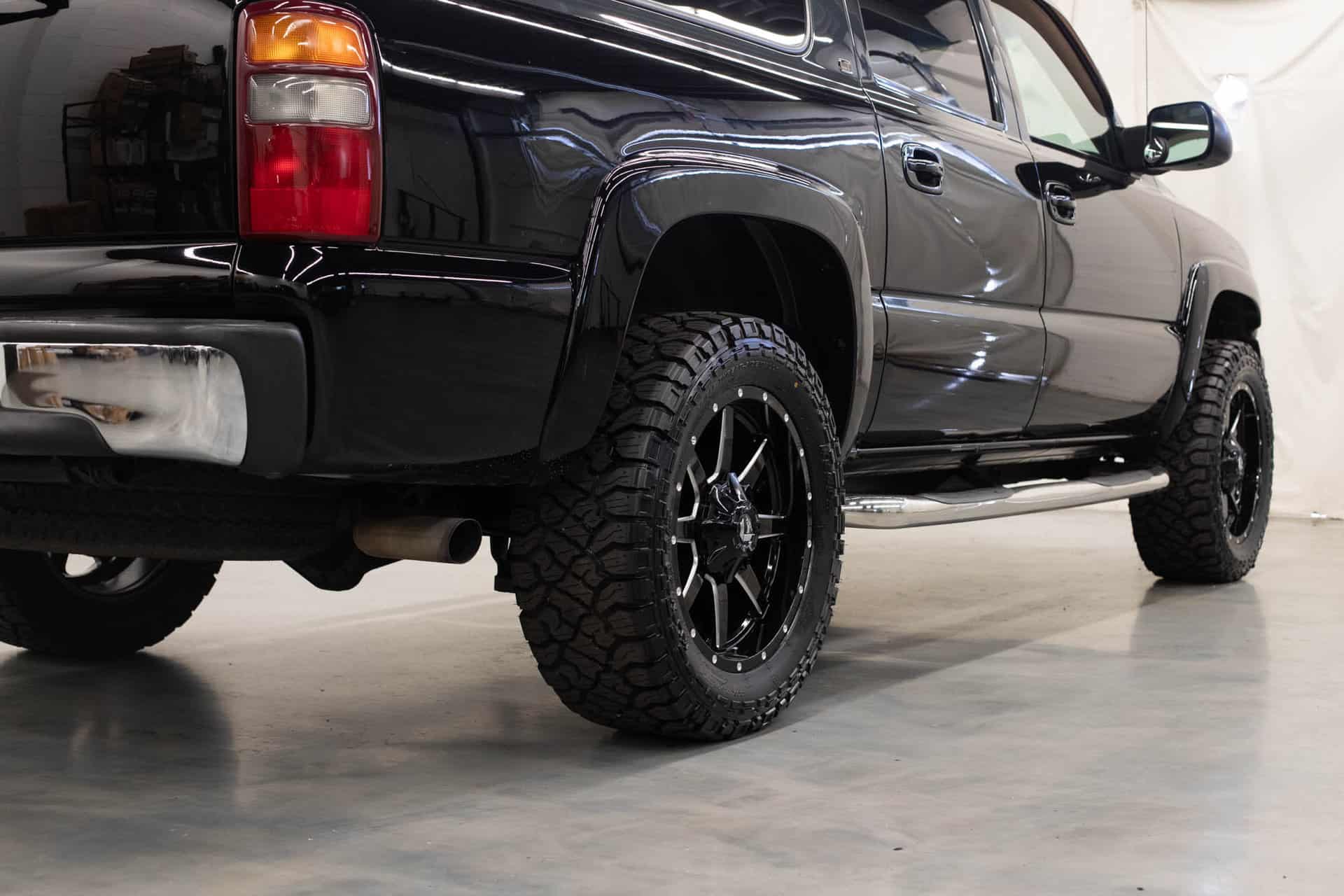 Build Your
4×4 with Us
We will customize any of our stock trucks to your specifications. You pick the the truck you want from our lot, then simply pick your lift kit, wheels, and tires and we'll build your dream truck. We'll even finance the cost in your deal! Feel free to call us if you have any questions, because for a few extra bucks per month you can have it your way. If you have truck in mind that we do not have, we can buy it for you. Put down a deposit and we can locate you that hard to find 7.3 diesel or that odd ball short cab Chevy Silverado. After we find your dream truck we can build it to your liking. Order any lift kit from a rough country to a BDS, wheels from fuel or XD or anything in between. We have guys in house for lift kits, wiring, and general repair. We have ASE mechanics on hand to build and maintain your lifted 4×4 after you purchase it from us. If you are in the area and have a 4×4 truck that you need lifted, no problem our service center can help with that. Either way, we are here for you, to help find, buy and build the 4×4 truck of your dreams!
Not From Illinois? 
No Problem.
Ultimate Rides specializes in nationwide truck sales. Sometimes people ask "lifted trucks for sale near me" and we always have the answer! We sell, transport and ship 4×4 trucks to regional states such as Indiana, Missouri, and Michigan, and as far away as Texas, California, Alaska and Dubai! Over 40% of our lifted trucks get shipped to new owners in other states, the other 60% make the drive to see us in our small town. From financing to transport, we will get your dream vehicle to your door and exceed expectations. Even if you are looking for a cheap lifted 4×4 trucks for sale, we will help you get it. We offer airport pick up and will help with local or nationwide delivery. All of the 4×4 trucks we sell at Ultimate Rides go through an inspection for quality to ensure our valued customers are getting a vehicle that will last. We welcome third party inspectors to come and inspect our vehicles and pride ourselves in selling reliable Ultimate Rides. We can provide any professional photos at your request, video walk arounds or anything you would like. Our mechanics are ASE Certified Mechanics and specialize in lifted 4×4 trucks that we sell. If you have any questions regarding a truck, you can contact us here.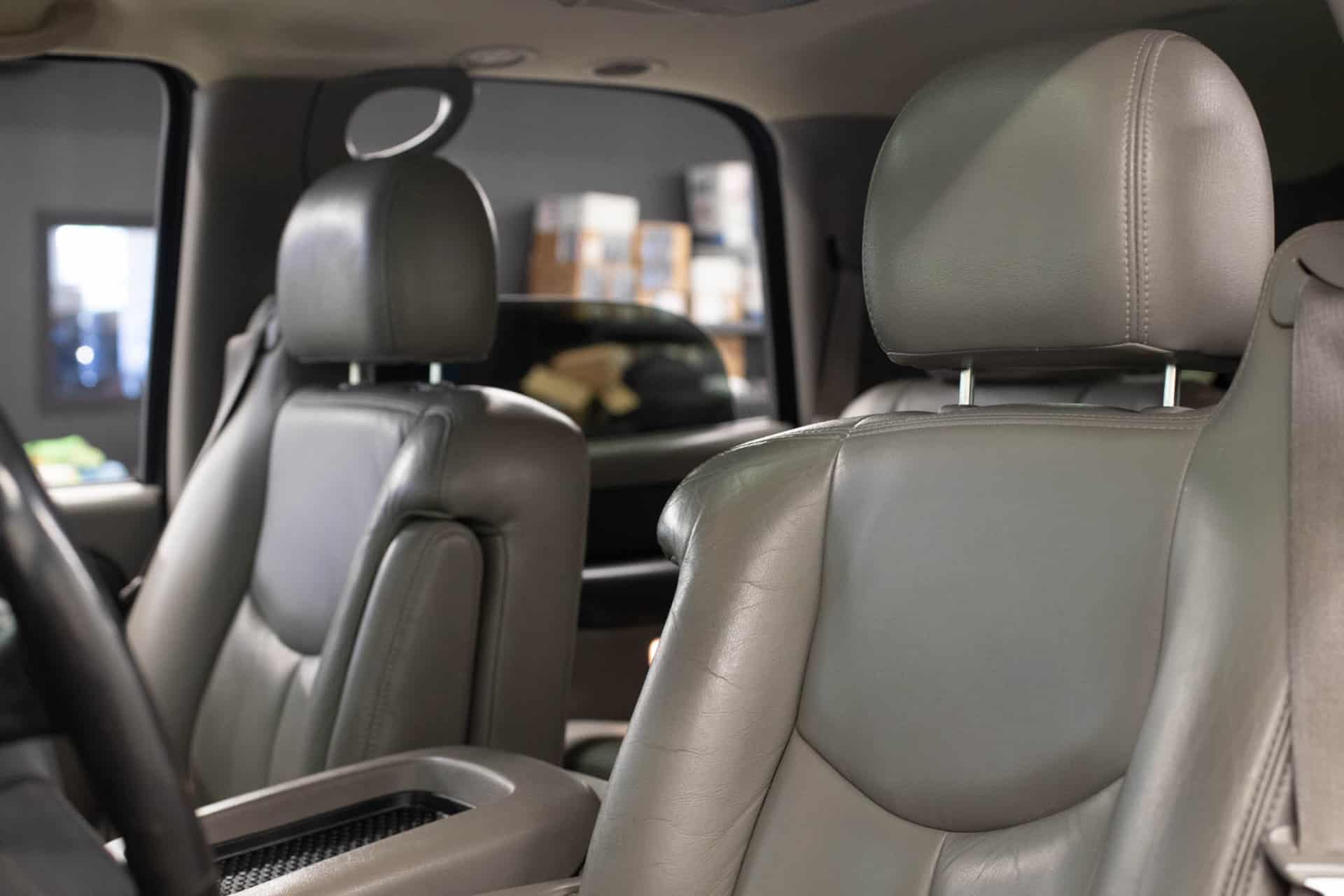 Customer Service
Unlike Anywhere Else
Along with our vehicles, we believe that our customer service sets us apart from other auto dealers out there. The process of buying a vehicle has become a stressful experience, and we're out to change that. While other dealerships may try to unload unwanted inventory on you, and make us much money from you as possible before you walk out the door, we have a different mentality. Our goal is to help you find your perfect vehicle, no matter what it may be. If it's something we already have in stock, that's great. If not, we'll help you track it down!
We aren't your standard auto dealer, and our customer reviews reflect that. Take a look online to see what prior customers have to say about us. It's safe to say we're proud of everything we've been able to achieve so far, and we feel that our customers are an incredibly important part of that. Our team is waiting to answer your questions, so feel free to give us a call. Whether you plan on ordering a vehicle to be shipped, or you just want to find out more before you come check out our office, we can assist you. Just let us know what you need!
Benefits of Driving with

Lifted Suspension
Over the last decade or so, it seems that the popularity of suspension lifts have skyrocketed. We're longtime supporters of this hobby, and we're always happy to see more people join the fold. If you're new to the concept, you might be wondering why people lift their vehicles. There are tons of reasons out there, and we'll share a few of the most popular thought processes with you.
For many people, it's all about the different look provided by a suspension lift. It gives the vehicle a more aggressive stance, and obviously makes the truck stand out more on the road. However, there's also a different feel to driving a vehicle with a lift kit. It can be difficult to explain, but you'll know it when you feel it.
If you're an off-road enthusiast, you'll find plenty of benefit from adding a suspension lift and new larger wheels to your ride. You'll have better visibility of the area around you, and can get through rough terrain without a problem. A suspension lift can even offer a number of benefits to your truck's towing capabilities, such as reducing the risk of bottoming out. If this sounds like a useful setup for you, make sure to get in touch with us.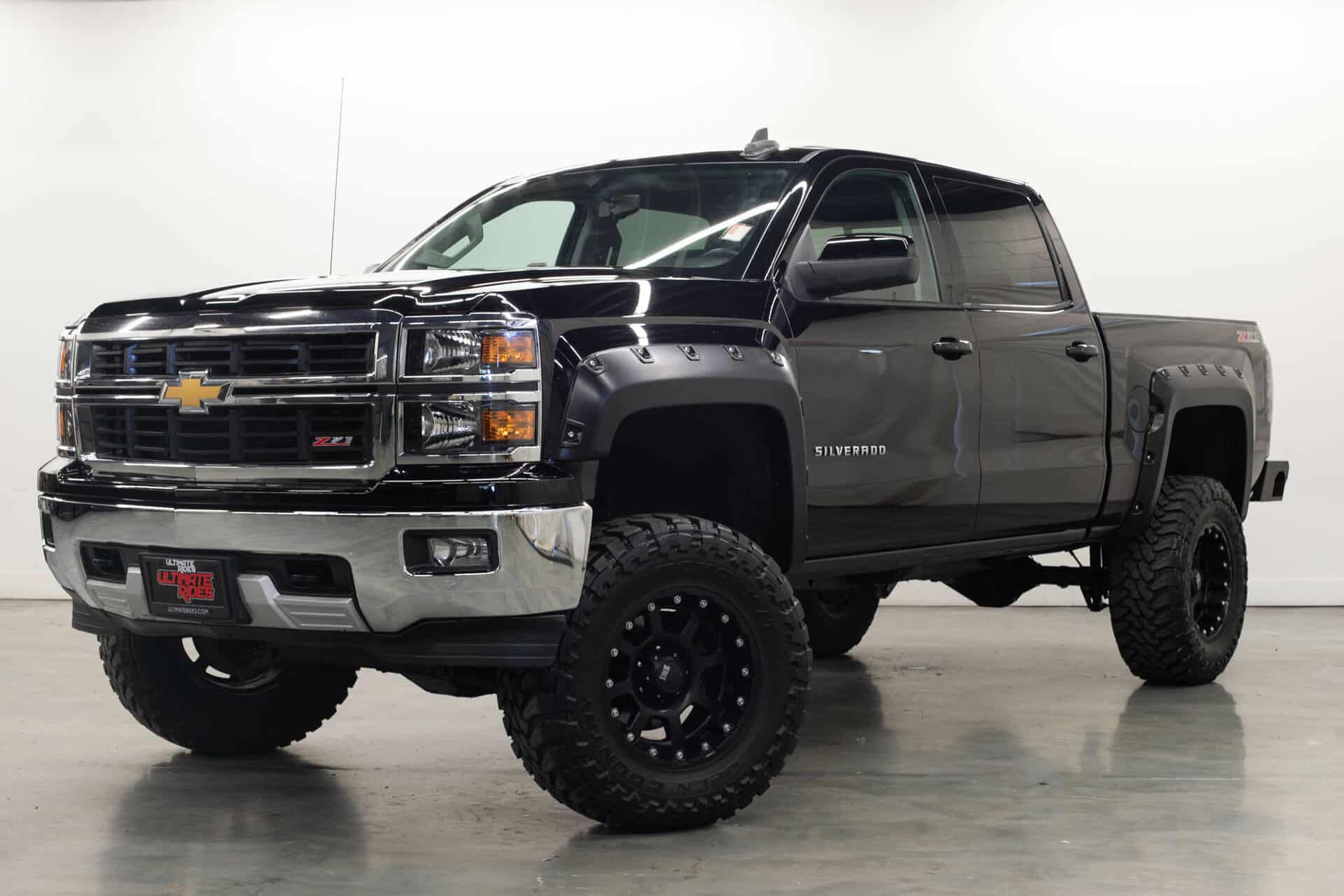 Frequently Asked Questions: 4×4 Trucks, Lift Kits,
and More
If you're not already an expert, the process of learning about four-wheel drive and custom vehicles can sometimes feel overwhelming. We've found that answering some of the most common questions can help. See if we're able to cover your bases, and remember that you can always get in touch with our office if you have anything you'd like to ask.
Q: What is the difference between four-wheel drive and all-wheel drive?
A: While the two are similar, four-wheel drive typically offers stronger performance than most all-wheel drive setups. While this has been changing in recent years as all-wheel drive systems improve, your best bet is still going to be sticking with 4WD. That's because a 4×4 setup utilizes a transfer case, and gives you control over your four-wheel drive system. Most all-wheel drive systems will switch power from the rear to the front and back depending on the vehicle's needs, and will engage all four when that much traction is necessary. You usually won't have full control over the system, which is necessary for optimizing your off-road experience.
Q: Can I upgrade my vehicle from two-wheel drive to four-wheel drive?
A: Absolutely! Ultimate Rides is just one of the many places you can do that (though we happen to think we're the best!). If you aren't happy with your standard two-wheel drive system, but you aren't ready to buy your next vehicle just yet, ask some professionals about installing a 4×4 setup. The exact cost will depend on your vehicle and who you pick to handle the work. Choose wisely, as the integrity of your vehicle is at stake.
Q: What is the maximum height a lift kit can provide?
A: If you choose a full suspension lift kit, you could raise the height of your vehicle by up to six or sometimes even eight inches. A lift setup of this caliber will need to be handled by experts, and can become quite costly. With the budget end of lift kits, you'll likely be looking at a maximum of 2 to maybe 4 inches. At the same time, your ride quality may suffer depending on the construction of the kit you choose. Consult with professionals before making your final decision.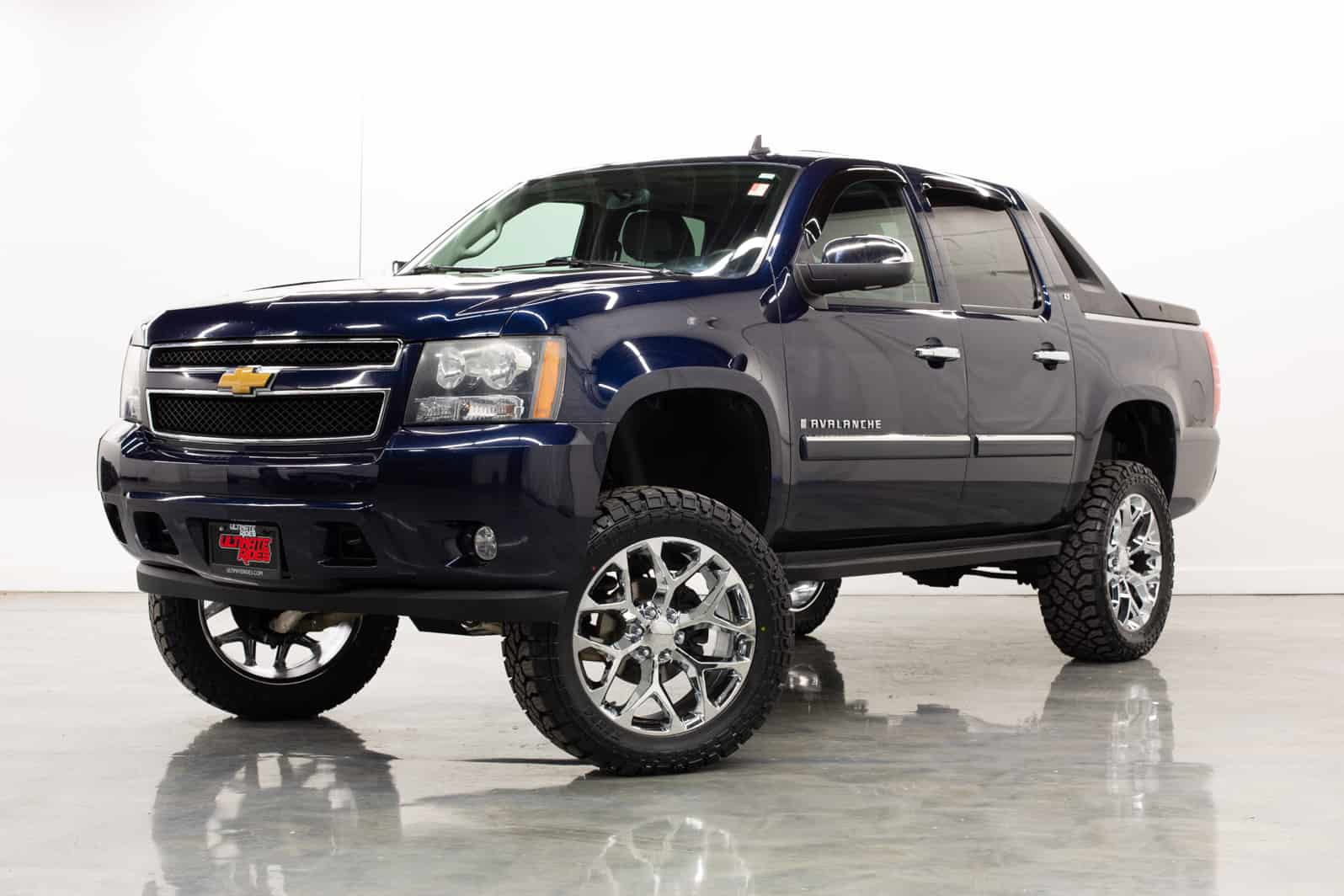 Driving with Four-Wheel Drive – What You
Need to Know
The main thing to be aware of, if you have never driven four-wheel drive before, is when and how to activate the system. You don't want to keep your four-wheel drive on at all times. Instead, learn when to switch between your automatic, Hi and Lo settings. In general terms, the Hi setting is when you need greater traction or torque but you're still travelling at a relatively high speed. You don't want to go faster than 55 mph on this setting, instead leaving that for the automatic setup. The Lo setting is perfect for tough, low-speed situations where you'll want plenty of torque and traction. That means when you, or someone you're trying to assist, is stuck in mud, sand or snow. Make sure to only utilize this setting when travelling slowly.
Important 4×4
Maintenance Information
When you start driving a four-wheel drive vehicle for the first time, there are some important pieces of knowledge regarding maintenance you should remember. Some of your vehicle's fluids may deplete faster for various reasons. This includes transfer case fluid and differential fluid in addition to all of your other standards. Depending on the level of wear and tear your vehicle sees, you'll want to get your fluids checked between every 15,000 to 30,000 miles. If you're spending a lot of time off-road, make sure to keep it closer to that 15,000 range to keep things safe.
Another piece of maintenance to keep in mind is checking the connector that unites your transfer case with its small motor. It's common for these connectors to take on rust, so every year or so, take it out and coat it with a product to prevent rust. Beyond these tips, all you'll need to do is follow the standard maintenance procedure for your truck. With just a few extra steps, you'll be able to experience the full capabilities of your 4×4 truck.
---
Two Brothers With a Dream

,

Building The Best Ultimate Rides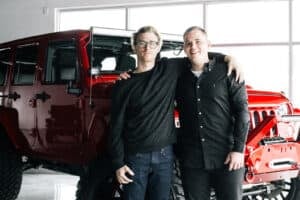 Ultimate Rides consists of two brothers who have been buying and selling custom vehicles for over ten years. Selling lifted trucks by day and writing these awesome reviews by night! They started their Ultimate Rides journey with a third brother Jake, who was a big part of building the business they have today. In 2016 Jake passed away and losing their brother was the hardest thing they ever had to deal with. Even though they had a tragic loss they plan to continue to set a new trend for the auto industry, keeping customers number one. Pushing the envelope on the lifted truck market, these guys love researching and learning about everything in the auto industry!
 — Nick and Alex Bulanda, Founders of Ultimate Rides