Cheap Aggressive Mud Tires Buyers Guide
Cheap Aggressive Mud Tires Buyers Guide
Let's face it, big mud tires are known for being really expensive, but no need to worry because I am here to help you find some cheap aggressive mud tires. The thing is they make all different types of mud tires and have your choice between brand, style, and size really help. For example, if you want a cheap 31 inch tire vs. a 33 inch tire, the cost will vary a bit. Most of the time we get customers that come in here looking for the best aggressive mud tire on a budget. At that point ride quality, noise and actual performance isn't the main concern.
A lot of people are after the looks of the tire after they install a lift kit. As many of you know, lifting a truck or Jeep, it is not cheap. Which makes sense to why someone would want to price shop the cheapest option when it comes to getting an aggressive mud terrain tire.  Here at Ultimate Rides we build lifted trucks every day, I mean, its what we do.
We have customers come from all over to have us install their lift kit wheel and tire. I work hand in hand with our service manager to make sure we are the price leader when it comes to finding the cheapest mud tires. Now its going to be hard to know exactly the mud tire you have on your lifted ride, so I will review only the cheapest aggressive mud tires in each size from a stock truck to a really big lifted one. Let's get into this cheap mud tire guide!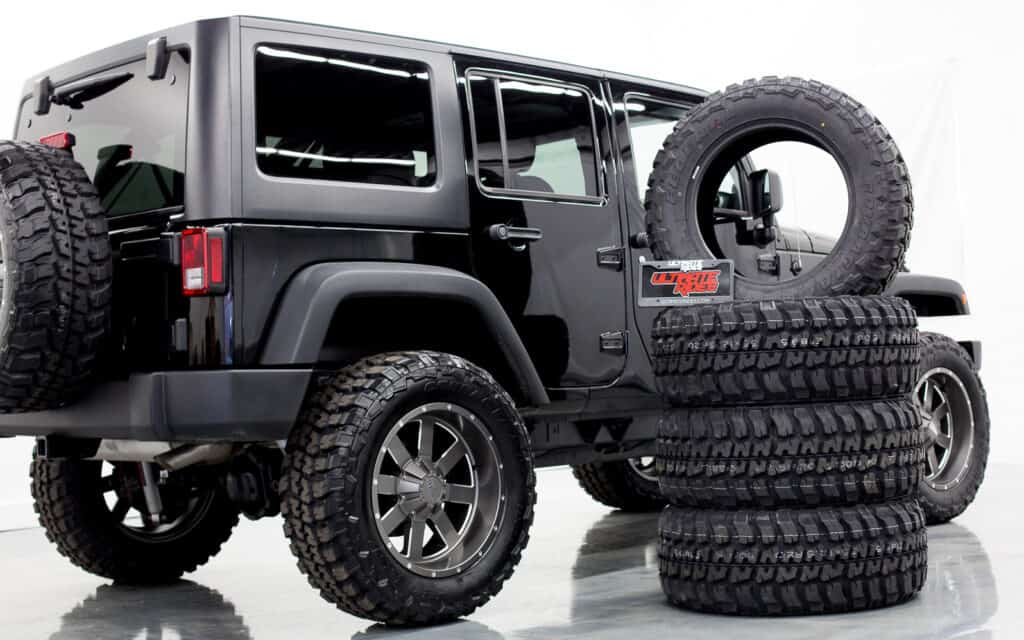 Federal Couragia M/T Mud-Terrain Radial Tire – 31×10.5R15 109Q
We are going to start with our most popular choice around the shop. This is the very best tire for anyone buying on a budget, period. Federal has come a long way in the tire business and I think you will be presently surprised with their mud terrain tire line. Built with rugged performance in mind for an aggressive tire, the Federal Couragia MT uses a high tread ply rating and 2 or 3 ply sidewall plys to provide strong off road protection in rough trail riding. They are a tad bit louder than a normal all terrain or radial tire, but every mud tire out there is going to be just as loud.
Another thing we noticed with these Federal Couragia is they seem to wear very well. All in all, if you are looking for a cheap mud tire, then these are your go too, and a 33 inch tire with a 20 inch rim should be perfect to get yourself that big rim, small sidewall look. Also on my list is a 35 12.5 20 which would be for a bigger lifted truck or wrangler with 20 inch wheels. Most of our lifted Silverados, F150s or Wranglers with a four to six-inch lift will run these as cheap aggressive mud tires. And last but not least is the 285/70/17 which will fit almost every stock truck out there.
Federal Couragia M/T Mud-Terrain Radial Tires
---
Radar Tires Renegade R7 M/T All-Terrain Radial Tire – LT275/70R18 125/122 125Q
Radar Tires are definitely a price leader by a couple bucks. They also have an aggressive mud tire tread which is common for an MT tire. They offer a 3 ply casing for the sidewall and they have a "stone ejector technology" that will prevent rocks from getting stuck inside the tread when you are driving or in the trail. These Renegades run about as loud as the Federals, if not a little bit quieter on highway speeds.
What I like about the Radar brand is they are always trying to price lead on the mud tires, I always see them for sale for a little bit cheaper. Its good for us off road enthusiast because it keeps the price down. They are both similar tread pattern and offer about the same reliability, road noise and look. No matter your choice they will both meet or exceed your thoughts when it comes to a cheap mud tire. In this post
I have the Radar in a 35/12.50/20 which like I stated above is best for a lifted truck. Also have the 33/12.50/20 which is awesome for a truck that might have a leveling kit on it, to give you that low sidewall profile for running a 20 inch rim on 33 inch tire. And lastly the 275/70/17 which will fit any stock truck with an 18 inch rim.
 Radar Tires Renegade R7 M/T All-Terrain Radial Tire 
---
Radar RZD0013 Renegade R7 Mud Terrain Radial Tire – 44X12.5R20 114Q
Radar tires stand out amongst the crowd when it comes to cheap aggressive mud tires. As a matter of fact, even the side lettering is unique compared to other tires. Most tires have their brand name in black so that it does not stand out too much amongst the black color of the tire. However, this tire uses raised outline white lettering to create a much more distinct look. Therefore, customers that want style should check out this option.
The state-of-the-art stone ejector technology is absolutely impressive, to say the least. A special design helps prevent stones from getting stuck in the tires and removes any stones currently stuck. After all, rocks in the tread will wear down on the quality of tire over time. Therefore, the stone ejector technology helps ex
Radar RZD0013 Renegade R7 Mud Terrain Radial Tire – 33X12.5R20 114Q
---
Federal Couragia M/T Mud-Terrain Radial Tire – LT285/70R17 118Q
Large and aggressive shoulder lugs provide premier strength in this tire option. As a result, this tire fights off damage from all types of off-road hazards. So this tire resists cuts, impacts, bruises, and so much more. The uniquely designed incremental block edge help enhance the clearance of dirt and sand. That way, these tires are always performing to the best abilities. Due to this, this tire is one of the best cheap aggressive mud tires on the market.
The SRG, Sloped Radius Gradient block is built for more stiffness. Thus, there is a better sense of performance in off-road, muddy conditions. After all, these conditions require serious traction especially when wet. Mud is soft and that makes it difficult for tires to grip the surface. However, these cheap aggressive mud tires are built to get the job done!
A built-in bar at the bottom of the grooves helps remove mud and rock particles. That way, there is nothing blocking the tread from gripping the muddy surfaces. Look no further for one of the best cheap mud tires that money can buy!
Federal Couragia M/T Mud-Terrain Radial Tire – LT285/70R17 118Q
---
Federal Couragia M/T Mud-Terrain Radial Tire – 33×12.5R20 114Q
Another Federal Couragia tire product graces our list of the best aggressive mud tires on the option. However, this specific tire is a bit pricier than our other mentioned option. Therefore, customers working on a budget may want to turn their attention elsewhere. After all, not everyone wants to spend nearly $200 on their cheap aggressive mud tires. However, customers without a budget have just found themselves some of the best mud tires available.
The pattern ribs on these tires are very helpful for quick braking situations. As a result, this comes in handy when thick rain or fog litters your view on the road. Drivers can benefit from quick stopping power! The asymmetric tread design gives drivers a more complete sense of control. Better handling helps aid a better driving experience out on the open road.
The sides are angled to help drivers have more precise steering. Plus, the uniquely designed grooves help clear out water to avoid hydroplaning. Keep an eye out for the right sized tires. That way, you get the best cheap aggressive mud tires available.
Federal Couragia M/T Mud-Terrain Radial Tire – 33×12.5R20 114Q
---
Radar RZD0014 Renegade R7 Mud Terrain Radial Tire – 35X12.5R20 121Q
Last on our list is another premier Radar mud tire. Drivers can take on all of the muddy terrains they want and more with this well-designed tire. Plus, it ships pretty quickly from Amazon. However, customers can conveniently get professional tire installation. Use the service option button to pick a shop close to your home. Then, Amazon ships the tire right to the shop. Show up in your vehicle and the talented staff will install it for you!
This Radar tire is going to have problems when dealing with snowy and icy roads. After all, this is a tire built just for muddy conditions. Thus, make sure you want cheap aggressive mud tires and not snow tires. Customers enjoy a wide footprint for better corning and handling. As a result, drivers get enhanced style and driving with this cheap and aggressive mud tire!
Radar RZD0014 Renegade R7 Mud Terrain Radial Tire – 35X12.5R20 121Q
---
What Makes Cheap Aggressive Mud Tires So Special?
Cheap aggressive mud tires are going to provide a different type of driving experience as opposed to any other tire on the market. As previously mentioned, mud tires usually do not handle very well on icy surfaces or snowy surfaces. As a matter of fact, mud tires should primarily be used only on muddy surfaces. Some mud tires can be driven out on the open road but experts do not encourage using mud tires in that way. Instead, they recommend just buying all terrain tires. So take time to make sure you know just what type of driving experience you want for your vehicle.
Mud is a soft surface and wheels struggle to develop and maintain traction. Thus, mud tires usually boast aggressive tread patterns all around the wheel. While this allows mud tires to better grip the soft mud, it does alter the on-road driving experience for customers. As a matter of fact, mud tires are incredibly loud on paved roads. Therefore, drivers may get annoyed by this sound rather soon than later. Be sure to fully weigh out all of the information that surrounds the best cheap aggressive mud tires. After all, tires are not easy to return. Be sure to take care of yourself and your vehicle with the best possible wheel upgrade for your lifestyle!
Is it Worth Running Cheap Aggressive Mud Tires?
Putting a cheap mud tire on your lifted ride is something I think is a great idea because we do it every day. The truth is, these two options will last at least two seasons of driving. I can not say an exact mileage, because your lift kit, ball joints, and suspension play a big factor in the longevity of these cheap mud tires. These companies are both big brands, with marketing dollars and volume movers. I can say from personal experience that we have used these federals on over 400 vehicles over the years. We have had customers come back and get another set of these tires after a few years of using the Wrangler or lifted truck that we sold them with the cheaper mud terrains that we used.
It's obvious the truck, wheel size and lift height all will determine what you will need to make these work.  All in all, I would say using these cheap mud tires listed in the post is the way you should go. We have tried them and we love them, every customer looking to save money loves them, and I think you will too. If you have any questions about what will fit on your truck or Jeep Wrangler, just drop us a line in the comments and I will help you get your truck sized up so you can order some cheap aggressive mud tires. If you are located in the Chicago land area, you can have our service center mount, install or even lift your truck so you don't have to worry about it!