Where to Find a Lifted White Chevy Silverado and Much More
Customize a Lifted White Chevy Silverado
at Ultimate Rides
Are you searching for a used truck, but having trouble finding the right dealer? At Ultimate Rides, we work to stand out from the countless other truck options you have available to you, and we do this by putting an emphasis on both the quality of our vehicles and the service we deliver to our customers. We've worked very hard over the past decade to building a customer-friendly reputation, and we think we can help you find the perfect truck, such as a lifted white Chevy Silverado.
If you're already into lifted trucks, you'll be pleased to find out that we have our very own lift center here at Ultimate Rides. For those of you reading who haven't yet experienced the feeling of driving a lifted truck, we hope that we can show you some of the benefits, but we're able to customize your vehicle to your choosing whether or not you decide to go with a lift it. Any truck in our inventory can be sent over to our lift center to be adjusted, and the best part of all is that the cost can be included in your financing deal for your new truck. While we don't try to push a lift on anybody who doesn't want one, we do want to make sure all of our customers know that the option is available to them.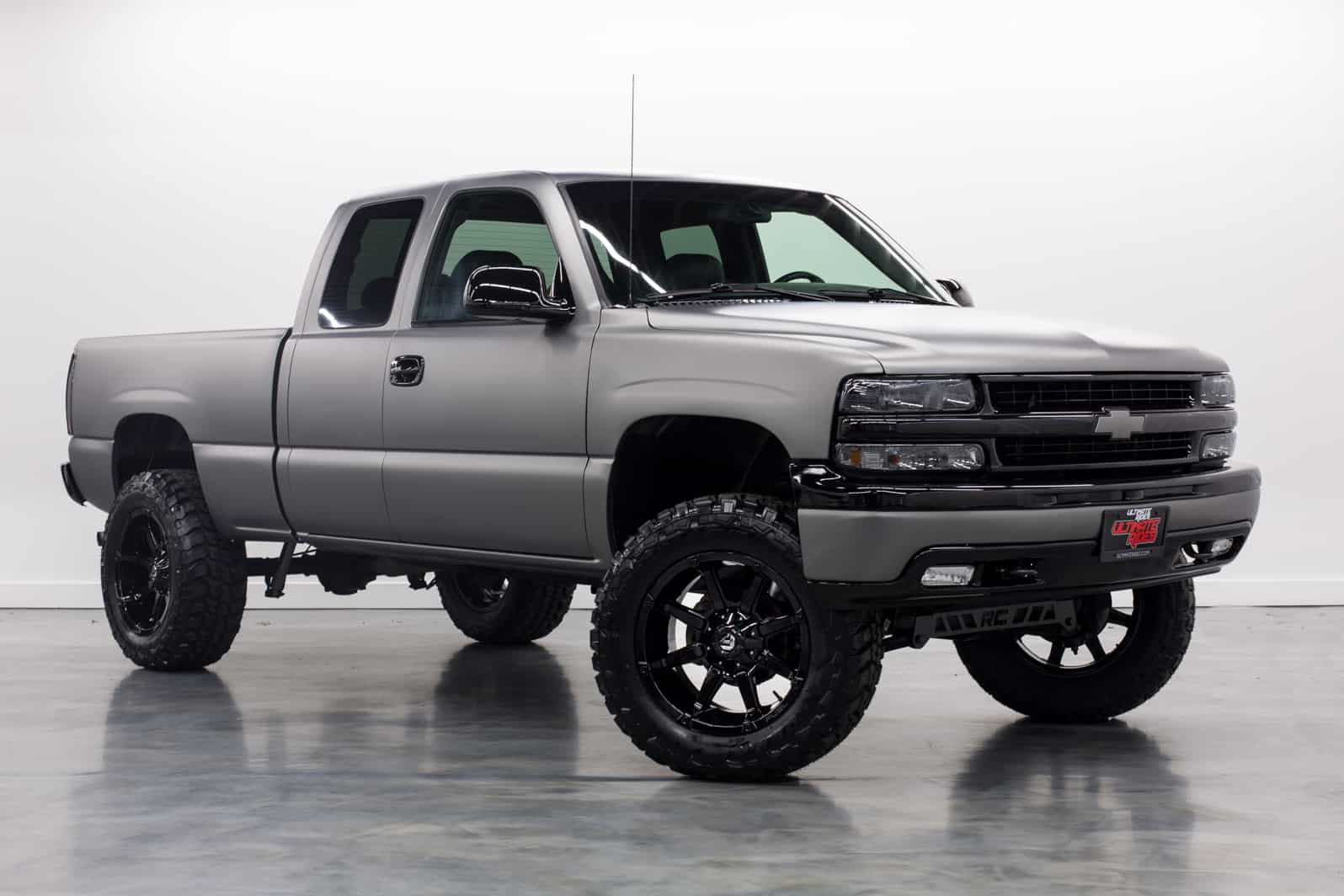 What Makes Ultimate Rides
Stand Out
As we've already briefly mentioned, we believe the two things that make us different from your average truck dealer are the quality of our inventory and the way we treat our customers. Let's dive in a little bit more on what we mean by that. When it comes to our inventory, we have a pretty high bar that has to be met by each vehicle before we feel comfortable selling it to you. Part of what makes us special is that we only sell rust free vehicles at Ultimate Rides. That means we get most of our inventory from places outside of the Midwest. Our buyers travel to different parts of the country to find high quality vehicles they know will fit in with our inventory in terms of style and quality.
It's hard to overstate the wear and tear that rust causes on a truck, and the formation of rust is quickened by the salt that coats our roads each and every winter. That's why it's almost impossible to find a used truck that's under body isn't filled with rusty parts. By obtaining our inventory from other areas of the United States, we're able to fill the void of rust free used trucks missing from our region, like a lifted white Chevy Silverado that could be yours soon.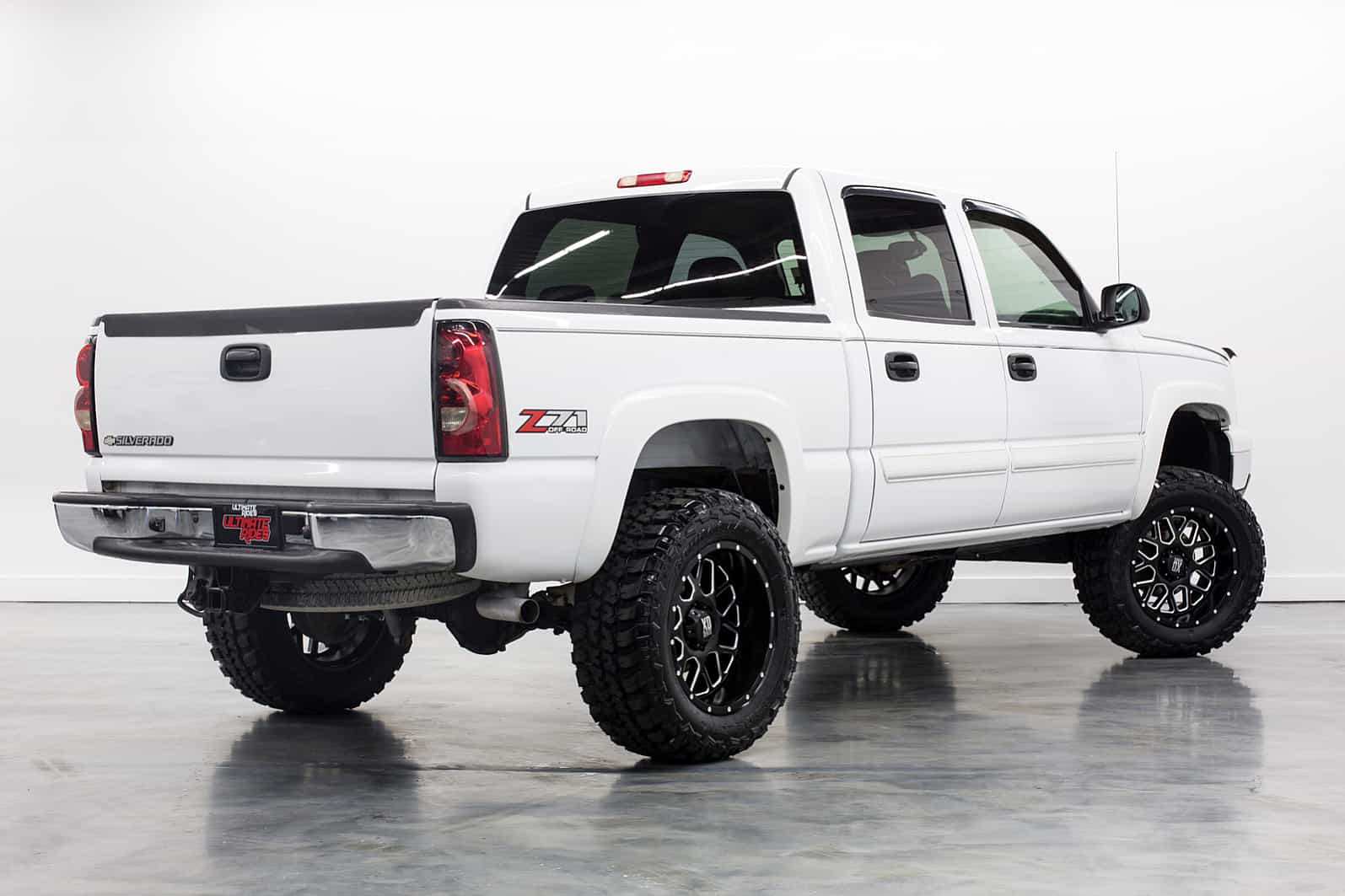 Our Customers Are Our
Number One Priority
The other way that Ultimate Rides sets itself apart from its competitors is through our customer service philosophy. We know the stories about dealing with difficult or dishonest used vehicle dealers, and we've been out to change that aspect of our industry since day one. Our team at Ultimate Rides is friendly and easy to deal with. We maintain a casual environment, and our sales team isn't going to try to trick you or convince you of something you know you don't want. We try to go above and beyond every single day so our customers leave satisfied, and so far this mentality has proven to work!
If you already know what kind of vehicle you want, like the lifted white Chevy Silverado seen in the pictures included on this page, we'll be able to help you locate a model, even if we don't have one in our inventory! With just the placement of a deposit, we'll keep an eye out across the country for the vehicle you have in mind and alert you as soon as we're able to track one down. From there, the process works that same as purchasing any other vehicle.
Get Your Lifted White Chevy Silverado
Shipped to You, Anywhere
Another service provided by Ultimate Rides is the ability to have your vehicle shipped to your location, just about anywhere. If you live outside our immediate area but see something in our inventory you want to buy, you would not be alone! More than half of our business is done with customers outside of Illinois, so we're used to having our vehicles shipped. Simply get in touch with us over the phone and we'll be able to work out the details, and we'll even be able to include the cost of shipping your vehicle within the financing deal if you desire!
The option to have your vehicle shipped out to you is just one more way we're trying to change the game when it comes to auto sales. Now you can have the perfect vintage lifted white Chevy Silverado that you've always dreamed of, completely rust free and ready to drive for years to come. Check out our entire inventory, and make sure to give us a call to find out the latest additions.
At Ultimate Rides, we carry a great variety of exciting lifted trucks, SUVs and cars, all at prices you have to see to believe. We do all this without resorting to cheap sales tactics or overbearing conversations meant to wear you down. At Ultimate Rides, we want to be a different kind of truck dealer. You can call us at 815-634-3900 today, or stop in to visit us in person at 38 W. Division St. Coal City, IL 60416. We're ready to help you find your next long-term truck.