Get a Lifted
Chevrolet Suburban
Come check out our incredible selection of lifted Suburbans at Ultimate Rides for some of the best lifted suburbans available on the market today. Based just an hour south of Chicago, Ultimate Rides has a wide selection of lifted rides for sale such as the Suburbans , Tahoes, Denalis and more, all able to be customized to your liking through our professional lift shop.
Ultimate Rides began over 10 years ago, founded by three brothers who set out to make a difference in selling cars to customers in the Midwest. Though their brother Jake tragically passed away in 2016, Alex and Nick continue running the business in his memory and honor, striving to provide consistently amazing vehicles and customer service to folks around the world. Working on these custom models, like the lifted Chevrolet Suburban for sale you could find today at Ultimate Rides, has become one of their proudest passions in life, and we are all eager to provide you with high-end, rust-free SUVs, trucks and cars that can get the job done.
How do we make sure our entire inventory is free of rust? It's simple. Our specialty buyer travels to different locales around the country that don't have to endure the same harsh elements we're forced to deal with in the Midwest. From there, we make sure only to purchase the finest rust-free cars, trucks and SUVs that we can find. We do this to maintain the structural integrity of our trucks and to ensure they have a longer and functioning life after your purchase. These kinds of rides can be hard to find in this region, so it's our job to make sure that there are still high-quality models like the lifted Suburban for sale.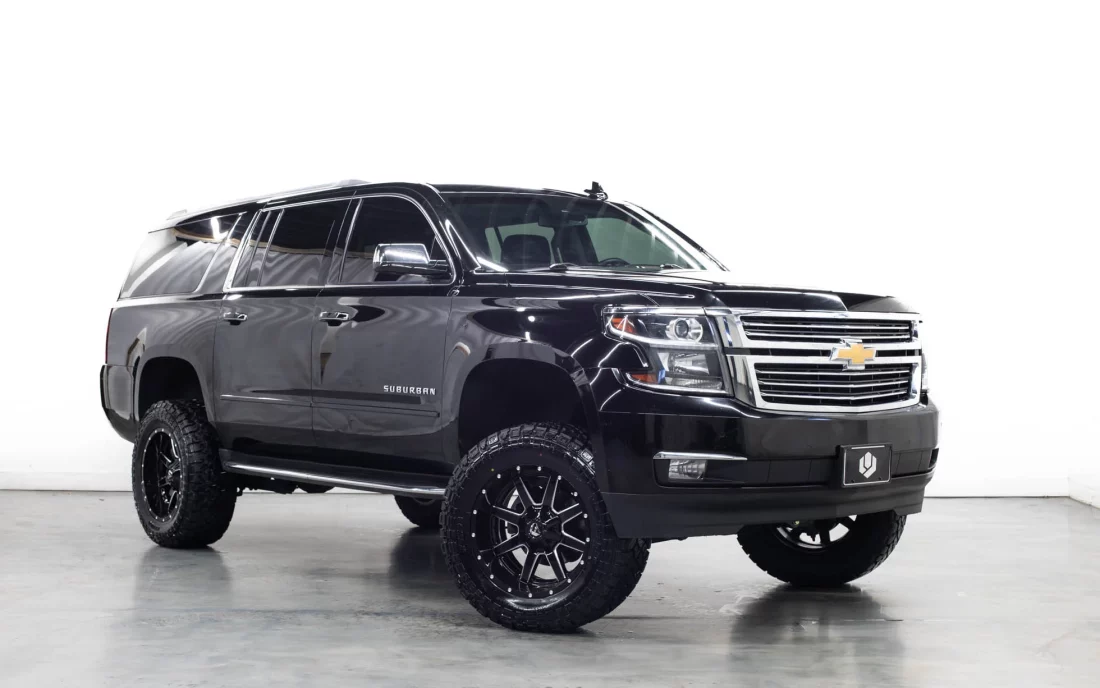 A New Way of

Doing Business
At Ultimate Rides, we think about business a little bit differently. In an age where it seems like companies are constantly taking advantage of their customers, we believe we can change the business simply by doing the right thing. We actually take the time to listen to our customers and help them get into the vehicle that they want rather than the one we want to sell to them. In our office, you'll find a staff that is friendly and relaxed rather than overbearing and pushy. We're dedicated to getting you the truck, car or SUV that you want, in excellent condition, and we're proud of the fact that we've gotten pretty good at it.
Visit Us at Ultimate Rides to Find Your

Next Dream Suburban
Run by brothers Alex and Nick, Ultimate Rides has been providing beautiful custom Suburbans to customers across the country for over 10 years. You heard that right! Our inventory is so unparalleled that much of our business is done with customers outside of Illinois. We've earned a reputation as being trusted sellers of high-quality lifted trucks and SUVs, including the amazing lift Suburban for sale showcased here today. If you happen to be an out of state buyer looking at our inventory and wondering what the process of purchasing one of our trucks or SUVs and having it shipped to you looks like, we urge you to give us a call and let us talk to you about our transportation costs, which can be included in your financing deal! It's an offer too great to pass up for too long!
If, on the other hand, you live in or around the Chicagoland area, we highly encourage you to come on by to speak to our sales team about your options and wants, and to check out all the inventory we have on hand. By finding our vehicles in warmer rust-free climates, we're able to maintain them so that they look and operate as good as new. Plus, we make sure all our available models receive stringent quality inspections to make sure they are up to our high standards before we sell them to you. If you pay us a visit at our office, located at 38 W. Division St. Coal City, IL 60416, you will be able to find out firsthand how well we take care of our inventory. If you plan on buying used, we don't think you'll be able to find a more reliable dealer than us.
It's not just our vehicle inventory we pride ourselves on, however. There are several other key factors that we believe sets Ultimate Rides apart from your average every day used auto dealer. At Ultimate Rides, we pride ourselves on avoiding the tired and transparent selling tactics that many people associate with used car salesmen. Here, we are proud of the way we treat our customers. In fact, we feel that building a quality relationship with our customer base is almost as important as the quality of our inventory, and if you've had the pleasure of seeing our inventory in person, you know that that's saying something!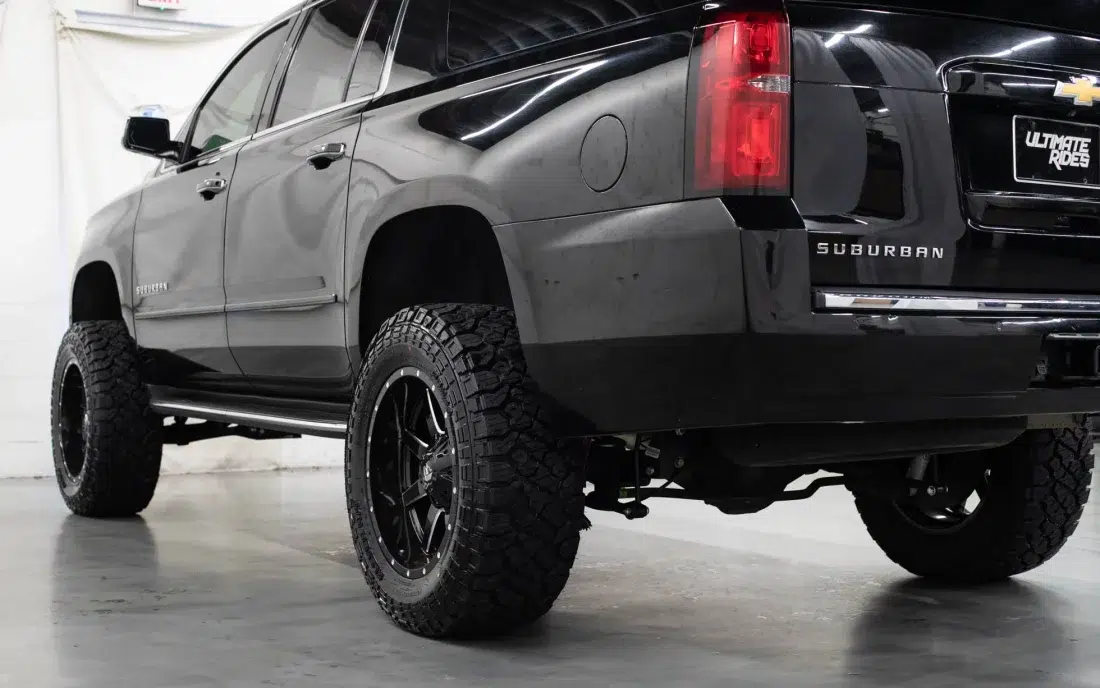 Lift Your Vehicle
Right Here
Any time you purchase a truck from Ultimate Rides, you have the option to send the vehicle to our Lift Center to install a lift kit to your new ride, as well as choose your preferred wheels and tires. This big detail can help you take your truck from standard to standout, making you the focus of attention on the road, no matter where you drive. We highly encourage all of our customers to look into the option of lifting your truck if you decide not to go for something already decked out, like the lifted Suburban for sale. All of this can be included in your financing plan, so there's no worry about having to pay for it up front. With our excellent prices, you might even have a little more cash to spend than you were expecting, so why not splurge on something as awesome as a lifted ride?
In addition to the Chevrolet Suburban, we offer a wide range of other models to choose from. You could get a Jeep Wrangler Unlimited lifted right here, or any one of the other incredible new or used models we have at the ready. If there's something specific you want and you don't see it in our inventory, such as the aforementioned Jeep model, just let our team know. We have the ability to track just about anything down for you and customize it just the way you want.
Additional Ways to Customize the
Chevrolet Suburban
Along with getting your Suburban lifted, there are quite a few other things the Ultimate Rides service center can offer. One of our specialties is setting our inventory up with a complete off-road package. This can include accessories like grille guards, running boards, LED lighting, and so much more. However, you don't have to limit yourself in that regard. Our team is capable of installing any accessories or upgrades you can think of. With the ability to finance the cost of this work on your Chevrolet Suburban, we can even help keep the price at a manageable level for you.
Along with a suspension lift, one of the most popular upgrades available at Ultimate Rides is a new set of wheels and tires. One of the main reasons people choose to lift their vehicle is to install those larger wheels, and it can have a strong effect on the way you drive. Let us know if you're interested in any of these upgrades, such as an off-road package or something more basic. Additionally, remember that this work is not only available for our inventory, but for your current vehicle as well.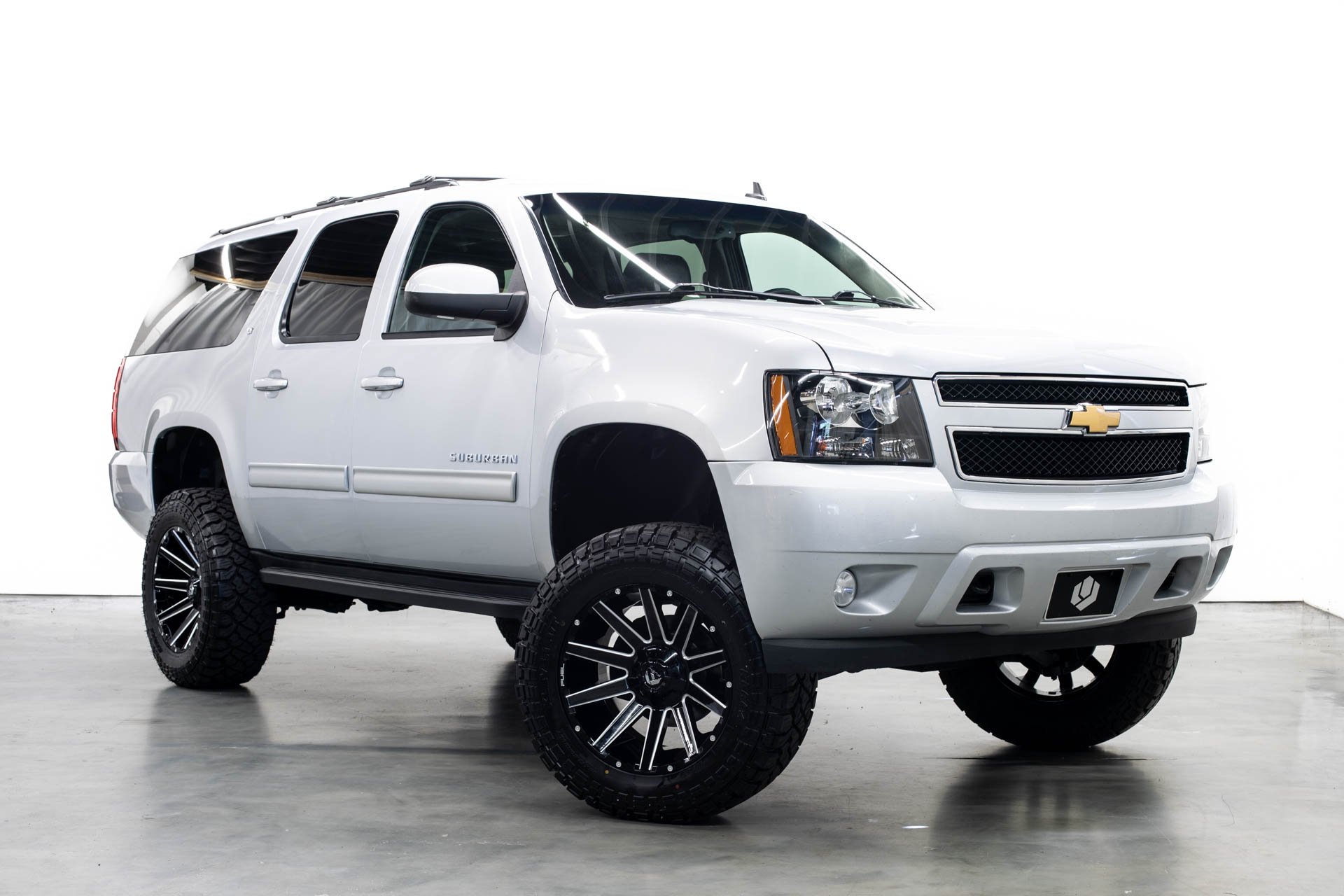 Suburban Vehicles for Sale with
Nationwide Shipping
Custom trucks and SUVs are more popular on the road than ever. However, not everybody has access to high-quality custom vehicles. At Ultimate Rides, we always believed this was a terrible shame. That is why we have worked so hard to be able to provide customers from all across the United States with top of the line custom SUVs and trucks for sale.
Our shipping process is simple, affordable, and fast. It all starts when you give our office a call. A member of the Ultimate Rides team will listen to your needs, walk you through the options in our inventory, and help you find or build the vehicle of your dreams. By now, you should know all about our lift center. The custom work there is still available when you order one of our rides for shipping. Just let us know what you'd like done and our team will take care of it before we send the vehicle out.
We'll be able to handle the whole process right over the phone. We'll take your financing information and get you set up with a deal that works for all parties involved. You'll even be able to decide to include the cost of shipping in your financing plan if you'd like. This makes it much more affordable for drivers to order a vehicle delivered to their home. If you have any questions about this process, please don't hesitate to let us know! We're confident we can get you a vehicle, and we'll have it to you in a week or less from the time that it's ready.
Chevrolet Suburban
Standout Features
By the standards of modern SUVs, the Chevrolet Suburban is near the top of the food chain in terms of features. Drivers should have access to a range of trim levels for each model year, with some models being more affordable and others getting higher in price. We'll be talking about features specifically found on the newest edition of the Chevrolet Suburban. The exact features you'll find will depend on not only on the trim level, but the model year as well. For a full list of details on all the Chevrolet Suburban models we have for sale, new or used, contact the team at Ultimate Rides.
Performance
The base engine of the 2022 Chevrolet Suburban is a 5.3L V8, able to provide you with up to 355 horsepower and 383 lb.-ft. of torque. This ensures that all Suburban drivers have access to an engine configuration that can rely on. However, some models and optional packages could instead include a 6.2L V8 engine, or a 3.0L Duramax turbo diesel engine. The upgraded V8 can reach as much as 420 horsepower and 460 lb.-ft. of torque, while the diesel engine is capable of providing 277 horsepower but 460 lb.-ft. of torque, as well as the other benefits of a diesel configuration. All of these engines are paired with a 10-speed automatic transmission, and you could have access to additional performance features on your Chevrolet Silverado, such as magnetic ride control or an Autotrac two-speed transfer case.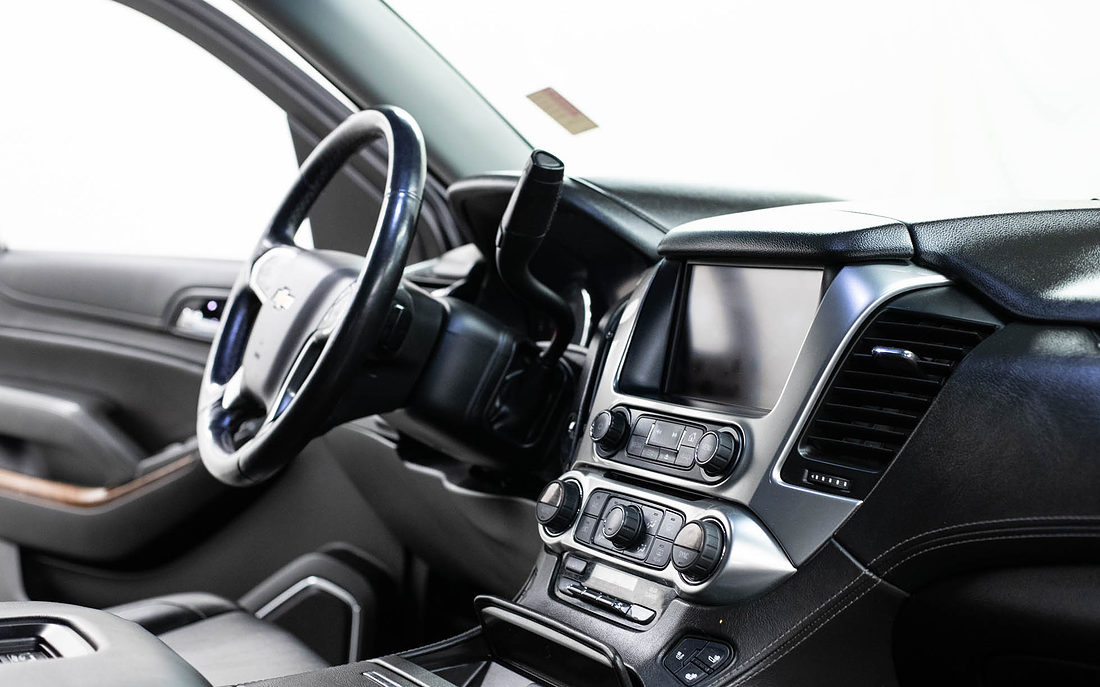 Interior
If you're looking for the best interior features, you're going to want to opt for one of the trim levels with a higher price tag. These models can include exciting features like an advanced sound system from Bose, a rear trailer camera system, or a premium package that offers a panoramic moonroof. The latest Suburbans for sale from Chevrolet can also include a truly impressive windshield-projected heads-up display system. This full color 15-inch display provides customizable information on your vehicle without needing to take your eyes off the road. Of course, you can also find more common modern features like a lane-keep assist system, climate control air conditioning, and wireless charging for your smartphone. These are just some of the excellent features that could be available, and our team is always willing and able to add anything else you'd like to the Chevrolet Suburban.
Exterior
Just like the other categories of the vehicle, the outside of the Chevrolet Suburban has a lot of exciting things to offer. You could find the vehicle for sale with wheels up to 22 inches, though the standard size is just 17. Many models of the Chevrolet Suburban already include a set of side steps for easier entry and exit, as well as deep-tinted glass for your privacy. The 2022 Chevrolet Suburban does come standard with a set of LED headlights, as well as automatic rain-sensing windshield wipers. However, you'll have to opt for a higher trim level if you want something like the power-assisted running boards with LED perimeter lights. That, or you can always bring the vehicle to us, no matter how many miles you've already put on it.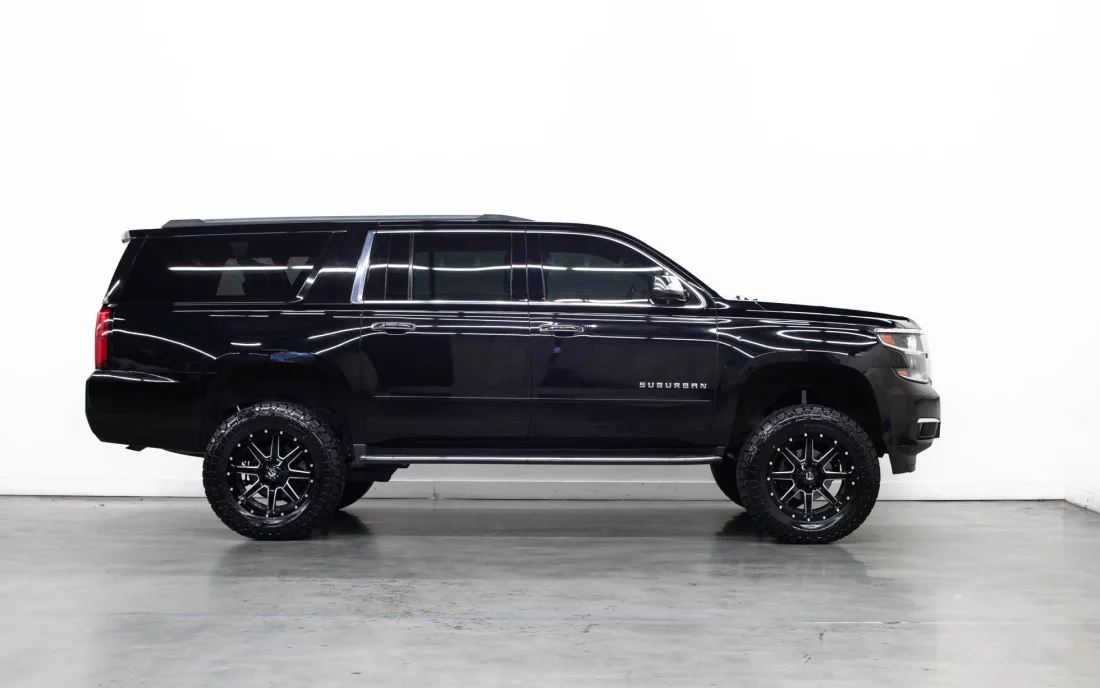 Driving a Chevrolet:
What to Expect
For many years now, Chevrolet has been one of the top suppliers of trucks, SUVs, and cars all across the globe. Their models bring together a great price with a strong selection of features and performance capabilities, making them the top choice for a wide range of drivers throughout the United States. In particular, the Chevrolet Suburban has been a favorite for drivers who want a large SUV capable of supporting the miles of day-to-day work commutes, lengthy road trips, and everything in between. Depending on the trim level and model year you choose, you'll be able to fit as many as 8 people inside the Chevrolet Suburban, perfect for both large families and those who often transport their friends around. There's also plenty of cargo space in the Chevrolet Suburban, while still coming in at a fair price. Whether you're an artist or musician who needs extra room for their gear, or a worker who has a lot of equipment to haul around, the Chevrolet Suburban can be an excellent choice. Take a look at our many options to see if there's a Chevrolet Suburban for sale in your price range with the right amount of miles, and let us know what catches your eye!
The Search for the
Ideal Chevrolet Suburban
It's perfectly okay to be picky when it comes to your next SUV. Even if you've decided the Chevrolet Suburban is the right vehicle for you, it makes sense not to just choose the first model that you see. Think long and hard about what you're looking for, whether it's the miles put on the SUV, the features inside, or the performance capabilities. Think about your budget during the search as well, because that will help you narrow down your options when it comes to price. The number of miles the vehicle has seen will be a big factor with regard to the price, as well as the trim level of the Chevrolet Suburban. If you need help figuring out which model is right for you, including hearing about different price options and options with different miles, feel free to let us know you're interested in a Chevrolet Suburban. We have both new and used models to share, and can't wait to show them off. A member of the Ultimate Rides staff will sit down with you in person at our office location or over the phone and help you sort through the details until you know exactly what you want.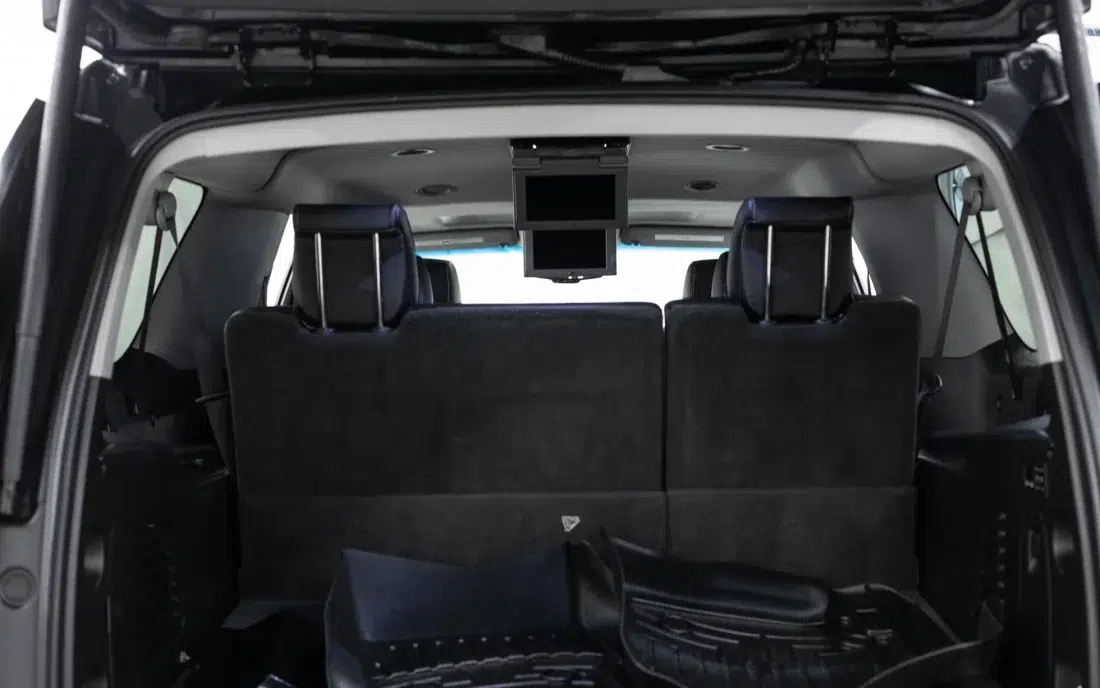 Custom Rides at a
Fair Price
The models for sale at Ultimate Rides, including the Chevrolet Suburban, might have a higher price than what you'd find at a local used auto dealer. However, our prices are based on the quality of the vehicle and the level of customization each one features. We care a great deal about our customers, and pride ourselves on not gouging them on the price. If you have any questions about a vehicle in our inventory, the vehicle history, or its miles or price, Chevrolet Suburban or otherwise, our team will be happy to answer them. Give us a call at 815-634-3900 to speak to a member of our team, or you can feel free to visit the Ultimate Rides office at 38 W. Division St., Coal City, IL 60416. We're very confident we have a Chevrolet Suburban for sale, new or used, that will grab your attention.
---