Lifted Yukon for Sale at Ultimate Rides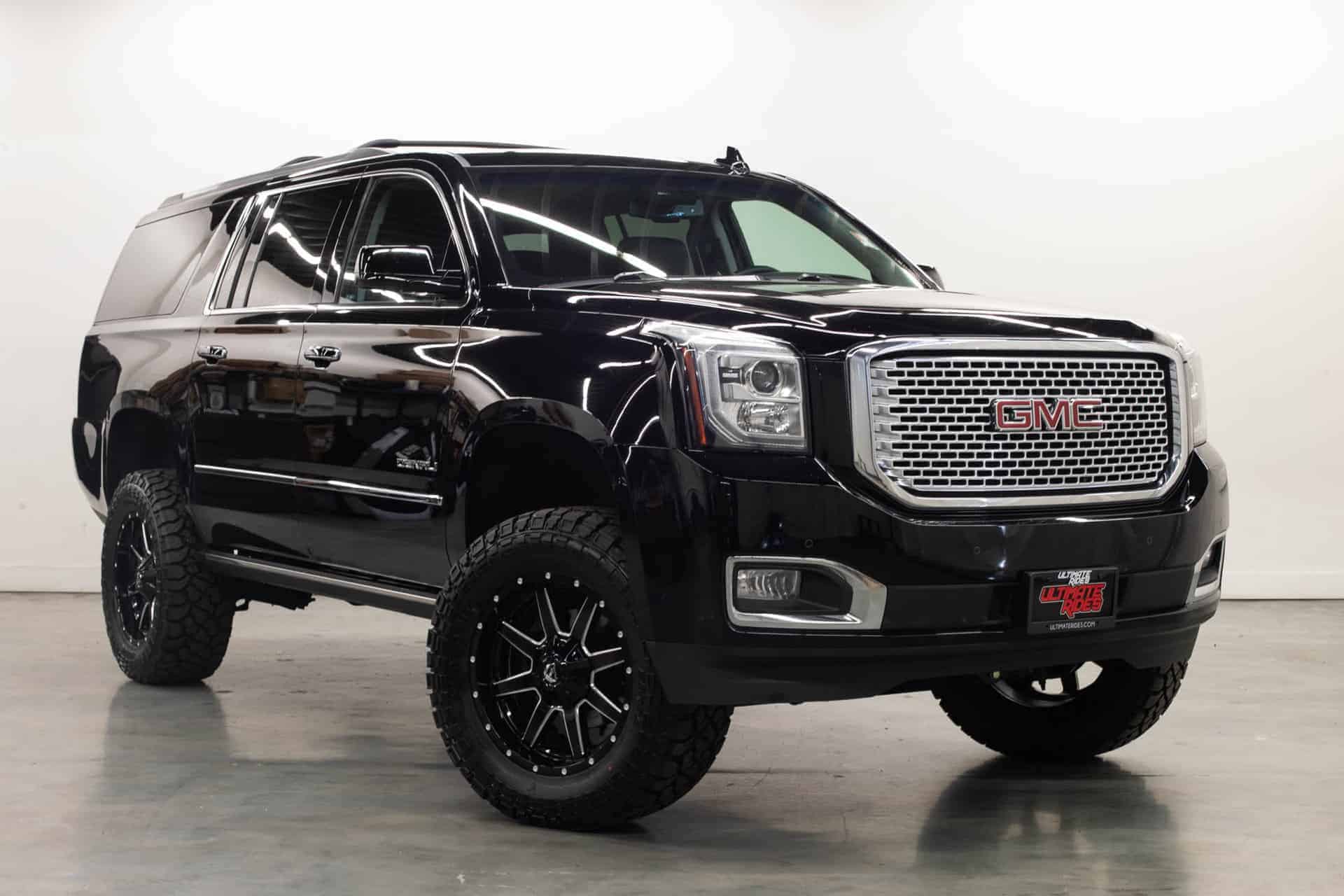 In Need of a
Lifted GMC Yukon?
At Ultimate Rides, we consider ourselves experts and fans when it comes to lifted trucks. If you're on the hunt for a lifted Yukon in great shape, take a look at our current inventory here on our website, give us a quick call or even pay us a visit if you're close! We're one of the Midwest's premier used truck and SUV dealers, and we've spent over a decade building up our reputation as an excellent place for you to take your business. Let us tell you just a few of the reasons why, beginning with the impressive quality of the trucks we sell.
If you have ever shopped for a pre-owned vehicle, you are likely well aware of how hard it can be to find one in great shape. Sometimes you can get lucky, but it's quite rare, especially here in the Midwest, to come across a vehicle that hasn't already undergone several years worth of rough wear and tear. At Ultimate Rides, we're all too familiar with that difficulty, and that's why we send out our specialized buyers to different areas of the United States to bring back the finest SUVs and trucks they come across.
If you're looking for a lifted Yukon for sale, you really don't want one that's already endured the salty winter roads and weather conditions we experience here. It causes rust that can greatly affect the vehicle's longevity and hinders regular maintenance. All the vehicles we sell at Ultimate Rides have gone through our tough quality inspection process. We go to great lengths to make sure the vehicles we sell are up to a very high standard of quality.
Getting a Lifted GMC Yukon
Sent Directly to You
Another way we go above and beyond normal auto dealers is the way we do business with buyers from around the world. If you are wondering if we can ship to you, the answer is almost certainly a yes. Currently about 60% of our business is done with buyers who live outside the state of Illinois, and that tells us that what we're doing here is something special. If our enticing prices aren't enough of a draw for you, wait until you hear that the cost of your transportation can be included as part of your vehicle financing deal!
We know that the Midwest isn't the only place where it can be difficult to find used trucks in good shape, and in today's day and age we just could not find a good reason not to offer our vehicles up to the rest of the world. If you see the perfect lifted Yukon XL for sale that you've been waiting for, you don't have to worry about making the drive to Chicago to pick your new ride up, because we can have it sent straight to you!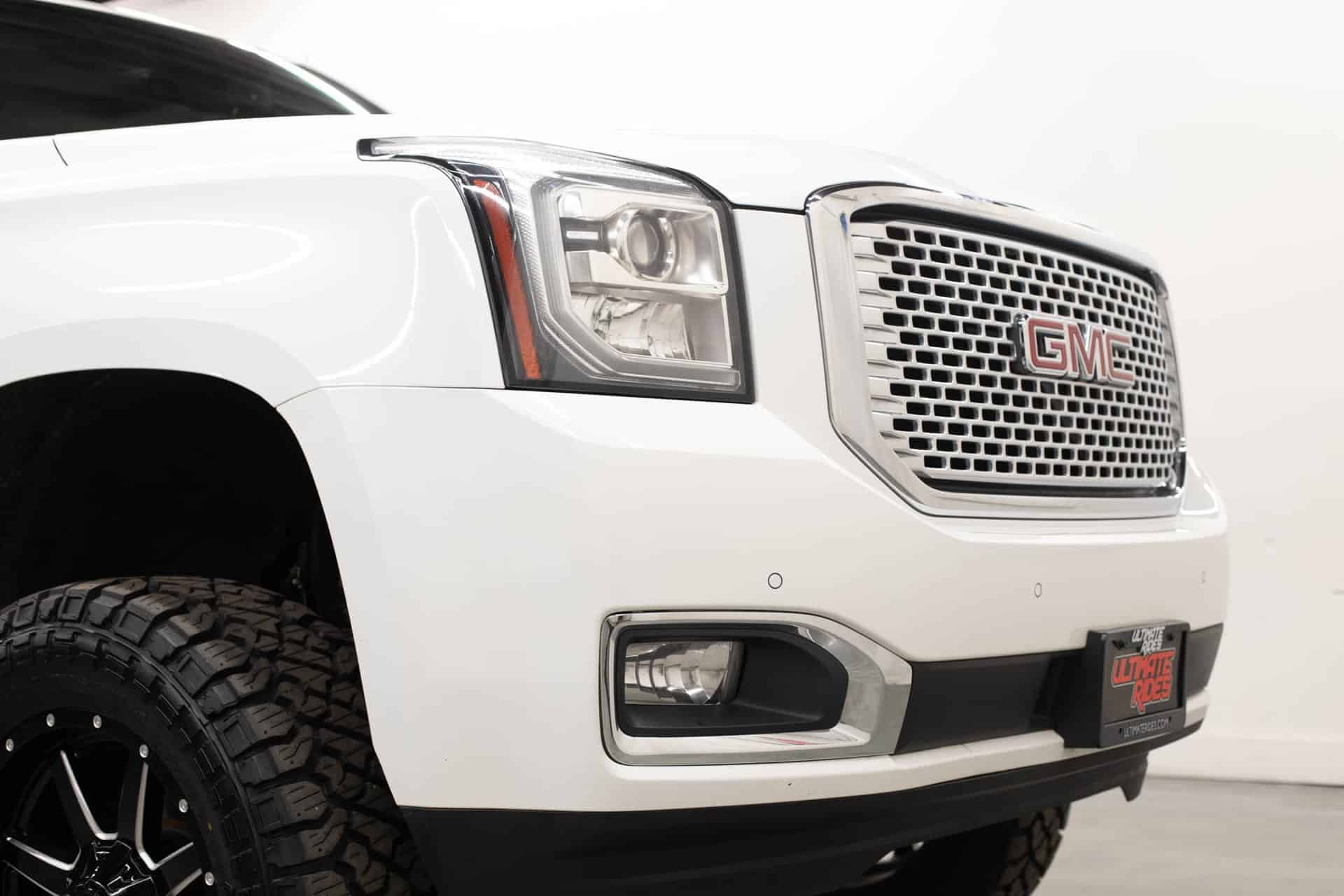 Customer Service for a
New Generation
At Ultimate Rides, customer service is an integral part of the way we're structured. Our team members are some of the kindest and most helpful individuals that you can come across, and it makes it truly easy for everyone to work together. We also hope that it makes it easy for you to shop with us, and based on the high praise we've gotten from customers over the years, we seem to be doing something right.
When you buy from us at Ultimate Rides, you won't be given the same old sales pitch, or be pressured into a vehicle that you don't really want to buy. It's our job to match you up with your perfect ride, and we think the easiest way to do that is to treat everyone who comes into our office or calls us with respect. We want to change the perception that buying a truck or SUV is a painful process. With that in mind, we've recruited a fine team of sales, financing and service experts who will happily work with you on finding the best vehicle you can find, such as a high end customized lifted Yukon for sale today.
We've all heard the horror stories of friends or family members who had a nightmare of a time shopping for a pre-owned truck or SUV. Ultimate Rides was first created to try and become an alternative to that kind of business. In the age of the internet, there is no longer any room for auto dealers who look to take advantage of their customers. They can simply find a better alternative, and we hope that's where we come in.
Customize Your GMC Truck
Right Here
Shopping with us is quite different than what you'd expect from most auto dealers. That's because we specialize in custom rides, built right here in our own shop. It all starts with the quality of our inventory. In our opinion, there's not much of a point to upgrading a vehicle if it's not in great shape. After all, you want your new truck to last, otherwise you'll be wasting your money. That's why our buyers head out to the warmest parts of the USA to find rust-free trucks, SUVs and cars. We hand-pick the best models we find and bring them back to our shop. From there, each vehicle goes through an inspection, and then most of them receive a number of upgrades from our crew. In the Ultimate Rides inventory, you'll find that most of our vehicles already feature a lift kit, and that's just the beginning of what we can offer.
Each and every vehicle we sell can be further upgraded by our team. Just give us the word and we'll install any accessories or improvements you can think of. The technicians at Ultimate Rides are ASE-certified, have plenty of experience, and have a strong passion for custom vehicles. Give our office a call if there's something specific you would like done and we're quite confident we can make it happen. Perhaps best of all, this work can all be included in your vehicle financing deal. Whether you're buying one of our Yukon models or something else entirely, our team will be more than happy to work with you so you can start driving something you love soon.
We even accept appointments to work on your current vehicle! If you don't feel the time is right to upgrade into something new, that's no problem. Our team can offer all these same upgrades to whatever you're driving now, from the Yukon to pickup trucks or even sports cars.
How Does the GMC Yukon Hold Up
Over Time?
Older GMC Yukon SUVs, even one with plenty of miles on it, can still run great. The key is to ensure you keep up with maintenance over time. While everyone knows that they're supposed to get their oil changed every 3,000 miles or so, good maintenance consists of much more than just that. Making sure all your other fluids are at a good level as well as occasionally rotating your tires to minimize wear and tear can both help keep your Yukon healthy, even if you're adding lots of miles. Too many people ignore signs that their vehicle needs to be brought in for maintenance. While you can still keep driving your Yukon while ignoring these things, it is certainly not good for the long-term health of the vehicle.
In addition to those highly important elements of maintenance, we also encourage you to regularly replace your brake pads and tires. Some drivers keep the same tires on their Yukon for far too long. The National Highway Traffic Safety Association recommends replacing your tires every six years, no matter how many miles you put on them. If you're driving the vehicle quite a lot, we recommend changing the tires every 60,000 miles or so. If you want the best performance, you may even want to take that number down to 30,000 miles, but that all depends on your budget. As for brake pads, you can usually hear when they start to wear down. If you hear a noise when braking, it's likely time to change those brake pads out.
By checking your spark plugs, belts and hoses, you can make sure that everything under the hood is running as intended. We also recommend a steering alignment every so often, and you'll want to change out the engine air filter when it gets too dirty. These are all standard maintenance routines and should be easily taken care of by any professional mechanic. As long as you keep up on all these aspects of vehicle maintenance, you should expect the GMC Yukon to run great for 200,000 miles or even more. GMC is a company that builds their vehicles for the long haul, as long as they're taken care of. With that in mind, remember that you can bring your Yukon right here to Ultimate Rides for top-quality maintenance and so much more.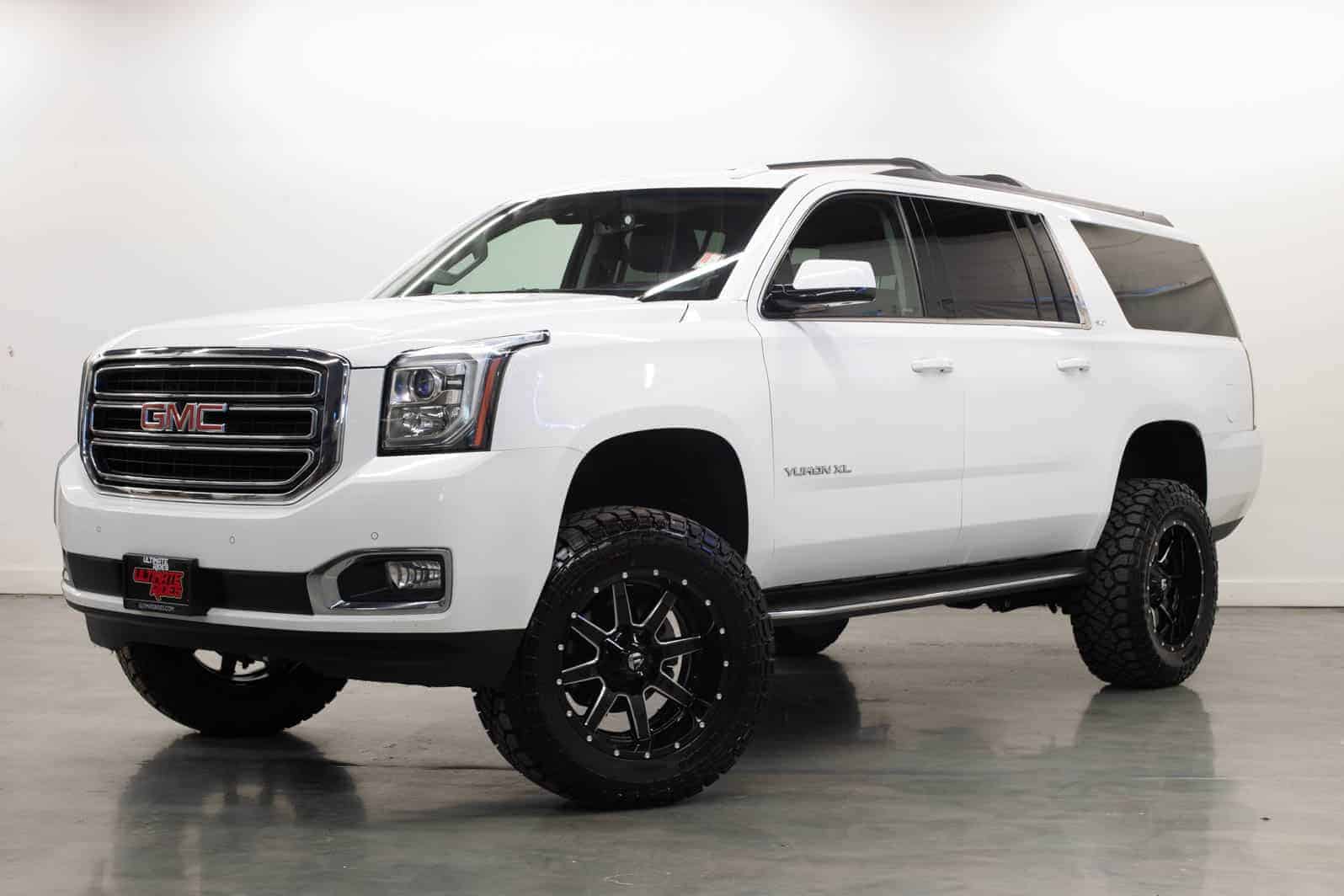 GMC Yukon vs.
GMC Yukon XL
The GMC Yukon can, of course, be found in a wide variety of trim levels, each one at a different price. These trim levels offer a different selection of features, with the more expensive models including useful extras such as an active 4WD system or LED lighting upgrades. However, there are two different versions of the GMC Yukon for you to choose from with more major changes. You could opt for the standard Yukon, or the larger GMC Yukon XL. While the exact changes may differ depending on the model year, in general you can expect the GMC Yukon XL to add around a foot in length. This provides you with more room to stretch, as well as extra cargo space. The Yukon XL also offers better towing capabilities, making it the go-to choice for those who intend to transport a large trailer.
At Ultimate Rides, whether or not we currently have a Yukon XL for sale, we can always help you get your hands on one. Contact us and let us know what specific vehicle you're looking for. If you leave a deposit with our team, our buyers will seek out and purchase the vehicle you're after. We can bring it back to our shop to upgrade it or get it out to you as-is. From the Yukon or the Yukon XL to any other potential vehicle for sale, we are excited to help you into a custom ride as soon as possible.
The Perfect Lift for Your GMC,
Found at Ultimate Rides
One more element that sets us apart from our competition is our lift center. Any SUV or truck that you see in our inventory can be taken to our lift center to be outfitted with a lift kit and customized wheels and tires. Our highly skilled technicians will be able to make your vision come to life if you're looking for a specially lifted Yukon for sale. We have plenty of inventory just waiting for the ride buyer to come along, so don't be shy! Ask any of our team members about having your prospective vehicle sent to our lift center and we'll be able to give you some more details, including pricing options. Another great benefit of buying from Ultimate Rides? You can finance the cost of your lift center trip as a part of the deal for the vehicle itself.
So if you or someone close to you is in need of a high quality used truck or SUV, please do not hesitate to give us a call or stop by to see us. We're located just about an hour south of Chicago at 38 W. Division St., Coal City, IL 60416. We can be reached via phone at 815-634-3900. We can't wait to get to work with you.