Lifted GMC Sierra 1500 for Sale | Custom Trucks
Visit Ultimate Rides Today to Find a Lifted GMC Sierra 1500 for Sale
It seems like it can be harder than ever to find a quality used vehicle for a fair price, especially if you're looking for lifted trucks. They all either get snatched up too quickly, are in bad shape, or are simply priced at an outrageous mark up. When you come in to look at our vehicle selection at Ultimate Rides, you can rest assured you will not run into that issue. Here, we offer a vast selection of high quality, rust free vehicles, many of which are custom-built trucks. If you're looking for a custom GMC Sierra 1500 for sale that is still in excellent shape, come take a look at what we have to offer.
We build our inventory by finding used vehicles from some of America's warmer climate states like Texas and California, making sure that every single vehicle we bring in is in great shape and should last you many years to come. The most important aspect of making sure your vehicle stands the test of time is by taking good care of it, and that means regular maintenance. As long as you do that, a good pickup could easily last you 20 years or more. Plus, there's just a certain feel that older trucks have that just aren't matched by today's. We love finding old trucks like the lifted GMC Sierra 1500 for sale and bringing them back to our customers along with our own special additions.
Rust-Free Vehicles, Hand Selected by Our Team
At many other used auto dealers, you'll find a range of quality. At Ultimate Rides, we sell vehicles both new and used. The used ones are all in excellent shape, picked out by our own team and inspected to make sure they meet our quality standards. One of those standards is a lack of rust. You've probably seen auto lots littered with rusty vehicles before. That's not something you'll find here. Our quality standards are quite important to us, and we do a lot to uphold them.
Despite being located outside of Chicago, where harsh winters and salted roads make rusty incredibly common, we are able to provide customers with this inventory through our own hard work. We send our buyers out to warmer areas of the country, where it's much more possible to find used vehicles in good shape. We bring the rides back to our headquarters, inspect them to make sure they are up to our standards, and then send them over to our lift center for upgrades. When you purchase a vehicle from us, you'll know that its quality played a huge part in why it ended up here in the first place.
That could include a custom-built GMC Sierra 1500 for sale, or another vehicle. In fact, if there's something specific you want to find, be sure to let us know. Our buyers will be able to keep their eyes peeled during their search. As soon as we're able to locate the vehicle, we'll let you know. From there we can decide whether you'll be coming to pick it up or we'll be able to ship it to you!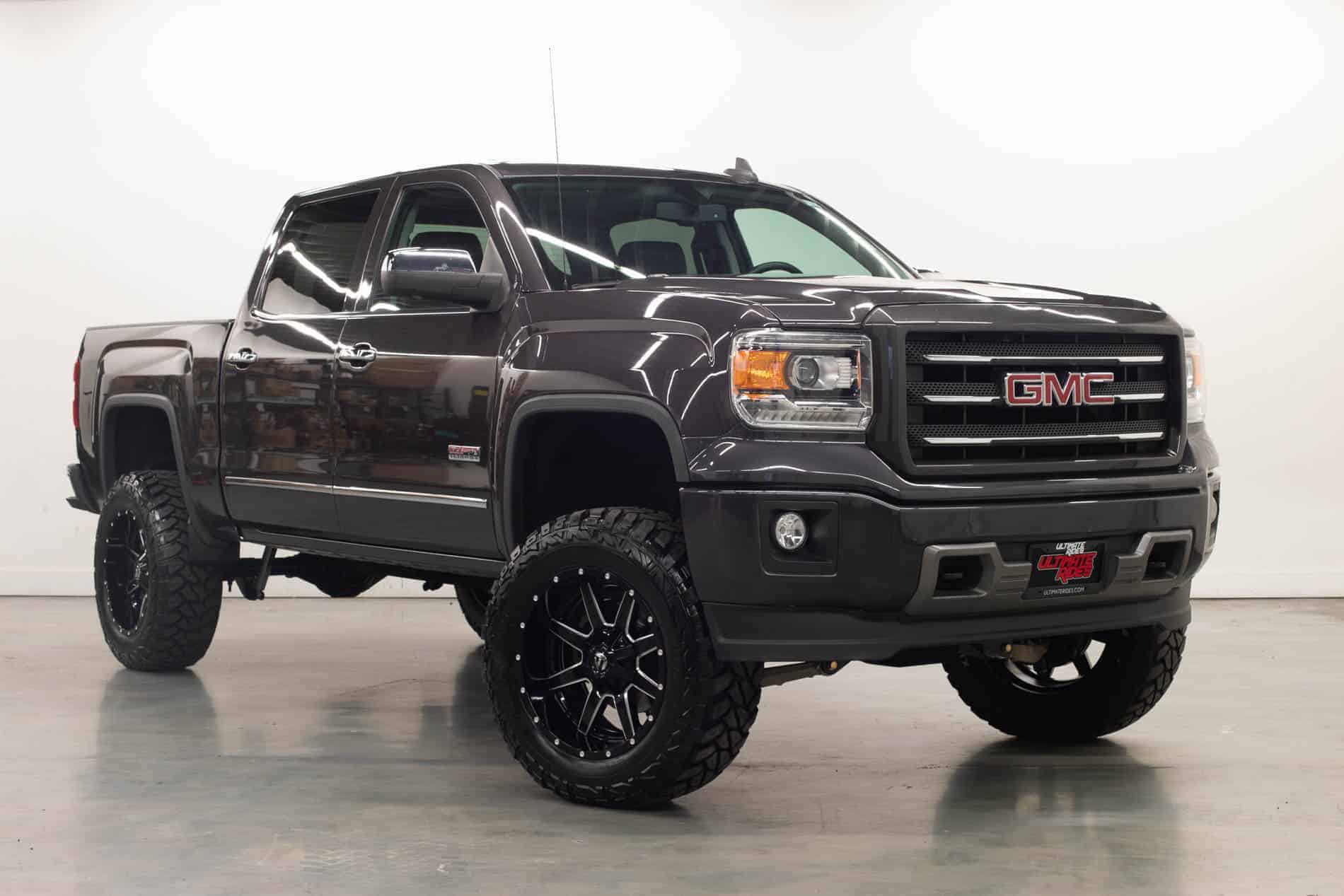 Ultimate Rides Lift Center Gives You Options for Custom Trucks
One core part of our business is providing all of our customers with the option to customize their new vehicle however they see fit. We love working on trucks even more than we do selling them, so it's no surprise that we have a fully trained staff of technicians on deck at all times, working on vehicles either for our customers or for ourselves. If you find a pickup you like but think you might want to add in a different lift kit or make some adjustments with the headlights, let us know! If you can think it up in your hand, there's a great chance we can build the truck of your dreams. Our new lift center finished construction in 2017, and we have been able to dig into some of the latest tech and gear, providing all the biggest name brands when it comes to parts and modifications.
We try to encourage our customers to take advantage of our services without trying to push them on you, but feel free to get in touch if you have any questions! One of the ways we try to help is by allowing customers to include the cost of their lift center trip in their vehicle financing deal! This lets you pay off the total at your own pace instead of sticking you with one big upfront cost. However you want to pay, we are sure we can work it out, so just let us know you're interested and we'll start talking!
Maintenance, Repairs, and More Waiting for You
If you don't feel like you're ready to buy your next vehicle, there's still a very good chance we could help. If you're anywhere close to the city of Chicago, you aren't too far from Ultimate Rides. We're located an hour south of the Windy City, and are available to help customers with a wide range of needs.
Is it time for you to schedule your regular maintenance on your vehicle? Or maybe you've been hearing a strange noise that you need to get checked out. Our staff is here to assist you. We're here for more than just custom upgrades, and have a ton of experience working on all kinds of vehicles. Whether it's something minor like a tire rotation or a major piece of work like engine repair, you can count on Ultimate Rides to get it done, in a reasonable time and at a fair price.
You can also make an appointment to have us upgrade your current vehicle. All of the same modifications and accessories available to our inventory could be yours. Our team even offers detailing to make sure we get your vehicle looking as good as can be! Reach out to learn more or to schedule your appointment soon.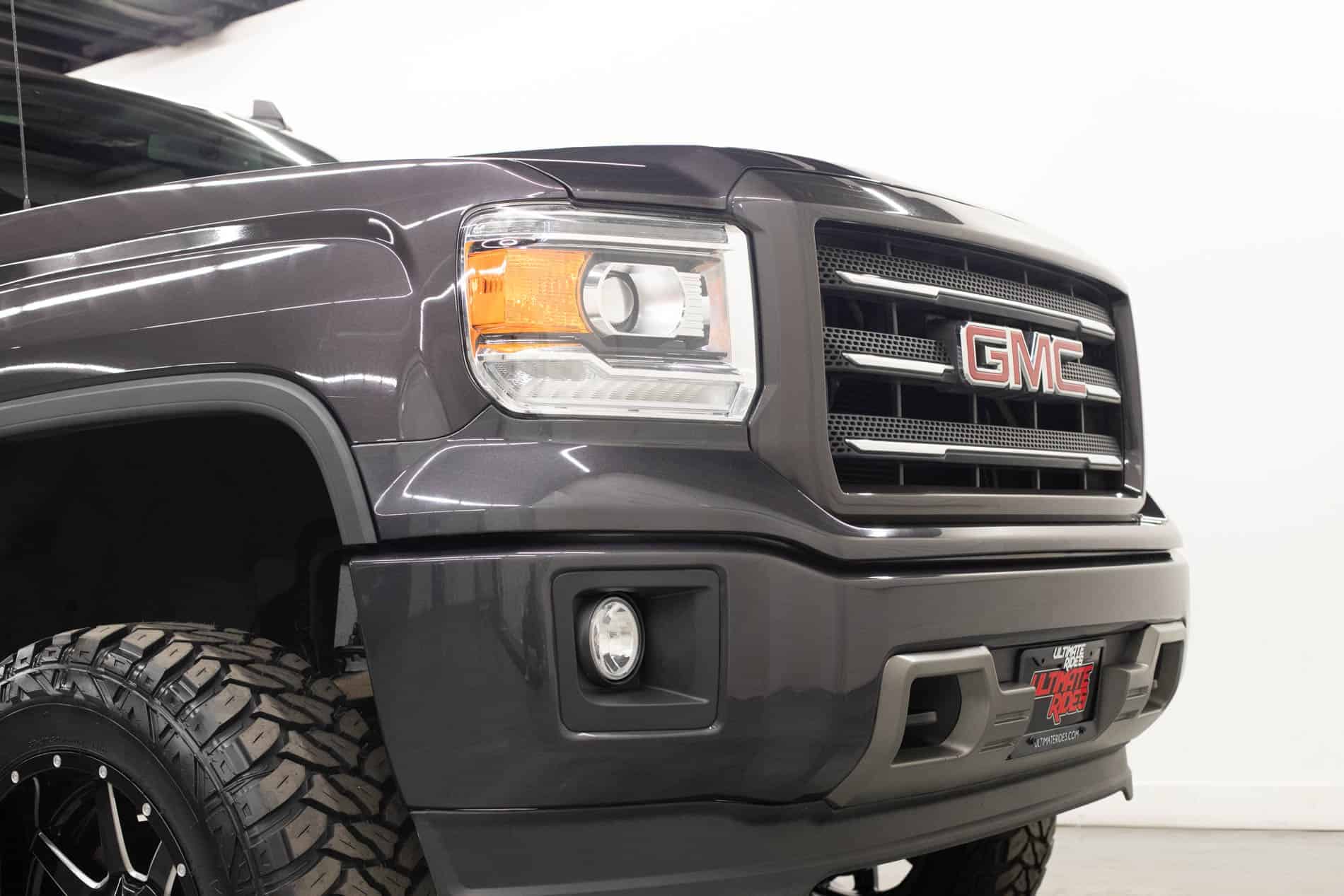 Lifted GMC Sierra 1500 for Sale and Much More at Ultimate Rides
There's no doubt we have a huge inventory of awesome vehicles, and a top-tier service center, but we're not done telling you some great reasons why you should purchase your next vehicle with Ultimate Rides. We have taken a different approach to customer service than most people expect from an auto dealer. You should not have to deal with salespeople hustling or trying to work over customers to make a quick buck, and here, you won't. Our representatives are friendly and casual, trying to match you up with the right vehicle for you instead of trying to push something on you. For more than a decade now, we've done business in what we think is the right way, and it seems like people everywhere are responding.
We do business with folks both in our own neighborhood and far beyond, with out-of-state sales making up more than half of our total business. We make it easy to choose over the web and on the phone, giving you access to plenty of details about the vehicle as well as high-definition photographs. If you have any questions, please feel free to give us a call any day of the week and we'll be able to get you some answers. We deliver vehicles all over the globe, so if you are interested in a customized GMC Sierra 1500 for sale or something like it, we've got you covered. You can even have the cost of transportation included in your financing deal, just like a trip to our service center!
Details on the Ultimate Rides Shipping Process
To start, we first encourage you to take a look at the inventory on our website. You can also give us a call at the same time. From there, a member of our team will be able to provide more details on the vehicles you see. We'll also have more photos if you need, as well as anything else you wish to know.
When you come to a final decision, we'll be there to start the financing process. Together we'll come to an agreement that works for everyone, and we'll start getting to work on your vehicle. You'll still have an opportunity to customize your ride if you're ordering it to be shipped. Just let us know what you need done!
From the time that the vehicle is ready, it should be a week or less before it makes it over to you. The exact amount of days depends on a few factors, and we can provide you with more information over the phone. Contact us when you're ready to order a sleek and powerful GMC Sierra 1500 for sale!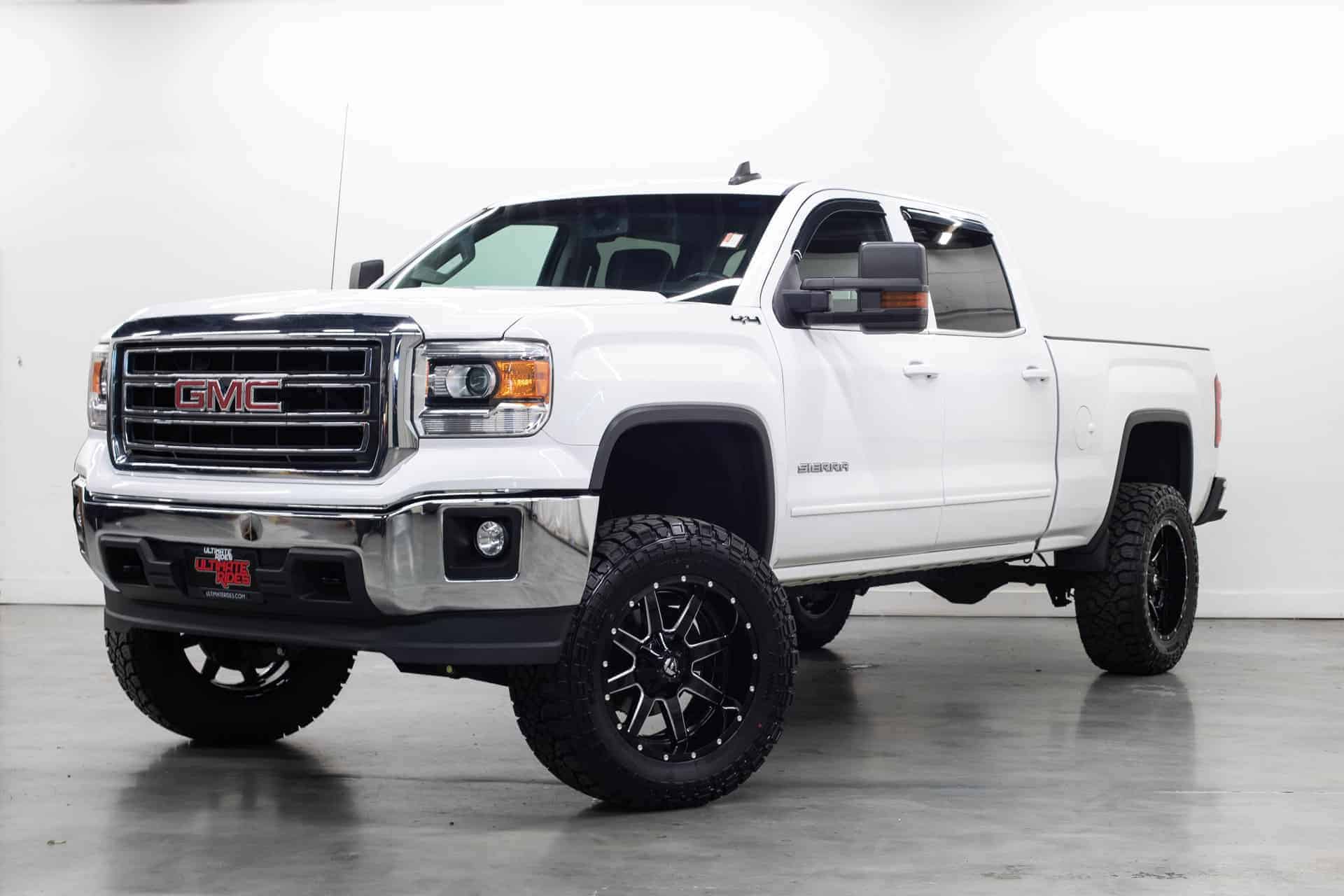 Trucks Available at a Fair Price
Finding trucks for sale at a fair price, especially something like a custom GMC Sierra 1500, is not always simple. These days, the price of used vehicles has skyrocketed in many places, making it even more difficult to find something affordable. However, at Ultimate Rides, one of the things we pride ourselves on is offering reasonably priced custom rides, many of which have low miles and all of which are still in great condition. While other dealerships will often try to raise the price as high as they can get away with, we're instead focused on providing the best experience possible for our customers. One of the main ways we do that is by keeping the price as fair as it should be. Depending on how many custom upgrades our trucks receive, the price may vary. However, you can always count on us being thoughtful when it comes to the price we list. If you see a vehicle for sale here that you're interested in, and have questions about how we arrived at a certain price, all you have to do is reach out to our team for more information.
History of the GMC Sierra 1500
The GMC Sierra 1500 was created alongside the Chevrolet Silverado series of trucks, both of which debuted back in 1998. GMC is a sister company to Chevrolet, both under the same corporate structure. There are tons of similarities between the two vehicles, and mechanically they are almost identical. Where they differ is when it comes to features and, sometimes, the engine installed under the hood. The first generation of the GMC Sierra 1500 lasted from its debut up until 2007, when GMC and its parent company made a number of design changes to the vehicle. The second generation of this GMC vehicle lasted seven years before seeing another major redesign, with the third generation lasting from 2014 through 2019. The GMC Sierra 1500 is currently in its fourth generation – the new models you'll find for sale today. Over the years, a number of different engine configurations have been present in the GMC Sierra 1500, giving drivers plenty of choice when it comes to their chosen performance.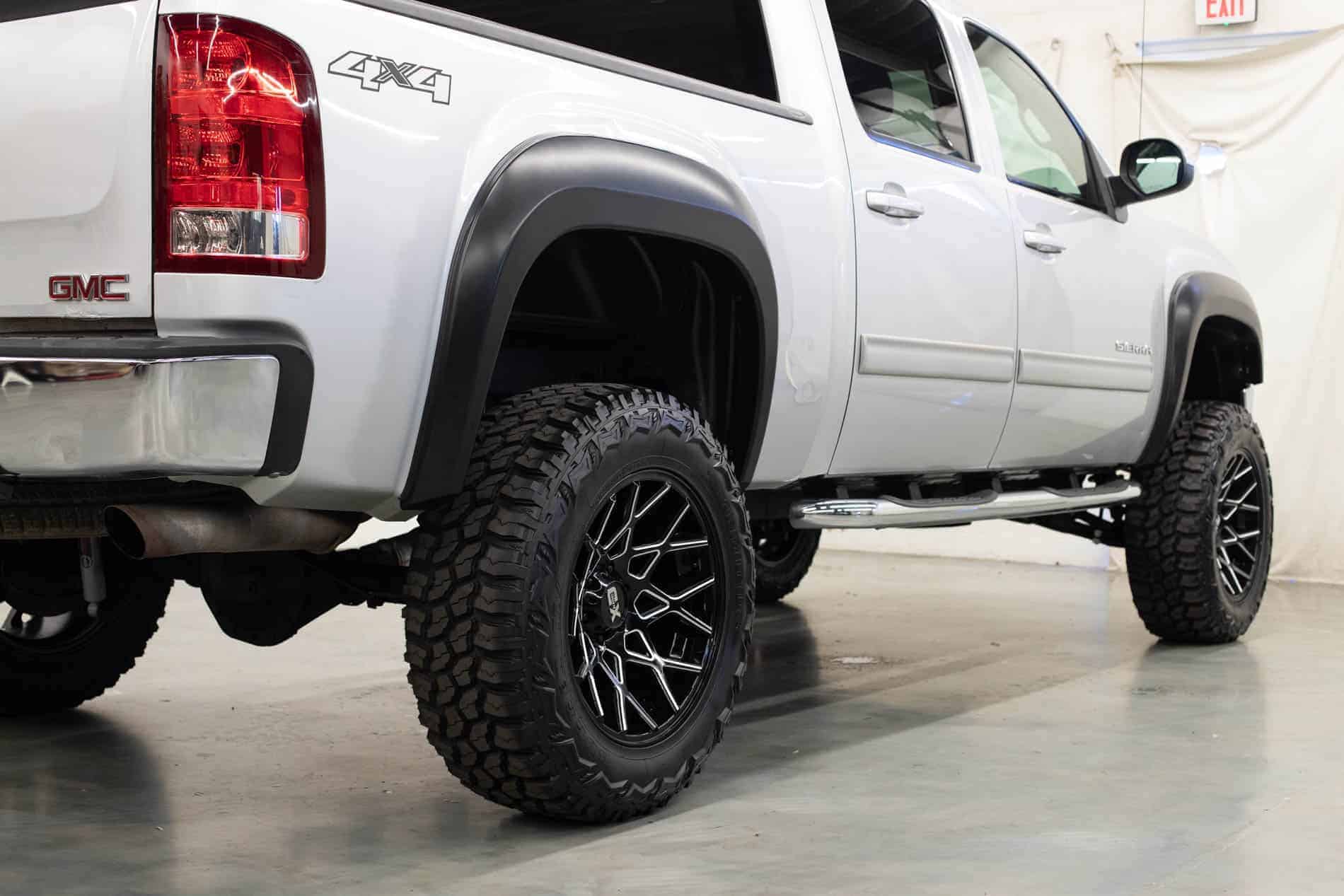 Buy a GMC Sierra 1500 Denali
If you want to start driving a luxury pickup truck, the Denali edition of the GMC Sierra 1500 is for you. The GMC Sierra Denali offers extra features you won't find on standard variations of the vehicle, with things ranging from luxurious leather seating to high-tech upgrades such as hands-free driver assistance features. Some models may even offer enhanced performance with a more powerful engine. If you want to start driving a GMC Denali, or a model just like it, Ultimate Rides can absolutely hook you up. Let us know what features you're looking for and we'll be happy to find or build the right GMC Sierra 1500 for you, whether we have it on sale already or not.
Why a Lift Kit Could Be What's Missing From Your Life
Trucks with lift kits have always had a substantial following, but in recent years it seems to be getting more and more popular. To be perfectly honest, it's not surprising to us. We've always known the appeal these awesome vehicles have, and we're happy most other people are starting to catch on. Whether you decide to go for a smaller lift to give you a first taste, or something a little more bold to make you stand out in a crowd, we can make it happen. Beyond just being aesthetically pleasing, a lift kit also offers benefits for off-road drivers, giving you some more space underneath your vehicle to navigate. The higher vantage point might be something you have to get used to, but once you do you'll find it hard to ever go back.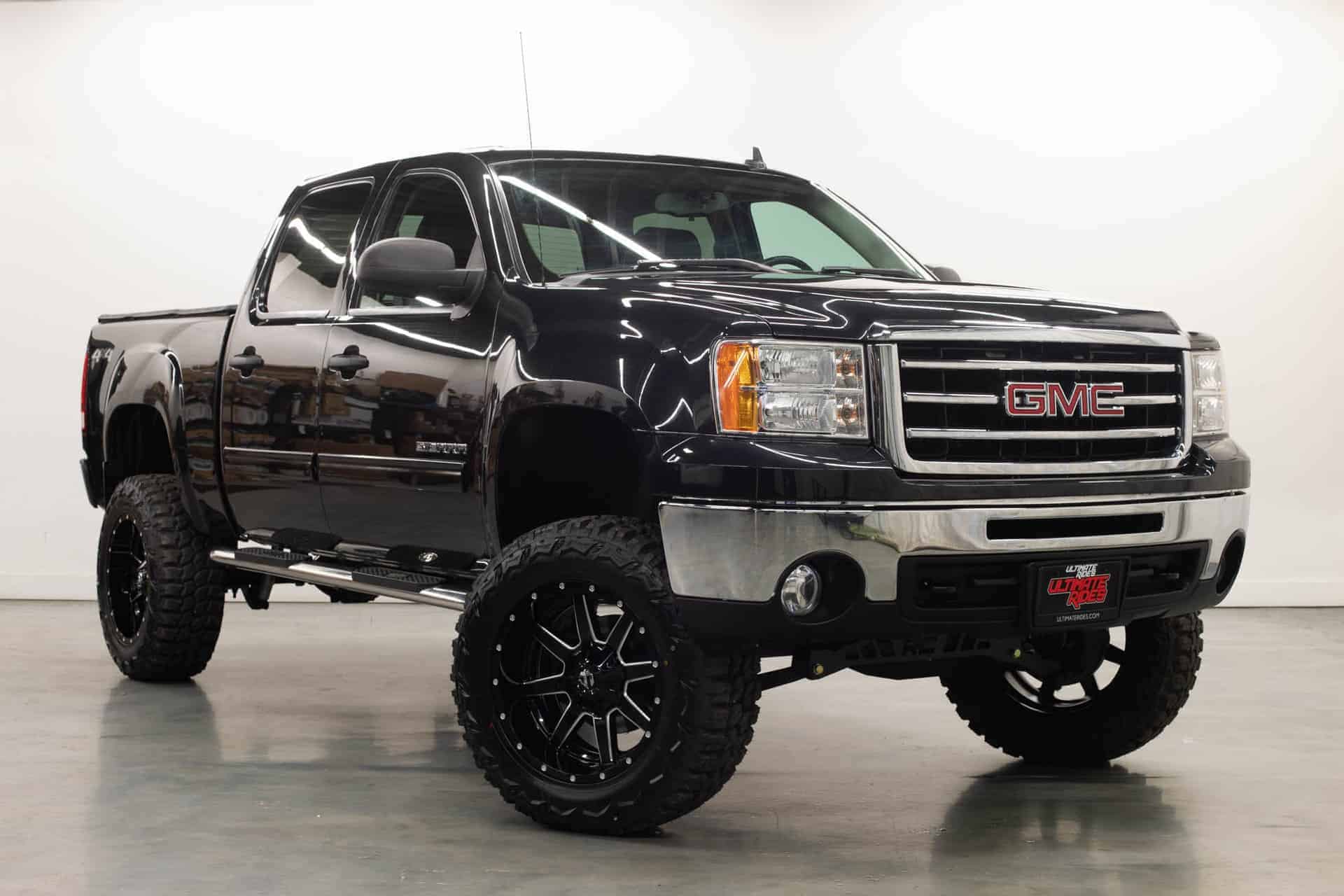 Lifted Suspension Safety Tips
When driving a vehicle that features a lift upgrade, it's important to be even more aware of both your speed and your surroundings. These trucks have a higher center of gravity, which means they'll be somewhat easier to flip over if you drive too fast while turning. As long as you maintain a reasonable speed and follow the rules of the road in your GMC Sierra 1500, however, you won't have anything to worry about. Additionally, being positioned higher up will sometimes make it more difficult to see things that are right up close to your vehicle. While there is modern technology that can help with this issue, nothing beats situational awareness when it comes to preventing any kind of accident.
Additional GMC Truck Upgrades
Beyond lifting your GMC Sierra 1500, there are countless other ways to upgrade the vehicle. Ultimate Rides can help you each step of the way, whether you're improving on a current ride or something you're buying from us. We can improve lifted GMC trucks with new technology such as a 360-degree camera system or a digital rearview mirror. You can also rely on us to install useful accessories like a pickup bed cover, whatever style you might enjoy. We encourage you to contact our team and share your thoughts on what you'd like to drive. You can rest assured that we'll bring your vision to life.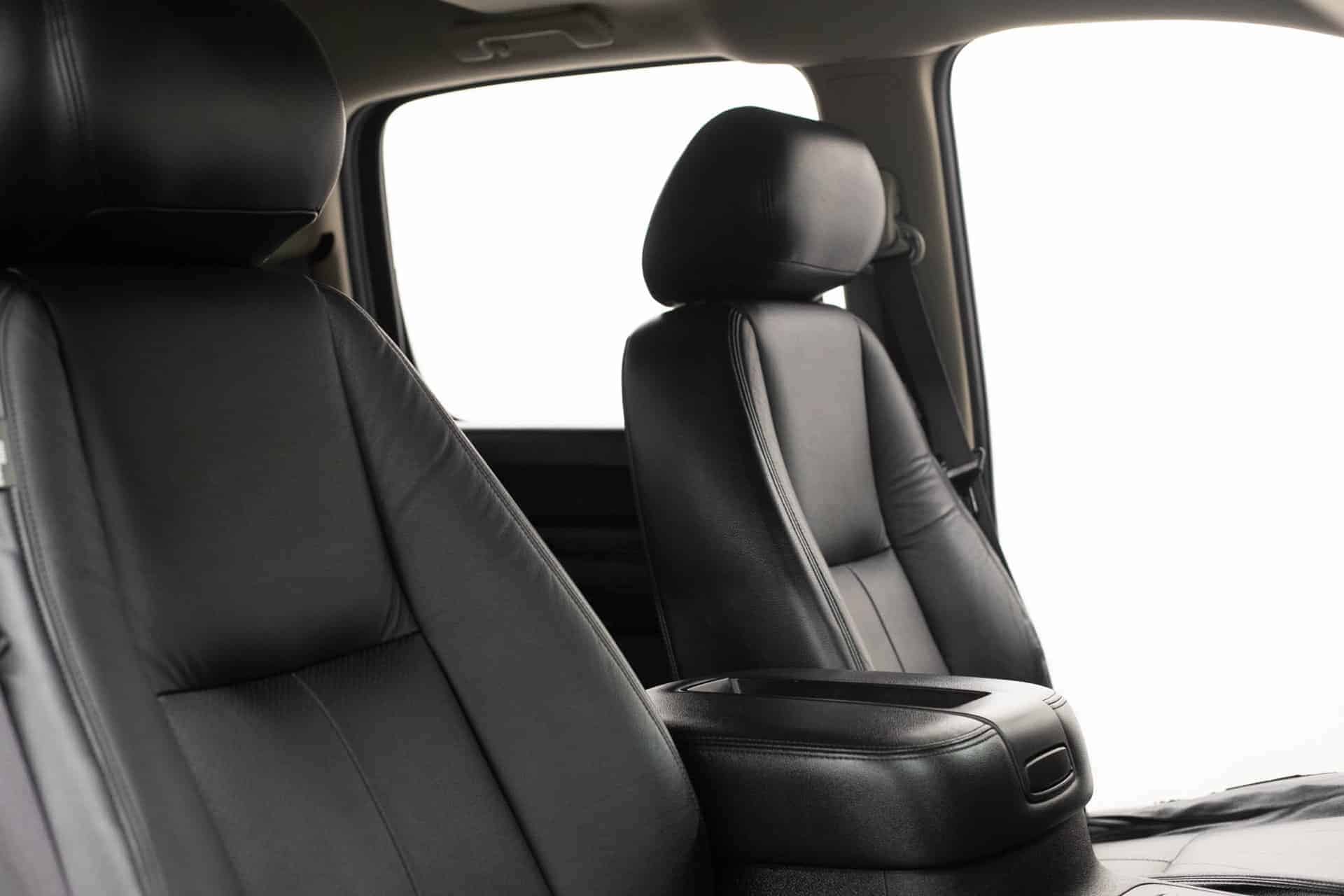 Ultimate Rides is the Custom Auto Dealer for You
Are you thinking it might be time for you to search for a new or used custom GMC Sierra 1500 for sale? Check out our inventory at Ultimate Rides to see if anything catches your eye. We put an emphasis on helping customers find or build their perfect vehicle, and you could be next. Take a look at some of our customer reviews on places like Google and you'll see we mean what we say! You can get in touch with us over the phone by calling 815-634-3900, or come stop in to see us in person at 38 W. Division St. Coal City, IL 60416.
Frequently Asked Questions
Before you head out, we encourage you to spend a little bit of time looking through our most commonly asked questions below. If there is anything you're still wondering about lifted vehicles or the process at Ultimate Rides, we probably cover it here! If not, feel free to call us for further details.
Q: How does a lift kit affect gas mileage?
A: Installing a body or suspension kit on trucks will have an impact on gas mileage, and not necessarily in the direction you want. Drivers find that their rating of miles per gallon goes down, but the degree to which that happens depends on how high you raise the vehicle, as well as the kind of tires you install. It is worth noting that most drivers who raise up the height of their vehicle find that the benefits outweigh the extra costs associated with fuel mileage.
Q: How much does a GMC Sierra 1500 cost?
A: At Ultimate Rides, we work hard to keep the price of our vehicles as reasonable as possible. While we can't say specifically what you'll find as far as price of our current inventory, we do encourage you to check out what we have to offer. You can also reach out to us if you have any questions about how we decided on a specific price on a GMC Sierra 1500 for sale. We keep the inventory here on our website up-to-date, so go ahead and check out what we have for sale today!
Q: Does Ultimate Rides ship to my location?
A: Yes! We ship our trucks out all across the United States and beyond. In the past, we've sent vehicles out as far as the Middle East or South America. Wherever you're from, reach out to us and we'll be happy to provide you with a custom GMC Sierra 1500 for sale at a great price.
Q: Are lifted trucks safe to drive?
A: Absolutely. Like any other vehicle, certain rules need to be followed when behind the wheel if you want to keep yourself safe. Check out our section of lifted GMC truck safety above to get a better idea of how you might need to change your driving habits to stay safe while driving a lifted model, but overall you have nothing you should work about.
Q: Is it possible to install my own lift kit at home?
A: While it is possible, in most cases we do not recommend it. Unless you are an experienced at-home mechanic, the possibility of making a mistake during installation is too high. Depending on the kit you choose, it's also possible that you won't have all the necessary equipment the installation requires. Contact Ultimate Rides or a trusted lifted vehicle shop in your area to find out more on the price of installation and how long you can expect it to take.
---
Two Brothers With a Dream

,

Building The Best Ultimate Rides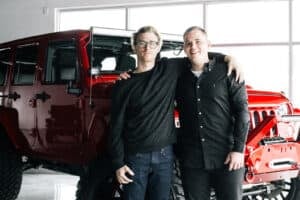 Ultimate Rides consists of two brothers who have been buying and selling custom vehicles for over ten years. Selling lifted trucks by day and writing these awesome reviews by night! They started their Ultimate Rides journey with a third brother Jake, who was a big part of building the business they have today. In 2016 Jake passed away and losing their brother was the hardest thing they ever had to deal with. Even though they had a tragic loss they plan to continue to set a new trend for the auto industry, keeping customers number one. Pushing the envelope on the lifted truck market, these guys love researching and learning about everything in the auto industry!
 — Nick and Alex Bulanda, Founders of Ultimate Rides