Lift Kits for GMC Sierra 1500 4×4
Installation and Lift Kits for
GMC Sierra 1500 4×4
There's never been a better time than right now to bring your Sierra 1500 in to Ultimate Rides for a quality lift kit. Lifted trucks are becoming increasingly popular and hard to find around the United States, so why not use the truck you're already driving? At Ultimate Rides, we are able to install lift kits for GMC Sierra 1500 4×4 or any other truck you bring to us, turning it from a regular old vehicle into something completely different. We consider ourselves the premier lift kit service center in all of the Midwest, so if you've got some custom work you'd like done on your truck, we encourage you to get in touch with us to find out more.
One of the first things most people ask about when they begin discussing the option of lift kits for GMC Sierra 1500 4×4 is cost. The total cost of a lift kit installation depends on a surprising number of factors, such as the vehicle, height, and the kind of lift kit you'd like to have installed. For instance, a 6-inch suspension lift kit (perhaps the most popular option available) can cost anywhere between $1500 to $2500, while a leveling lift kit will run you much cheaper. While we're on the subject, let's dive in and talk about the many different kinds of lift kits available.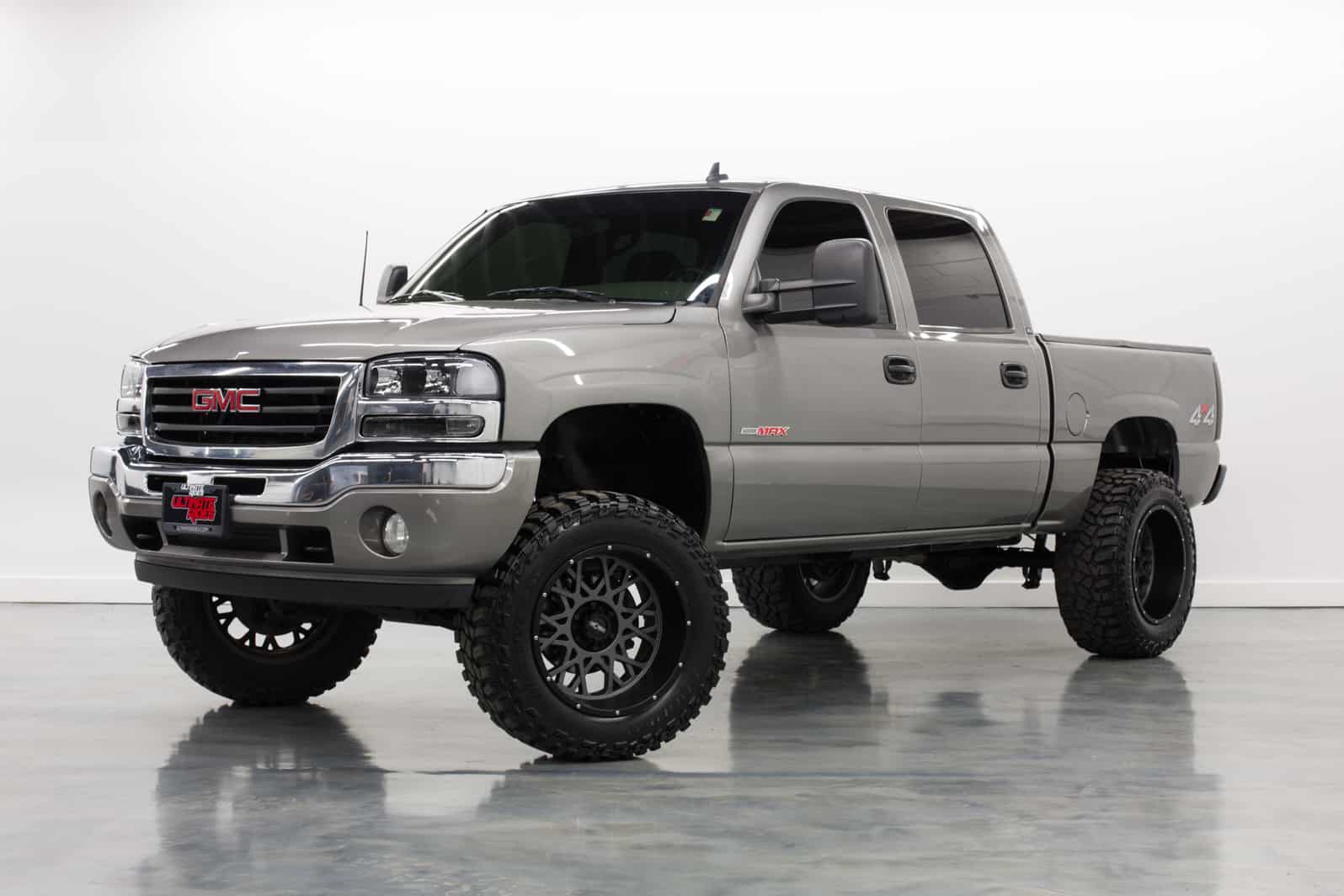 Variety of Lift Kits Available at
Ultimate Rides
Lift kits come in many different shapes, sizes and purposes, and what kind you want to have installed is an important decision. The two main types of lift kits are suspension and leveling lift kits. Suspension lift kits are what most people think of when the topic of a lifted ride is brought up. Their main purpose to to raise the body of the vehicle higher off the ground and allow for larger tires. Leveling lift kits on the other hand are cheaper and meant to adjust the suspension of a vehicle, as many times the front end is lower to the ground than the back. A leveling lift kit will give your vehicle a nice, even look to it, but they aren't needed for everybody.
Within both kinds of lift kits, there are many brands available each with their own touches. Rough Country is a lift kit brand that offers both full suspension and leveling lift kits of many different varieties in addition to a variety of other vehicle modification parts. Rough Country is one of the most popular brands out there, and though it has its detractors there are plenty of loyal customers for it as well. BDS is a brand that specializes in suspension lift kits for trucks and SUVs, including lift kits for GMC Sierra 1500 4×4. Though BDS isn't the cheapest brand out there, you can count on a high level of quality with their kits. Along with BDS and Rough Country, you could get a Zone lift kit. Zone, like BDS, specializes in suspension lift kits, and similarly to BDS they might not be the cheapest kits out there, but you can rest easy knowing that they'll get the job done with ease. One thing that is important to remember when getting your ride lifted, however, is that it's more about the quality of the installation rather than the quality of the product, as each of the brands we carry will last the test of time.
Ultimate Rides
Quality Guaranteed
Thankfully, you won't have to worry about shoddy craftsmanship when you bring your truck to us at Ultimate Rides. We have a highly trained and experienced team of ASE certified technicians who man our newly built lift center. If you've ever taken your truck to a mechanic who has screwed up, you know the pain it can cause. More time away from your truck, potentially more money down the drain, and all because of an easily avoided mistake. Well, with Ultimate Rides, you can leave your truck knowing that it's in good hands, as we are some of the biggest lift kit experts in all of the Midwest. These heavy-duty trucks can sometimes prove difficult to work on for everyday mechanics, but we know what we're doing.
We can also do a whole lot more beyond installing lift kits for GMC Sierra 1500 4×4. We offer a full range of services to our customers, from standard maintenance to repairs to modifications, sometimes even on the same trip! No matter what kind of service you're in need of for your truck, we can almost certainly help, and all at a reasonable price. We're the place to come for all your truck troubles and ideal dreams in the Midwest!
The Best Place to Find
Lift Kits for GMC Sierra 1500 4×4
For more than a decade, Ultimate Rides has been serving our customer base by building and selling high quality lifted trucks. These vehicles are becoming more and more popular with each passing year, and we couldn't be happier to see how quickly this craze is catching on. We've always had a strong passion for lifting trucks, and it's good to see the rest of the public coming around. We believe our passion shines through in our work. Far more often than not, our customers are incredibly happy with what they receive back from us, often enough to pass along praise to their friends and family members!
If you'd like to find out what Ultimate Rides can do for you, you can get in touch with us on the phone at 815-634-3900. You can find our office at 38 W. Division St. Coal City, IL 60416, where we are open seven days a week to make it easier on your schedule. Give us a try today to see what you've been missing out on!