Custom Lifted Jeeps for Sale
Custom Lifted Jeeps for Sale
Are Our Specialty
Ultimate Rides is the best place for you to find your next Jeep. We're a specialty auto dealer that focuses on custom vehicles, and Jeep rides are some of our favorites to work on. Our inventory usually has a least a couple of Jeep options for our customers to consider. If not, our team can always get our hands on one for you. Our custom lifted Jeeps for sale are built right here in our own shop by our team of expert technicians. You can decide what upgrades you'd like on the vehicle, and our team can add them on before you start driving. Best of all, Ultimate Rides ships vehicles all across the globe.
From the Wrangler to a Grand Cherokee, Gladiator, or any other model you can think of, our team can bring your dream Jeep to life. If there is something specific you're after, contact our office and we can discuss details. We'll work incredibly hard to line you up with your perfect ride, so get started today. We'll get you behind the wheel of something special in no time.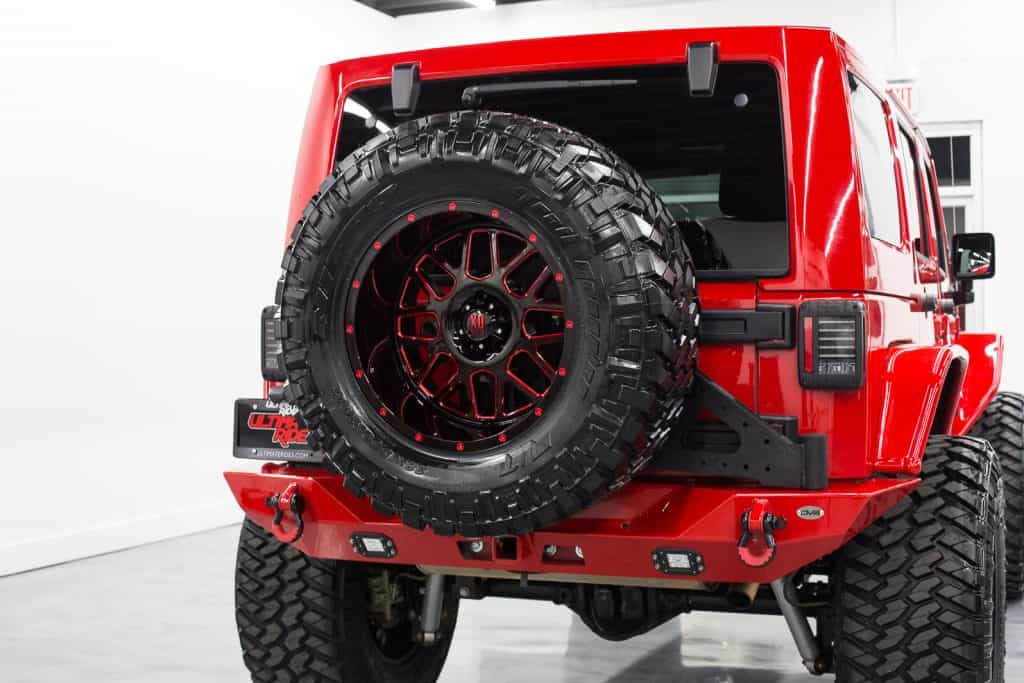 Learn More About Our
Service Center
We do more than just sell cars here at Ultimate Rides. One of our biggest joys is working on vehicles, and we can do it all. Here's a breakdown of some services we offer.
Any time you pick out a vehicle from our inventory to purchase, you'll have the option of having any modifications or custom installations made. If you see a vehicle in our inventory that you think would look better with a lift kit, or any other custom work you can think of, let us know and we'll make it happen before you come pick your vehicle up. We can even include the cost as a part of the financing deal for your vehicle upon request.
Own a vehicle that you think is due for some custom modifications? In addition to outfitting our own vehicles, we love working on vehicles for others as well. Whether you've been a longtime Ultimate Rides customer or are just hearing about us for the first time, let us know you're interested in finding out more and we can give you a full rundown of available options. If you can dream it, we can build it!
Along with our custom work, our service center is fully suited and ready to perform standard repair and maintenance on your vehicle. Whether it's something as simple as a synthetic oil change or as major as transmission work, we have an excellent trained ASE-certified team ready and able to tackle whatever problems your vehicle is having.
Our service team is one of our proudest features we offer to our customers. Any time you've got questions about your vehicle, whether it was bought from us or not, give us a call and we can set up an appointment to take a look.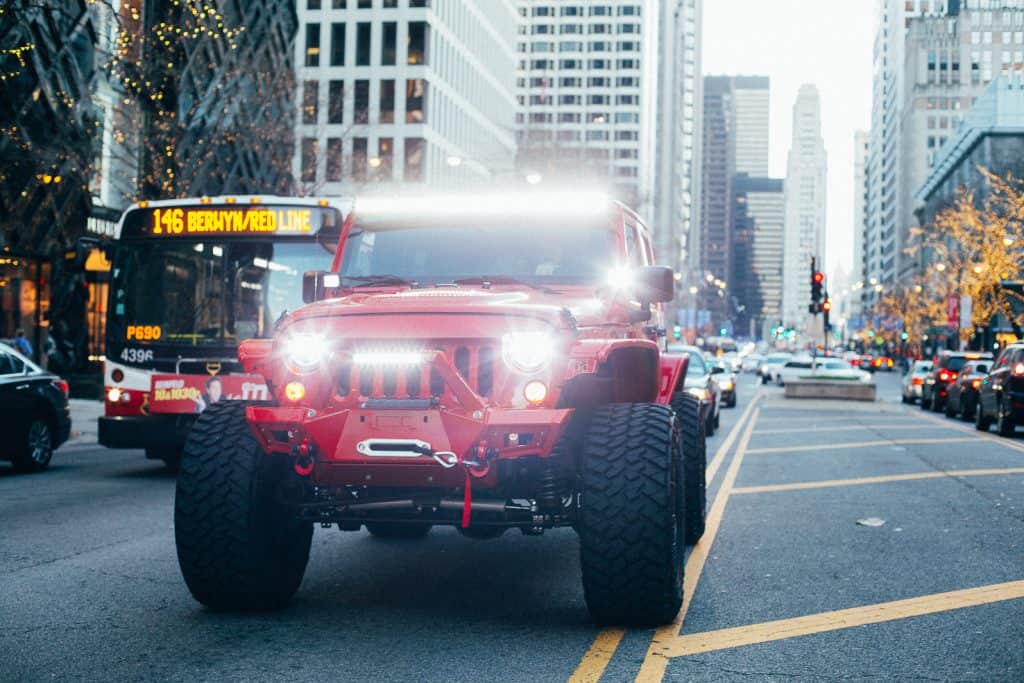 Custom Lifted Jeeps for Sale
Across the U.S.
Another thing you should know about Ultimate Rides? It doesn't matter where you live, we can get our vehicles to you in a cost-effective way. The bottom line is if you're looking for a custom used vehicle that is still in great shape, you're gonna have to pay at least a little bit more than your average local used dealer. With vehicles, it's important to remember you often get what you pay for, so though our vehicles aren't dirt cheap, we give a guarantee of responsible pricing based on what you're getting in terms of quality. That's why our vehicles are highly sought after, and why we do over 50% of our business with remote customers. There's nowhere better to get custom lifted Jeeps for sale.
If you live outside our immediate area, there are a few options available to you to buy. The easiest and most straightforward is by giving us a call once you've looked over our online inventory. We'll be able to fill you in on all the details of the vehicle, and get you some more photographs if you want to take a better look before you buy. Once you've made your final decision, we can arrange all the financing and transportation arrangements with you over the phone, even including the cost of shipping in your vehicle financing deal.
Others might simply feel they need to get a good look at a vehicle in person before they can buy. We completely understand, and thankfully we aren't located too far from Chicago O'Hare. Let us know when your flight will be arriving and we can arrange to pick you up in the vehicle you've had your eye on. We can drop you off at your hotel or head straight to our office if you prefer, and from there we'll proceed like any other in-person transaction.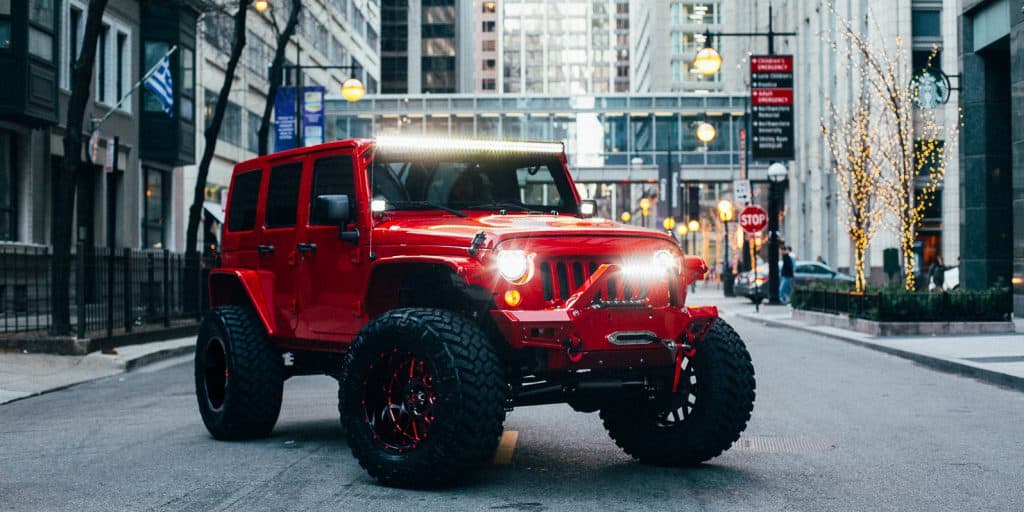 Customizing a
Jeep Wrangler
In our professional opinion, the Jeep Wrangler is one of the absolute best vehicles to customize for off-road action. They're already built to handle quite a lot, and with just a few upgrades, you can get the vehicle prepared for just about anything. We recommend a full suspension lift kit, along with some larger tires and wheels. We offer the ability to order any set of tires you'd like, and we're also happy to provide our own recommendations if you're unsure.
You don't have to stop there. Additional upgrades to consider include an engine performance chip, a front cinch, running boards to make it easier climbing in and out, or a brighter set of lights to ensure you can see clearly at night. We encourage you to give our office a call. A member of the Ultimate Rides team will go over your options, from available vehicles to the lengthy list of accessories and modifications found in our lift center.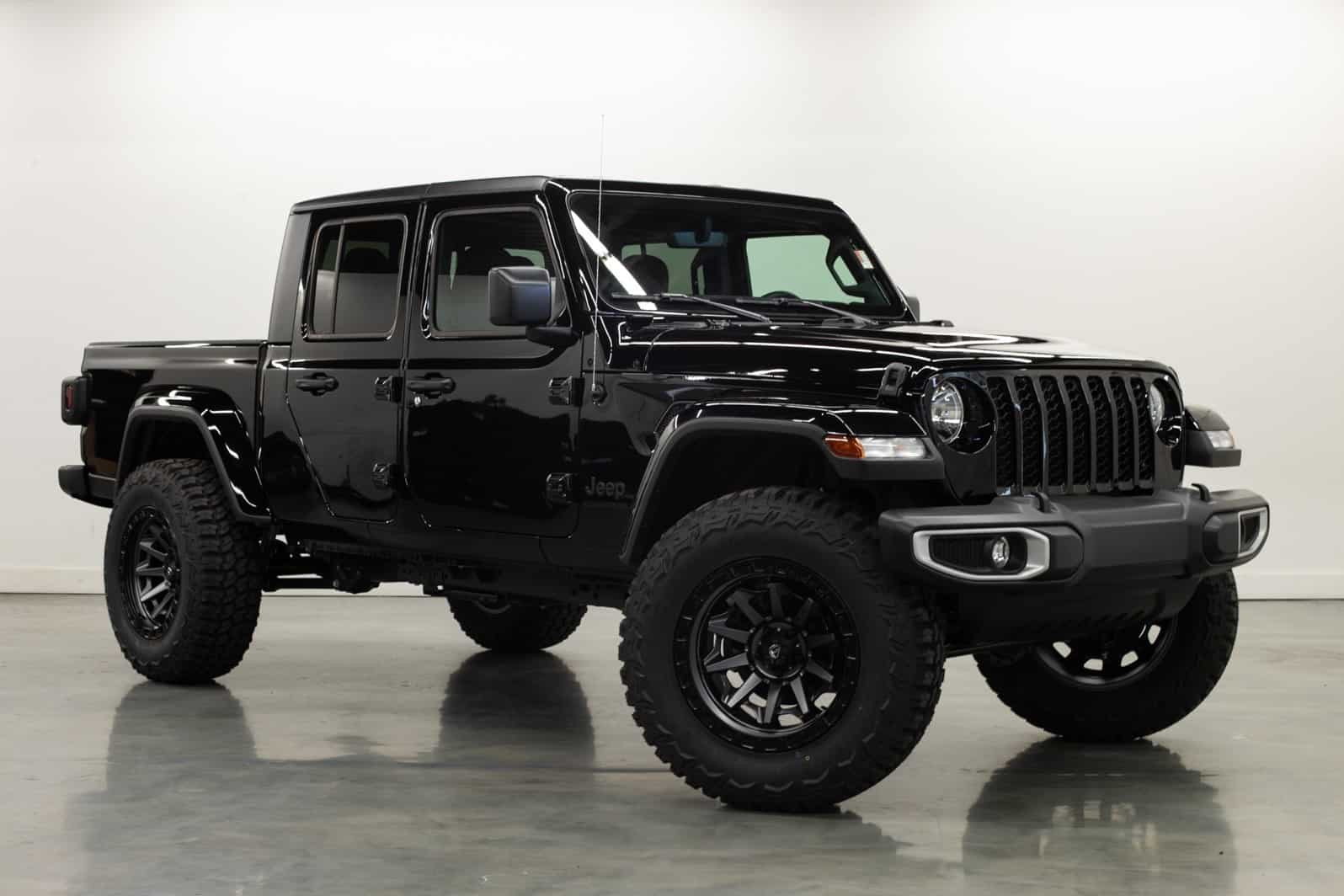 Closer Look at the
Jeep Gladiator
The versatility offered by the modern iteration of the Jeep Gladiator is truly special. Some models of the truck provide drivers with heated side mirrors, keeping you safer even when weather conditions aren't the greatest. Additionally, you might find a blind spot warning for some added safety, along with both 12V and 120V power outlets to keep your tech charged on the go.
Most recent models of the Gladiator include a 3.6L V6 engine, but you could always contact Ultimate Rides about performance upgrades if that's not quite enough for you. Like any good Jeep, you could find options with either a manual or automatic transmission, depending on your preferences. If technology is important to you, the Jeep Gladiator offers good basics but doesn't go as far as many other vehicles. To change that, simply contact our team. We'll be able to get you the latest and greatest in aftermarket features, and install them the right way.
Overall, the Jeep Gladiator is a great vehicle with so much to offer. There's always room to improve, but that goes without saying for any vehicle. If you want a Jeep Gladiator of your own, let us know and we'll not only find you one, but can customize it however you'd like.
Choose the
Real Deal Jeep Experts
While you can often find Jeeps available across most of the United States, coming across a team that knows how to upgrade them the way we do is not so common. Building and upgrading vehicles is both a craft and an artform. It takes years of practice before getting a true handle on the process. Thankfully, our team has that experience. Whether you bring your current Jeep to us, or decide to buy one of our custom lifted Jeeps for sale, you'll be getting the best of the best.
Our team also places a massive emphasis on customer service. We believe too many auto dealerships don't have customers best interests at heart, and we're out to show that you can thrive as a business by placing the customer above all. If you feel that Ultimate Rides has what you need, wherever you live, give us a call today at 815-634-3900.
---
Two Brothers With a Dream

,

Building The Best Ultimate Rides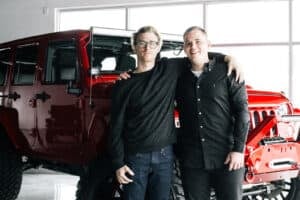 Ultimate Rides consists of two brothers who have been buying and selling custom vehicles for over ten years. Selling lifted trucks by day and writing these awesome reviews by night! They started their Ultimate Rides journey with a third brother Jake, who was a big part of building the business they have today. In 2016 Jake passed away and losing their brother was the hardest thing they ever had to deal with. Even though they had a tragic loss they plan to continue to set a new trend for the auto industry, keeping customers number one. Pushing the envelope on the lifted truck market, these guys love researching and learning about everything in the auto industry!
 — Nick and Alex Bulanda, Founders of Ultimate Rides