Lifted Trucks for Sale in PA
Need a Rust Free Lifted Truck in Pennsylvania?
We've Got You Covered
Whether you're driving on city streets or across the turnpike, it doesn't take very long before a vehicle starts to gather a good deal of rust in Pennsylvania. When you go out to buy your next vehicle, nobody really wants a vehicle with rust but in the northeast it can be hard to find any without it. If you are looking for lifted trucks for sale in PA that are still in great shape and without rust, we think you might like what we have to offer. Despite being based out of Chicago, we service the entire country in providing rust free lifted trucks, including and especially the state of Pennsylvania.
We send our specially trained truck buyers out across different regions of the United States in search of high quality vehicles that are free of rust. Those trucks are brought back to our home base and in some cases sent to our lift center for custom work. We have plenty of lifted trucks for sale in PA already in our inventory, but if you see something you like but want adjusted you can always have it sent to our lift center before we ship it out to you. We'll be able to add, remove or adjust a lift kit, install custom grilles, headlights, tires, wheels and more. If there's some custom work you want done on your truck before it's shipped out, there's an excellent chance that we can do what you need.
Lifted Trucks for Sale in PA at
Incredible Prices
We've established that we have a fantastic inventory of lifted trucks for sale in PA that you can choose from, but there are more reasons we think you'll have a great experience buying from us. One of those reasons is the fact that we have highly competitive prices even including the cost of transportation, which can be financed as a part of your deal. We do everything we can to keep our prices down, and first and foremost we don't try to take advantage of the people who decide to spend their money on our vehicles.
Ultimate Rides began over a decade ago as a business run by brothers with a passion for lifted trucks and a vision for a better business model that could take shape. Ever since, Ultimate Rides has been run with a mentality that we can do better than that. We don't try to pull any tricks or use transparent sales tactics. Our staff is friendly and knowledgeable about the product, and we'll do everything we can to make sure you have a great experience when you shop through us. Any time you have questions or concerns, before or after you buy, simply give us a call and we'll be able to help.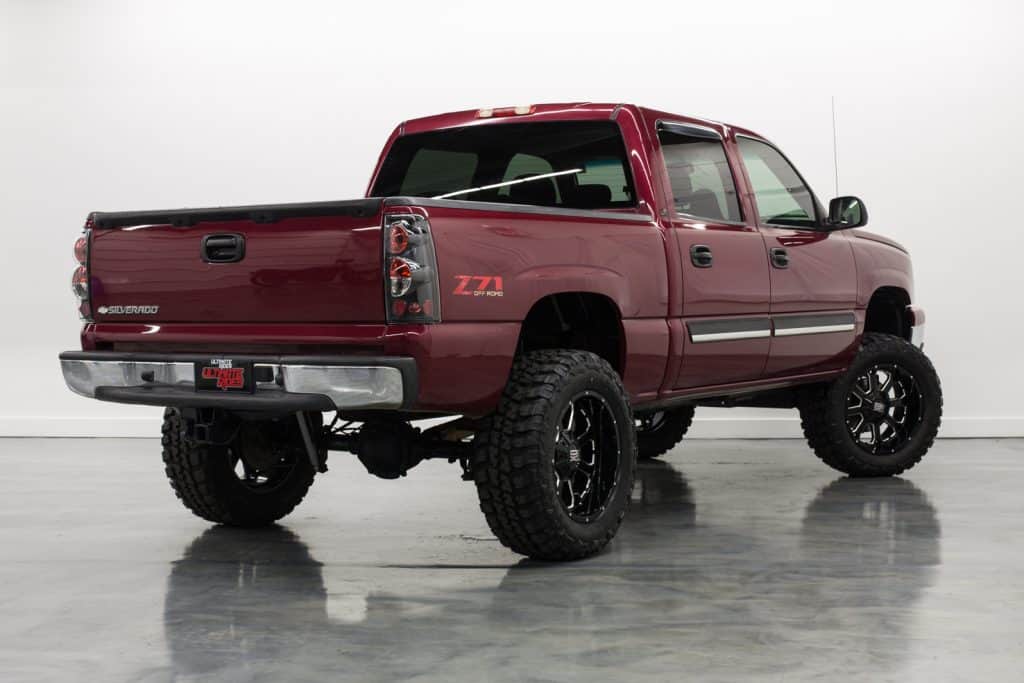 Find and Customize
Lifted Trucks for Sale in PA
Another reason to check out Ultimate Rides is the easy availability of our lift center. We have a team of service technicians who work with these vehicles pretty much every day. This kind of custom work can be difficult for mechanics to complete, and a screw up can be incredibly costly. That's why it's important to hire technicians you can trust, and the kind of lifted trucks for sale in PA that you're looking at now are exactly our specialty. When you use our lift center, you'll get a fair price with a reliable team, and we can even include the cost of service within your truck financing deal.
In our lift center, which we built back in 2017, we are able to install a variety of custom grilles, bumpers and headlights of varying type and color. There are also of course lift kits we can install, such as a full suspension lift kit to get you way up off the ground. With a lift kit you are likely going to want a bigger set of tires and wheels, and we have plenty of very cool custom ones for you to choose from. Like we said before, this stuff is our passion, and we hope that it shines through in our work.

At Ultimate Rides, We'll Find or Put Together
Your Dream Truck
If you've been scouring your local area and online for a specific truck model and you have yet to find any luck, we might be able to help. If we don't already have the truck you're looking for in stock, you can leave a deposit with us and we will make sure our buyers stay on the look out for the vehicle you are searching for, and we'll have it sent back to our lift center for work and shipped straight to you. Any kind of lifted trucks for sale in PA that you're looking for, we can find. It's just one more way we try to go above and beyond to prove ourselves to our customers.
We know how hard it has become buying a truck, new or used. The process is long and drawn out, and often filled with annoyance. We are aiming to change that with the way we do business. If you're in need of a lifted truck, we think we can help, and hopefully convince you to let your friends know how awesome we are! We have a huge variety of available vehicles, and more coming in all the time, so if there's something you're looking for in particular we will be able to help.
If you'd like to give us a call and find out how to move forward, you can reach us at 815-634-3900, or visit our Contact Us page to leave us a message!