Get a Custom Lifted Ford F150 for Sale

at Ultimate Rides
Ultimate Rides is your number one destination to find high quality custom used vehicles for sale at fair prices, no matter where you live. Our office and lot are just about an hour south of Chicago in Coal City, so we're centrally located if you'd like to come see us, or you can feel free to let us know you're interested in having one of our vehicles shipped to you and you'll receive it in no time! If you're looking for a lifted F150 for sale that's still in great shape, there's no better place to check than at Ultimate Rides.
For more than 10 years, Ultimate Rides has been providing buyers with excellent quality vehicles that they can rely on. Our secret is that we don't buy up just any old vehicles to sell to you. Instead, we have a very strict buying process that entails getting vehicles from warmer climates in the United States like Texas or California. We only pick out vehicles that are completely and entirely free of rust, ensuring that the lifetime of the vehicle will be as long as possible. Once we bring the vehicles back to our headquarters in Illinois, we get to work on cleaning and customizing the vehicles to make them one of a kind.
If you've visited countless used auto dealers looking for the right match and have found yourself disappointed time and time again with what's available to you, we are here to get you what you want. Since the very beginning, we've tried to set ourselves apart from many other auto dealers by putting our customers first. At Ultimate Rides, we have no reason not to shoot as straight as can be with you. We stand by our vehicles and our service, so you won't have to put up with anything less than excellence. Whether you came to us to find a lifted F150 for sale or something else entirely, we will be able to help.
We Do Business the
Ultimate Rides Way
We believe there's a lot that sets us apart from your average used auto dealer. More than just our inventory, we think we have a mentality that puts us ahead of the pack when it comes to customer service. Since we have such confidence in our vehicles, we don't have a reason to ever try to unload a vehicle on you that we aren't sure you want. People almost always come into Ultimate Rides knowing what they want in a vehicle, and it is our job to help you find it. You don't have to expect pushy salesmen trying to run in circles around you, or last minute fees that seemingly came from nowhere. At Ultimate Rides, we treat our customers with kindness and respect, and then we let our product speak for itself.
For years, we've put all of our effort towards creating a new different kind of auto business. We sell used vehicles brought in from around the country, many of which we modify and customize ourselves in our lift center. While we love providing these vehicles to our local customers, we've decided not to stop growing there, and we've continued to grow and expand by providing vehicles to drivers everywhere. By now, more than half of our business is done with remote customers who live outside our immediate area, and that tells us we have something special to offer.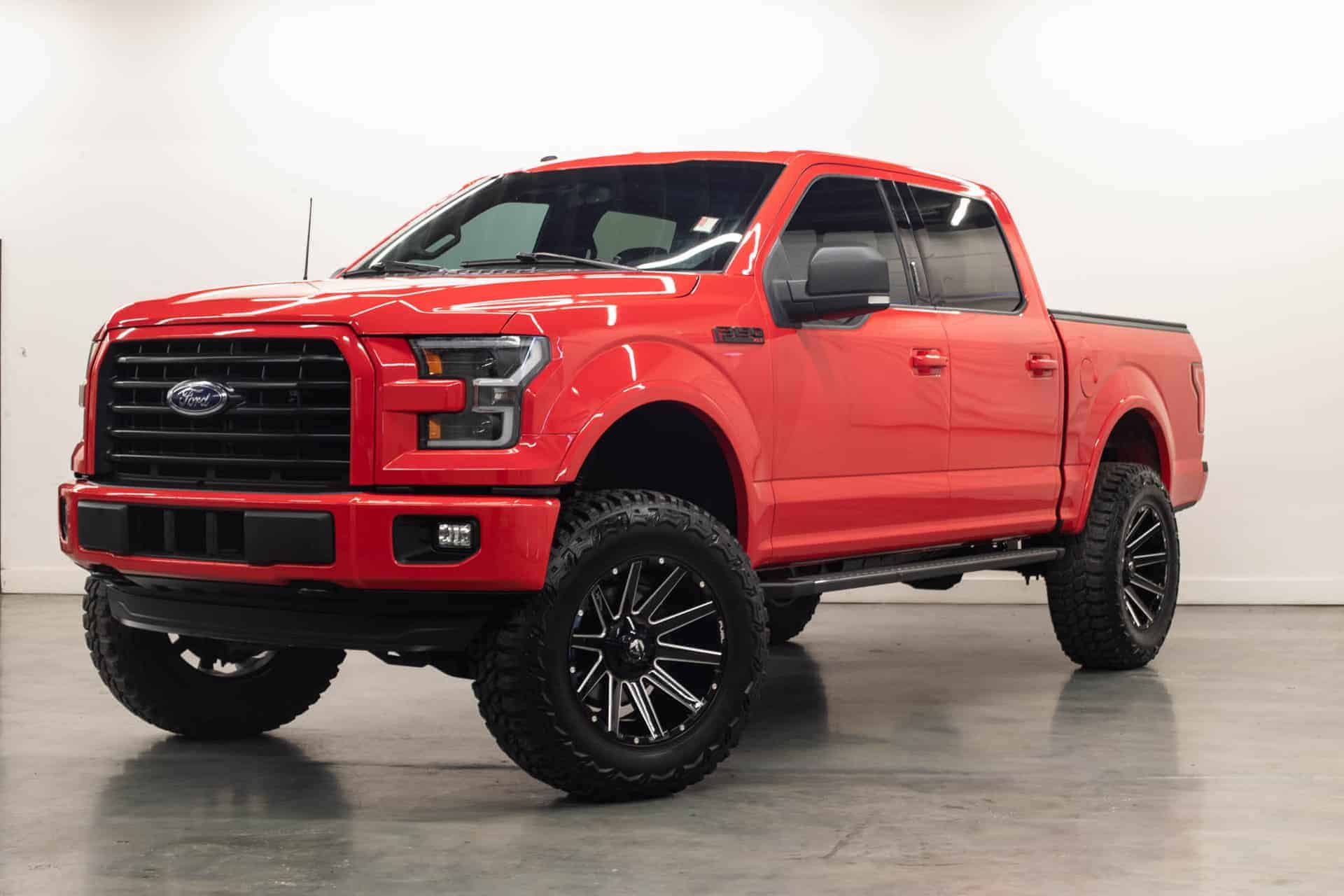 Driving a Custom
Ford F150
When you get behind the wheel of a Ford pickup truck, especially a custom model, it's unlike anything else out on the road. These trucks have a storied history that dates back to the earliest days of the automobile. Ford has done an excellent job of keeping their top truck modern, with yearly updates that help things stay fresh. In recent years, competitors have made large gains, but the Ford F-Series is still the reigning king of pickup trucks in America. Any features that you may find lacking, Ultimate Rides can install for you. When it comes to performance, the truck has what it takes for your everyday drive as well as tough work situations.
Lifting your Ford vehicle can make the experience even better. New or used, our team can upgrade your Ford truck in a way that improves your performance, comfort, and so much more. Reach out to us to hear about available financing for vehicles as well as custom work in our shop. We pride ourselves on offering a fair price for all of our services, and the ability to finance only makes it easier.
Tracking Down a
Ford Truck
Some of our customers have a specific Ford model that they want to purchase. While it's typically pretty easy to find any new model you want, certain used Ford pickup trucks can sometimes be harder to find. If you choose Ultimate Rides, you'll have the ability to ask for any model you want, and our team will hunt it down for you. We scour the country for used models on a regular basis, so it won't be long before we're able to locate your desired Ford. All we ask is that you leave a small deposit with our team to cover certain expenses in case you change your mind. However, as soon as we find your chosen Ford model, that deposit will go towards your purchase. We can get the truck lifted or sell it to you as-is, all while maintaining a fair price. If this sounds appealing to you, please feel free to contact our sales team and let us know what kind of Ford you're looking for.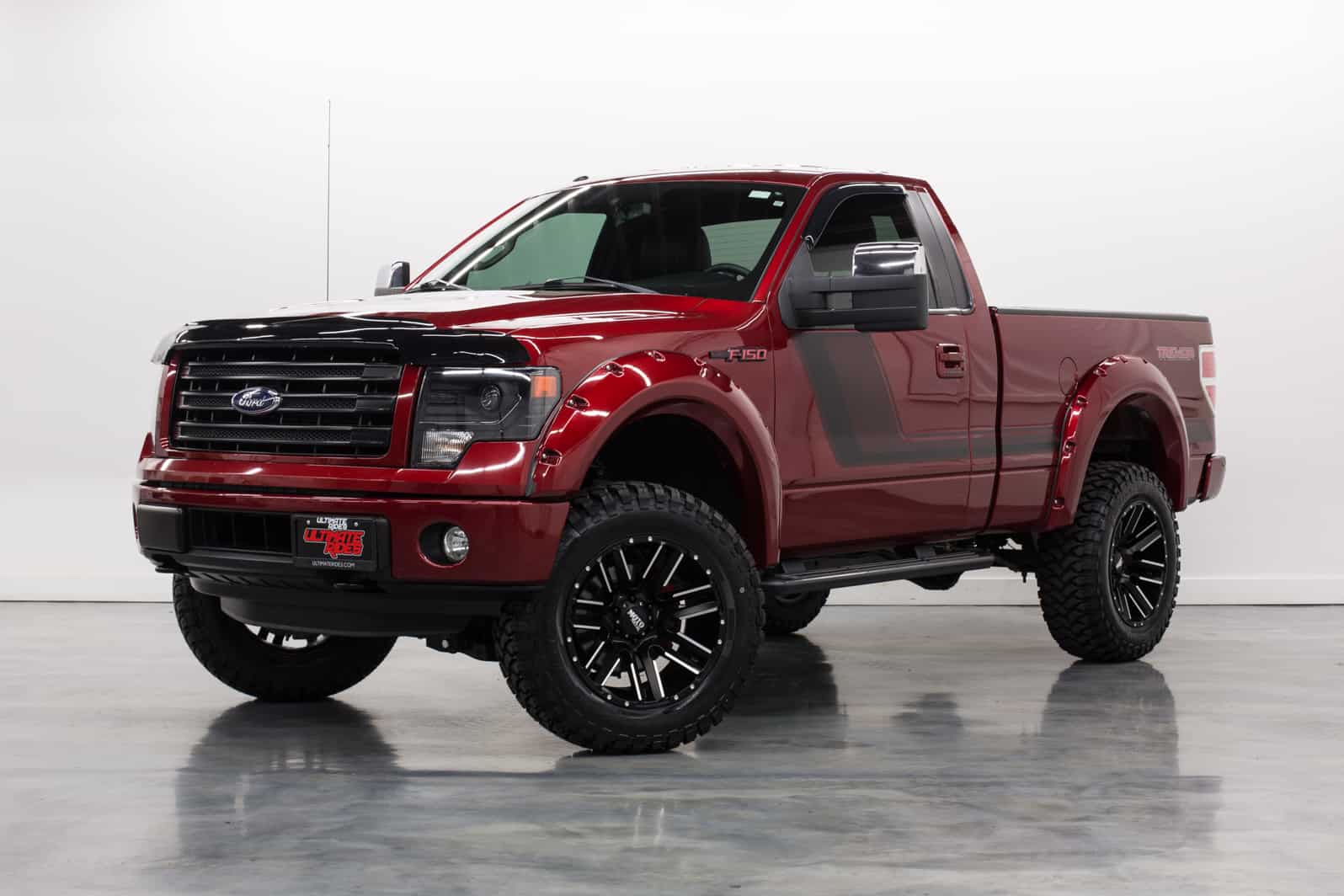 Rust-Free Lifted Ford Trucks at a
Fair Price
Our lifted vehicles aren't just any old used models we find off the street. We hand-pick the highest-quality models our team can find. Each vehicle, Ford or otherwise, must be free of rust damage for us to even consider bringing it in. Our team searches areas of the country with a climate favorable to maintaining vehicles, such as California or the Southwest. Once they find an option that seems suitable for our inventory, they send it back to our service center for an inspection. Every model gets a thorough inspection courtesy of our experts before we decide for sure whether to list the vehicle in our inventory. As long as everything checks out, we outfit the ride with some upgrades and list it for you to browse.
Despite the lengthy process of finding and upgrading our vehicles, we always maintain a fair price for our customers. Though our trucks, SUVs and cars may cost more than what you'd find at your local auto dealer, that's because we're offering a higher-quality product. The price of our vehicles is carefully considered and based upon the quality and work done. If you have any questions about what you find, our team is more than happy to offer some answers.
Discover Endless Possibilities with
Our Awesome Lift Center
Ever since we started out as a business founded by three brothers, our number one passion has always been customizing vehicles, and that's why we have made it a core part of Ultimate Rides. Our lift center contains everything we need to create an amazing custom vehicle for you, and if you'd like a taste of what we're capable of all you have to do is take a look at our inventory. Our expert team of service professionals are ready, willing and able to help you create something special for your next vehicle, whether that's a lifted F150 for sale or something different.
Any time you purchase a vehicle from us, you'll have the option available to have it sent over to our lift center for some more work before you take over. If you want to add on a lift kit or have it adjusted, have some cool custom features installed like a light bar or new rims, or something else entirely, let us know and we will make it happen. We also perform vehicle service for those who aren't purchasing a vehicle from us. Whether you want to bring your truck in for some custom work, or you are having mechanical troubles, we do it all, from something as simple as an oil change to as major as transmission work!
Ultimate Rides is the best place to find a used truck in great condition, or to have custom work or repairs done. If you'd like to get in touch with us to find out more, call us at 815-634-3900. We are located at 38 W. Division St. Coal City, IL 60416. We're open Monday through Friday from 10:00 am to 6:00 pm and Saturday from 10:00 am to 3:00 pm. We can't wait to line you up with the perfect ride.