Custom Lifted Jeeps for Sale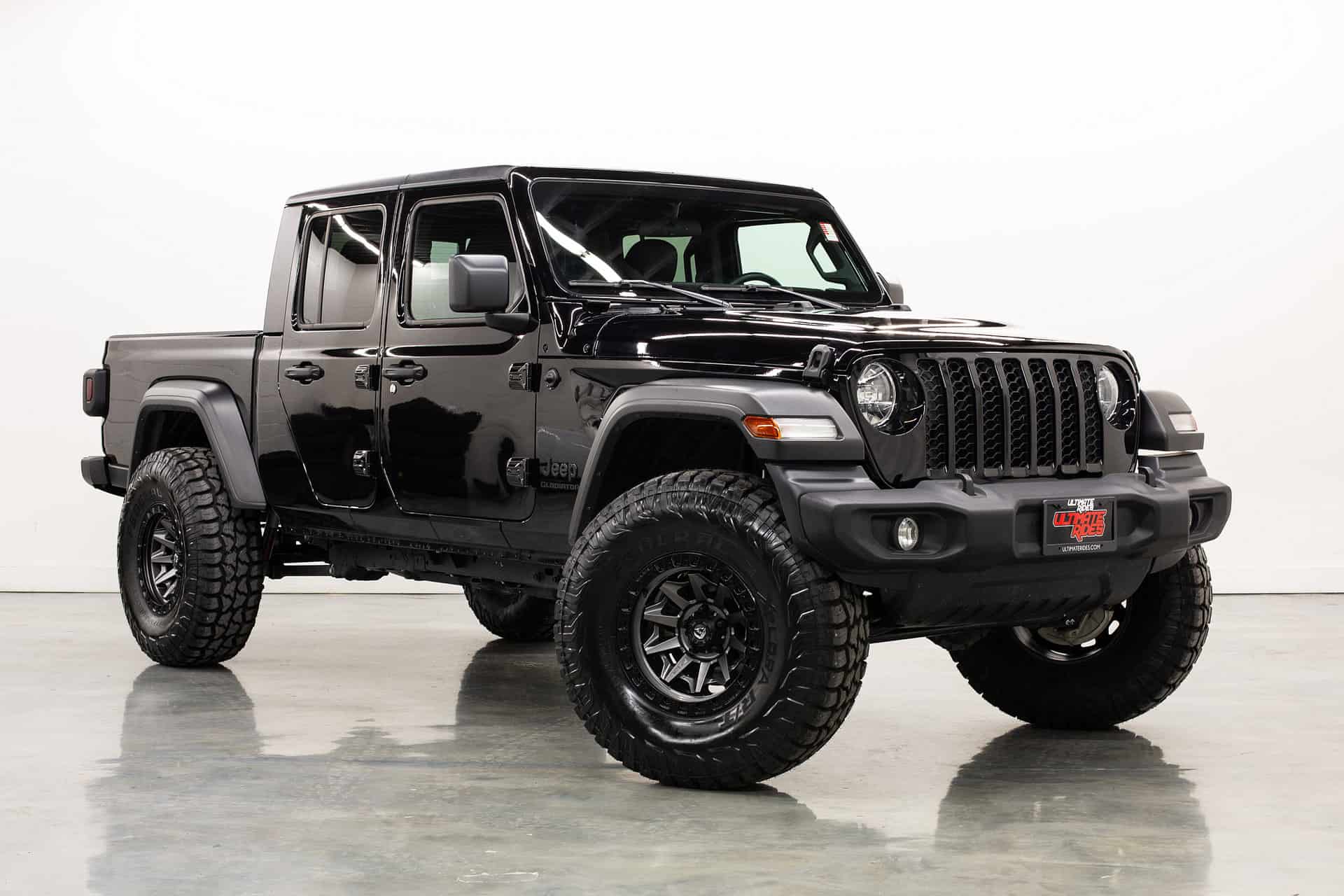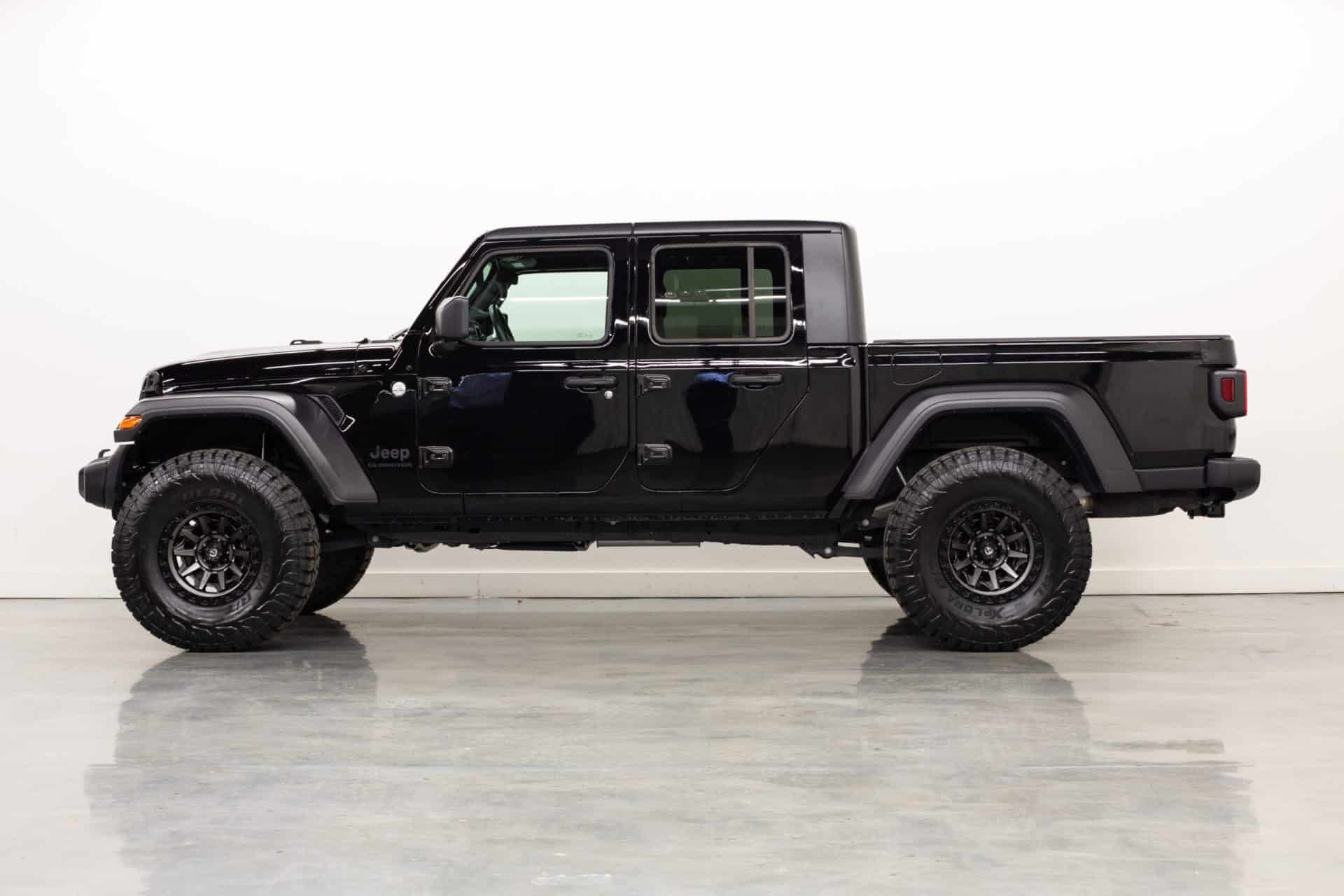 Ultimate Rides is Where to Find the

Best Custom Lifted Jeeps for Sale
It's truly amazing to see how much the world has changed in just the last few years, but one industry that has seemed to lag behind others when it comes to modern advancements is the automotive resale industry. Too many people still dread the process of shopping for a used vehicle, but it doesn't have to be a nightmare. At Ultimate Rides, we do everything we can to separate ourselves from the pack and provide you with a good experience buying your next vehicle. Whether you're looking for custom lifted Jeeps for sale or something else entirely, we will be able to help you find your next ride.
For over 10 years, Ultimate Rides has been providing customers with clean, rust-free vehicles that are still in great driving shape. Every one of the vehicles in our inventory has to meet our high standards before they get listed, so there's a high level of quality that you can automatically expect when you see something in our inventory. You won't find vehicles like this at other auto dealers. We're excited to tell you more about what sets Ultimate Rides apart!
Rust-Free: The Way to Be
There's a secret to how we get these high-quality vehicles, and we're happy to fill you in on our process. In order to find only rust-free vehicles, we search warmer parts of the United States like Texas and California to bring back only the finest cars, trucks and SUVs. Once our buyers let us know they found a vehicle they think would be good for us, we have it brought back to our HQ and cleaned up before it's listed to be sold. That's the Ultimate Rides way.
We Build Custom Lifted Jeeps for Sale in

Our Lift Center
One of the other elements that sets Ultimate Rides apart from your average used auto dealer is the fact that we deal primarily in custom vehicles. While many dealerships have a service center, ours is the cornerstone of our business. Each of our vehicles is sent over to our service center at least once during their time here to make sure that it meets our standards, but while they're in our lift center we also end up modifying many of the vehicles you see in our inventory.
Whether it's a lift kit, custom tires and rims, a light bar or something else, there's a lot we can do to alter and customize a vehicle. If you're curious about what work has been done on a vehicle, or what could possibly be done to one, please be sure to let us know that you're interested! We love talking with our customers about custom trucks, so if you want to find out more about our custom lifted Jeeps for sale, get in touch. Someone from our team will be able to provide you with a detailed list of all the options available to you. We're confident that by the time our team is done, you'll be the owner of a truly enviable ride. There's no doubt you'll be the talk of the neighborhood!
Next Time Your Vehicle Needs Service,

Bring It to Ultimate Rides
In addition to selling vehicles, we also fix them up and modify them for our customers. Over the years, we've built a reputation for reliability, speed and professionalism, and that's why we have our own base of regular customers who keep bringing their vehicles back. Our service center team is ASE certified and highly experienced, and we like to stay busy, so we'd be happy to work on your vehicle. We do everything from major repairs like engine or transmission work to something as simple as a synthetic oil change. If you have a feeling your vehicle isn't running right, chances are you're on to something, so let us take a look.
In addition, if you feel like your ride might just need a face lift, there's a lot we can do to help. Take a look at some of the vehicles in our inventory to get a better idea of what kind of work you can have done on yours, and feel free to get in touch if you have any questions or concerns. On top of standard repairs, our team can also offer regular maintenance and detailing. We'll get that vehicle of yours looking phenomenal! You can trust our team to take excellent care of your vehicle.
Customer Care is One of Our

Biggest Priorities
One of the biggest reasons most people hate shopping for used vehicles is the way they're treated by auto dealers. At Ultimate Rides, we're out to prove that we are a different breed. You won't find us sidestepping your questions or trying to convince you to buy a vehicle you don't want. Instead, we're here to serve you. Our sales team is made up of kind, knowledgeable and professional individuals who will be happy to help you find exactly what you're looking for. Our team will constantly go above and beyond what is expected to make sure you're happy with your experience. Whether you need us to pick you up from the airport, or just have a few beginner questions, just let us know and we'll do everything we can to help.
If there's a certain vehicle that you want to find but haven't had any luck, don't give up just yet. At Ultimate Rides, we're able to help our customers track down rare vehicles. Let us know the make, model and model year you need. With a small deposit, our buyers will stay on the lookout for just such a vehicle. It should only be a matter of time until we track it down. As soon as we do, we'll let you know! From there we'll make arrangements for you to come pick it up or have it delivered. It's just another one of the ways we go the extra mile for you!
Need a Vehicle Shipped?

Have No Fear
At Ultimate Rides, more than half of our customers are from outside our immediate area, which means we have spent a lot of time working on shipping options. The good news is we have it all down to a fine science now, which means you can have your next vehicle shipped out to you in no time. We have plenty of awesome custom lifted Jeeps for sale as well as plenty of other vehicles you can find in our inventory, and you can have any one of them shipped out to you with ease. We can even include the cost of shipping as a part of your vehicle financing deal. Simply let us know what you need, and we'll get on it.
The process is also very secure for both your personal information and the vehicle itself. You can start by taking a look at our website to see what models are currently available. You could also skip straight ahead to calling us and someone from our team can help. We'll walk you through the available options, and once you decide what you'd like we'll start arranging financing and shipping. The process is easy, and won't take very long at all. You'll even still have the ability to customize your vehicle before we send it out! Just be sure to let us know what you're looking for.
Benefits of Driving a

Custom Vehicle
Lifting a vehicle can sometimes be expensive, especially if you don't sacrifice quality for price. However, we don't think you'll experience any buyer's regret, especially if you love driving. With lifted suspension, your Jeep will have better off-road performance. You will be able to install a large set of wheels and tires. These will allow you to have better handling and control off-road. You'll also be higher off the ground, letting you avoid rocks and other potentially dangerous obstacles. Your vantage point will be higher as well, giving you more vision over the terrain around you.
For many folks, though, performance doesn't even factor into their decision. You can't deny that custom lifted Jeeps have a distinct look to them. It's a look that many people want to adopt, and we can't blame them. It's up to you whether to opt for a small lift kit or something that stands out more. Either way, though, you can be certain to feel quite a difference when you drive. If you have any further questions about lift kits, don't be afraid to call our office!
The Ever-Growing Popularity of

Lifted Jeeps
For many years, Jeep vehicles have been a top choice for drivers. Many of those drivers are known to customize their vehicles, choosing the Jeep as their canvas. Plenty of Jeeps are great to customize, including the beloved Wrangler. That is why you see so many of them out on the roads today. The Wrangler is great on the road and off. It's stylish, effective, and comfortable inside, especially when customized. You could join the club soon if you so desire!
This trend didn't spring up out of nowhere. Suspension lifts can trace their roots all the way back to the early World Wars, where off-road vehicles first saw intense use. However, it wasn't until the 1990's that aftermarket lift kits started to become available. That is when the trend of suspension lifts truly began to take off. Their popularity has steadily increased since then, and there have never been a better time than now to make the upgrade.
Legacy of the

Jeep Brand
The Jeep's origins go back to WWII, when the United States government put out a call for a company who wanted to manufacture off-road vehicles for the cause. A company known as Willys-Overland came forward, and became one of the leading manufacturers of army vehicles during the way. By the time the war came to a close in 1945, the company decided to start making their old passenger vehicles and instead focus on their newfound creation. Eventually, Willys-Overland was bought out by a larger company called Kaiser Motors, who eventually became Kaiser Jeep. Through this period, the popularity of the vehicle continued to grow among drivers of all sorts, but the company was still operating at a loss.
By 1970, the American Motors Company, or AMC, decided to purchase Kaiser-Jeep. It was during this era that Jeep vehicles really came into their own. The Cherokee was introduced, and Jeep models began being sold outside of the United States. The popularity of Jeep kept growing until they were bought out once again in 1987, this time by Chrysler. Though Chrysler has since merged with several larger companies to form a massive conglomerate, Jeep is still a part of that corporate umbrella. These days, few vehicles command such a reputation as Jeep.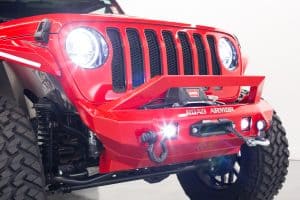 Jeep Wrangler

Features Overview
One of the most popular Jeeps out there is the Wrangler. It also happens to be one of our team's favorite vehicles to work on. We've customized tons of Wranglers over the years, and we aren't ever disappointed when we get one in. We carry Wranglers new and old, but right now we want to focus a little bit on some of the newer models. While the vehicle has always been a beast when it comes to performance, it's also begun to really excel in features over the last few years. Let's take a look at some of the exciting things you can find inside some of our custom lifted Jeeps for sale.
There are tons of model years and trim levels available on the Wrangler, and they all offer something different. This is just a taste of some of the options that are out there, so you can get an idea of what you're looking for!
Interior Comfort and Convenience
One favorite feature among both drivers and passengers is quality air conditioning. There's nothing better right now for Jeeps than dual zone climate control, allowing both the driver and front passenger to choose their own temp. You can also find Jeep Wrangler models with remote start, 120V power outlets, voice activated audio, rear parking sensors and so much more. If you have a favorite feature that you're looking for, there's a good chance it's available on at least one of the recent Wrangler variations. Check out our inventory to see what options are with us right now! The Wrangler is one of our favorites, so we always try to keep a few around when we can.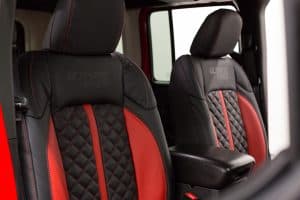 Exterior Features
Another important thing that Wranglers especially have to get right is outdoor utility. This vehicle has never been shy about offering great exterior features, and that has not changed in recent years. The Wrangler is available with either a soft top or hard top. Both should be removable, allowing you to take in the fresh air whenever you wish. You can find automatic on/off LED headlight options as well, lighting up the road ahead when you need it without having to ask. With this impressive SUV, you'll be able to tackle tough situations without stress. We encourage you to come visit us if you want to get a closer look at one of our Wranglers to see if it meets your expectations. We think you're going to like what you find.
Safety Capabilities
Safety is always a big factor in any buying decision, and for good reason. With newer model Wranglers, you can find modern safety features like blind spot monitoring, adaptive stop-and-go cruise control, and a rear park assist system. On top of that, the Wrangler is just designed for safety in general, with its high-strength steel frame and advanced airbag system. One of the most common safety features is also available with the Wrangler, which is the rear view camera. With this feature, you won't have a problem safely backing out of any parking space. This is just a taste of what's available, so go ahead and take a look for yourself. Give Ultimate Rides a call and we'll be able to answer your questions about feature availability in our Jeep Wranglers. That way you can make a confident and informed decision when you buy your next vehicle.
Final

Thoughts
Are you feeling like you're ready to make your next big vehicle purchase? If so, we're here and ready to help. At Ultimate Rides, you'll be able to find plenty of vehicles like custom lifted Jeeps for sale and much more. We work hard to make sure our customers get exactly what they are looking for. On top of that, we specialize in Jeeps. We'll be able to construct you the vehicle of your dreams. All you need to do is reach out to our team. You can contact us today by calling 815-634-3900, or come and see us at 38 W. Division St. Coal City, IL 60416. Somebody from our team will walk you through the process. It won't be long before you're matched with an incredible vehicle!
---
Two Brothers With a

Passion for Custom Vehicles

Ultimate Rides consists of two brothers who have been buying and selling vehicles for over ten years. Two brothers with a dream to buy, build and sell a lifted Jeeps from rust free states. Build a business on a great reputation and always make sure customers are happy with their purchase. In the auto business that sometimes is hard to do, but year after year their business grew and five star reviews started to come in.

They started their Ultimate Rides journey with a third brother Jake, who was a big part of building the business they have today. In 2016 Jake passed away and losing their brother was the hardest thing they ever had to deal with. Even though they had a tragic loss they plan to continue to set a new trend for the Chicagoland market, keep customers number one and grow this business for their baby brother Jake.

 — Nick and Alex Bulanda, Founders of Ultimate Rides