Jacked Up Trucks for Sale at Ultimate Rides
Ultimate Rides is the Best Place to Find
Jacked Up Trucks for Sale
For countless drivers all over the country, there's only one option when it comes to their truck: fully lifted and loaded out with modifications. If you're currently looking for a lifted truck that's free of rust and still in great shape, no matter what the model year, come check out our inventory at Ultimate Rides. For more than 10 years now, we've been modifying and even building trucks that stand up to the test of time and meet our high standards of quality. It's our passion to build these trucks and provide them to drivers not just from Illinois, but all over the United States and beyond. If you're looking for jacked up trucks for sale still in good driving condition, the first place you should look is Ultimate Rides.
We bring in our trucks from warmer parts of the country like Texas and California to help ensure we find vehicles that haven't been worn down from years of harsh weather conditions. Our specialty buyers bring back all different kinds of trucks, some already lifted and others we work on ourselves. We carry trucks as recent as the current model year and as far back as the 90's, sometimes even older if the right truck comes in. It all depends on the quality of the vehicle and how well it has been taken care of over the years, but if it still looks and drives great, we will take it back to our lift center and put our stamp of approval on it before it goes out to you. If you live in an area that makes it difficult to find vehicles that aren't starting to rust out, you can count on the fact that our inventory is totally free of rust. There's a whole lot to love about shopping with Ultimate Rides, so let us tell you a little bit about what you'll find with us apart from jacked up trucks for sale in great condition.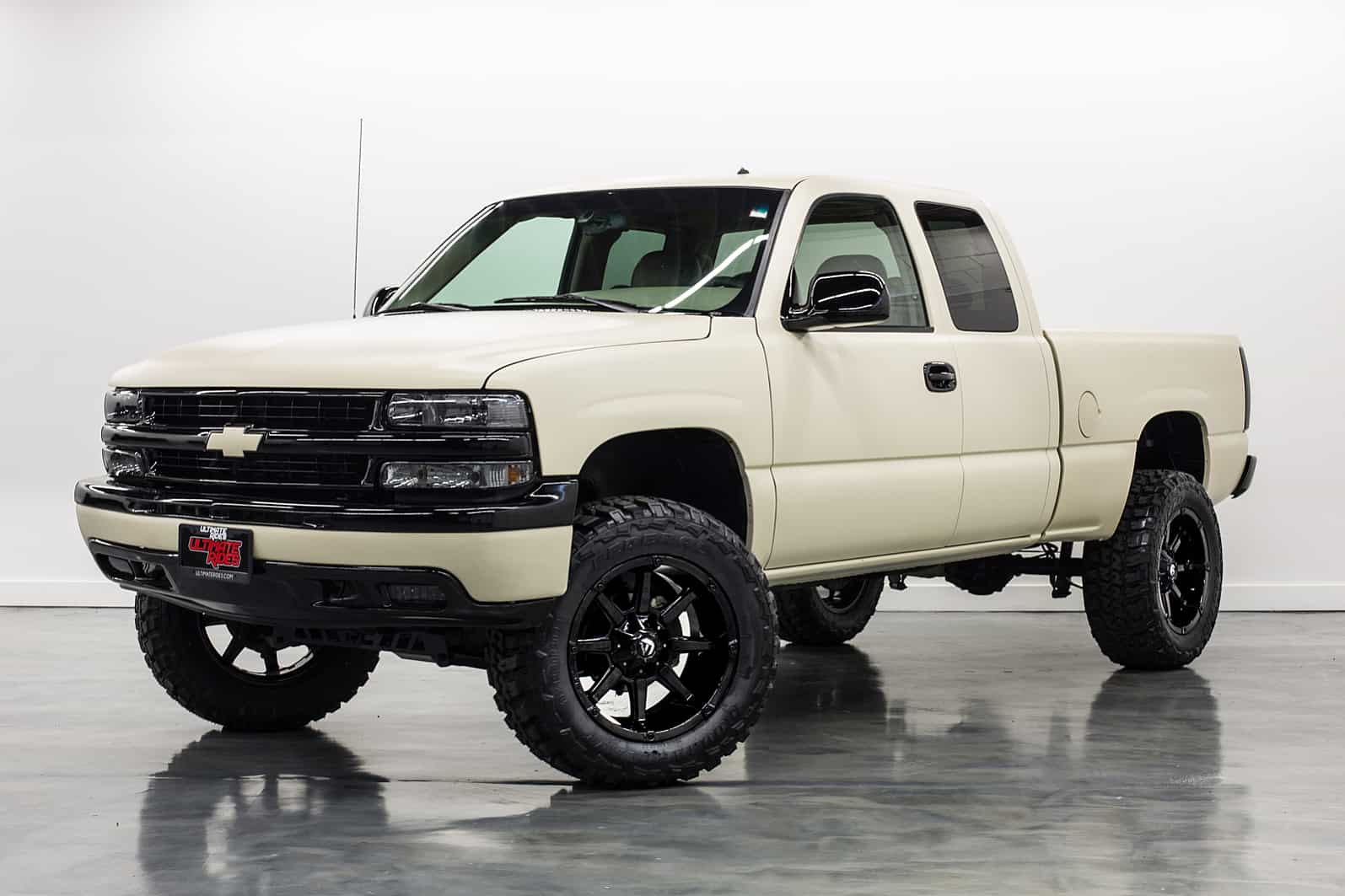 Ask About Our New Lift Center to
Customize and Modify Any of Our Trucks
Recently completed in 2017, Ultimate Rides has a brand new state of the art lift center that we use to customize our vehicles in-house. We have an expertly trained and experienced team of technicians who are ready for whatever problems you throw at them. The benefits of having our very own service center are many, and even allows for some extra bonuses for our customers. Any of the vehicles you see in our inventory that you buy can be sent to our lift center for any extra modifications before you take it off the lot. Whether you want to add a full suspension lift kit or change out to some custom wheels that are more your style, we can make it happen. We even have the ability to include the cost of your lift center trip within your vehicle financing deal, allowing you to pay for the modifications alongside your truck.
Even if you aren't looking for jacked up trucks for sale because you already have your own, we still believe we can be of service to you with our service center. It is an unfortunate reality that many mechanics out there aren't properly experienced in dealing with lifted and customized trucks, and can make some pretty serious (and understandable for the less experienced) mistakes that can cost time and money. You won't have to worry about that when you bring your truck in to Ultimate Rides. Our techs are well-trained and have had plenty of experienced working on these trucks that have been heavily modified, so you won't have to second guess whether or not you made the right choice with your truck's mechanic. Our shop is outfitted with all the popular and highly-regarded brands on the market today, and all you have to do is ask when it comes to something you need fixed or work you want done on your truck.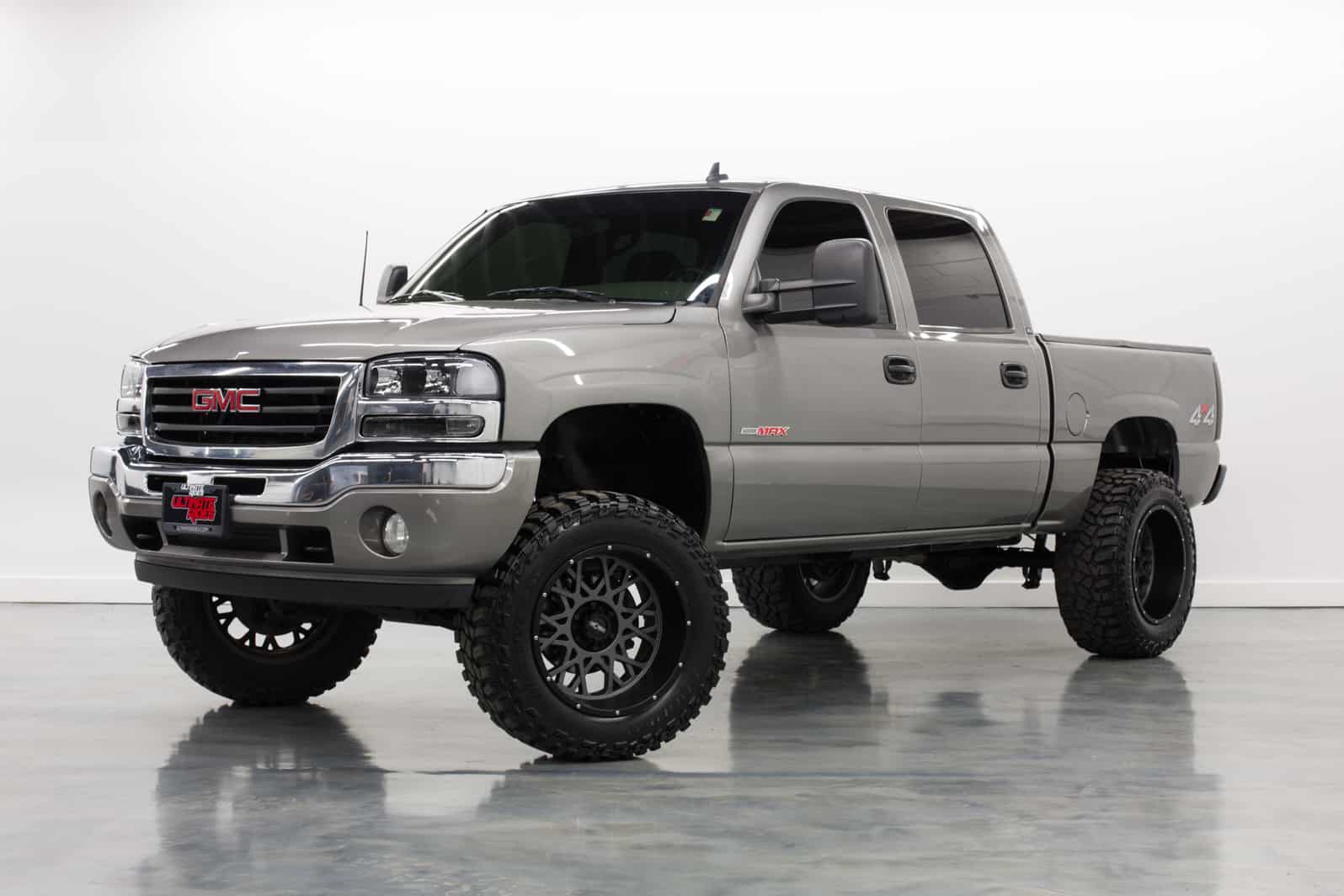 Anywhere You Are,
We Can Transport Our Vehicles to You
Despite the fact that we're located about an hour south of the city of Chicago, we're able to provide vehicles to customers all over the world. Thanks to the modern business advancements like the internet, it's easier than ever before for buyers to make major purchases through secure channels. We have made it a point over the years to become a hub of specialty vehicles like jacked up trucks for sale, making it easier for you to buy exactly what you're looking for. Get in touch with us today to find out more about the process of buying remotely and having a vehicle transported, but we can let you know right now that we're able to include the cost of transportation in your financing agreement. No matter where you live within the United States and most places outside of it, we'll be able to get a vehicle to you with no problems. That's just one more reason to think about Ultimate Rides next time you have to buy a new truck.
But what if you're a specialty buyer who's looking for something a little bit specific and maybe hard to find? Well, we can even help you there. Our buyers come into contact with all kinds of trucks on their search, so if you let us know you're looking for something particular, whether it's a 2019 F150 or a 1999 Silverado, we can find it, or build it, for you. Just leave a deposit with us and we'll alert you as soon as we track down the vehicle you're looking for, and we can work from there. If you have a picture in your head for your ideal truck, we are the people who can help make that vision a reality. Our staff at Ultimate Rides are truck drivers, from our owners on down. We know and love trucks, and that goes especially for our service technicians. We believe what they do is its own art form in a way, and there's nothing we love more than collaborating with our customers on ideas.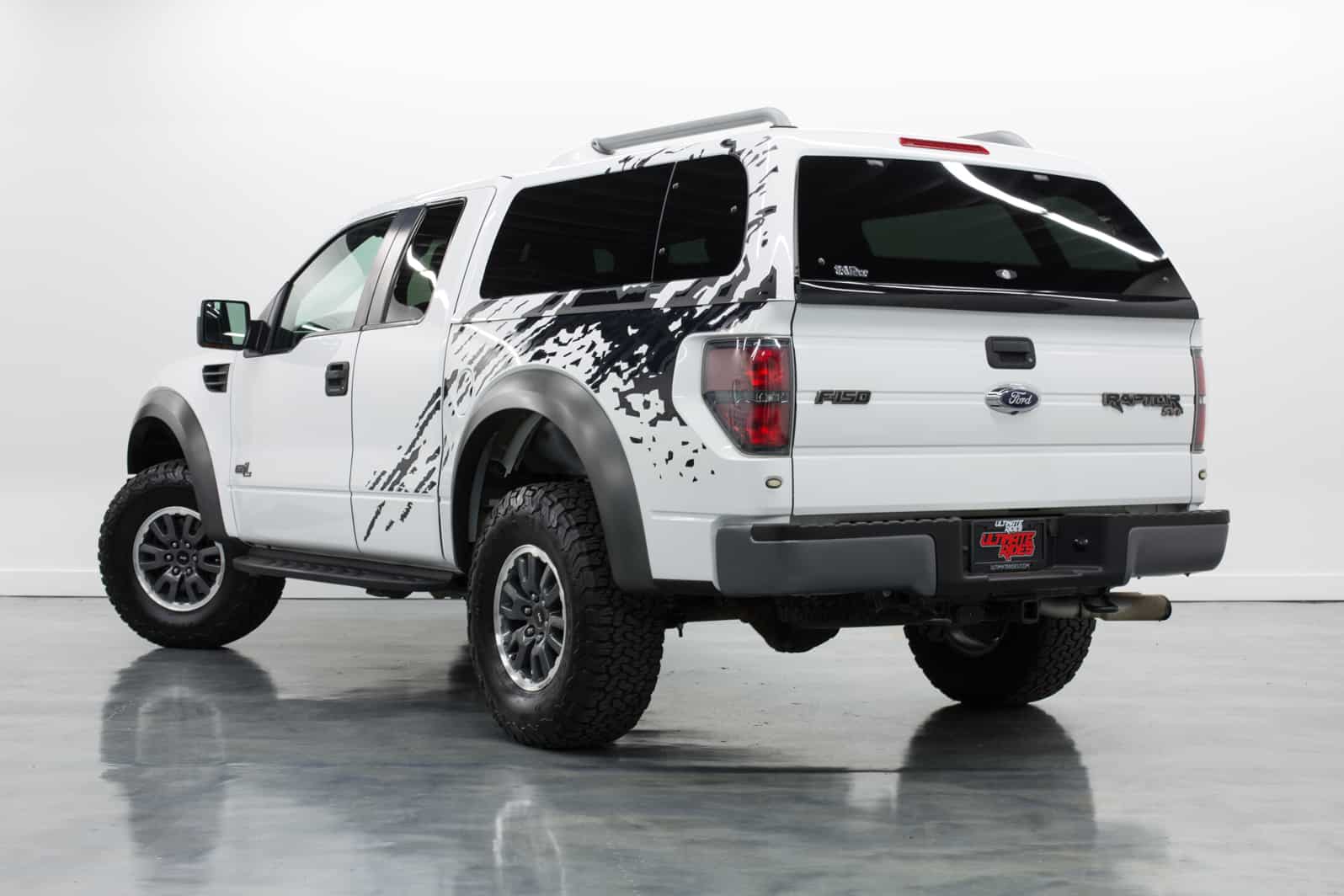 At Ultimate Rides, You'll Get
Customer Service Done Right
These days, consumers are well aware of their rights and what expectations should be when it comes to the businesses they buy from. We find it truly odd that the automotive industry has often failed to catch up in this regard. We have a different way of doing business here; one that doesn't rely on tricking or convincing our customers into buying things they don't want or need. Instead, we aim to provide you with the best customer service experience possible and give you the option to get the truck you need, the way you want it done. When you come into our office, you'll be met with a relaxed atmosphere and friendly sales representatives. We'll sit down in a no-pressure conversation to find out what brought you in today and what exactly you're looking for, and we'll go from there. With us, you won't have to worry about being rushed or worked over. We believe it's our job to provide you with options, not to unload our inventory onto you.
We've been a business for over a decade now, and we think we've built up a strong customer base in that time. Many of these customers have left us some truly nice reviews about their experience and the end result: their awesome new truck. We really believe that you'll enjoy your experience shopping with us, especially compared to many of the used truck alternatives there are out there that have earned this industry a pretty negative reputation. We have been out to change that perception for quite some time, and we feel good about our progress so far. If you want to find jacked up trucks for sale in great shape with tons of care put into them, we're the place to look. Ultimate Rides is and always has been a family-run business, and we take our reputation seriously. We aim to provide trucks to people all over the world while maintaining that friendly local business atmosphere.
Why Get a Lift Kit

on Your Truck?
At Ultimate Rides, it shouldn't take you long to see that we love lift kits and trucks outfitted with them. While there are a vocal few, especially here on the internet, who think these kits are pointless or obnoxious, that just isn't true. These kits become more and more popular every year, and there are plenty of benefits to owning one. If you are interested in off-road driving, lift kits allow you to do so much, and is a safer way for both you and your truck. Using a lift kit, you'll be able to install a set of larger tires. The taller your lift kit, the bigger the tires you'll be able to equip. This will provide drivers with more visibility over their surroundings, and will help keep the truck from hitting any rocks or other low obstacles.
You'll also find a difference when it comes to traction. There's a whole world of different, especially when driving on rough terrain. Once you outfit your truck with the right lift kit and a set of bigger all-terrain tires, you'll have a whole new experience while off-roading. With larger tires, and sitting at a higher vantage point, you'll also have more room for your suspension to sag if you're towing something heavy. This could definitely save you from some catastrophic situations, and on top of the many other bonuses, it could be worth it to upgrade. Just make sure you pick a team you trust to install!
Something else to be aware of is that a lift kit can and will change the way you drive your truck. While a quality lift kit won't poorly affect your vehicle's handling or other aspects, the different positioning will be something to get used to. Once you do, however, we're willing to bet you'll have a hard time going back. In our opinion, sitting behind the wheel of a jacked up truck makes driving simply more enjoyable. On top of that, folks absolutely love the way they look. You can transform your truck from a standard run of the mill pickup to something that will stand out in any crowd. Get in touch with us at Ultimate Rides today if you'd like to hear more!
How to Maintain Your

Lifted Truck
Once you have your new truck (or your upgraded old truck) in your possession, all that's left to worry about is taking care of it. You don't have to worry! In most ways, it's exactly the same as maintaining every other truck. You know the drill: get your oil changed on time, get your fluids checked, all the regular maintenance. However, there are a few special things you'll want to do with a lifted truck. At least once a year, preferably twice or more, you will want to have someone take a look at your suspension and make sure everything is in working order and not degrading. You shouldn't find any major issues unless you had some problems during installation, but it never (seriously, never) hurts to be too careful.
If you want to do this maintenance yourself, there are a few things specifically that are common problem areas. Check out your tie rods, ball joints, hubs, and both idler and pitman arms frequently. Eventually, there's a solid chance you'll have to replace at least some of them. If you're not sure where to take your vehicle, remember that Ultimate Rides has an expert team working on vehicles day in and day out. If you are located anywhere near the Chicago area, let us become your new go-to maintenance and repair service team!
Ultimate Rides has Jacked Up Trucks for Sale
Right Now
One thing you can count on at Ultimate Rides is that we always have a solid stock of lifted trucks available for you to buy. Our inventory is constantly moving so we have to stay on our toes when it comes to finding new vehicles. If you own a truck that's in good shape and are interested in selling, let us know and we'd be happy to take a look and see if it is something we are interesting in purchasing from you. For those who are at Ultimate Rides to buy rather than sell, you'll have access to our entire inventory, priced to match the quality of the vehicles. We know that our cars might be more expensive than what you might find at your everyday local truck dealer, but we promise you that you aren't just padding our pockets; you're paying for quality. Finding used trucks that are going to last you years into the future isn't always easy, and that's why we've gone out of our way to find and provide these trucks to our customers in the Midwest and around the country. The reality of used cars is that you can never 100% guarantee that something is going to last a long time, but we do everything we can to make that the case by selling only the finest used trucks around.
If you've ever spent time in a lifted truck before, you already know that it's a feeling that is hard to replicate. They look and drive great, perfect for off-road or highway driving. For lots of folks out there who have never had their truck customized beyond factory standard, there's a whole other world that you've been missing out on. Whether you decide to go for the works with a custom paint job, lift kit, new wheels and tires, maybe a light bar or more, or you just decide to keep it simple at first with just one of the aforementioned modifications, we have the right truck for you, and the ability to create your perfect vision of a truck. Ask us about all the options available in our lift center, or if you have something specific in mind let us know what you're thinking. We know how long and difficult the process of finding the right truck can be, and it's our goal to make it far easier for you.
Popular Upgrades for
Jacked Up Trucks
There are a number of modifications, accessories and upgrades that go perfectly with a suspension lift. One of those accessories is a set of running boards. When you install a lift on your truck, you'll undoubtedly have at least a slightly more difficult time climbing in or out. For some drivers or passengers, it may be flat out impossible to get in without a set of running boards for help.
Additionally, we encourage drivers to consider a set of new tires and wheels with their suspension lift. They'll help you tackle off road situations, long road trips, snowy roads, or whatever else you expect to run into. Plus you can help push the look of your truck even further. If any of these upgrades sound interesting, just contact Ultimate Rides and leave us to it.
We Will Build or Locate Your
Perfect Vehicle
If we don't already have a vehicle in stock that you love, we aren't willing to give up yet. Our team can help build one for you, or we'll find just what you're looking for. We'll be your destination for all things related to vehicles. We've built countless trucks in the past, and it's something that our team truly loves doing. If you have a vision in your head that you'd like to see us bring to life, don't hesitate to reach out. We'll work with you over the phone to come up with a shared idea, and from there our team will get right on it. We'll let you know as soon as everything is ready, and you can choose to come pick the truck up or have us ship it to you.
Final
Thoughts
Are you ready to make a move into a new used truck? If you want to find one that's in great shape at a reasonable price and with out of this world customer service, no matter where you are, there's only one place to look: Ultimate Rides. We have the ability to find whatever you need, so why not give us a call? You can reach us at 815-634-3900, and we're open seven days a week. If you're located near us, you can stop by for a visit at 38 W. Division St. Coal City, IL 60416 anytime during office our office hours to find out more about what we have to offer.
Frequently Asked Questions
Below we'd like to spend some time answering the most common questions we hear from customers and readers. Take a look and you might find some useful answers. If you get to the end and still need to ask us something, you can feel free to dial our office number any time we're open. Someone from the Ultimate Rides staff should be able to help.
Q: How much should I expect to pay for a lift kit for my current truck?
A: That's a loaded question! How much you pay depends almost entirely on what kind of kit you want, how large and how extensive you want to go. You can find budget kits for as low as $100, but if you want to outfit your truck with something like a six-inch full suspension lift kit, we recommend putting in the money and going for something high quality. This can cost upwards of $1000 or more, once again depending on exactly what you would like. Give Ultimate Rides a call and we can provide you with a more detailed estimate!
Q: I've installed my own lift kit at home. Is there anything I need to do next?
A: In fact, there is! After installing a lift kit, it is important to take your vehicle in for a steering alignment. Your alignment can shift along with the installation of a kit, and it might not be apparent at first. For safety purposes, you should always make sure to get an alignment, even if you don't think it needs one.
Q: Is it better to buy a truck with a lift kit or install my own?
A: This really depends on how attached you are to your truck! Here at Ultimate Rides, as we've mentioned we have plenty of jacked up trucks for sale. However, we can also install one of our high-quality lift kits on your truck at a great price. So the question really is, do you feel like it's time you got an upgrade? Either way, let Ultimate Rides help you out!
Q: What's the difference between a suspension lift and a body lift?
A: A suspension lift kit is a lift system that actually alters your vehicle's suspension to raise it up. These kits are more expensive and harder to install. However, they absolutely offer the best ride quality. Body lift kits don't touch suspension. Instead they'll use spacers or blocks to physically raise up the body of the truck. While this is alright for beginners, and is affordable and easier to install, it just won't offer the same ride quality as a suspension lift.
---