Michigan Lifted Trucks for Sale
Michigan Lifted Trucks for Sale
at Ultimate Rides
Though we're located an hour south of Chicago, Ultimate Rides is still the perfect destination for you to buy a lifted truck. That applies even if you live somewhere else in the country, or even outside of it. If you shop through us at Ultimate Rides, we can ship your vehicle to you, and even include the cost of shipping within your financing deal. With our excellent deals, our extensive inventory of rust free trucks and our lift center that allows us to customize your ride, we think we're a smart option for consumers everywhere.
If you're looking for Michigan lifted trucks for sale, it can be difficult to find a pre-owned vehicle in good shape. With the roads covered in salt for a third of the year, and the difficult weather conditions, finding a rust free truck is a small miracle on its own. That's why we have specialized buyers who bring in vehicles from all around the country to avoid the wear and tear that comes with driving on our Midwest roads. Along with changing the locations from which we purchase our cars, we also strive to only buy the finest pre-owned trucks we find. By running each vehicle through a quality inspection, we make sure we don't sell you any lemons.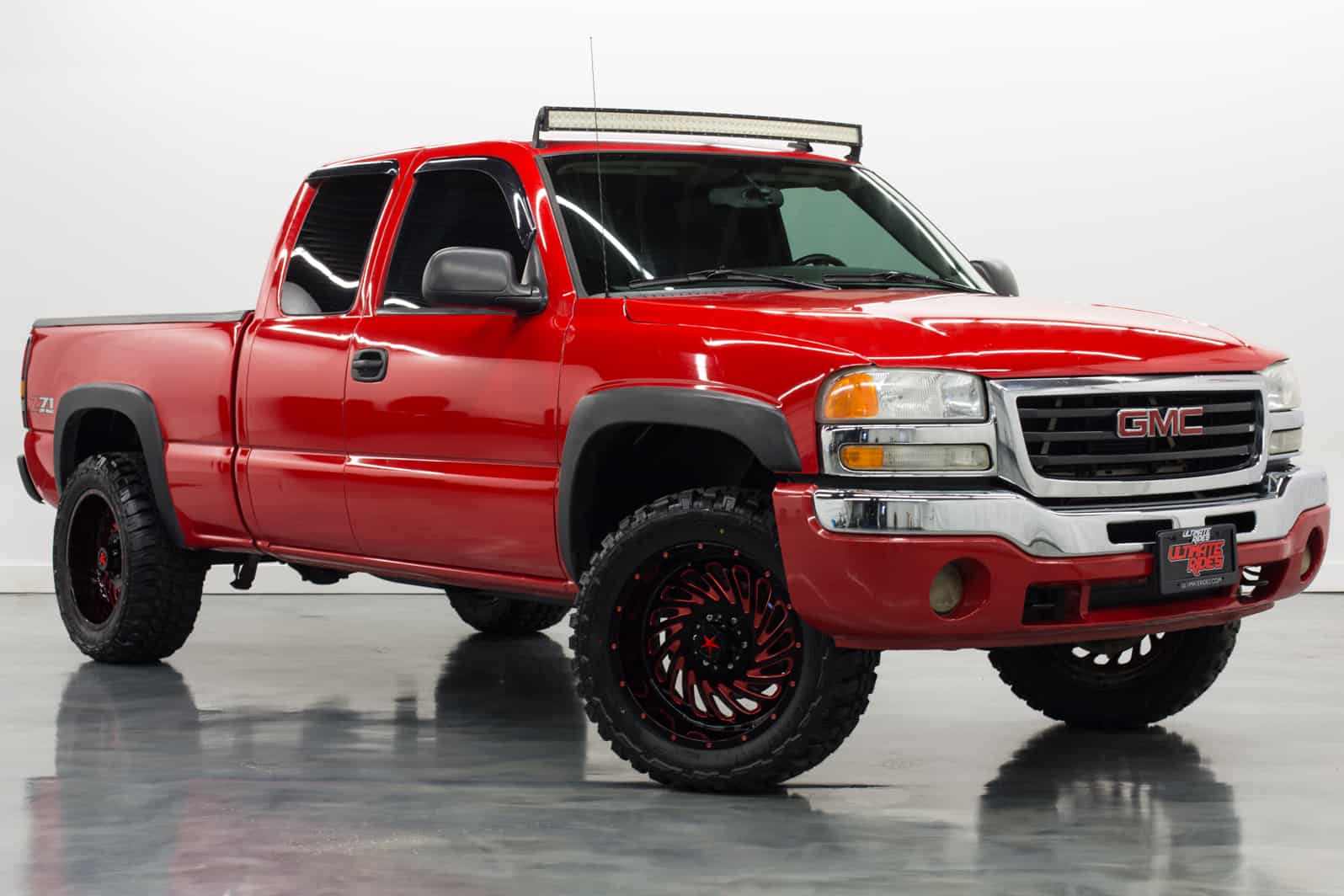 Customer Service
Done Right
One of our greatest achievements at Ultimate Rides is the reputation we've earned among our customers. By avoiding the philosophy that seems to guide most other car dealers (getting one over on the customer), we operate with a different mentality. We treat our customers with the respect they deserve, avoiding the common cliches commonly found under the "used car salesperson" umbrella. We won't try to sell you a truck you don't want. Instead, our friendly sales team will partner with you to find and customize your perfect truck.
Ultimate Rides is a family-operated business, and we know finding Michigan lifted trucks for sale in quality condition can be a huge hassle. If you're on that grind and looking for a way out, give our inventory a look. You can call our office to ask any questions that might crop up, but we think you might find that buying a car through us is surprisingly simple and cost-effective. We're a reliable business that's been around for over 10 years, and we've been around the block once or twice. If you know a great deal about trucks and lift kits, you'll find some instant common ground with our salespeople, so don't be afraid to give us a call.
The Place to Find

High-Quality Rides
As we mentioned before, the vehicles available at Ultimate Rides are free of rust. That's a big deal to us, and it should be to you as well. If you've been to many used auto dealerships, you've no doubt seen more than your fair share of rusty vehicles. Sometimes it can become overwhelming, especially if that's all you find. At Ultimate Rides, you won't have to worry about that. Our vehicles receive a full inspection to ensure they're in good running condition and meet all of our standards.
The process of tracking these vehicles down is not always easy. If you're from Michigan, you already know how prominent rust can be on vehicles in the Midwest. That is why we send our buyers to areas of the United States with more favorable climate conditions. They seek out the best vehicles they can, and specifically ones that fit our inventory. We get them back to our shop, customize many of them in our lift center, and then list them for you.
We Can Customize
Michigan Lifted Trucks for Sale
Along with our customer service reputation, another aspect of our business that we make a priority is our lift center options. If you see a vehicle you like in our inventory, but want to change the lift, tires or wheels, let us know and we can make the ride yours. If you decide to have your Michigan lifted trucks for sale sent to our lift center, we can even include the cost as a part of your financing deal. Whether you want the body of your truck raised or lowered, or you want to add some huge wheels to your new baby, we have got it covered. Simply let us know what work you want done, and we can get right on it for you.
It's not easy finding Michigan lifted trucks for sale in quite the same condition we have them in. If you are the type of driver who changes your oil twice as often as recommended, makes sure your truck is clean inside and out at all times, and constantly finds themselves tweaking with the mechanics of their truck, we think you're gonna love everything we can do for you. We've got a steady stream of hidden gem trucks that come on and off our lot, so keep an eye out for something that stands out to you.
Popular Truck Customizations
While the most common modification we perform is on raising suspension, the list goes on and on past that. With a suspension lift, the next step is usually a set of custom tires and wheels. We can find the right choice for your sense of style as well as your needs. For example, if you want a set of tires that performs well off-road, we can hook you up. Ultimate Rides offers running boards, custom lighting, performance chips, towing setups, and so much more. If you want to hear a full list of options for our vehicles, or want to tell us your dream vehicle setup so we can make it a reality, feel free to call us.
Buying a Truck
Made Easy
At Ultimate Rides, we truly believe that the process of buying a car has become way too complicated over the years. Our company was founded over 10 years ago by three brothers who wanted to really change the way car dealers did business with their customers. That idea still acts as the company's compass today. That, along with their passion for awesome lifted trucks and high standard of quality, has built a name for Ultimate Rides as one of Chicago's best auto dealers. We've been told that dealing with our sales team is a pleasure, and that compliment is something we absolutely love to hear.
We aim to provide folks like you around the world with some of the highest quality new and used lifted trucks available on the marketplace. We encourage you to keep browsing our website, but if you want to take the next step with purchasing a new or pre-owned truck or SUV, lifted or not, you can go ahead and give our team a call to get started.
Lift Kit

Popularity Rising
It has become quite clear over recent years that there is a rising trend of lift kits. It often only takes a few minutes of driving on the highway to see one of these standout vehicles flying by. If you want to be a part of that club, Ultimate Rides is the place to go. We'll help you familiarize yourself with a lift kit, finding out the strengths and weaknesses of each option. We consider ourselves experts when it comes to lift kits, having installed countless sets on vehicles of all different shapes and sizes. If you have a question, we've got no doubt that we have an answer for you.
We believe that the increasing popularity of lift kits is a very good thing. All it means is that more people are coming to understand what we've known for a long time: these vehicles are amazing. The difference between driving a standard suspension truck and a lifted truck can often be like night and day. Many drivers could find it hard to ever go back to their old ways. If you're interested in learning more about this growing phenomenon, please make sure to get in touch with somebody here at Ultimate Rides!
The Extra

Mile
Another service we offer at Ultimate Rides is the ability to place a deposit with us while we search for a car of your specifications. Are you looking for a lifted 2016 Ram but come to find out we don't currently have one in stock? We'll go on the hunt to find a rust free edition of the vehicle you're searching for. We have buyers out looking at vehicles all across the country. That means we should be able to find exactly what you're looking for. If it's something rare, it may take more time. However, we have no doubt that we'll eventually be able to track it down.
Do you have any other ideas on what you'd like to do with your vehicle? With our service center, we can make it happen. All you need to do is give us a call and let us know what you're looking for. Our team will be able to handle it. On that call, we can give you a rough estimate of what the work will cost, and from there you can decide if it's for you.
Final

Thoughts
At Ultimate Rides, we feel it's important for us to connect with our customers. We want to be more than just the faceless place you go to buy a vehicle. Instead, we want to work with you to match you up with the perfect ride. Whether that means something basic, or a complete custom truck, we can make it a reality.
We've been serving the Chicagoland area for over a decade. Our aspirations only seem to continue growing as we expand through the internet. We hope the next time you're looking for a decked out truck with a lift kit and giant wheels that you think of us. Whether you live in Chicago, just over in Michigan, somewhere on the west coast or even halfway around the world, we believe we can help you find the perfect truck for your future. Give us a call at 815-634-3900 to get in touch with one of our agents today. Additionally, if you're in the area stop by and see us at 38 W. Division St. Coal City, IL 60416.
---
Two Brothers With a Dream

,

Building The Best Ultimate Rides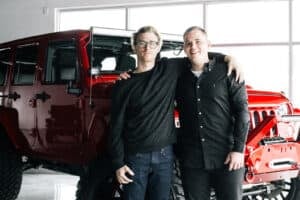 Ultimate Rides consists of two brothers who have been buying and selling custom vehicles for over ten years. Selling lifted trucks by day and writing these awesome reviews by night! They started their Ultimate Rides journey with a third brother Jake, who was a big part of building the business they have today. In 2016 Jake passed away and losing their brother was the hardest thing they ever had to deal with. Even though they had a tragic loss they plan to continue to set a new trend for the auto industry, keeping customers number one. Pushing the envelope on the lifted truck market, these guys love researching and learning about everything in the auto industry!
 — Nick and Alex Bulanda, Founders of Ultimate Rides