Used Lifted Trucks for Sale
Find the Best Used Lifted Trucks for Sale

at Ultimate Rides
Ultimate Rides is the go-to place to find lifted trucks. We're located in the Midwest about one hour south of Chicago, but we supply folks all around the country with the highest quality used lifted trucks for sale. This is because our inventory features vehicles like no other. Some are customized or even built right here in our shop, and others are brought here to be sold as-is. However, one thing that's certain is our vehicles are only of the highest quality. That means we only sell vehicles without problems, and completely free of rust.
We're able to accomplish this by bringing in vehicles from warmer parts of the country, such as the Southwest and west coast. That's not the only reason people come from all around to shop with us though. Here at Ultimate Rides, we are trustworthy, and you won't have to worry about getting ripped off here. We've built up our business to hopefully fix the bad reputation dealerships have earned over the years. That's just one more reason we bring in customers from around the United States.
There are many reasons one might want to upgrade into a lifted truck. They're undeniably stylish, great off-road and completely change the look of a vehicle. In recent years, they've become more and more popular with drivers everywhere. If you'd like to get yourself a lifted truck, give us a call today or check out this guide for details.
The Ultimate Rides

Lift Center Experience
Any time that you purchase a vehicle from Ultimate Rides, you'll have the ability to send it over to our lift center. There you'll find an expert team ready to handle any project you'd like us to tackle. We can accomplish just about anything, from adjusting the lift height, to adding a new paint job. Lift kits are considered one of our primary specialties here at Ultimate Rides.
We don't stop there, however. You can get custom lights, tires and more right here in our lift center. You will even have the option to finance your vehicle's trip to our lift center along with the standard vehicle financing. On top of that, we also perform standard maintenance and repair services. If you ever run into trouble with your vehicle down the line, you can feel free to bring it back to us for excellent service! We can perform anything from a regular oil change to something as major as transmission repair or replacement. Just give us a call!
Why You'll Love Your New
Lifted Truck
Lift kits have become all the rage, especially over the last several years. Folks love them for their look, the way they enhance off-road performance and more. There are plenty of advantages to picking up one of these used lifted trucks for sale. They offer a higher vantage point, which can greatly improve visibility while off-road. Additionally, you'll find you can maneuver around off-road obstacles with great ease. If you want to ensure your pickup is off-road ready, a lift kit and a set of larger tires is the way to go. You'll be the envy of your whole neighborhood with one of these vehicles. Along with that, you'll also find that the value of your truck could stay higher over time, helping you down the line if you decide to sell it.
Customer Service

Like Nowhere Else
We believe that excellent customer service is another factor that sets us apart from the competition. We have always been a family-owned business, and that has had a great amount of influence on the way we operate. It has always been our goal to treat each of our customers as if they were our own family. We'll go above and beyond to make sure that you have everything you need. We've got a staff standing by to help you with any questions that might come up. Our entire business is catered to suit our customers.
Another thing you'll love about Ultimate Rides, especially if you don't live near Chicago, is our vehicle delivery. If you decide to order a vehicle from us, we can have it delivered right to your home. You will even have the ability to finance the cost of the delivery along with your vehicle. This allows you to keep everything relegated to one easy payment a month.
Finally, one more way in which we go the extra mile for our customers: we can track down a specific vehicle you're looking for. If you've had your eye on a model but have been unable to locate one in good shape, let us know. We have our buyers searching already for great vehicles across the country. With a small deposit, we can let them know what you're looking for, and we'll inform you as soon as we've found it. Then you can come and pick it up, or even have it delivered!
Vehicle Quality

Still Matters
When you shop at a standard local used dealership, you will often run into problems with the vehicle. Whether it's exceptionally rusty, features engine issues, or more, there are a lot of things that can go wrong. Thankfully, you won't find those issues when you buy a vehicle from Ultimate Rides. We have an incredibly high standard of quality when it comes to the vehicles that we sell. Every vehicle that comes into our possession undergoes a thorough inspection before being sold. If anything is wrong, we make sure it gets fixed up ahead of time. Best of all, you won't find any rust damage on any of the vehicles purchased from Ultimate Rides. If you are searching for a dealership you can rely on, you owe it to yourself to give us a try.
Choosing the Best Lift Kit

 
for Your Needs
At Ultimate Rides, we have a wide variety of different lift kits available. It's important to figure out the right option for your needs before you make a final decision. Thankfully, Ultimate Rides can help you figure out what is best. We have an immense knowledge of lift kits, so feel free to give our team a call if you'd like some advice, or just want to learn more. We are also experts when it comes to installation. That means if you already own a truck that you'd like to lift, we can help you out.
The process of deciding what lift kit is best for you consists of a few different steps. For one, you'll have to figure out your budget. In general terms, the more expensive a lift kit is, the more of an effect it'll have on your truck. For instance, you can get a set of simple spacers to raise up your ride by an inch or two for just a few hundred dollars. However, a full suspension lift kit is where you'll find the highest quality and greatest lift, and those can cost several thousand dollars.
Additionally, you'll want to think about what size tires you want installed on your truck. That can have an effect on which lift kit you'll choose, as you want to make sure it'll both fit and look good. There are also many different types of lift kits available, such as the spacer kits we touched on, and obviously full suspension lift kits. Get in touch with us today and we can help you figure out which is the best option for you!
The Increasing Popularity of

Used Lifted Trucks for Sale
If you spend time on America's highways, it won't take you too long to spot a lifted pickup truck. It seems like they are becoming more popular each and every year. It's not difficult for us to see why, as we've been onboard this train for a long time now. Back in the old days, it used to just be hardcore truck enthusiasts who were interested in lift kits. That has changed, and Ultimate Rides is happy to offer customers a wide variety of used lifted trucks for sale.
There are many people out there who have never owned a lifted truck before and are looking to take their first steps. Ultimate Rides has plenty of options for you to choose from. Whether you want to start off small or go all the way to a full suspension lift kit as your first lifted ride, there's no wrong way to go about things. It mostly just depends on how much you'd like to spend and how high you'd like to go. We encourage you to give us a call to speak to a member of our team. We'll be able to give you more concrete details depending on exactly what you're looking for.
Off-Road Excellence Found

at Ultimate Rides
There's nothing like taking your pickup truck off the beaten trail and into the wild. However, you've got to make sure you and your truck are properly prepared. A lift kit is one of these additions. While it may not be necessary, you'll find that it will do a whole lot of good. Your truck's cab will be raised, giving you a higher vantage point to look out from. While this isn't as useful on standard roads (though it can be in some situations), it's very good to have when you're traversing wild landscapes. Additionally, having more clearance between your truck and the ground is always a good thing when it comes to avoiding obstacles such as rocks.
We also have plenty of other accessories and modifications available at Ultimate Rides that will help optimize your truck for off-road action. From custom tires to weather guards and more, we have it all. Let us know exactly what you'd like outfitted on your vehicle and we can make it happen. That is just one of the joys you'll find from shopping at Ultimate Rides.
Closing

Thoughts
With this guide, we set out to make sure our readers are informed on what could be waiting for them at Ultimate Rides. If you're looking for your next pickup truck, we think it's worth your time to check out our inventory to see if anything catches your eye. Even if you live outside the Midwest, our delivery services make it easy for you to pick out a truck and wait for it to arrive at your door.
If you have any questions about the trucks available at Ultimate Rides, we hope you'll reach out and speak to a member of our team. Our vehicles are knowledgeable, friendly and kind, so don't be shy! You can get in touch with us over the phone today by calling 815-634-3900. If you are ready to come and pay us a visit at our office, you can find us at 38 W. Division St., Coal City, IL 60416. We hope to see you at our door soon!
---
Two Brothers With a Dream

,

Building The Best Ultimate Rides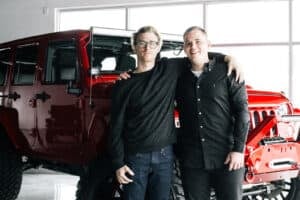 Ultimate Rides consists of two brothers who have been buying and selling custom vehicles for over ten years. Selling lifted trucks by day and writing these awesome reviews by night! They started their Ultimate Rides journey with a third brother Jake, who was a big part of building the business they have today. In 2016 Jake passed away and losing their brother was the hardest thing they ever had to deal with. Even though they had a tragic loss they plan to continue to set a new trend for the auto industry, keeping customers number one. Pushing the envelope on the lifted truck market, these guys love researching and learning about everything in the auto industry!
 — Nick and Alex Bulanda, Founders of Ultimate Rides