Top 10 Best Lift Kits for Chevy Silverado 1500
Sharing the Best Lift Kits for Chevy Silverado 1500
Whether you've got an old truck you're looking to spruce up, or you are planning to buy soon and want to get a lift kit ready, it's never a bad time to upgrade. However, it's not always easy to find the right kit, whether it's because of compatibility issues, quality or something else entirely. Here at Ultimate Rides, we provide our readers with guides meant to help them find the best vehicle products and accessories. Today, we want to talk about the best lift kits for Chevy Silverado 1500 trucks.
Below you will find a list containing some of our favorite options out there. However, we won't be able to cover everything. That's where our buying guide comes in. There you will have access to some tips and things to remember when shopping for lift kits in the future. Before we begin, it's important to take into consideration installation problems while you're shopping. These kits often aren't very beginner friendly, so you may want to consider getting in touch with some professional help. Ultimate Rides offers lift kit installation in addition to many other repair and maintenance services. Be sure to get in touch with us if you would like to learn more! In the meantime, let's get started.
---
1. Superlift Chevy Silverado 8″ Suspension Lift Setup with King Coils and Shocks
Compatibility: 2014-2018 Silverado 1500 4WD
In our opinion, the best suspension lift kit for these trucks comes from Superlift. Just make sure you're ready to go big, or this isn't the lift kit for you. These kits are costly, and that's not even including installation. However, if you want the best, there's no way to get around that. Speaking of installation, this Superlift lift kit isn't exactly something most drivers will be able to install at home in their driveway. Once the vehicle is ready and you get it back, you will likely be shocked by the difference. It'll still offer the same ride quality (assuming you choose the right installers!), but the Silverado truck will become massive. There's no denying these lift kits are expensive, but so many drivers have excellent things to say about them. Take a look around online if you don't believe us! If you're ready to install a set of these on your Silverado, simply let Ultimate Rides know and we can help you through the whole process.
Superlift Lift Kit For Chevy Silverado | 8in | 4WD | w/Aluminum/Stamped Steel Control Arms & King Coils & Shocks (K908KG)
---
2.
Rough Country 6″ Lift Kit with Vertex Coilovers and Shocks
Compatibility: 2019-2022 Silverado 1500 2WD
Some of the best accessories for Silverado trucks come from manufacturer Rough Country. Our personal favorite is this six-inch kit made for the most recent model years of the vehicle. This awesome kit consists of a set of lifted knuckles, vertex coilovers, N3 shocks and more. You'll find reliable durability, straightforward (though time-consuming) installation, and enhanced vehicle performance. One of the best features that comes with buying from Rough Country is their lifetime replacement warranty. That should make sure you don't have any lingering doubts about what you're getting with this package.
Rough Country 6″ Lift Kit (fits) 2019-2020 Chevy Silverado 1500 | Vertex Coilovers/Shocks | Knuckles | 21750
---
3. Rough Country 7″ Vertex Lift Setup
Compatibility: 2014-2018 Chevy/GMC 1500 4WD
Rough Country's kits are going to make several appearances on our list, including here in the number three slot. This huge seven-inch lift kit for Silverado models is definitely another favorite among drivers. It's likely the best seven-inch kit you can buy, though you should be sure to note that this specific lift kit is for the last generation of Silverado trucks. Deciding to lift a truck may be easy, but actually choosing your kit is a whole other problem. If you like Rough Country and are confident that a seven-inch lift is right for you, you can't go wrong here. Just make sure the setup fits within your budget.
Rough Country 7″ Vertex Lift Kit for 2014-2018 Chevy/GMC 1500 4WD – 17450
---
4. Readylift 6-inch Suspension Kit for Chevrolet Silverado
Compatibility: 2019-2021 Chevy Silverado and GMC Sierra 1500
Though this is their first and only appearance on our list, you can't deny that Readylift is one of the best brands to help you lift a Silverado. This option is once again designed for newer truck models, though be sure to note that it does not fit the 2022 Silverado. This is another suspension kit that is going to be difficult for the average driver to install, so you'll want to account for installation costs when purchasing. However, you can rest easy knowing you'll get a long of bang for your buck with these modern lift kits. It'll help you traverse rough terrain in your Silverado and look good while doing it.
Readylift Suspension 6 inch Suspension Lift Kit for Chevrolet 1500, Black (44-39600)
---
5. Superlift 6″ Suspension Kit for Silverado 1500 w/Aluminum/Stamped Steel Control Arms
Compatibility: 2019-2021 Silverado 1500
With our next Silverado lift kit, we're heading back to manufacturer Superlift. This lift kit is very similar to the first suspension lift setup we share, with the only major difference being two inches of height. Again, the kit won't be easy to install. You'll almost certainly need to rely on professionals. However, if you do, you'll find smooth handling, responsive steering, and an incredible new look for your Silverado. All of the company's lift kits are of high quality, and this lift is no exception. Just make sure to contact a team you can trust to lift your truck, or you may end up with less desirable results.
Superlift Lift Kit For Chevy Silverado 2019-2021 6in Bilstein Rear Shocks | 4WD | w/Aluminum/Stamped Steel Control Arms (K182B)
---
6. MotoFab Lifts 3″ Front 2″ Rear Leveling Lift Kit 
Compatibility: 2007-2018 Silverado 1500
Another popular manufacturer you'll likely come across is MotoFab Lifts. This option is one of the best lift kits for Silverado models of the spacer variety. It's also a leveling lift kit, raising up the front end slightly hire to account for uneven suspension. This may allow you to take care of two problems at once. Another added benefit of buying this kit is that it was manufactured in the United States, and includes a lifetime warranty from MotoFab Lifts. While spacers don't offer the same performance capabilities as some of the more expensive kits, they are much easier to install and far cheaper. They're a great beginner option for those looking to dip their toes into the lift kit waters.
MotoFab Lifts CH-3F-2R 3 in Front and 2 in Rear Leveling lift kit that is compatible with 2007-2018 Chevy Silverado Sierra GMC
---
7. TORCH 3″ Torsion Key Lift Kit 
Compatibility: 1999-2007 Silverado 1500 with Torsion Bar Suspension
If you're looking for a mid-height lift kit for your older Silverado 1500 model, we've got just the thing for you. This kit from TORCH has excellent customer ratings, and we really love its torsion key design. It allows for fairly simple installation, while also offering excellent lift performance. This kit comes with everything you'll need to raise up the front and rear end of your truck by three inches, allowing for some awesome new tires. If you own a Silverado 1500 from between 1999 and 2007, this is definitely the first lift kit we'd recommend in this price range.
TORCH 3″ Front 3" Rear LIFT Kit For 1999-2007 Chevy Silverado GMC Sierra 4X4 4WD 6 LUG Shock Extenders
---
8. Supreme Suspensions 3.5″ Front 1″ Rear Lift Kit 
Compatibility: 2007-2020 Silverado 1500
Another manufacturer you will often see come up in conversation as industry leaders in Supreme Suspensions. This specific set of spacers is suited to drivers who are dealing with severe front end suspension sag. It will lift up the front end of your vehicle by 3.5 inches, while only raising the rear by one. Do some measurements to make sure this works out for you, and if it does, go ahead and buy this kit with confidence. Be sure to check out the product details however, as there are some types of Silverado models that this kit is not compatible with. As long as it is, you'll find a reliable spacer kit that improves your ride's look and feel.
Supreme Suspensions – Full Lift Kit for 2007-2020 Silverado Sierra 1500 3.5″ Front Lift Strut Spacers + 3″ Rear Lift Blocks + Square Bend U-Bolts + Axle Alignment Shims (Black)
---
9. Rough Country 3.5″ Lift Kit 
Compatibility: 2014-2018 Silverado 1500 4WD
Next up is another Rough Country kit covering a popular range of Silverado 1500 models to lift: 2014-2018 with 4WD. It's a 3.5 inch kit, and includes N3 shocks, lifted knuckles and a lifetime warranty from the manufacturer. There are plenty of reasons folks love and return to Rough Country time and time again. They offer strong customer service, and truly well-made products. While there's argument over who's the top manufacturer of lift kits, Rough Country has to at least make an appearance in the conversation. Check out this lift kit today if it's a good fit with your truck. You won't regret it.
Rough Country 3.5″ Lift Kit (fits) 2014-2018 Chevy Silverado GMC Sierra 1500 4WD | N3 Shocks Suspension 12430
---
10. Supreme Suspensions 1-3″ Front 2″ Rear Torsion Key Leveling Lift Kit 
Compatibility: 1999-2007 Silverado 1500
Finally, the last lift kit we'll be sharing today comes from Supreme Suspensions. Once again, it's for older Silverado 1500 trucks. The cool thing about this kit is that it features an adjustable front torsion key, allowing you to raise the front end by anywhere between 1 to 3 inches. The rear will always be raised by 2 inches. Installation is estimated to take between 2 and 4 hours, and that's for those who know exactly what they're doing. Whether you want to fit on a new set of tires or you just want to overhaul the look of your truck, these are a great bet for you.
Supreme Suspensions – Full Lift Kit for 1999-2007 Chevrolet Silverado and GMC Sierra 1500 4WD Adjustable 1″ – 3″ Front Lift Steel Max-Torsion Keys + 2″ Rear Lift Blocks + Square Bend U-Bolts (Black)
---
Best Lift Kits for Chevy Silverado 1500 Buying Guide
Did one of those lift kits suit your needs? If not, that's okay. We'll still be able to help you find the right lift kit. The first thing to remember while shopping is vehicle compatibility. Each lift kit is going to be made for a certain model, model year and configuration. Most of the time it'll be listed right in the title of the product, though not always. You may have to do some digging to find out specifics, such as using a search engine to find a product page with more details. Always make sure you only buy a lift kit that is designated to fit on your truck. Otherwise you won't be able to get it installed safely and properly.
Additionally, you are going to want to determine what kind of lift kit you're looking for. Budget plays a big part in this. You should be able to find a basic spacer lift kit for just a few hundred dollars, but this won't be able to provide the same feel as a more expensive full suspension kit. The trick is finding the right balance between quality and budget. There's nothing wrong with opting for a cheaper spacer kit, especially starting out. They're a great way to get a feel for a lifted truck without completely overhauling the suspension. It's just a matter of finding what is right for you.
This also goes for lift kit height. It comes down to preference more than anything else. Many drivers install a lift kit on their truck to allow them to then install larger rims and tires. Here at Ultimate Rides, we can do it all together in one trip. That means your suspension kit and so much more. Get in touch with us today and we'll give you some more expertise advice on which kit is best for your vehicle. We have a lift center outfitted with state-of-the-art technology, as well as a team who can lift any truck or SUV you need.
Closing Thoughts
Now you've had a chance to take a look at the best lift kit options for Chevy Silverado models. We tried to include a variety of options for you, so hopefully you were able to find something that suited you. If you're curious about our installation services we offer, we hope you'll reach out to us in person or over the phone. We also offer a full range of maintenance and repair services, as well as a variety of custom used vehicles for you to purchase. You can visit Ultimate Rides today at 38 W. Division St., Coal City, IL 60416. You can also give us a call at 815-634-3900. We are excited to hear from you!
---
Two Brothers With a Dream

,

Building The Best Ultimate Rides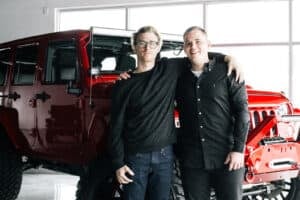 Ultimate Rides consists of two brothers who have been buying and selling custom vehicles for over ten years. Selling lifted trucks by day and writing these awesome reviews by night! They started their Ultimate Rides journey with a third brother Jake, who was a big part of building the business they have today. In 2016 Jake passed away and losing their brother was the hardest thing they ever had to deal with. Even though they had a tragic loss they plan to continue to set a new trend for the auto industry, keeping customers number one. Pushing the envelope on the lifted truck market, these guys love researching and learning about everything in the auto industry!
 — Nick and Alex Bulanda, Founders of Ultimate Rides