Best JK Lift Kit for 37 Inch Tires (Review & Buying Guide)
High-Quality Jeep Lift Kits for 37 Inch Tires –
Jeep Wrangler JK
It can be easy to become overwhelmed when shopping online for the right lift kit. There are so many varieties out there, and each kit is specific to a certain vehicle. Quality can also vary greatly, as well as price. If you are looking for some assistance to find the best JK lift kit for 37 inch tires, this guide is for you. We'll be covering some of our favorite kits down below, as well as a buying guide with even more information.
If you've got a Wrangler JK and you want to get it ready for off-road action, a good lift kit and set of custom tires can go a long way. Here at Ultimate Rides, we offer installation and we can even order the lift kit for you. Get in touch with us if you are in driving range of our location. We're found in Coal City, about one hour south of Chicago. However, if you want to pick up a lift kit yourself, you should feel confident using this guide to do so.
---
1. JKS Jeep Wrangler JK 2Dr 3.5″ J Spec System Fox 2.0 Series with Reservoir 
The first kit we'd like to share with you comes from JKS, and it might be the best JK lift kit for 37 inch tires. Yes, it is pricey. However, if you want a heavy-duty reliable lift kit, this is often what the price will be. There are definitely cheaper options out there, but you won't be able to match the quality of this kit. It has incredibly high-quality parts designed by some of the best in the business.
However, it's important to also think about installation before you buy. This is a very extensive job, and likely won't be something you can complete at home without a lot of tools and experience. By contacting your preferred team of mechanics (or trying out Ultimate Rides) you'll be able to get installation done and your Wrangler will look and drive stunning in no time. Keep in mind that this is only for two-door iterations of the Wrangler JK, and not the Unlimited!
JKS 2007-2018 Compatible with Jeep Wrangler JK 2Dr 3.5in J Spec System Fox 2.0 Series with Reservoir JSPEC101KFR
---
2. TeraFlex JKU 4″ Lift Suspension System with 8 Alpine Flexarms and Track Bar 
Our next recommendation is for four-door Wrangler models, and it comes from manufacturer TeraFlex. This is another full suspension lift kit, with plenty of performance-enhancing additions included. Once again, you may find yourself having a difficult time installing this kit at home. After it is installed, you won't regret springing for one of the more expensive kits. Your Wrangler will drive like a dream, and you'll be able to enjoy a new set of tires as well as a higher vantage point while driving. A few things to keep in mind if you choose this kit is that your new tires will need at least 4.5 inches of backspacing, and you may need exhaust spacers depending on your model year. However, if you choose Ultimate Rides for installation, we can take care of it all at once.
JKU 4-Door 4" Lift Suspension System w/ 8 Alpine Flexarms & Track Bar – No Shocks
---
3. ReadyLift 69-6400 4″ Front and 3″ Rear SST Coil Spring Lift Kit 
If your Wrangler has uneven suspension, raising the entire ride by the same height won't fix that problem. Instead, you'll need to look for something like this next lift kit from manufacturer ReadyLift. It raises the front end by four inches while only raising the back by three. This will offset uneven suspension of about an inch. If that works for you, you'll be glad to pick up this kit. It includes coil springs, as well as all the hardware you'll need to get them installed. This is an easier job than a full suspension lift kit, but still requires some know-how and tools to accomplish correctly. If that sounds like something manageable for you, or you have a mechanic ready for install, go ahead and add this kit to your cart!
ReadyLift 69-6400 4″ Front and 3″ Rear SST Coil Spring Lift Kit for Jeep Wrangler JK 2007-2011
---
4. Rough Country 3.25″ Coil Spring Kit with Vertex Reservoir Shocks 
Another potential best JK lift kit for 37 inch tires is this product from Rough Country. It's another coil spring kit, but this time you'll also find a quality set of shocks for the Wrangler. Like other Rough Country products, this kit is backed up with a lifetime warranty, so you know they mean business. This kit is only compatible with the two-door Wrangler, and is able to maintain the factory ride quality that many other lift kits lose. This is one of our favorite Rough Country kits, and it would certainly be an excellent choice to install on your Wrangler JK. Whether you plan on using it off-road, or sticking to paved highways and streets, you can count on this kit to be both safe and fun to drive.
The primary issue to be aware of here is that it's cutting it quite close if you want to fit 37 inch tires. In most cases, you'll need to look for options that raise up the suspension or body of your Jeep Wrangler by 3.5 inches. However, we are confident that our lift team at Ultimate Rides can make this kit work for you. If you're a fan of this option like we are, let us know and we can offer you a Jeep already equipped with one. If not, continue searching on our list, and you'll even find more options from Rough Country that should suit you!
Rough Country 3.25″ Lift Kit (fits) 2007-2018 Jeep Wrangler JK 2DR | Vertex Reservoir Shocks | Lifted Coil Spring |67650
---
5. ReadyLift 69-6401 4" SST Coil Spring Wrangler Lift Kit with SST3000 Shocks 
Our next kit is another option from ReadyLift. This time, it's a four inch coil spring kit that includes a set of shocks. While it's true that it may not offer the exact same quality as the more extensive kits, this one is also available at around half the cost of many others. You could go cheaper if you decide to, but we believe this is a truly great mid-range lift kit. If you're outfitted with all the right tools and know what you're doing, this installation is expected to take around 6 hours. With quality installation, you will definitely be able to get yourself a set of 37 inch custom tires on there. Get in touch with Ultimate Rides and we can take care of the whole package for you!
ReadyLift 69-6401 4" SST Coil Spring Lift Kit (With SST3000 Shocks For JK Jeep)
---
6. Rugged Ridge 18415.50 ORV 2.5″ – 3.5″ Suspension Kit with Shocks 
The final kit on our list comes from Rugged Ridge, and ranges from 2.5 to 3.5 inches depending on your configuration. The Wrangler Unlimited will only get 2.5 inches, while the standard Wrangler will get 3.5. Either way, Ultimate Rides will be able to get 37 inch tires on this setup. The product comes with a limited 5 year warranty, and uses the company's own ORV lift system. The parts are durable, and will hold up to plenty of use without an issue. Additionally, the kit includes a set of nitrogen charged shocks that are specifically meant to work with the ORV system. Overall, while this isn't the absolute best JK lift kit for 37 inch tires, it holds its own. You shouldn't run into issues if you choose this as your preferred kit.
Rugged Ridge 18415.50 ORV 2.5″ – 3.5″ Suspension Lift Kit with Shocks
---
7. Rough Country 4″ X-Series 2-Door Wrangler JK Jeep Lift
Rough Country is known for excellent Jeep lift kits, and this four-inch set of high-end coil springs is just more proof of that. The product lifts the Jeep up enough to install 37-inch tires, and provides reliable shocks as well as other equipment to improve the quality of your ride. There's a huge track bar that, while it will be a pain to install, will improve your ride in substantial ways, improving handling and much more. You'll also find shocks for both the front and rear of the Jeep, adding a smooth quality that many other kits can't offer. The lift set includes a lifetime warranty from the manufacturer, and the product will do a great job supporting your Jeep across a wide range of terrain types. If you need a lift setup that you can count on to improve your Jeep, you may have found the right kit.
Rough Country 4″ X-Series Lift Kit for 2007-2018 Jeep Wrangler JK 2-Door – 67330
---
8. Skyjacker Jeep Wrangler JK 2007-2018 Lift w/M95 Monotube Shocks 4 Door
Around the same price level as our last kit comes this lift option from Skyjacker. It lifts up the Jeep by somewhere between 3.5 and 4 inches, just enough to comfortably install 37-inch tires. While it won't exactly be easy to install at home, the size and quality of the kit makes it worth every penny. This Jeep lift kit includes a set of M95 monotube shocks, as well as the hardware necessary for installation. Coil springs are a type of suspension kit rather than one that simply raising up your body of your Jeep, providing a higher ride quality moving forward. As long as you can find a team you trust to install this lift kit, it comes highly recommended by professionals in the industry, and should be an excellent fit on your Jeep Wrangler JK.
Skyjacker Jeep 4 Door Wrangler JK 2007-2018 Lift Kit w/M95 Monotube Shocks
---
9. Rough Country 4″ Lift Coil Springs and Shocks Wrangler JK Unlimited
The final lift set from Rough Country on our list comes in at the ninth position. Still, it's an excellent and highly reliable kit from one of the top brands in the country. It's also available at a pretty great price for those who need to keep their expenses down. It lifts up your Jeep by 4 inches using coil springs, as well as offering a set of N3 shock absorbers. This Wrangler suspension lift is one of the best out there in this price range, and it definitely deserves a mention here on our list. Like other Rough Country products, you'll also find a great warranty for the kit if you happen to run into problems.
At-home installation may be difficult for most standard drivers, so we'd encourage you to opt for professional installation instead. You'll be able to show off an amazing new look for your Jeep, along with raising it up high enough for some awesome new front and rear wheels. Plus, you'll be able to save some money compared to some of the more in-depth Jeep kits out there, without giving up too much in terms of quality. Lift your Jeep with this awesome kit from Rough Country today!
Rough Country 4″ Lift for 2007-2018 Jeep JK Unlimited – 68130
---
10. ReadyLift 69-6409 Suspension 07-16 Jeep Wrangler JK 4″ Lift with 8-TCT Arms and SST3000 Shocks
For our last recommendation, we have one more lift option from popular manufacturer ReadyLift for you to consider. It offers a 4-inch lift for the Jeep JK, with shocks, control arms and more included. It may not be the best option for those who need to cut down on costs, but in terms of quality it will be very hard to beat. The front track bar will help with handling and stability, while the included shocks will help keep your front and rear comfortable with a smooth ride both on the road and off. It's a favorite Wrangler lift kit of ours, and while it will cost you more, it blows the quality of spacers lift kit options out of the water. For these reasons, it should be a consideration for any driver looking for a high-quality lift for their beloved Jeep.
ReadyLift 69-6409 Suspension 07-16 Jeep Wrangler JK 4.0in Lift with 8-TCT Arms and SST3000 Shocks
---
Jeep Lift Kit
Buying Guide
Hopefully you found a lift kit on our list that meets the needs of your vehicle. There are a lot of factors that must be considered while shopping for a good lift kit. Most importantly, you want to make sure the kit you buy is the right fit for your Wrangler. Compatibility varies between the Wrangler and Wrangler Unlimited, though some models do cross over. Additionally, there may be some adjustments that will have to be made depending on your model year as well, such as adding exhaust spacers.
Once you've considered compatibility, it's important to think about quality. Not all lift kits are the same, even if their height may be similar. The difference between a full suspension lift kit and a set of spacers can be quite stark. That's not to say spacers are bad, because they certainly have their place. It's just important to set your expectations correctly. In general, the more money you pour into your vehicle, the more you'll get out of it. It's just a matter of spending that money on the right products.
Lift Size for
37 Inch Tires
In order to install 37-inch tires on your Jeep, you'll need to lift it by at least 3.5 inches. 37 inches is a great tire size, but it's important to learn how your lift setup will work with that size for your tires. If your kit is on the edge of that size, we recommend contacting a professional concerning installation. They'll be able to provide more information on your lift setup, your tires and how they interact.
Installation Service and
Custom Jeep Shipping
If you'd rather not worry about installing your new lift setup, feel free to contact the professionals at Ultimate Rides. We have our own on-site lift center where we work on Jeep models as well as any other vehicle you bring to us. We'll have the ability to lift your ride, as well as offering a huge range of other installation services and upgrades. On top of that, you can even shop for your next Jeep with us. We offer custom vehicles with shipping available across the United States and beyond. Let us know what you're looking for and we'll make it happen!
In

Conclusion
Now that we've filled you in on some of the best products out there, and how to find what you're looking for, it's time to wrap up. Once again we'd like to encourage you to get in touch with Ultimate Rides if you have any questions, or would like to find out more about installation. We have an incredibly friendly staff ready and willing to help you out. You can get in touch with one of our team members over the phone at 815-634-3900, or stop by and see us at 38 W. Division St., Coal City, IL 60416. We can't wait to hear from you!
---
Two Brothers With a Dream

,

Building The Best Ultimate Rides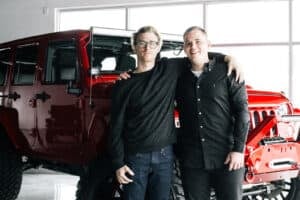 Ultimate Rides consists of two brothers who have been buying and selling custom vehicles for over ten years. Selling lifted trucks by day and writing these awesome reviews by night! They started their Ultimate Rides journey with a third brother Jake, who was a big part of building the business they have today. In 2016 Jake passed away and losing their brother was the hardest thing they ever had to deal with. Even though they had a tragic loss they plan to continue to set a new trend for the auto industry, keeping customers number one. Pushing the envelope on the lifted truck market, these guys love researching and learning about everything in the auto industry!
 — Nick and Alex Bulanda, Founders of Ultimate Rides