Best Lift Kit for Chevy Tahoe (Review & Buying Guide)
Choose the Best Lift Kit for

Chevy Tahoe Today
Are you hoping to spruce up the look and feel of your Chevy Tahoe? If so, a lift kit is one of the best ways to do so. Here at Ultimate Rides, it's fair to say we know a great deal about lift its. If you want to find the best lift kit for Chevy Tahoe vehicles, we have plenty of suggestions for you. You can get in touch with our office today. We'd be more than happy to offer up a variety of suggestions that we can order and then install right here in our shop. However, if you want to buy your own lift kit and take care of installation on your own, there are still some great options out there.
What follows is a list feature some of the best lift kit for Chevy Tahoe SUVs. Each one brings something different to the table, and many are only compatible with certain model years. Take into account your needs and pick out the right lift kit for you! After that, you'll find our buying guide. Here we offer up some last minute tips and details that should make your shopping go a little easier.
Remember that Ultimate Rides is the expert when it comes to impressive lifted vehicles. We can fix up your Tahoe today, so don't be shy! In the meantime, good luck and enjoy these awesome lift kits.
---
1. McGaughys 7″ Lift Kit (ASIN – B00CQAS6XK)
Compatibility: 2007-2014 4WD Chevy Tahoe
The first lift kit on our list is only for those who are very serious about their Tahoe. They'll also need quite a bit of room in their budget, as this kit clocks out at around $2,700. However, that is about the price you should expect if you want a really high quality lift kit. You'll find it here with this model from manufacturer McGaughys. This kit features just about everything you could ask for in a complete body lift kit. There are lift blocks, shocks, U-bolts, front lift spindles, compression struts and so much more.
It's quite a complex kit, so this isn't something we'd recommend for first-timers if you're installing at home. However, with the help of a trustworthy mechanic, this kit will turn your plain old Tahoe into something special. The package includes all the hardware you'll need, but there is the possibility for trimming and grinding. Once again, this will be a job for experienced and well-stocked mechanics.
McGaughys 7″ Lift Kit 2007 – 2014 Chevy Tahoe 4WD NON Auto Leveling 50738
---
2. Rough Country 6″ Lift Kit (ASIN – B07SG75HW7)
Compatibility: 2000-2006 Chevy Tahoe
The next lift kit on our list comes from Rough Country. They're a trusted brand that has been around for many years now. This kit is another that won't exactly be easy to get installed in your home garage unless you're at least somewhat experienced. While significantly more affordable than the last kit, this is still quite an investment at about $1,400. However, we think it'll be worth that investment. You'll enjoy a smooth ride, with quite a high body lift.
One of the reasons we love Rough Country is due to their impressive lifetime warranty. If you find any defects on this product, you can send it back no matter how long you've had it. This package includes upper strut spacers, lifted knuckles, sway bar links, brake line brackets and plenty more. Along with that, you'll find all the hardware you need for installation. Now it's just a matter of getting the tools and the know-how. That, or picking out your preferred mechanic to get this kit installed! Your friends here at Ultimate Rides will be more than happy to take on the job when you're ready.
Rough Country 6″ Lift Kit (fits) 2000-2006 Chevy Tahoe Suburban Yukon N3 Shocks | Knuckle Suspension System | 28020
---
3. WULF 1-3″ Front 2″ Rear Lift Leveling Kit with Extended Shocks (ASIN – B07DD163GK)
Compatibility: 2000-2006 Chevy Tahoe
Next up, we have a leveling lift kit from manufacturer WULF. It is far more affordable, but you'll find that it doesn't pack in quite as many parts. Nonetheless, this is a great budget choice for your Tahoe. It will allow you to adjust your front end between one and three inches while raising up your rear end by two. This can help with minor leveling issues, but for more serious ones you'll need a different leveling kit. This option is easy to install, and includes a set of shocks as well.
WULF 1-3″ Front 2″ Rear Lift Leveling Kit for 2000-2006 Chevy GMC Tahoe Yukon 2/4WD (Ext WULF Shocks)
---
4. Supreme Suspensions 3.5″ Front 3″ Rear Leveling Lift Kit (ASIN – B013JGGEOW)
Compatibility: 2007-2020 Chevy Tahoe
Supreme Suspensions is another very popular vehicle accessory manufacturer. With this leveling lift kit, you'll find a half-inch increase on the front end. This means that once again it will only help solve minor leveling problems. However, there's no doubt it is among the best lift kit for Chevy Tahoe vehicles in its price range. It uses high quality strut and spring spacers to raise up the body of your SUV. This should be a great choice for newcomers who want to install at home.
Supreme Suspensions – Lift Kit for 2007-2020 Chevy Tahoe 3.5″ Front Lift + 3″ Rear Lift Leveling Pro Kit (Parent)
---
5. WULF 3″ Front 2″ Rear Leveling Lift Kit (ASIN – B07DD1T4TF)
Compatibility: 2000-2006 Chevy Tahoe
The next lift kit is available for around $150, and it's a great option for those who need a one-inch boost on your SUV's front end. The product features a lifetime warranty, and only contains a few parts for installation. This is a basic but effective body lift kit, and one that should be great for those looking to dip their toes into lifted vehicles. Pick one up today and experience what it's like to enjoy a lifted Tahoe!
WULF 3″ Front 2″ Rear Lift Kit for 2000-2006 Chevy Tahoe Suburban GMC Yukon 4WD
---
6. Glorider 1-3″ Front 2″ Rear Adjustable Leveling Lift Kit (ASIN – B07WHFX2F1)
Compatibility: 2000-2006 Chevy Tahoe with Six-Lug Wheels
Our next kit fits on a variety of trucks, and offers another adjustable front end option. This will allow you to get your truck level as long as there isn't too big of a gap as of now. Once again, installation is quite simple here, and should only take a few hours at most. The construction of the materials is reliable, and while this won't provide the same quality as a more expensive kit, it will definitely get the job done.
Full Lift Kit for Tahoe Yukon Suburban Avalanche 1500 series SUV,Glorider Adjustable 1-3″ Front Lift Forged Torsion bar Keys 2″ Rear Spring Spacers with Set of Shock Extenders 4wd Black
---
7. MZS 3″ Front Leveling Lift Kit (ASIN – B0814WBB3Z)
Compatibility: 2007-2020 Chevy Tahoe
Our final two options consist of a front leveling kit and a rear leveling kit. They are meant for those who have a significant difference in their front and rear end that they want to fix. With this kit, Tahoe owners will be able to raise their front end by three inches using reliable tough-built spacers. Installation will be very simple here, and the kit works on Tahoe models as far back as 2007 all the way through today. Get yours to feel a taste of what a lifted vehicle will drive like.
MZS 3 inch Front Leveling Lift Kit Compatible with Tahoe Silverado Avalanche Suburban 1500 | Sierra Yukon Pickup
---
8. Supreme Suspensions 3″ Rear Leveling Kit (ASIN – B00V9CQH2I)
Compatibility: 2000-2020 Chevy Tahoe
Lastly, we want to share a rear leveling kit with you. If your rear end is sagging way low, it's time to pick up one of these. Installation isn't too difficult as you would expect. Plus, Supreme Suspensions can usually be relied on for quality products. Go ahead and pick up this kit if you'd like to make sure your rear end gets up and even with the front of your Tahoe.
Supreme Suspensions – Rear Leveling Kit for Chevrolet Avalanche 1500, Suburban 1500, Tahoe and GMC Yukon 1500 3″ Rear Lift High-Density Delrin Coil Spring Spacers 2WD 4WD (Black)
---
Best Lift Kit for Chevy Tahoe

Buying Guide
Before you go off with your brand new lift kit, there are a few words of advice that we'd like to leave you with. First, remember that any time you make a major installation such as a lift kit, you'll want to get your vehicle's steering aligned. It's good practice, and will help ensure your vehicle is safe to drive. Along with that, it's good to have a mechanic look over your work if you installed at home. They'll be able to tell whether anything has been done that can cause safety issues.
Choosing the best lift kit for Chevy Tahoe is a matter of deciding what your needs are. Before picking out your kit, it's important to do some measurements on your vehicle. This is especially true if you're looking for a leveling lift kit to fix uneven suspension. Measure how far the bottom of your body is off the ground, both in the front and in the rear. The difference in height will tell you what size leveling kit you need.
Select Ultimate Rides as Your

Lifted SUV Destination
Finally, we'd just like to remind you that Ultimate Rides is here for your lift kit installation needs. On top of that, we also sell vehicles, including the Chevy Tahoe. Our custom shop is one of the best around. With us, you'll be able to upgrade your vehicle with performance chips, tinted windows, custom lighting, new tires and so much more. Give us a call at 815-634-3900 if you'd like to hear more details! You can also feel free to stop by our office at 38 W. Division St., Coal City, IL 60416.
---
Two Brothers With a Dream

,

Building The Best Ultimate Rides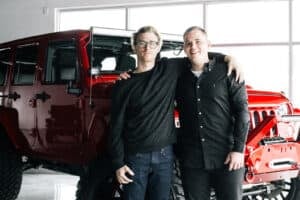 Ultimate Rides consists of two brothers who have been buying and selling custom vehicles for over ten years. Selling lifted trucks by day and writing these awesome reviews by night! They started their Ultimate Rides journey with a third brother Jake, who was a big part of building the business they have today. In 2016 Jake passed away and losing their brother was the hardest thing they ever had to deal with. Even though they had a tragic loss they plan to continue to set a new trend for the auto industry, keeping customers number one. Pushing the envelope on the lifted truck market, these guys love researching and learning about everything in the auto industry!
 — Nick and Alex Bulanda, Founders of Ultimate Rides