Best Leveling Kit for Silverado 2500HD (Review & Buying Guide)
Choose the Best Leveling Kit for Silverado 2500HD Trucks
Uneven suspension can be a huge annoyance on a pickup truck. Not only does it look terrible, but it can also negatively affect your driving. If you want to get it taken care of, a leveling kit is the answer. Leveling kits are a specific type of lift kit that fix uneven suspension. You'll either install the kit only on one end of the vehicle, or you can get a leveling lift kit that raises up your truck's height and fixes your suspension issue at the same time.
However, it's not always easy choosing the right lift kit for your needs. First of all, there are countless options out there, and it can be difficult to determine the actual quality of a product. It can also be quite hard to determine which models are suited for which trucks. You have to get specific, down to the make, model, model year and driving configuration. If you want to find the best leveling kit for Silverado 2500HD, it's important to know what you're looking for.
That's where we come in. At Ultimate Rides, we know our lift kits. It's one of our specialties, and we're happy to share some knowledge with you. Below, you will find a list that consists of our favorite leveling kit options for the Silverado 2500HD. Following that, there is a buying guide that offers some parting advice before you go off to install the kit on your truck. If you have questions, remember that you can always reach out to Ultimate Rides for help!
---
1. TORCH Off Road 3″ Front 2″ Rear Leveling Lift Kit (ASIN – B07NDP6QR3)
Compatibility: 2001-2010 Chevy Silverado 2500HD 8-Lug w/ Torsion Bar Suspension
If this kit is compatible with your truck, it's a shoe-in for being the best leveling kit for Silverado 2500HD at this price range. TORCH is a favorite of many consumers, and they offer affordable lift and leveling kits that don't lack in quality. This is also a great kit for aspiring backyard mechanics. These kits don't actually alter your truck's suspension. Instead, they use keys to raise the torsion bar, which simulates lifted suspension at a much cheaper price. There are a few drawbacks to using this versus actual suspension lifts, but if it's your first step into this world it's not a bad place to start. Plus, best of all, this kit will fix minor suspension gaps between the front and the rear. It's also worth pointing out that this kit is for older Silverado models, so double check the compatibility listed above!
TORCH 3″ Front 2″ Rear Lift Leveling Kit For 2001-2010 Chevy GMC Sierra Silverado 2500HD 2500 3500
---
2. TORCH Off Road 3″ Front Leveling Kit (ASIN – B07NDNBJVM)
Compatibility: 2011-2020 Chevy Silverado 2500HD (Does Not Fit Newly Re-Designed Body Style)
In our second spot, we have another leveling kit that comes from TORCH Off Road. This time, you won't find a lift/leveling combination. This is a pure leveling kit, and it's for severe front end suspension sagging. This kit will raise the front end of your 2500HD by three inches, so be sure to do some measurements to ensure you need that much of a height adjustment before purchasing. If everything seems like a good fit, then we're confident this is a fantastic choice for your truck. TORCH offers a lifetime warranty for this product, and it gets stellar reviews from customers who have purchased it. Give this kit a try and it should fix your severe front suspension sag with ease.
TORCH 3″ Front Lift Kit For 2011-2020 GMC Sierra Chevy Silverado 2500 3500 HD Tool and SE
---
3. WULF Suspensions 3″ Front 2″ Rear Leveling Lift Kit (ASIN – B07FKQR9YY)
Compatibility: 2011-2019 Chevy Silverado 2500HD
Next up, we have another leveling lift kit to share with you. It comes from WULF Suspensions, who is another of our favorite manufacturers. The kit comes with blocks that will lift your rear end by two inches flat, while you'll be able to adjust the front torsion keys between one and three inches. It's fit for newer Silverado models, and installation shouldn't be too difficult even for newcomers. As long as you're willing to learn and have the right tools, this is a job that can be done at home, and that's one of the best parts. The product has a lifetime warranty, and the manufacturers promises timely shipping. With all of that in mind, we believe this is among the best leveling kit for Silverado 2500HD owners.
WULF 3″ Front 2″ Rear Lift Leveling Kit For 2011-2019 Chevy Silverado 2500HD (Shock Extenders)
---
4. Rough Country 2″ Front Leveling Kit (ASIN – B07HF75RTT)
Compatibility: 2011-2019 Chevy Silverado 2500HD
Our next leveling kit comes from a manufacturer whose name you may recognize: Rough Country. They're one of our preferred lift kit manufacturers here at Ultimate Rides, and many individuals around the country share that opinion. This is one of their more budget-oriented kits, which is often the case for leveling kits. Though it's advertised as a two-inch lift, you will likely have a tiny bit of wiggle room there to get things exactly where you need them. Like all Rough Country products, this item is backed by their lifetime warranty. It's an excellent choice for drivers who want to fix minor suspension sagging.
Rough Country 2″ Leveling Kit (fits) 2011-2019 Chevy Silverado GMC Sierra 2500 3500 HD | Suspension System | 9593
---
5. MotoFab Lifts 1-3″ Adjustable Front Leveling Kit (ASIN – B07DGQZ3N3)
Compatibility: 2001-2010 Chevy Silverado 2500HD
The next kit comes from MotoFab Lifts, and it's another adjustable front leveling kit for older model Silverado 2500HDs. These tougher-than-nails torsion keys are made from Grade 50 plate steel. Additionally, they're manufactured in the United States and include a lifetime warranty. If you can't count on that, than we don't know what you can count on. There are shock extenders included, so that's one less thing you'll have to worry about. As with most of the kits of this style, installation is pretty simple, and should only take a few hours. We recommend planning ahead by looking at some video tutorials if you've never done this before. Once you get through that, you should be ready to handle this job yourself with the proper equipment.
MotoFab Lifts TKGM2500-WSE 1-3 inch Leveling lift kit that is compatible with Chevy Silverado Sierra GMC 2500HD 3500HD with shock extenders
---
6. Supreme Suspensions 1-3″ Adjustable Front Leveling Kit (ASIN – B00VKR5Z20)
Compatibility: 2001-2010 Chevy Silverado 2500HD 8-Lug
Supreme Suspensions is a company that's well-known for its lift kits, but it has leveling kits available as well. If this kit fits your Silverado 2500HD based on the compatibility listed above, you can count on it as a reliable front leveling kit. Once again, you'll find that this kit can be adjusted from one to three inches, giving you some versatility. However, one thing to note is that a special piece of equipment is required to install this kit: a torsion bar puller. These items can be rented from many different places, so you still should be able to complete the job at home if you're so inclined. If not, you can rely on a mechanic to get this kit installed for you. With proper installation, the end result is going to be great for your truck.
Supreme Suspensions – Front Leveling Kit for Chevy Silverado 1500HD 2500HD 3500HD Adjustable 1″ – 3″ Front Lift Steel Max-Torsion Keys + Shock Extenders Kit 2WD 4WD 8-Lug
---
7. Dynofit 1-3″ Adjustable Front Leveling Kit (ASIN – B07VMCRLCB)
Compatibility: 2011-2019 Chevy Silverado 2500HD 4WD
If none of our other recommended kits were suited for you for one reason or another, we hope you'll give this one a shot. As of writing, it's available for less than $100, and fits on most newer Silverado 2500HD models. It features quality parts, and installation that won't be too difficult for you. Shock extenders are included, and the manufacturer estimates installation should only take about 2 hours. The only reason that it falls a little lower down our list is because the instructions are said to be hard to follow. With that in mind, make sure you do some homework and find out what you need to do to install these torsion keys. With that taken care of, you'll have a nice even ride on your truck.
dynofit 1-3″ Torsion Keys with Shock Extenders for 2011-19 Silverado GMC Sierra 2500HD 3500HD 4×4, Adjustable 1 to 3 Inch Heavy Duty Solid Leveling Lift Kits
---
8. Supreme Suspensions 1-3″ Adjustable Front Leveling Kit (ASIN – B00IV5PDQC)
Compatibility: 2011-2018 Chevy Silverado 2500HD
The final leveling kit we want to share with you is another adjustable kit from Supreme Suspensions. This time, however, it's for more recent trucks. It has all the same excellent advantages of the last Supreme Suspensions model we share, with strong quality and reliability. It's available right now at a truly great price, which should help offset the cost of renting a torsion bar puller. Remember that safe installation is the most important thing, so be careful. If you're having doubts about installing on your own, there's no shame in reaching out to a professional team for help.
Supreme Suspensions – Front Leveling Kit for 2011-2018 Sierra Silverado 2500HD 3500HD Adjustable 1″ – 3″ Front Suspension Lift MAX Torsion Keys 4×2 4×4 PRO
---
Best Leveling Kit for Silverado 2500HD Buying Guide
Before you go, we wanted to share some tips that may help you out. These apply both to your shopping and installation, so stick around! First, always double or even triple check that the kit your buying is compatible with your truck. It can be quite easy to get this part mixed up, and we've seen it happen countless times. Additionally, make sure to measure out the difference in height between your front and rear suspension. This will let you know how much you need to raise it by.
Once you've finished installation, it's important to get an alignment on your truck. If not, it can have dire safety ramifications down the line. If you're having difficulty with installation, don't be shy about reaching out to your repair team. It's more important to ensure that these parts get installed safely rather than cheaply, as painful as that can be. For those eager to get started, we hope that this guide gave you the information you needed to begin.
Visit Ultimate Rides for Installation and Repair
Now that you know where to find the best leveling kit for Silverado 2500HD trucks, it's time to start thinking about installation. If you're an experienced at-home mechanic, this shouldn't be hard for you. However, if you're new to this kind of thing, you may want to have professionals install the kit. For those who live in the Chicago area, Ultimate Rides is the place to go. We have an expert team of technicians standing by to upgrade your vehicle. Our pricing is fair, and you can be assured that we'll take amazing care of your vehicle.
On top of that, we also offer repair services. If something goes wrong with your truck and you're not sure where to turn, get in touch with Ultimate Rides. Our team can diagnose and fix problems both large and small. These days, it is not always easy finding a team of mechanics that you can rely on. At Ultimate Rides, we take that responsibility very seriously. If you'd like to learn more, get in touch with our office today at 815-634-3900. To stop by, you can find Ultimate Rides at 38 W. Division St., Coal City, IL 60416. We'll get your vehicle fixed and set up just how you want it!
---
Two Brothers With a Dream

,

Building The Best Ultimate Rides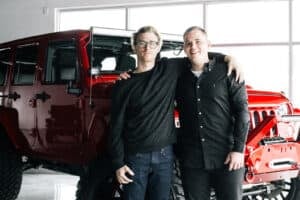 Ultimate Rides consists of two brothers who have been buying and selling custom vehicles for over ten years. Selling lifted trucks by day and writing these awesome reviews by night! They started their Ultimate Rides journey with a third brother Jake, who was a big part of building the business they have today. In 2016 Jake passed away and losing their brother was the hardest thing they ever had to deal with. Even though they had a tragic loss they plan to continue to set a new trend for the auto industry, keeping customers number one. Pushing the envelope on the lifted truck market, these guys love researching and learning about everything in the auto industry!
 — Nick and Alex Bulanda, Founders of Ultimate Rides