Best Air Compressor for Truck Tires
Choosing the Best Air Compressor for Truck Tires
Nobody wants to be caught on the road with a low tire and no way to fill it up. That's why it's important to invest in a quality air compressor. However, not all air compressors and tire inflators are created equally. If you're a truck or SUV driver, it's important to pick out a compressor that can handle the size of your tires.
At Ultimate Rides, we know that it can be difficult to choose the best air compressor for truck tires. That's why we've put together a list that features our favorite products, along with a description of each. Check out the options we throw out there to determine if any of them are right for you. Pay close attention to the product specifications on each page, as they'll provide you with even more information before you buy.
When that's through, you'll find our buying guide. Within that, we offer up a few more tips and tricks to remember while you're shopping for an air compressor. Hopefully by the time this guide is through, you'll know everything you need to to make an informed choice. It's an important decision, so it's only right you have all the information at your disposal.
It's also worth keeping in mind that Ultimate Rides offers custom pickups available for purchase, including options from all the major brands. We'll be able to modify your next vehicle however you see fit, and that includes installing custom tires, an onboard air compressor along with additional off-road accessories. Get in touch with our team over the phone to learn more, or click the button below to check out our inventory!
---
1. GSPSCN Silver Heavy Duty 15oPSI Tire Inflator
The first option we want to share is undoubtedly a contender as the best air compressor for truck tires. It's made by manufacturer GSPSCN, and reaches up to 150PSI. That's a solid number to aim for when you're searching for a compressor specifically for a truck. It utilizes double cylinders to act fast and get your tire inflated as soon as possible. Plus, the bottom rubber grip will help ensure the inflator doesn't move around on you while you're trying to use it. This compressor is available at a really impressive price, and it could be a great gift for a friend or loved one. Best of all, this compressor can be purchased for a really great price, ensuring you don't have to dig into your savings to find one of the best air compressors available today.
Portability is another huge advantage to choosing this compressor. It has a cigarette lighter power cord, allowing you to bring this with you and inflate your tire on the side of the road for emergencies. It comes in four different color schemes, allowing you to choose the compressor that suits your sense of style best. As with any air compressor, it's very important to carefully follow the directions to preserve your safety and that of your vehicle and tire. As long as you do, you should love what this air compressor brings to the table. You'll fill up a tire in just a matter of minutes, without having to stress out over the process.
---
2. 
Viair 300P Portable Compressor
There's no doubt that Viair is one of the top brands when it comes to air compressors. The 300P is a very strong choice as a portable air compressor for your truck, as it's a strong way to pump up any tire. Rather than being powered by a 12V port in your vehicle, you hook this air compressor right up to your engine for power. That means it's capable of heavy-duty inflating, and reaches up to 150PSI. Additionally, the compressor features a thermal overload protector, a versatile five-in-one hose, and a deluxe compartment carrying bag, making it easy to transport around in your vehicle without taking up too much space. It's a hit with consumers, and we're very confident you'll get plenty of good use from this compressor in the months and years to come. It might not be the cheapest compressor out there, but this is absolutely one of the best picks for an air compressor this year and for the foreseeable future. Pick it up today and be sure to let us know how it works out for you!
---
3.
TIREWELL Heavy Duty Double Cylinder 150PSI Tire Inflator
In our number three slot, we want to share a heavy duty compressor from TIREWELL. It's quiet, won't move around on you, and gets the job done quickly and effectively. It's also quite compact, allowing you to easily store it in your garage or inside your truck without an issue. At the same time, this compressor acts as an affordable way to keep your tires filled with air, and is easily one of our top recommendations. This product utilizes 12V power, so you'll have to plug it into your vehicle's 12V outlet if you want to use it. The quality of construction for this compressor could not be any higher, and that's just another reason why we feel so confident recommending it to our readers. With over 1,600 reviews on Amazon, this heavy duty tire inflator is still able to maintain a 4.5 star rating. That's impressive to us, and we feel you'll be very happy with the product should you decide to order it. With a maximum air pressure of 150 PSI, you won't have to worry about ensuring this compressor works for the tires on your truck, either. Feel free to add this one to your cart.
---
4.
Viair 00088 88P Portable Air Compressor
Our fourth product is another one from Viair, but this time it's a smaller option. However, it is still able to reach up to 120PSI. While not optimum, this is a great option for smaller trucks and those who don't want to go bigger than they need to. It's got the same excellent quality of other Viair products, and should easily last you for a long time to come. It works fast, and is a very easy compressor to set up and get started with for any smaller tire. Once again, this product clamps right onto your engine for power. This is often a more reliable option than 12V outlets, and we think you'll enjoy it. It's not recommended that you use this compressor for tires larger than 33″ inches. However, anything lower than that should be quite manageable. If you buy one, be sure to let us know how it works for you in the comments!
---
5. BELEY Portable 12V 480W Heavy Duty Double Cylinders Air Pump 150-200PSI
Our next air compressor comes to you from a company called BELEY. It's the most heavy duty option available on today's list, and has the ability to reach up to 200PSI. That is almost certainly more than you'll need for a standard tire, but it's there for those who want the option. It uses 12V power, meaning you should easily be able to power it with your truck. The construction is also very high-quality, fitting the somewhat higher price point. Still, though, you won't need to spend too much on this compressor, as it can be found for less than $100. In our estimation, that's a fantastic deal to keep your tires filled with air. With all of that in mind, we recommend this compressor to folks who aren't sure any of the other products will do. There should be no doubt in your mind that this can fill up your heavy duty truck tires.
---
6. Smittybilt 2781 5.65 CFM Universal Air Compressor
Customers rely on Smittybilt to provide them with a variety of accessories and upgrades for vehicles. That includes this reliable heavy-duty air compressor, capable of providing up to 150 PSI. This is a manufacturer that can be trusted, providing a simple and reliable way to pump air into a tire. You'll also find an easy-to-read gauge, an included storage bag that helps you quickly stow the device away, and an auto-thermal cutoff switch that protects the compressor from damage.
This is a popular choice with customers, and can be relied upon for use even beyond just filling truck tires. Take a look at the available warranty and remember that if you run into problems, but we think you'll be all set for the foreseeable future with this little baby. It's not one of the cheapest options out there, but unless you're on a tight budget you'll want to spring for one of the mid-budget products anyway. If that sounds right, take a good look at this air compressor and decide if it's the one. This pump has great reviews from customers, and we're confident you won't have any problems filling up your tires with it.
---
7. OlarHike 12V Portable Air Compressor
Our next option comes from OlarHike, and despite being seventh on our list it's still an excellent choice. There are more great air compressors available than ever before, and this one is certainly worthy of your consideration. With it, you'll have the ability to take great care of your tires no matter where you drive. The compressor was recently upgraded by the manufacturer, making it even more durable than it was before. Like many of the other options on our list, you'll be able to get a maximum of 150 PSI with this product. It plugs into a 12V outlet, and includes a digital pressure indicator that makes it very easy to use.
The inflator works great as a gift for a friend or loved one, and can also be easily kept in your truck or stored in the garage. The company offers free returns/exchanges for a year after purchase of a compressor, which is as close as you can come to a quality guarantee from most sellers available out there. Take a look and see if this air compressor might be right for your needs. If so, waste no time by picking it up today or soon.
---
8. ALL-TOP Air Compressor Kit, 12V Portable Inflator
Next up, this tough air compressor is not lightweight, weighing around 12 lbs. However, you can rely on it to provide you with tire inflation on the go and in the garage or driveway. It's designed for tough vehicles, like trucks and other rides designed for off road use. It's not the most portable option we have recommended here on our list, but it's a compressor that will certainly get the job done on any standard tire. The company offers excellent customer support, and you'll have access to a two-year no-hassle warranty if you find any problems. The device includes safety features like an auto-thermal cutoff to prevent it from getting too warm, and a 26-foot rubber hose that provides plenty of versatility for users.
Once again, it's not one of the cheap options found here on our list. That being said, we think you'll find that this air compressor is well-worth everything you pay for it when it comes to filling a tire with air. Just make sure you know you aren't going something that's super lightweight and easy to bring around with you anywhere you go. While it's small enough to fit in the truck, it shouldn't be the option for someone prioritizing transportability.
---
9. Slime Tire Inflator and Air Compressor
You may be hesitant to buy a tire inflator from a company called Slime, but you can rest assured that their product is just as good as many other options available today. It's on the cheaper side of the spectrum, and offers all your basic needs without needing any extra bonus features. It does, however, have a useful LED light, as well as a digital display. Just be aware that this inflator only gets up to 99 PSI, which may not be enough for some drivers out there. Carefully check and see what PSI you need for your tires, and then make your choice on your next air compressor accordingly. One thing that it does offer is a heavy-duty shock-resistant casing, meaning you won't have to worry about dropping it and it breaking any time soon. Sound like the right choice for you or someone you know? Give it a try!
---
Best Air Compressors for Truck Tires Buying Guide
Now that you've had a look at our recommended options, we wanted to leave you with a few more pieces of advice. Perhaps most importantly, while 100PSI is usually fine for standard car tires, for truck tires we recommend upgrading to 150PSI or higher. You probably took notice that our recommendations were all at 150PSI. That is definitely on purpose, and we'd encourage you to stick to that when searching for the best air compressor for truck tires.
Along with that, we'd also tell you to pay close attention to customer reviews. They're often filled with insightful details about each product, from people who have already used it. As for air compressors, look for how portable a given product is. Does it come with a light? How about a battery? What voltage is it? These are the questions you should be asking yourself as you shop around.
There are going to be tons of choices out there. If you venture off of our recommended list, make sure you do some homework that the product is reliable. If you have any questions about air compressors, feel free to get in touch with our office!
Reading Reviews of Digital Tire Inflators
It can sometimes be difficult to pick apart a reliable review for an air compressor from the non-helpful write-ups. The key is to look for verified buyers, and those who confidently speak like they've used the product before. There are countless fake reviews out there, and most of them are easy to catch by being vague, short, and often not really related to the compressor itself. If you have any doubt, take a look at professional reviews rather than something written by a customer for more reliable opinions.
Let Ultimate Rides Customize Your Truck – New Tires and More
In addition to providing readers with useful guides like the one you're reading now, we also sell custom vehicles. Our shop is open to the public as well, meaning we can outfit your ride with all manner of upgrades. That includes a set of new wheels and tires along with so much more. If you're in the Chicago area, you're right in our own backyard. Bring your vehicle in to us and we can install a suspension lift, raising your truck up and allowing you to install a larger set of rims and tires. That's not all we can offer either.
You can look into a performance chip, giving you more control over your engine each time you get behind the wheel. There are different products and styles available, and our team will work with you to find the one that best suits your situation and needs. Along with that, depending on what the model has to offer in terms of technology, we could also install upgrades in that department too. Whether you need a touchscreen installed or something else, our team can handle it.
Many drivers like to get a set of running boards installed along with their suspension lift, as it can be difficult to get in and out of the truck without any. There's still plenty more where all of that came from. Get in touch with someone from the Ultimate Rides team and we'll be happy to tell you more today.
Buy Your Next Vehicle Here with Affordable Shipping
When the time comes to buy your next vehicle, we hope you'll remember Ultimate Rides. Even if you live outside the Chicago area, we can still provide you with your next vehicle. That's because we offer shipping for each and every truck, SUV and car in our inventory. We can complete the entire buying process over the phone, and you'll be able to decide if you want to include the cost of delivery in your financing deal. This will allow you to pay it off month-by-month just like your new vehicle.
If you're still feeling unsure, reach out and talk to us. A member of our team will happily answer any of your questions about the process or our inventory. We're taking the auto sales business into the future, offering easy delivery on high-quality custom rides. Contact us to learn more and find your next truck!
Ultimate Rides Handles All of Your Truck Service Needs
Ultimate Rides is a premium used auto dealership specializing in custom vehicles. However, that's definitely not all that we have to offer. We have a service center on-site that not only customizes vehicles, but also offers repairs, maintenance and detailing for your vehicle. We're located an hour south of Chicago, and you won't find a more talented and hard-working team in our area. Our staff is ASE-certified and has tons of experience working on vehicles.
It can be hard to find technicians that you can trust these days. At Ultimate Rides, we're proud to offer reliable service at fair rates. If you'd like to learn more, or you're ready to schedule an appointment for your vehicle, reach out to us over the phone. Those who live in the Chicago area can also feel free to pay us a visit in-person.
Closing Words
We hope this guide was of some use to you. Perhaps you may even find some help waiting for you here at Ultimate Rides. If you're looking to buy a custom truck, or need somebody to upgrade your current one, we will be happy to help. You can get in touch with our team on the phone at 815-634-3900. To visit the Ultimate Rides office, find us at 38 W. Division St., Coal City, IL 60416. We're eager to speak with you, so don't be shy about reaching out!
---
Two Brothers With a Dream

,

Building The Best Ultimate Rides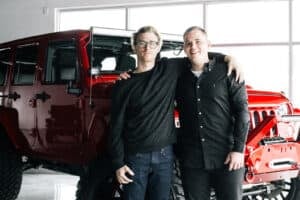 Ultimate Rides consists of two brothers who have been buying and selling custom vehicles for over ten years. Selling lifted trucks by day and writing these awesome reviews by night! They started their Ultimate Rides journey with a third brother Jake, who was a big part of building the business they have today. In 2016 Jake passed away and losing their brother was the hardest thing they ever had to deal with. Even though they had a tragic loss they plan to continue to set a new trend for the auto industry, keeping customers number one. Pushing the envelope on the lifted truck market, these guys love researching and learning about everything in the auto industry!
 — Nick and Alex Bulanda, Founders of Ultimate Rides