Find Lifted Chevy Trucks Waiting at Ultimate Rides
Lifted Chevy Trucks Available

Right Here
If you want a reliable dealership that specializes in custom vehicles and delivers straight to your home, look no further. Ultimate Rides is here for you, no matter where you're from. It's true that we've got the best vehicles around. Each is in great shape, and features absolutely no rust damage. Plus, we have a team of customer service professionals who are here to help you find the perfect vehicle. Does this sound too good to be true? In this case, it's not! Check out our guide today to learn more about our business. When we're through, we think you'll agree that there's no better place to find your next vehicle.
We carry a wide range of vehicles, from sleek and quick-moving cars to heavy-duty pickup trucks. As you can see, our specialty lies with custom vehicles. In the guide below, you'll learn more about not just our inventory, but also the other elements that make up Ultimate Rides. That includes information about our lift center, customer service mentality, services we offer and much more. If you finish up and still have questions, know that you can always contact our office for assistance. We hope that we hear from you soon! In the meantime, read on!
Ultimate Rides Offers

Rust-Free Vehicles
If you have a high standard of quality like we do, it's probably difficult shopping at your local used dealer. While there may be some options there in good shape, the usual selection often varies in quality. It can be easy to feel frustration if you're shopping for a vehicle you want to know is going to last. Thankfully, Ultimate Rides has the right options for you.
At Ultimate Rides, you won't find just any old used vehicles waiting for you. Instead, we make sure that all of our rides are in fantastic quality. It's a bit of a process to do this, but it benefits everyone in the end. We start by sending our vehicle buyers out to warm areas of the United States. That means places like California and New Mexico. The vehicles here simply don't have the same wear and tear. From there, our buyers pick out the best vehicles they can find that match our needs. We bring the rides back to our headquarters and get them set up for you to drive!
Go ahead and take a look at our inventory to see what we mean. Our prices might be a little bit higher than your standard local dealership. However, you're paying a little bit extra for a huge boost in quality and vehicle longevity. Plus, as we said before, many of the vehicles here were customized in our shop, making them one-of-a-kind. It's true our rides aren't for everybody. Still, if you want lifted Chevy trucks, there's no better place to visit.
Visit the Ultimate Rides

Lift Center
One of the major factors that distinguishes Ultimate Rides from a standard dealership is our lift center. It's definitely not uncommon for a dealership to have their own service center. What isn't exactly common is making it a key part of your business. At Ultimate Rides, we have a team featuring the best auto technicians in the Chicago area. When we get a vehicle in, we often customize it with lift kits, new wheels, running boards and more. Just take a look at some of the lifted Chevy trucks available in our inventory for an example. Plus, whenever you buy a vehicle from us, you can send it back over to our lift center for additional enhancements. You'll even be able to pay for the cost of these additions right alongside your vehicle with financing!
For a full list of all the services and installation options we have to offer, please reach out to our office. If you are not purchasing a vehicle from us, but would like us to upgrade your current one, let us know. That's right: our service center is open to the public as well. You won't find a more reliable team to work on your ride, and our prices are fair as can be. If you are tired of getting the run-around from or overcharged by different mechanics, take your vehicle to Ultimate Rides for trusted care.
Vehicle Delivery

Wherever You Are
Though Ultimate Rides has our headquarters in Chicago, we serve customers all around the world. As a matter of fact, more than half of our business is done with buyers outside the Chicago area. We're able to accomplish this through our reliable and timely vehicle delivery. When we began as a business, we knew that there was a demand for high-quality custom vehicles everywhere. Over time, we've made it easier than ever before for you to order lifted Chevy trucks and so much more.
Start by calling us on the phone. We'll walk you through the inventory as seen here on our website, and provide you with more photos if you'd like. A member of the Ultimate Rides team will be here to answer all your questions, and we can take care of financing over the phone as soon as you make a final decision. If you decide to go for our vehicle delivery, you will even have the opportunity to finance the cost, allowing you to pay it off along with your ride.
Count On Quality

Customer Service
When shopping around for a vehicle, there are other things to consider than just the automobile itself. It's also important to find a dealership that isn't trying to exploit you. Over the years, our industry has earned something of a bad reputation in this respect. Too many dealerships are trying to squeeze every dollar possible out of every customer who walks through their doors. At Ultimate Rides, we aim to do things a different way.
We believe that the best thing for all parties involved is to have an open and positive relationship with the customer. Our team members won't try to push overpriced vehicles on you, or talk you into additions that you clearly don't want. Instead, we aim to provide you with the best possible customer service experience. At the same time, we want to help you find the ideal vehicle for your needs. If you want a team that will go above and beyond to ensure you get exactly what you want, pay us a visit or call our office.
If there's a specific make and model you want, but you haven't had any luck tracking one down, let us know. With a small deposit, we'll have our buyers seek out the vehicle you want. As soon as we find it and get it back to our office, you'll be free to come buy the vehicle. We'll even be able to offer a number of customizations if you want! If there's any way you think we can help you out, don't be shy about asking.
Choosing Lifted Suspension for

Your Truck
As much as we love it, it's fair to admit that lifted suspension is not for everyone. However, it has become increasingly popular in recent years. We think everybody should at least consider it when shopping for a new pickup. There are tons of impressive lifted Chevy trucks out there, as well as models from other manufacturers. At this point, we want to tell you a little bit more info on lifting the suspension of your truck.
You may be wondering why people decide to lift their suspension. There are a variety of reasons, and the answer is probably different for everyone. Some recurring reasons you'll hear are that folks just like the way their vehicle looks and drives. There's no denying that there is a different feeling in driving a lifted vehicle. It's something that one has to experience to really understand, as it's hard to put into words.
Another one of the primary reasons people opt for lifted suspension is to increase their off-road performance. With standard suspension, it's quite common to scrape up the body and underbody of your truck. You can easily avoid this by lifting your truck. Additionally, it'll offer a higher vantage point to see from, which can be useful out in the wild. If you are interested in a lifted truck, we recommend starting with a more modest lift before upgrading later on.
Chevy's Most Popular

Truck Models
When it comes to lifted Chevy trucks, there's no doubt that the Silverado reigns supreme. However, there are choices to make within the Silverado family. Additionally, there are a couple of other models that are worth mentioning.
If you choose the Silverado, you'll need to pick between the 1500, 2500 or 3500. As you might expect, the standard size is the 1500, and the 2500 and 3500 both get more heavy-duty from there. We'd recommend starting by determining what your needs are. From there, you can pick out the model that's best suited for you.
Other Chevy truck models include the Colorado, which offers a smaller size compared to the Silverado. This can often be favorable when traveling off-road, meaning the Colorado can actually be an excellent choice. Let us know if you're looking for one, and we'd be happy to help you find it!
The Origins of

Suspension Lifts
You can trace the history of suspension lifts back to the military during World War II. There was a strong need for vehicles that could move quickly across rough terrain, transporting important people as well as sensitive information. The vehicles had their suspension lifted so they were able to dart around the battlefield as needed.
In the years following World War II, it didn't seem like there was any use for lifting suspension for most American civilians. It wasn't until later on, around the 1970's, that home mechanics and outdoor enthusiasts started improving their vehicle suspension by raising it. As we've spoken about, this allows for better off-road performance. The trend began to build up steam, but it was still awhile before it would truly hit the mainstream.
In the 1990's, at-home lift kits were introduced. For the first time, relative amateurs could purchase a lift kit and raise up their vehicle. The popularity of lift kits would eventually explode, leading to the trend that we see today. It's easier than ever before to purchase an at-home lift kit. However, they still don't match the quality that comes from a true suspension lift from a team of professionals.
Repairs, Maintenance and Detailing

Offered Here
We'd like to talk a bit more about our service center now. In addition to all the services we told you about earlier, we also offer vehicle repair, maintenance and detailing. With how hard it can be to find a mechanic you can rely on, we want to be a breath of fresh air. There are too many stories out there about customers being mistreated by an auto shop. If you want a straightforward experience, visit Ultimate Rides.
Our team can handle jobs both large and small, so that means anything from a standard oil change to major engine repairs. If you need us for diagnostics, we can do that as well. Go ahead and reach out to us over the phone. A member of the Ultimate Rides team will be able to schedule an appointment for you. If you are having your vehicle towed over to us, you can also just let us know. For those with additional questions, Ultimate Rides is just one phone call away!
Ultimate Rides – Your

Custom Vehicle Destination
Now you have heard the basics about Ultimate Rides. The next time you are searching for lifted Chevy trucks, we hope that you'll remember us. Anywhere you are, we can provide you with an awesome custom vehicle. Best of all, our pricing is fair and our team members are here to help. Ultimate Rides is family owned and operated, and that's something we have always been proud of. Because of that, we hold ourselves to a high standard. It's true, all the from all vehicles through our customer service. It's our goal to be unlike any auto dealer you've purchased from before, in a positive way.
If you need some more time before you decide on a vehicle, go ahead and keep browsing our website. However, if you are ready to take the next step towards an impressive custom truck, go ahead and give Ultimate Rides a call. You can reach us today at 815-634-3900. If you are in the Chicago area and would like to stop by our office, you can find us at 38 W. Division St., Coal City, IL 60416. That's just about one hour south of Chicago! We can't wait to show you the stunning vehicles that await.
---
Frequently Asked

Questions
Q: How do I find the right lift kit for my vehicle?
A: If you decide to opt for an at-home lift kit, choosing the right can be something of a process. If you search around, there are a number of guides right here on our website that are meant to help. The key point? Each lift kit will have a description telling you what models, trim levels, model years and more that it will be compatible with. Just make sure you pick one that matches your vehicle.
---
Two Brothers With a Dream

,

Building The Best Ultimate Rides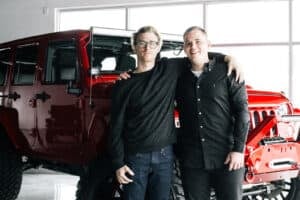 Ultimate Rides consists of two brothers who have been buying and selling custom vehicles for over ten years. Selling lifted trucks by day and writing these awesome reviews by night! They started their Ultimate Rides journey with a third brother Jake, who was a big part of building the business they have today. In 2016 Jake passed away and losing their brother was the hardest thing they ever had to deal with. Even though they had a tragic loss they plan to continue to set a new trend for the auto industry, keeping customers number one. Pushing the envelope on the lifted truck market, these guys love researching and learning about everything in the auto industry!
 — Nick and Alex Bulanda, Founders of Ultimate Rides