Cheap 4×4 Trucks for Sale with Ultimate Rides
Tracking Down the Best Cheap

4×4 Trucks for Sale
If you're looking for the best cheap 4×4 trucks for sale, you might have a lot of looking ahead of you. That's because it's not exactly easy to find a 4×4 truck for cheap, especially one that's in good shape. You're going to have to keep your eyes peeled, but today we have some tips to share that may be able to help.
We'll begin by telling you about how to measure your budget against quality expectations. Quality is the biggest determining factor in price. That means, depending on how small your budget is, you may need to lower your vehicle expectations. It's all a balancing game, however, and we'll get into it. We'll also tell you all about the Ultimate Rides lift center, where you can get vehicles customized. We have 4×4 trucks available here at Ultimate Rides, but your often going to find the highest quality vehicles, so they're rarely "cheap." We're confident you'll find you get the most bang for your buck when you shop with us, though. Let's get started to learn more!
Quality vs. Budget –

Identifying Your Needs
The first step when searching for a vehicle should be determining your budget. From there, you can take a look at see what options are available in that price range. We wouldn't recommend settling for whatever you find at dealerships around you. If you spend some time searching, there's a much higher chance you'll find a good quality vehicle. It's not easy looking for cheap 4×4 trucks for sale, but the payoff will be worth it. Check out websites like Craigslist and Facebook Marketplace to see who's selling.
If your budget has room to stretch, we'd recommend taking a look at the inventory here at Ultimate Rides. Most of the vehicles here are rust-free, and in great running shape. That can make it difficult to find vehicles for extremely cheap. However, we promise that our prices are very fair. You get exactly what you pay for here at Ultimate Rides. If you want a used truck that you can rely on for years to come, it's worth it to save up money for a bit and get one you can trust.
Building Custom Trucks at the

Ultimate Rides Lift Center
One of the elements that makes us special among auto dealers is our custom service center. While it's certainly not uncommon for a dealership to have their own shop in-house, ours is something a little different. Most of the vehicles found at Ultimate Rides are customized, with upgrades such as lifted suspension, custom tires, light bars and more. All of that is done in-house in our lift center.
You can choose your vehicle from our inventory, and before you take it home you'll have the opportunity to customize it in our shop. Want a different lift configuration? How about a custom stereo? HID headlights? We can do it all right here! Best of all, you can choose whether to pay for this work upfront or finance it along with your vehicle. At Ultimate Rides, you pay the way you want!
Our shop is open to the public as well. If you'd like us to upgrade your current vehicle, or you buy a truck somewhere else and want us to fix it up for you, we'll be here. We have the best team of technicians around, and we turn each vehicle we work on into a work of art. Get in touch with us to learn more today!
Which Cheap 4×4 Trucks for Sale to

Watch For
You may be wondering which models to watch out for as you look through cheap 4×4 trucks for sale. The honest answer is: whatever you can find. If you are limited by budget, quality should be your biggest concern rather than a specific model. Whether it's a Ford F150 or a GMC Sierra, if it's 4×4 and in good shape, you've found a gem. With that in mind, it doesn't hurt to know what the most sought-after models are.
The most popular truck in America is the Ford F150, followed by the Ram 1500 and Chevy Silverado 1500. All three of these trucks are excellent vehicles. If you can find these cheap 4×4 trucks for sale, jump on them as quick as you can. Always remember that a beat-up old F150 doesn't hold a candle to a well-maintained Chevy Colorado or GMC Sierra though.
Vehicle Delivery

Available Today
One of the reasons drivers from all over choose Ultimate Rides for their next vehicle is our delivery service. You can easily order a vehicle over the phone and have it shipped to your driveway. We're one of few auto dealerships that offers high-quality vehicles guaranteed, and that makes us a popular choice with drivers who value that quality. If you're interested in having a vehicle sent to your home, take a look at our inventory. When you find what you want, give us a call and we can take care of the whole process over the phone.
The whole thing is simple and secure, ensuring that your information stays safe and your vehicle arrives in a timely manner. Additionally, you'll have a choice between financing the cost of delivery, or paying for it upfront. This opens up the service to even more people, and allows you to pay the way that works best for you. Let us know if you believe there's any way we can help line you up with the right vehicle today!
A Customer Service Team That's

On Your Side
We know that over the years, auto dealers haven't quite earned a shining reputation for customer service. That's not the case at Ultimate Rides. We take customer service very seriously, and we want to ensure you have a great experience every step of the way. It starts with our team at the office, who are standing by to take your calls and help you out in-person. Our staff is friendly, knowledgeable, and won't try to push or convince you to buy something you don't want. Our goal instead is to offer the best possible vehicle buying experience.
Give our team a call, and we'll tell you about the cheap 4×4 trucks for sale here, if there are any. From there, we can get you set up with vehicle delivery, further vehicle modification and more. Additionally, we'll even help you track down rare or hard-to-find vehicles. Let us know what you have been searching for, and with a small deposit our team will start looking for the vehicle. As soon as we find it, we'll let you know. From there, the vehicle can either be picked up or delivered.
Get Your Truck Repaired, Maintained and Detailed at

Ultimate Rides
Another great service we offer is vehicle repair, maintenance and detailing. It's the same team who works on our very own vehicles, and they're the best out there. You can also rely on us for quality service you can trust. If you're having issues with your vehicle and aren't sure what's wrong, bring it to us to diagnose. Additionally, we can help you out with lingering problems you already know exist. We take on jobs big and small at Ultimate Rides. All you have to do is give our office a call to set up an appointment. All of our services are fairly-priced, and you won't find service like this anywhere else.
In

Conclusion
Do you like what you hear about Ultimate Rides? If you want to check out our cheap 4×4 trucks for sale, our inventory is only a couple of clicks away. You can also give our office a call at 815-634-3900. If you're in the Chicago area and would like to pay us a visit, you'll find our office at 38 W. Division St., Coal City, IL 60416.
---
Two Brothers With a Dream

,

Building The Best Ultimate Rides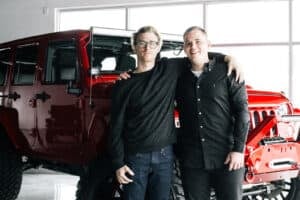 Ultimate Rides consists of two brothers who have been buying and selling custom vehicles for over ten years. Selling lifted trucks by day and writing these awesome reviews by night! They started their Ultimate Rides journey with a third brother Jake, who was a big part of building the business they have today. In 2016 Jake passed away and losing their brother was the hardest thing they ever had to deal with. Even though they had a tragic loss they plan to continue to set a new trend for the auto industry, keeping customers number one. Pushing the envelope on the lifted truck market, these guys love researching and learning about everything in the auto industry!
 — Nick and Alex Bulanda, Founders of Ultimate Rides