Best Lift Kit Brands | Buying the Best Lift Kits
Finding the Best Lift Kit for

Your Vehicle
Have you decided it's time to upgrade your vehicle with a lift kit? If so, it's time to start looking at which option is right for you. There is almost an endless supply of lift kits available out there, from a number of top brands. That being said, not all of them are going to be a good fit for your vehicle. On a surface level, you'll find that each body and suspension system is manufactured for a specific vehicle. However, even beyond that, you will have many choices to make for each vehicle model.
In this guide, we want to go through some of the best brands of lift kits and tell you their strengths and weaknesses. Additionally, you'll find an example product for each brand, giving you a sample of what they have to offer. If you stick around after our list, we also have a buying guide to share with you. There we offer some final tips that should help you find the perfect lift or leveling kit for your vehicle.
Each of the top lift kit brands listed below offers something a little bit different. Whether it has to do with style, price, ease of installation, or something else, you can be sure that each lift kit has something special to offer. Remember to look around and only buy the right kit for your vehicle! Keep in mind whether you need a leveling setup, or if you're interested in raising the overall height of your vehicle with one of the industry's exciting suspension systems. That will help inform your search!
---
Top 6 Lift Brands
BDS Suspension
If you're looking for a high-end full suspension system for your vehicle, one of the first and best brands for lift kits we'd look at is BDS Suspension. While their products aren't cheap, they are among the best lift kits available today. The company was started back in 1996, and they've been producing excellent lift kits ever since. You can get their products from a variety of different retailers both in-person and online. That even includes Amazon if you're lucky. They also offer an excellent warranty policy, hopefully reassuring you that you're getting the real deal.
If you aren't restricted too much by a tight budget, you should find that BDS is one of the better manufacturers of lift kits. Their products won't alter your vehicle's driving too much if at all, which is an inevitability with some of the more budget-friendly options. They may also offer a leveling setup that will provide you with a nice, even look. Below you'll find a link to one of our favorite BDS lift kits made for heavy-duty Chevy trucks. Feel free to continue searching for the right fit for your ride, but this is certainly one of the best options you'll find out there for this vehicle. Whether you're looking for a standard lift setup or one of their leveling kits, there's a reason why this is the top choice on our list, and it's all about quality.
---
Superlift
Another appealing option for those with fewer budget restrictions is Superlift. Once again, you'll find that their products aren't cheap. However, you will know that you're getting a kit of the highest quality, as they are one of the top brands on the market for both leveling and lifting vehicles. It will make sure your vehicle continues to drive as intended, the way you know and love. It will also have a stunning lift that allows for custom tires and more.
As a matter of fact, this company has been around for longer than most other suspension system manufacturers, tracing their origins back to the 1970's. Their products are award-winning, and there is no question that they use the highest quality materials to construct them. If you want a tough and reliable full suspension lift system, Superlift is a fantastic option. Take a look at the heavy-duty Ford lift kit options below to get an idea of the products they offer.
---
ReadyLift
Despite being a newcomer on the scene compared to BDS and SL, ReadyLift has already made quite a name for itself. Founded in 2006, ReadyLift now offers some of the best lift kits available today. According to their website, the company was created in an attempt to create a line of lift kits that are both economical for drivers without sacrificing quality. It's well agreed upon today that they've succeeded. They are without a doubt one of the best suspension system brands you can buy from.
All one has to do is take a look at options like the Jeep Wrangler JK suspension kit seen below, and they'll be able to tell that this manufacturer is serious about suspension. We think that if you're looking to strike a balance between affordability and quality, the company and their products are certainly among the most appealing choices for modern drivers.
---
Rough Country
Our next manufacturer offers a wide range of products, and they're definitely one of the most popular brands out there. Their name is Rough Country, and you may find that they are a bit divisive across the internet. There are some customers who actively avoid buying Rough Country for their own personal reasons, while the company also has its own loyal following of buyers. In our experience, Rough Country offers great products that will do their job as long as they are properly installed. We believe most of the issues people run into has to do with faulty installation.
One of the strongest elements that Rough Country offers is its warranty policy. Their suspension products offer a lifetime warranty, which will make sure you're never left out in the lurch. The Rough Country customer service team is a pleasure to deal with, so you won't have to undergo too much stress if you do happen to find any issues with their leveling products or any other type of kit. Another benefit of buying from Rough Country is that they offer a ton of different products, increasing the likelihood you'll find the one that's right for you.
---
Supreme Suspensions
Next up, we want to talk about Supreme Suspensions. If you are looking for an affordable suspension or body kit, there's no doubt that Supreme Suspensions is one of your best bets. The company has been around for nearly 30 years, and it shows in the quality of their kits. They've honed their craft over time, and offer some of the most appealing options for those looking to spend under $400 or $500.
One of the things that set Supreme Suspensions apart from many of the other brands found around this price level is that their products should not negatively affect the quality of your OEM factory ride. Most of their options are spacer kits, which don't offer the same height as full suspension lift kits. However, if you're on a budget, these are certainly great kits available to you. The company offers a wide range of choices, whether you need a leveling lift or something a little more extensive. Have a look at all the body and suspension systems they have to offer, and decide if one might be right for your vehicle.
---
MotoFab Lifts
Lastly, if you want to find the best cheap lift or leveling kit option out there, we recommend MotoFab Lifts. This company is great if you're looking for something like a small leveling kit, or if you just want to dip your toes into lifting your vehicle for the first time. Like any cheaper lift setup, you won't find the same quality as some of the more expensive models. However, there's no doubt that you'll get your money's worth with MotoFab as opposed to many of the other cheap lift and leveling kit brands out there. Most of their models are body kits rather than one that alters suspension. This has positives as well as some drawbacks, so it's worth thinking about before you make a final decision. MotoFab makes plenty of lift kits for all types of vehicles, so we're confident you won't have trouble finding the right kit for your specific model.
---
Best Way to Lift Your Ride
Before you go off and choose your next lift system, we encourage you to read our buying guide. In this section, we'll provide you with a lot more information on choosing a kit, including how to ensure you pick out the right kit for your vehicle and individual needs. Additionally, you'll find details on installation, the different kinds of lift kits available to drivers and what separates them, how to upgrade your suspension, and so much more. Stick around to the very end and you'll even find some frequently asked questions. Take a look, and don't be shy about contacting Ultimate Rides if we aren't able to address your concerns here. We're available over the phone to assist you today.
Factors of Focus: The Process of
Finding Your Kit
So we've walked you through some of the greatest body and suspension system manufacturers out there today. But that is only the beginning of the process. The most important step when buying a lift setup is making sure you pick out the right one for your specific vehicle. Make sure you know the make, model, model year and trim level of your vehicle. That is the information that will determine which kits fit on your vehicle.
It is usually pretty easy to determine if a kit will fit or not based on the product description. See what range of vehicles it works with. It could be few or many. Just find something that aligns with your specific model. If you don't see any of this information, check other websites. The best source is usually the official website of the manufacturer. Once you find that, it shouldn't be hard to see what vehicles the body or suspension system is compatible with.
From there, you'll need to figure out how much of a lift you want. If you're trying to fit a specific set of tires onto your vehicle, you'll need to measure things out and see how high you need to go. Lift kits range from modest one or two-inch kits, to mid-range three or four-inch options, to kits of five, six or even more inches high. How tall you want to go with your next kit is entirely up to you. Typically, the higher you go, the more expensive things will get.
After that, start thinking about what style of lift system you want. This will most likely be determined by your budget. There are multiple kinds of lift kits out there, including options that raise your suspension for better ride quality as well as more affordable body kits, and we'll cover the differences between them down below. When you figure out what kind you want, you should be ready to pick out a lift kit! Take a look at some of the top manufacturers and the lift kits they offer, and don't feel shy if you need to ask for guidance from a professional.
Lift Kit Overview: Styles, Uses
and More
As we've alluded to, there are several different styles of lift kits for drivers to consider. In our opinion, the best option is a full suspension lift. This process is not cheap, but it can offer both low and high lifts, and it is the kind of kit that provides the best quality for your drive. There are also more affordable lift kits that use coil springs, spacers, or blocks to raise up the body of the vehicle. These don't alter your suspension, making them easier to install. However, you should expect to notice a change in the way your vehicle drives. It will depend on the exact kit as well as your installation, so we encourage you to contact Ultimate Rides for more information. In general, a suspension lift will provide better ride quality compared to a cheaper body lift.
When it comes to reasons to choose a lift kit, there are many. The most basic is perhaps the most popular: the different look. Installing a lift setup, even just a modest one, will result in a major change to the look of your truck or SUV. Beyond that, there are benefits to off road performance, visibility on the road, and more.
Lift Kit Installation
Tips and Tricks
While it is possible to install your own lift kits at home, we don't recommend it in most cases. Unless you are experienced as a mechanic and have all the right equipment, it's typically the better move to opt for professional installation, especially when altering suspension. While there are some simple lift kits available, the best brands of suspension systems are going to be difficult to install. If you want the best results for your vehicle and your safety, it's better to bite the bullet and pay the experts to take care of it.
If you do decide to take care of it on your own, make sure to do plenty of research before you begin. There are countless tutorials available online, both in writing and video. Find one that matches your vehicle and the kit you've chosen. You should find that very helpful for the whole process.
Choose Ultimate Rides for the Highest Quality
Custom Vehicles and Upgrades
Whether you need a whole new vehicle, or someone to upgrade your current ride with improved suspension, you can count on us to help. Ultimate Rides is a custom auto dealership with our own service center on-site. There, our ASE-certified technicians upgrade vehicles in our own inventory as well as those for the public.
We have a range of custom trucks and SUVs ready to buy, each one featuring some kind of custom upgrade (usually a suspension lift). When you decide to buy one, you'll have the opportunity to send it back to our lift center. There are team can add on anything or make any changes that you'd like, including your choice of countless different lift kits.
Additionally, customers can take advantage of our lift center for their own vehicles. If you are from the Chicago area, we are right in your backyard. Get in touch with our office and we can discuss options for your truck, SUV or car. We'll even be able to set up an appointment for you to bring your vehicle in! Just let us know how our suspension experts can help.
Final

Thoughts
Have you started thinking about installation? While some of the cheaper lift kits can be installed at home without too many specialty tools or experience, more extensive lift kits that alter suspension will require quite a bit more effort. Do some research on your own and take into account your personal experience. From there, you should come to a decision on whether you're going to attempt to install at home or get professional help.
If you happen to live in the Chicago area and want assistance getting your lift kit installed, Ultimate Rides is here for you. We specialize in lifted vehicles, and we will get your kit installed safely and efficiently. We can also install larger tires, wheels, and add on tons of other upgrades to your vehicle. Give us a call today at 815-634-3900, or stop in at 38 W. Division St., Coal City, IL 60416.
Frequently Asked Questions
Before you go, stop and check out this final section. In it, we'll attempt to address some of the most common questions and concerns we hear from the public. That includes our Ultimate Rides customers as well as readers of our website. Go over the information below and see if it may be helpful to your current situation.
Q: How much does lift kit installation cost?
A: The answer to this can range quite a bit depending on a number of factors. Broadly, you could spend as little as a couple hundred dollars, or as much as several thousand. This depends on the type of vehicle you drive, which lift system you decide on, and includes installation costs. Contact our team for a more detailed answer based on your current situation.
Q: Are lift kits safe to drive?
A: As long as you receive proper installation on your lift, and the suspension hasn't been damaged, you should feel safe driving your vehicle. That's one of the reasons why it's so important to choose a reliable team to install your suspension upgrade. With just one or two simple mistakes, you could be putting yourself and others at risk. As long as everything is installed correctly, you just need to worry about your conduct on the road. Like any other vehicle, you'll need to follow all laws and regulations. Make sure to take great care when turning, especially making sharp turns. With a higher center of gravity, it does become easier to flip the vehicle, but only when you're driving too quickly. On the other hand, you'll be seated from a higher point of view in a vehicle with a lift, letting you see more of the road around you. This can actually improve safety, just as long as you practice safe driving habits.
Q: What's the difference between a suspension system and body kit?
A: Suspension lift kits require altering the actual suspension of the vehicle, while body kits simply lift up the body using blocks, spacers or another set of objects. Though suspension kits are more costly and require more work to install, they provide a better experience at the end of the day. Body kits are more affordable and can often be installed at home without too much trouble. However, they can affect ride quality, and won't be able to lift up your vehicle to the same heights as a suspension-based option.
Q: Are lift kits easy to install at home?
A: Some kits may be pretty manageable for people to install at home, but that depends upon their experience level and the tools they have access to. Suspension kits are usually much harder compared to a body lift kit, so keep that in mind as you shop. On the other hand, you won't get the same quality from simply raising the body as a suspension kit would provide. You'll also want to think about how much time you have to set aside for installation. It could take an entire afternoon or more to install some kits. If you're in doubt, contact a professional to get their opinion on your situation.
Q: What is a leveling lift?
A: A leveling kit is a specific type of lift setup, usually consisting of a one- to three-inch body lift that only gets installed in either the front or rear of the vehicle. The purpose of this setup is to help with leveling out your ride. It makes it so your front end is even with the back end, getting rid of that unseemly tilt that many vehicles have. Leveling kits are often very affordable, and usually won't be terribly difficult to install. Many of the top suspension brands sell their own leveling kits, such as Rough Country or Pro Comp. Take a look at some of your favorite brands and you'll almost certainly find a leveling kit that works for you. Just be sure to measure out the difference between the front and rear of the vehicle to know what size you need.
---
Two Brothers With a Dream

,

Building The Best Ultimate Rides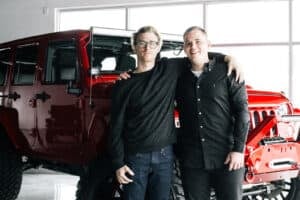 Ultimate Rides consists of two brothers who have been buying and selling custom vehicles for over ten years. Selling lifted trucks by day and writing these awesome reviews by night! They started their Ultimate Rides journey with a third brother Jake, who was a big part of building the business they have today. In 2016 Jake passed away and losing their brother was the hardest thing they ever had to deal with. Even though they had a tragic loss they plan to continue to set a new trend for the auto industry, keeping customers number one. Pushing the envelope on the lifted truck market, these guys love researching and learning about everything in the auto industry!
 — Nick and Alex Bulanda, Founders of Ultimate Rides