Best Lift Kit for F250 | Custom Ford Trucks
Picking Out the Top Lift Kits for Ford F250 Super Duty Trucks
The Ford F250 is a truck built for the toughest of situations. As soon as you drive it off the lot, it's ready to handle most things you can throw at it. However, if you want to ensure your Ford F250 is off-road ready, you are going to want to invest in a lift kit. We'll dive into the reasons to opt for a lift kit later on down in our guide but, basically, you will find increased performance along with a more aggressive look for your truck. However, it's not always simple to find the right option for your specific Ford truck. If you've spent time around shopping for lift kits, you already know the vast number of choices available. In addition to that problem, there are all different, with a number of varying styles to select from. Today, we want to help you track down the best lift kit for F250 Super Duty drivers. Each one offers something a little bit different, so we're here to help you come to an informed decision.
We'll start off by sharing a list that features some of our favorite options for you to consider. These recommendations will cover a wide range of model years and lift kit styles, including full suspension kits, spacer kits, leveling kits and combination leveling lift kits. One thing that they'll each have in common is that they're designed for the Ford F250. However, you'll have to pay attention to which model year and configuration the lift kit will work for. Following our list, you'll find our buying guide. There we offer some last pieces of advice that should help you out while shopping for a kit. Let's go ahead and get started by talking about what we believe is overall the best lift kit for F250 Super Duty models.
---
1. SUPERLIFT 6″ King Coilover Lift Kit
Compatibility: 2017-2022 Ford F250/F350
Right up front, we'll say that this kit from SUPERLIFT isn't cheap. However, if you're looking for the best lift kit for F250 Super Duty pickup trucks, this has to be at or near the top of your list. This lift kit includes all the bells and whistles you'll want to ensure maximum performance. That includes sway bar correction, a drop pitman arm, a track bar bracket, four-link conversion, and more. Everything you need to get your truck outfitted with a tough and reliable six-inch lift kit is included right here. Plus, you'll find these kits work on Ford Super Duty trucks from 2017 all the way up through today's newest models.
If you're relatively new to modifying your truck, getting this lift kit installed is going to be quite an experience. For most folks, we recommend taking it to their preferred mechanic to ensure proper installation. Otherwise you risk the possibility of an incorrect installation. That is something that could cause you a lot of trouble down the line – both in the form of extra costs as well as possibly compromising your safety. Once it's installed, however, you'll find a lift kit that offers stellar performance both on the road and off. It will also completely revolutionize the look of your truck. Pick up this kit with confidence as long as you have the room in your budget. It's undeniably one of our favorite options for today's Ford drivers, and SUPERLIFT can always be counted on for high-quality kits.
---
2. ReadyLift 69-2511 2.5″ Front/2.0″ Rear Stage 3 SST Lift Kit
Compatibility: 2017-2020 Ford F250/F350
Another strong choice, and one available at a much more affordable price, comes from manufacturer ReadyLift, who will pop up a number of times on our list. Like our first recommendation, this kit is suited for F250 models from 2017 onward. However, you'll find that it is much more affordable than the previous entry. With it, you'll find a modest 2.5-inch lift in the front, with a slightly lower two-inch lift in the back. This is what's known as a leveling lift kit, and it will both raise the height of your truck's cab while also fixing uneven suspension issues. Just make sure to measure out your vehicle's height before you buy! That way you'll know the right measurements you need to even out that suspension.
It's also important to point out that this is a body lift kit rather than a suspension lift. While a suspension lift will actually alter the suspension of your vehicle for a smoother ride, a body kit just raises up the body of your truck. While this will definitely get the job done, you shouldn't expect the same level of quality as a more expensive suspension lift setup.
It is true that this kit is not as extensive as our pick for the overall best lift kit for F250 Super Duty trucks. However, it still has plenty to offer. It's safe, easier to install, and will still offer great performance for your vehicle, all for a much lower price. You'll also find a lifetime warranty against manufacturer defects, so if you notice any issues upon delivery, you have recourse to exchange it for another option. This is certainly one of the stronger choices we think is available for a lift kit today.
---
3. Pro Comp K4026B 8.5″ Lift Kit with Spring and ES9000 Shocks for Ford F250
Compatibility: 1999-2004 Ford F250/F350
The next kit we'd like to share details on is for older models of the Ford Super Duty pickup truck. It's certainly not cheap, but it offers some of the highest quality one can find in an aftermarket lift kit. The product utilizes lift springs to raise up the truck, and the set also includes shocks as well as U-bolts and the other hardware you'll need to properly install the kit. It's an excellent way to lift a pickup truck, especially one as heavy as a Ford Super Duty, but yet again, may be difficult to install on your own. You'll find bump stops, front sway bar links, and a pitman arm among other pieces here, making the whole setup a little more complex than most other lift kits. Still, as long as you have enough room in your budget and are willing to opt for professional installation, the end result will feel fantastic. Your older truck will be ready to tackle anything the road or trail has in store for it.
---
4. SUPERLIFT 6″ King Coilover Lift Kit – Older Models
Compatibility: 2011-2016 Ford F250/F350
Next up, we have another take on the product we proclaimed as the best lift kit for F250 Super Duty pickups. It's another kit from SUPERLIFT, meaning you can expect a great degree of quality. With that, however, comes a higher price point. If that's okay with you, you'll be sure to love what this kit has to offer. This time, it's built for slightly older models, specifically covering 2011 to 2016. Nonetheless, it offers all the same excellent features and reliable capabilities. In fact, it's nearly identical to the foremost kit on our list, so it should look pretty familiar. There are only minor differences that affect which models it can be installed on. Once again, we'd recommend newcomers are weary of attempting to install this on their own. It can wind up causing many problems that most people would likely rather avoid altogether. However, with professional help, you will have an upgraded truck that is ready for anything.
---
5. ReadyLift 6.5″ Coil Spring Lift Kit
Compatibility: 2011-2019 Ford F250/F350
Our next lift kit once again was manufactured by ReadyLift, who should be pretty familiar to you by now based on previous appearances on our list. They are one of the top manufacturers of lift kits around, and this kit is a suspension lift rather than a body kit. It's also the kit that offers the second biggest height advantage out of all our recommendations, following the third kit on our list. This coil spring lift kit provides a whopping 6.5 inches of lift to your truck. It includes shocks, as well as all the hardware you'll require for installation. This is an excellent mid-budget lift kit that will work great on your F250 truck. While, once again, it isn't cheap, you'll find the quality to be most impressive. The process of installing the kit will be difficult, and we again recommend choosing a professional team to take care of it for you if you want the most optimal results. However, when that is taken care of, you'll be ready to venture off-road and on in your Super Duty truck without worry with a massive 6.5-inch lift.
---
6. ZoneOffRoad 6″ Suspension Lift System with Radius Arm
Compatibility: 2020-2022 Ford F250/F350 4WD Diesel
The first of two appearances from ZoneOffRoad on our list, this suspension lift system is one to consider if you drive a newer Ford Super Duty diesel truck. It's a mid-budget option, not cheap yet still less expensive than many other kits out there. You'll find a set of heavy duty fabricated steel replacement radius arms that will make sure everything comes together correctly, as well as a track bar relocation bracket and of course a set of coil springs to raise the truck up. Suspension lift kits are never cheap, but they will always offer a higher quality ride, making them the go-to choice for drivers serious about their truck. This six-inch option is no exception, and it's a kit that should serve your Ford diesel pickup well for years to come. There is good reason to opt for professional installation here, as some trimming may be required depending on the size tires you want to go with. However, we're confident you'll find that the extra cost is worth it in the end for everything this kit has to offer to lift your Ford vehicle.
---
7. ZoneOffRoad 6″ Radius Arm Diesel Drop Suspension Lift Kit System
Compatibility: 2020-2022 Ford F250/F350 
Here we have another kit for you to consider from ZoneOffRoad, this time for modern Ford trucks with a standard gas engine instead of diesel. Apart from that singular detail, the kits are nearly exactly the same. Once again, you can expect a six-inch increase for your truck, along with a somewhat difficult installation process. You'll be able to shave a couple hundred dollars of these suspension lift kits compared to the last option on the list, but it still falls square into that mid-range budget. You can also expect one inch less of a lift in the back, to help even out your truck from the standard tilt towards the front end. The hardware included in this kit features a powder coating to help ensure it holds up against rust in the future, and you'll find a smooth ride once everything is fully installed and you hit the road.
---
8. Rough Country 3″ Lift Kit
Compatibility: 2011-2016 Ford F250 Diesel
Though it's the only time they've popped up on our list, it's safe to say that Rough Country is one of the most reliable providers of lift kits for truck and SUV drivers. This modest three-inch coil spring kit works for diesel truck drivers with a Ford Super Duty model from 2011 through 2016. It's quite affordable for this style of kit, and also falls in the middle of difficulty range when it comes to installation. That means that more experienced home mechanics might be able to install the kit themselves, while those with less experience will want to opt for professional installation. Everything needed for the install is included here, such as radius arm drop brackets, and the kit even offers a set of N3 shocks for enhanced performance. You'll even have access to the company's limited lifetime warranty, ensuring you won't have to worry about getting stuck with a defective kit. Overall, we feel that this suspension lift system has more than earned a position on our list.
---
9.
ReadyLift 66-2726 2.5" Leveling Kit with Track Bar Relocation Bracket
Compatibility: 2011-2020 Ford F250/F350 4WD
Finally, the next kit we want to share is another ReadyLift option. This time, though, it's a simple leveling kit. This spacer kit includes a track bar relocation bracket, and will be able to level out the front end of your truck with the rear if you need 2.5 inches of lift. There are certainly cheaper leveling kits available out there, but you'll be able to rely on this one to serve you well for a long time. It includes all the hardware required for installation, and with a little bit of research the process should be quite manageable for most drivers who feel comfortable working on their truck. Just make sure to note that the kit only fits on 2011 through 2020 Super Duty models equipped with a four-wheel drive system. As long as that sounds like the right fit for your truck, and you are looking for a front leveling kit, you can feel comfortable and confident picking up one of these lift kits.
---
10.
Maxracing 2″ Front Leveling Spacer Kit 
Compatibility: 2005-2020 Ford F250
Are you simply in need of something to even out your front suspension with the rear of the vehicle? If so, you're going to like this leveling kit that comes to us courtesy of manufacturer Maxracing. It does a great job of lifting up your front end by two inches with fairly simple installation. Additionally, you won't have to spend very much money at all on this kit. It's currently available for just under $50, making it a great small step for those who want to give this a try before fully investing in a pricey high-quality lift kit. These spacers are made from the same material as the F250's factory suspension, making it a reliable choice to keep your front end raised and secure. Just be sure that it's the right height by doing some measurements before you buy! You'll want to ensure you only need to lift your front end by a two-inch margin, otherwise this kit won't work for you.
---
Best Lift Kit for F250 Super Duty Buying Guide
We've included a small variety of lift kits for you to choose from on our list. However, we know that there are tons more options out there, each one suited to a different driving situation. If you still need to keep looking, keep in mind the following tips to guide you while you shop!
Product Quality
Not all lift kits are created equal. Whenever you're shopping for an vehicle part, you want to do some thorough research and see what material it's made out of. Cheap plastics and weak metals are to be avoided. A good resource when doing this research happens to be customer reviews. While not all of them are trustworthy, it's usually pretty easy to spot which reviews are helpful and which ones are not.
Installation
If you plan on installing this lift kit yourself, it pays off to think about your experience level and what kind of job you'll be comfortable performing. Simple spacer lift kits should be fairly easy for most at-home mechanics. However, when you start to get up to the more expensive full suspension kits, it's very important that every step of installation is done correctly. This is when it starts to pay off to have a professional take care of installation.
Types of Lift Kits
As we mentioned briefly near the beginning of our guide, there is a wide variety of lift kits you'll find out there. It's important to figure out exactly what kind you need before shopping. If you don't have to worry about uneven suspension, you can rule leveling lift kits out. Additionally, if this is your first time lifting your truck and you want to start with something small, it may pay off to go with a simple spacer lift kit. Everyone has their own needs for their vehicle, and it's just a matter of finding the right one for you.
Good Reasons to Install a Lift Kit
Haven't driven a truck with a lift before? Once you have, you'll likely have a hard time going back. The primary reason people decide to lift their truck is for an aggressive new look, and they'll definitely be able to achieve one. In addition to this, you'll find the vehicle more ready to tackle off-road situations, with suspension lift kits providing greater ground clearance and better angles of approach. There's also just a different feel getting behind the wheel of a truck with a lift. You'll be able to set over most of the vehicles around you, and you'll have the ability to install larger wheels and tires. Get in touch with our crew at Ultimate Rides if you're interested in learning more about lifted vehicles.
Ultimate Rides Lifts Trucks Every Day
If you're looking for a lifted Ford truck, or need a crew to install your chosen kit on your current vehicle, look no further than Ultimate Rides. Located an hour south of Chicago, we ship vehicles all across the United States, and even beyond our country's borders. More importantly, we employ some of the most talented and experienced technicians to lift our vehicles. Financing is available for our rides, including the cost of upgrades and shipping. Any time you buy a truck, SUV or car from us, you'll have the ability to customize it in our shop before we send it out. Despite all of these benefits, we work extremely hard to provide fair prices for every vehicle we have in stock. Check out what we have to offer and let us know if we can help you start driving your perfect ride.
Suspension Leveling Kit and Lift Kit Benefits
If you decide to lift your truck, and you're not on a tight budget, your best bet is to go with a suspension lift system. Though they are more costly than body kits, you'll be happier with the end result. Body kits can be perfectly okay with the right installation, but you will often have to deal with a lower ride quality, causing your handling to be more stiff. Additionally, if you want to lift your truck more than an inch or two, you'll likely need to opt for a suspension lift setup rather than a body kit, which usually has a maximum height of three inches. The top lift kits available to drivers are all typically going to be suspension lift systems, unless you are specifically looking for one of the more affordable body lift kits. Whatever you decide on, you can count on the Ford Super Duty being an excellent choice to upgrade.
Ford Trucks are Excellent Picks for Lift Kits
There is a reason that Ford pickups are continuously the highest selling truck in America. They offer excellent performance, interior comfort, plenty of exciting modern features, and so much more. They also happen to be great choices to lift with a suspension kit. Ford trucks have the rugged qualities needed to tackle off-road driving, as well as the ability to easily handle the highways and city roads that stretch across the country. Whether you opt for a smaller three-inch lift or go bigger with a six-inch suspension lift system, you'll be happy you chose Ford as your truck of choice. They're relatively simple to work on, and offer the right level of versatility to take on a wide range of kits without any kind of problem.
Final Thoughts
At Ultimate Rides, we offer a variety of services and products to our customers. However, we also do our part to keep our readers informed. We hope that today's guide wound up being useful for you! It's undeniable that there is a huge selection to choose from when it comes to lift kits. It's all just a matter of finding the right one for your truck.
If you'd like to get in touch with us to learn about our lift kit installation services, or you'd like to see what kind of vehicles we have to offer, you can give us a call today at 815-634-3900. Our office is located at 38 W. Division St., Coal City, IL 60416. We'd be more than happy to provide you with advice or offer a quote, so feel free to get in contact with us at your next convenience!
---
Two Brothers With a Dream

,

Building The Best Ultimate Rides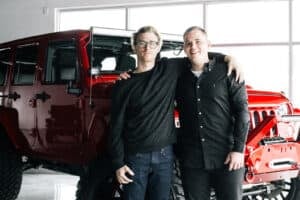 Ultimate Rides consists of two brothers who have been buying and selling custom vehicles for over ten years. Selling lifted trucks by day and writing these awesome reviews by night! They started their Ultimate Rides journey with a third brother Jake, who was a big part of building the business they have today. In 2016 Jake passed away and losing their brother was the hardest thing they ever had to deal with. Even though they had a tragic loss they plan to continue to set a new trend for the auto industry, keeping customers number one. Pushing the envelope on the lifted truck market, these guys love researching and learning about everything in the auto industry!
 — Nick and Alex Bulanda, Founders of Ultimate Rides