Lifted Ford F 150 for Sale
Lifted Ford F 150 for Sale at

Ultimate Rides
It is not always easy to track down used pickup trucks that are in good shape, especially models from Ford. They move pretty quickly these days, as they are highly sought after. This is even more the case when it comes to trucks that are rust-free and outfitted with enhancements such as a lift kit. If you've been on the hunt but unable to track down the right lifted Ford F-150 for sale, we have some good news for you. At Ultimate Rides, we only deal in high-quality used vehicles that are free of rust, including plenty of lifted Ford models. Additionally, we have our own custom service center staffed by professionals, and most of the vehicles we sell have been customized in some way.
Today, we want to tell you all about Ultimate Rides. Once you've finished reading, we think you might have found your new regular auto dealership. We offer both new and used trucks from Ford as well as a variety of other companies. Even better, no matter where you live, we can get your vehicle sent straight to you. We also have a team of friendly customer service reps whose goal is to make sure you're satisfied with your experience. Ultimate Rides is a family business, and we intend to uphold the reputation that comes with that. We aren't your standard used dealership, and we plan on proving that to you with the quality of our inventory as well as your experience shopping with us.
High-Quality Custom Lifted Ford Vehicles

Free of Rust
As briefly mentioned before, every vehicle that you'll find for sale at Ultimate Rides is rust-free. Are you wondering how we can possibly accomplish that while also being located in the heart of the snow-filled Midwest? It's because most of the vehicles we sell are actually brought in from warmer and dryer parts of the United States, like California and Nevada. We have a team of buyers whose job is to go out and seek out the best trucks they can find. From there, the rides are brought back to our HQ. We clean them up, and often get them sent over to our lift center for some modifications. All the lifted models available to buy here were customized right in our service center by our team.
However, our vehicles are about more than just upgrades. Rust and corrosion are two of the most telling signs of vehicle quality. While they can be quite hard to avoid, we work very hard to prevent our trucks from developing this damage. If you hope to keep your vehicle rust-free after buying from us, let us know! There are a number of products you can use to help protect your vehicle, and we certainly have some recommendations. Our team is always ready to help, so don't be afraid to ask!
Built and Customize Lifted Ford Trucks in the Ultimate Rides

Lift Center
Ultimate Rides is quite different from your run of the mill auto dealership. One of the main reasons for this is our lift center, and the team it's staffed by. While many other dealerships have their own service centers on the premises, very few have as much importance to them as ours does to us. Nearly every vehicle that we sell gets sent over to our lift center, either for inspection or modification. If you want to find a lifted Ford F 150 for sale, you can find one here that is unique and can be customized to your liking.
Our lift center finished construction back in 2017, and it features state of the art technology and the biggest name brand products. Whenever you decide to purchase a vehicle from us, we'll give you an opportunity to request any other modifications you may want. Our team can get right to work lifting your new truck, or adding any other upgrades you can think of.
You will even have the ability to finance the cost of that work along with your vehicle, allowing you to pay it all off together. Our team is highly experienced, has ASE certification, and knows their way around custom lifted vehicles. That can be a problem with some other mechanics, but you won't run into that issue here.
We Can Customize Your Current Vehicle Too!
In addition to working on our own vehicles, we do also perform jobs for the public. If you decide you would rather upgrade your current vehicle instead of buying your next one, we can help. From custom rims to full suspension lift kits, we can do it all. Give us a call if you'd like to find out more about what we can accomplish together! We'll work hard to get your truck back to you in a timely manner, and all of our work is done at a fair price.
Customer Service You Can

Rely On
It seems over the years that auto dealerships have garnered a negative reputation amongst consumers. We certainly don't doubt that it isn't earned. After all, we've all probably had our own negative car buying experiences in the past from some local auto dealerships. However, at Ultimate Rides, we are out to change the perception of our industry through our own hard work.
Our customer service standards are incredibly high, and that means we believe each customer should be treated like they are a VIP. If you give us a call or stop by our office, you'll find a friendly and helpful staff of professionals who want to ensure your satisfaction. This could mean helping you pick out the perfect vehicle for your needs, new or used, or it could be about deciding on the right work to perform on your vehicle.
No matter the reason you're here, we want you to know that Ultimate Rides is looking out for you. We believe that buying a vehicle should be a positive experience, and we'll pull out all the stops to make sure that happens. Whether you need a ride from the airport or you have a question about vehicle modifications, we'll make sure you get all that you need. Take a look at our inventory page and see if any of our trucks or other vehicles catch your eye. If so, don't hesitate to reach out over the phone for more details or to get started today!
Visit Us for a Different Kind of Buying Experience!
Over the years we've been in business, we have done a good job of building up a base of returning customers. Once someone has a positive experience buying a lifted truck from us, our hope is that they'll spread the word around to their family and friends. In return, you have our word that we'll treat them with the same level of respect and understanding that we treated you. All that one needs to do is take a look at our reviews online to see that we mean business. We aren't like other auto dealerships out there, and we intend to prove it through our actions. Give us a try the next time you need a lifted Ford F 150 for sale!
Reliable Delivery of Lifted Ford Trucks

Available Now
When you purchase a vehicle from Ultimate Rides, you will have the ability to have it sent wherever you like. Because of the high quality of our inventory, we often get customers who don't live nearby our dealership. In fact, more than half of all of our sales are done with folks who don't live in the Chicago area. However, that doesn't matter to us, and we hope you'll be excited about the prospect as well. Our delivery is safe, reliable and timely, allowing you to get your vehicle in an efficient manner. We honestly believe that our vehicles are head and shoulders above what you'll find at most local dealerships, giving you a good reason to think about buying a lifted Ford truck from Ultimate Rides. We work hard to please our customers, and our delivery is just one way we can make an impact. Just take a look at our inventory on our website and we think you'll be convinced.
Once you are ready to start the buying process, just give us a call. One of our customer service team members will be able to supply you with additional details and photos on any of the vehicles you're interested in. We'll have plenty of lifted Ford trucks for you to choose from, including the F-150 and more. On top of that, we offer much more than just Ford vehicles. When you've made your final decision, we can take care of the entire process over the phone! We'll get you set up with financing, ask if you'd like any modifications on the vehicle, and get your shipping details. You'll also have the opportunity to finance the cost of delivery rather than paying up front. The choice is yours!
Why Go for a

Lifted Ford Truck?
You may be wondering why you should opt for that lifted Ford F 150 truck for sale instead of a standard pickup truck. There are multiple answers to that question, but only you can decide what vehicle is right for you. Here at Ultimate Rides, we love lifted trucks both for their looks and for the performance enhancements they offer. While the looks are self-explanatory, we think the performance elements are worth elaborating on.
If you plan on taking your truck off-road, a lift kit can be a great enhancement. Lifted trucks will offer increased clearance underneath your vehicle, allowing you to avoid rocks and other damaging obstacles. Along with that, you'll also have a higher vantage point, allowing you to better see the terrain around you. Many drivers prefer towing in lifted trucks, as you'll have more leeway in your suspension before bottoming out, and it can also be easier to traverse rough terrain. Perhaps best of all, a good lift kit will also allow you extra space for some truly awesome custom wheels and tires!
However, that's all ignoring the number one reason most drivers decide to buy a lifted vehicle. For most, they simply like the look and feel of getting behind the wheel of a lifted model. That applies whether you're choosing a Ford F-150 or any other pickup truck. Take some time to consider it, including how much room you have in your budget. Then get back to us and let us know if you see a lifted Ford F-150 in your future. We have new and used models available, so just let us know what you prefer!
Storied History of the

Ford F 150
Very few vehicles are able to proclaim the same legend status as the Ford F-150. This truck has been around in some shape or form since 1948. It's even spent most of that time as America's most popular pickup truck. There is good reason for all of this praise, too. The F-150 is versatile, comfortable, powerful, reliable and sleek. It's one of the best all-around packages available in modern vehicles, and plenty of drivers seem to agree with us. The Ford brand name has become synonymous with automobiles, and in that same way the F 150 is constantly associated as the pickup truck to own.
Another reason we love this vehicle is because it's so damn enjoyable to customize. Whether you want to install some running boards, go for a new paint job, switch out your sound system or outfit it with a badass lift kit, the F 150 can handle it. Ford likes to say their vehicles are built Ford tough. While we can't necessarily speak to that, we can tell you that their trucks are reliable, fun to drive, and a blast to customize.
If you have any questions about one of our F-150 trucks, or one of your own, we're more than happy to provide you with an answer. We can offer more information on price, features, and the history of our used Ford trucks. Just get in touch with our team and we'll let you know how we can help!
Ultimate Rides Offers Vehicle
Repair and Maintenance
At Ultimate Rides, we certainly know that it can sometimes be difficult to find a team of mechanics that you trust to handle your Ford. Once again, we'd like to fill that role for you. While many auto shops out there fail to be transparent with their pricing, often hold vehicles for days at a time with no updates, and can even screw up repair jobs, we strive to be the opposite of that here. Ultimate Rides will get you your vehicle back as quickly as possible. Additionally, our pricing is transparent and makes sense. Our team also knows their way around custom vehicles, which can often throw other mechanics for a loop.
If you are currently having issues with your vehicle, give us a call. We'll get you set up with an appointment to bring your vehicle in, and you can count on us to get the job done right. We perform all manner of repair and maintenance services here, including things as simple as oil changes. We also go for the big jobs, however, like engine repair or transmission issues. To find out more about the services we offer here at Ultimate Rides, one only needs to give us a call. Our team will make sure you get your vehicle back in a timely fashion, and with everything you asked for completed, and at a fair price. Whether you're driving your truck to us or need to rely on a tow, let our team know and we'll be ready.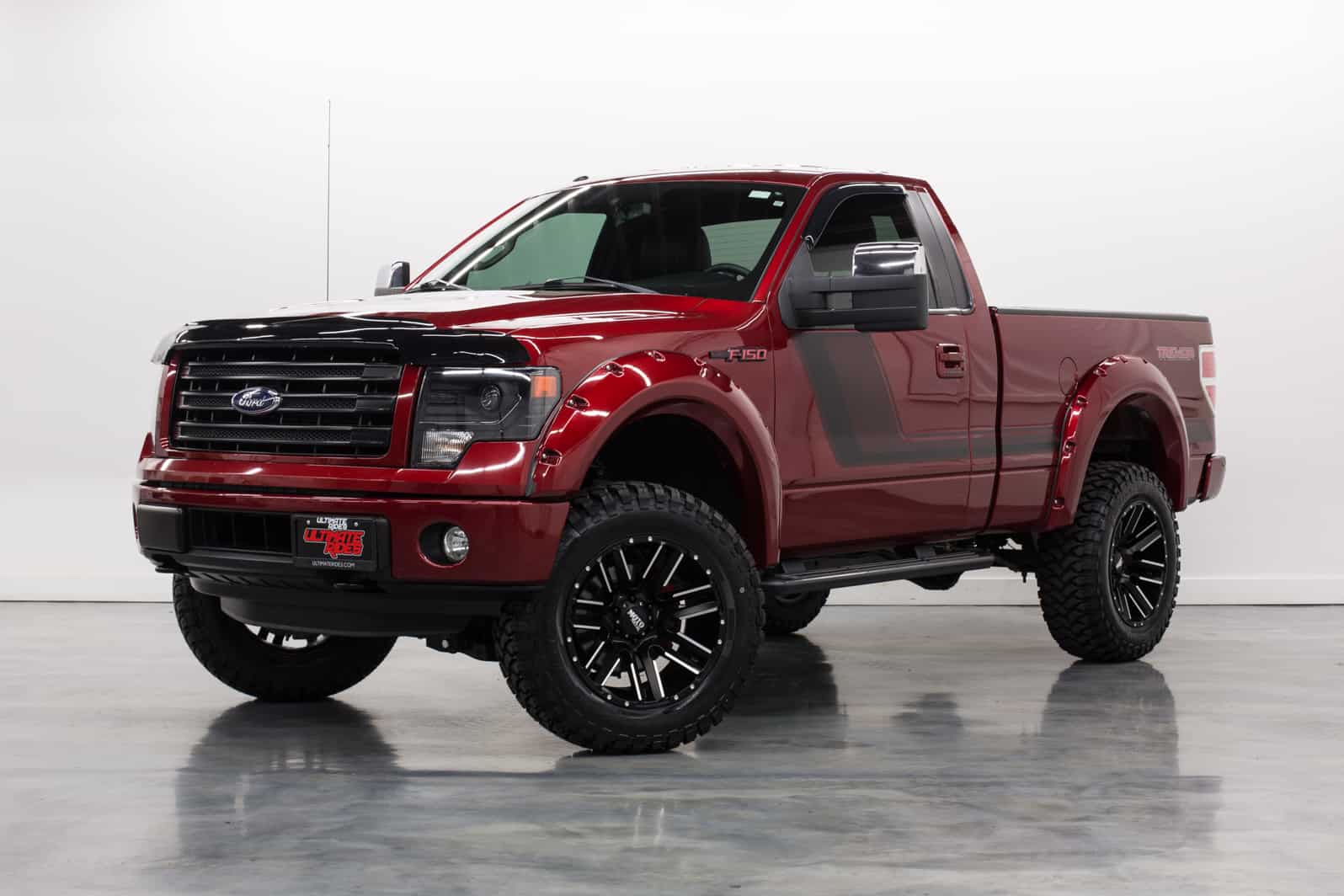 Visit Ultimate Rides for the

Best Lifted Ford F150 for Sale
Have we convinced you that Ultimate Rides is the best place to find your next vehicle? We hope so! Whether you need repairs, customizations, or a new vehicle, we've got it handled. Plus, you can always trust us to provide you with honest work at fair rates. The next time you're in need of a vehicle, be sure to check out our inventory! We're confident that we have an amazing custom vehicle that you'll love.
You can get in touch with Ultimate Rides today by calling 815-634-3900. If you'd like to come and see us in our office, you'll find it at 38 W. Division St., Coal City, IL 60416. Your next truck could be waiting for you.
---
Two Brothers With a Dream

,

Building The Best Ultimate Rides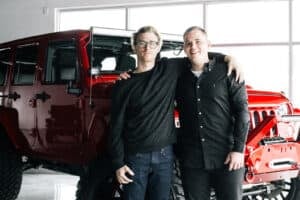 Ultimate Rides consists of two brothers who have been buying and selling custom vehicles for over ten years. Selling lifted trucks by day and writing these awesome reviews by night! They started their Ultimate Rides journey with a third brother Jake, who was a big part of building the business they have today. In 2016 Jake passed away and losing their brother was the hardest thing they ever had to deal with. Even though they had a tragic loss they plan to continue to set a new trend for the auto industry, keeping customers number one. Pushing the envelope on the lifted truck market, these guys love researching and learning about everything in the auto industry!
 — Nick and Alex Bulanda, Founders of Ultimate Rides