Lifted Chevy Trucks for Sale | Custom Chevrolet Silverado
The Best Place to Find Lifted

Chevy Trucks for Sale
If you're looking for the best Chevy truck options out there, especially custom models, Ultimate Rides is undoubtedly the place to go. For years, we've been one of the premier custom lift shops and dealerships in the country. We're centrally located in the Midwest about one hour south of Chicago, but we cater to customers from all over with our amazing delivery service. Folks from all across the country choose Ultimate Rides because of the high quality of our vehicles, our impeccable custom work, next level customer service and more. Today, we want to tell you a little bit more of our business so you can make the decision if we're right for you.
Below you'll find additional details on our customer service, our vehicle selection, our lift shop and much more. When we're through, you'll have all the basic info you need to get started. All that's left is either giving us a call or stopping by the office to choose your next vehicle! Be sure to let us know if there are any other ways you think we can help you out. Our team is always ready to assist our customers with whatever they need. Remember that if you're looking for lifted Chevy trucks for sale, Ultimate Rides has what you need.
Above and Beyond Standard

Customer Service
Let's start by discussing our customer service and the way it shapes our business. We're all too aware that the auto dealership industry has developed a negative reputation from customers over the years. We have set out to change that perception through our actions. At Ultimate Rides, we hold ourselves to a high standard, and each customer will be treated like a VIP when they visit or call us.
Our team will greet you with a warm smile, and you'll find that they are very knowledgeable when it comes to our inventory and services. We want to keep our customers coming back for all their vehicle needs, so we make sure you are treated with respect, kindness and honesty. It seems that our mentality has helped, because many of our customers have been coming back for years any time they need something vehicle-related.
We're here to answer any questions you might have, as well as get you set up with the perfect vehicle. On top of that, we'll also go out of our way to make sure you're satisfied with Ultimate Rides. We can pick you up from the airport if you are in need of a ride to us. Additionally, we can help our customers track down rare vehicles that they may be looking for. Simply leave a down payment with us and our buyers will start looking for the model you need. Before long, we'll have it ready for you!
Lifted Chevy Trucks for Sale and

Delivered
One interesting fact about Ultimate Rides is that more than half of our business is done with customers who don't live in our area. That's quite unusual for an auto dealer, but the quality of our inventory attracts buyers from all over. Thankfully, this process is made simple through our vehicle delivery. If you don't live in the Chicago area but would like to buy a vehicle from us, you can simply give us a call and we can take care of everything. You won't have to worry about driving far distances to pick up your truck. Additionally, our process is safe and secure for both your information and the vehicle.
Start by giving us a call. A member of our team will fill you in on all the vehicle's details and provide you with more photographs. You can also take a look at our inventory online. From there, you can contact us after finding the right vehicle, or a few options you like. Once you've made your final decision, we'll gather all the delivery and financing details from you over the phone. You'll have the choice between paying for delivery up front, or you may finance the delivery cost right alongside your vehicle. Whatever makes the process work better for you, we're willing to try. Our delivery service is safe, affordable and timely, so it won't be long at all before you're driving an awesome vehicle.
Our Vehicles are Rust-Free and

Run Great!
There's no doubt that one of the things that sets Ultimate Rides apart from standard used auto dealers is the quality of our inventory. If you were to go to your local auto dealership, most likely you'd find a wide mix of vehicles when it comes to quality. Some may be in good shape, but many others will be covered in rust, or won't run right. Here at Ultimate Rides, you can rest assured that every vehicle available is free of rust and in great shape. This isn't easy to accomplish considering we're in the heart of the Midwest, but the effort is well-worth it.
In order to find these vehicles, we send our buyers out to warm states with more forgiving climates. Vehicles in the Midwest have to deal with harsh winters and salted roads. These cause much more wear and tear on your vehicle, especially resulting in rust. By heading out to these milder states, we're able to find vehicles that haven't had to deal with the same elements. Our standards of quality are quite high, and every vehicle is inspected before being listed on our website. If you're looking for a dealership where you'll always know the quality of what you buy, look no further than Ultimate Rides.
Customize Your Truck in the

Lift Center
Oftentimes when buying custom vehicles, you're never quite sure who performed the modifications and where. When you find lifted Chevy trucks for sale at Ultimate Rides, they are vehicles that we've upgraded here. We have our own brand new in-house lift center that we finished back in 2017. We make sure we're stocked with the biggest and best name brand accessories, along with the latest tools and equipment. On top of that, it is staffed by a highly-trained ASE-certified team of technicians. We truly believe that there's nobody out there who can build and customize a vehicle like we can. Take a look at our inventory for some examples of the work our team has accomplished.
Every time you purchase a vehicle from Ultimate Rides, you'll have the option to send it over to our lift center before you take possession. There we can provide a number of different upgrades for you. This includes lift and leveling kits, performance chips, custom lighting setups, stereos and much more. To get an exhaustive list of all the services we can offer, be sure to give us a call! Our pricing is both fair and transparent. You'll also have the opportunity to finance the cost of this work along with your vehicle. At Ultimate Rides, it's important to us that you can pay the way you want.
More Information on

Lifted Suspension
In recent years, the popularity of lifted trucks has skyrocketed. You can see more out on the roads today than ever before. However, if you're not familiar, you may be wondering what kind of benefits you'll gain from driving one of these vehicles. The two primary reasons to lift your truck are increased off-road performance and looks. Additionally, the truck simply has a different feel when lifted that many drivers prefer.
If you want to make your truck perform even better off-road, a lift kit is a great way to do so. You'll find increased ground clearance, allowing you to avoid dangerous obstacles like rocks. It will also help avoid scratching up your truck by running over bushes and brush. With your truck's cab raised higher, you'll also have a higher vantage point to see from. This can improve visibility on things that are further away, but at the same time you may have difficulty seeing small objects that are right up on your truck.
Visually, lifted trucks tend to speak for themselves. You either like the look or you don't. Many people love it, and that's one of the reasons this style has become so popular today. Let us know if you want to check out one of our lifted Chevy trucks for sale! We're confident we have some options you'll love.
A Short Lifted Suspension History Lesson
Did you know that lifted suspension vehicles can trace their roots all the way back to World War II? The military decided to raise the suspension of their vehicles so they could better traverse the rough battlefield terrain. The modification didn't grow in popularity with civilians until the 70's and 80's, but it has grown steadily ever since. In the 1990's, aftermarket lift kits began becoming readily available. Machine-savvy at-home mechanics could now take it upon themselves to upgrade their vehicles, and customers had a lot more choice in the matter.
In recent years, suspension lifts have become more popular than ever. If you head out onto an American highway, it probably won't be very long before you see a custom truck out there with you. If you come to the conclusion that one of these lifted Chevy trucks for sale is right for you, we hope that you'll consider the options at Ultimate Rides. You will be able to find a pickup that matches your dreams, whether they are subtle or ambitious.
Legacy of Chevy Trucks in

America
Chevrolet is a brand that has quite a history, including but not limited to their pickup trucks. For many years, Chevy trucks were second only to Ford in popularity, though they've been overtaken by Ram over the past couple of years. However, there's no denying that Chevy trucks are still some of the best options out there when it comes to performance, utility and comfort. Chevrolet has fine-tuned their design over the years, and the current offerings of models like the Silverado and the Colorado are better than ever. Having fallen to third place in sales to Ford and Ram, we believe that Chevy is sure to step up their game even further with future models. Keep a look out for some truly exciting things in the future of this brand.
History of Chevrolet
As one of America's foremost automotive manufacturers, it should be no surprise that Chevy has been around for a long time. The company was founded in 1911 by Louis Chevrolet, a Swiss engineer and race car driver. Chevrolet was able to make some important connections early on in his career, showing off his talent by helping design vehicles for Buick and General Motors. He moved to Detroit and founded the company with the help of his associates, though he didn't actually stay for very long. Only a few years later, Louis Chevrolet would sell his shares of the business and move on to other automotive ventures.
The man who Chevrolet sold his shares to was none other than William C. Durant, the former co-founder of General Motors. Shortly after Chevrolet left the company, the business was making so much money that Durant was able to re-purchase his stake in General Motors. It wasn't long after that that the two brands were merged, which they remain to this day. Over the 20th century, Chevrolet would introduce some truly revolutionary design elements into the industry, becoming a powerhouse that still stands strong.
Modern Features Available with the
Chevy Silverado
When shopping for a truck, it's important to learn what features it has to offer beyond just performance. A vehicle like the Silverado has a massive amount of variety to be found. Each year, Chevy releases a ton of variations on this truck. First, you can break it up by the 1500, 2500, 3500 and beyond. Even within these models, there are trim levels and optional packages that offer all kinds of different features. In this section, we want to provide you with some of the possibilities that are out there with the Silverado. These are just some of our favorite features you can find with this truck.
What a given Silverado has to offer all depends on the model year and trim level. What we'll be sharing with you today are some of the features found on more recent model years, so keep that in mind as you continue reading. Don't forget to take a look at the Ultimate Rides inventory to see what options are available right now!
Comfort Features and Technology Found in the Chevy Silverado
There are so many different eye-catching features to take advantage of inside the Silverado. One of our favorites is the available Bose® sound system upgrade, allowing you to blast your favorite songs with crystal clear quality. Many drivers and passengers love having access to dual zone climate control, a type of air conditioning that lets both the driver and front passenger choose their exact temperature settings. These lifted Chevy trucks for sale can also be found with a front and rear parking assist system that lets you safely and easily park in hard to see spots. All of this is just a taste of what the Silverado has to offer inside.
Chevy Silverado Safety Capabilities
We love trucks with plenty of safety features, and the Silverado is a great example of what modern vehicles can accomplish in this category. You can find the truck fitted with a teen driver system that helps you ensure your young driver is safe out on the road. Additionally, the truck can include a lane keep assist system with lane departure warnings. This helps drivers of all ages make sure they're safely staying in their own lane. Beyond that, you can also find features like an HD surround vision camera, automatic emergency braking and so much more.
Exterior Features Highlights of the Silverado
Utility is often the name of the game when it comes to pickup trucks. On the Silverado, you could have access to things like cargo bed LED lighting and deep tinted glass that allows you to keep your privacy. The truck is even available with heated power-folding side mirrors with auto-dimming, helping protect your vision in the dark from harsh headlights. This is just a taste of the Silverado, so make sure to contact us for more information on the vehicle.
Get Your Vehicle Repaired, Maintained and Upgraded at

Ultimate Rides
If you decide to stick with your current vehicle instead of checking out our lifted Chevy trucks for sale, we still have options for you. Our custom lift center is still open to you even if you're not buying one of our vehicles. Simply call our office and we can set you up with an appointment to bring in your vehicle. We can go over all the work you'd like done, and you'll find a fair price to boot. It can be difficult these days to track down a mechanic that you can trust. If you've been burned in the past, you already know how important the relationship is between mechanic and customer. At Ultimate Rides, you'll have access to a team of experts that is here to help.
In addition to repair services, we maintenance and detailing for vehicles. By the time we're through with it, your vehicle will be looking and running far better than before. We genuinely believe that our team is the best around, so it's only right that we share our skills with the public. We can take care of anything as small as an oil change or as major as engine or transmission replacement and repair. Once again, our prices are fair and our work is top-notch. If you'd like to learn more, be sure to get in touch with our office!
Inventory Full of New and Used
Custom Lifted Trucks
One of the best parts about shopping at Ultimate Rides is that we can help you find either a new or used vehicle. We know that depending on the situation one may be more favorable to you than the other. You won't be limited to either when you choose us to provide you with a truck. Take a look at the Chevy options we have for sale. If you're looking for a used model, you should have no trouble finding one. However, if we don't have a used Chevy for sale for some strange reason, our team will be able to get our hands on one for you.
It may be less likely that we have a new model for sale, but we'll always be able to get one for you. From there, it's just a matter of customizing the vehicle the way you want! Whether you opt for new or used, you can count on Ultimate Rides to deliver the best possible vehicle, right down to your unique specifications.
If there is something specific that you're after, such as a used 2015 Silverado with a diesel engine, all you have to do is let us know. We'll require a small deposit, and then our team will scout out used vehicles until we find the one you're looking for. We aim to please our customers however we can, and this is just one of the ways we do that.
Modern Silverado
Popularity
These days, new Chevrolet Silverado models have lagged behind its competitors in terms of features and, in some cases, performance. However, they do have one thing that sets them apart compared to Ram and Ford trucks, and that is their price. You can find a Chevy pickup for a considerably better price than the other two most popular models, and our team can help you bring it up to par in terms of features and performance.
The Chevy Silverado is still one of the most common pickup trucks you'll see out on the road, despite the fact that it is currently lagging a bit behind in sales. Older models of the vehicle still out-perform and include more features than most Ram trucks, so this really only applies to the modern generation. It's still a very popular ride, and one that we'll be happy to help you get behind the wheel of.
We're the Go-To Shop and Dealer for

All Auto Needs
Well, you've now learned the basics of Ultimate Rides. From our convenient vehicle to delivery to the insane level of detail and choice you'll have when it comes to your next ride, we think we offer a lot to our customers. There's still plenty left for us to share with you, though. If you're interested in learning more about our vehicles, be sure to give us a call or stop by the office! Those of you who live in the greater Chicago area can find our office at 38 W. Division St., Coal City, IL 60416, and we'll be ready to please you as soon as you drop by. For those outside the area, give us a call at 815-634-3900 to speak to one of our team members! We can get you set up with vehicle delivery that works for you. Choose Ultimate Rides for all your vehicle related needs and you won't be disappointed!
---
Two Brothers With a Dream

,

Building The Best Ultimate Rides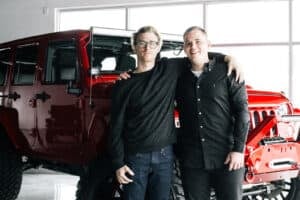 Ultimate Rides consists of two brothers who have been buying and selling custom vehicles for over ten years. Selling lifted trucks by day and writing these awesome reviews by night! They started their Ultimate Rides journey with a third brother Jake, who was a big part of building the business they have today. In 2016 Jake passed away and losing their brother was the hardest thing they ever had to deal with. Even though they had a tragic loss they plan to continue to set a new trend for the auto industry, keeping customers number one. Pushing the envelope on the lifted truck market, these guys love researching and learning about everything in the auto industry!
 — Nick and Alex Bulanda, Founders of Ultimate Rides