The Ultimate Lifted Trucks Dealership | Custom Trucks Shipped
Ultimate Rides is the Lifted Trucks Dealership

for You
Shopping for a custom truck isn't always easy these days. Finding one in good shape can be hard, as they rarely last for long. There are always folks looking to snatch up high-quality trucks from local dealerships. When you keep running into problems like this, the process of buying a truck can often feel frustrating, but it doesn't have to be that way. If you're looking for a lifted trucks dealership that specializes in high-quality rust-free options, look no further than Ultimate Rides. We're located in the Chicago area, but with our easy and secure delivery service, we can provide you a truck no matter where you are.
In this guide, we're going to tell you all about Ultimate Rides and why you should choose us for your next automobile. We have a huge inventory of models from companies like Ford, GMC, Jeep, and so many more. Plus, we offer a whole lot more on top of just that. Check us out to find out about our truck modification services, our top-notch custom service, our repair services and so much more. We're confident that you'll agree Ultimate Rides is the best place to find a custom lifted truck.
The Importance of Choosing the Right
Auto Dealer
While you can certainly head down to your nearest auto dealer to pick out a truck, you're better off working with a team like ours. We are a lifted truck dealer that knows these vehicles inside and out. While other places might sell you a lifted truck, there's often no telling where the truck came from, or who accomplished the custom installation. That means that, down the line, if you run into problems, they may not be able to help you solve them. When you shop with us, our team is accountable for what you drive, and we stand by our work. We'll offer you a fair price, with reliable installation. Our inventory is thoroughly inspected to ensure quality, and we'll be able to answer any questions you might have before you buy. When it comes to driving a lifted truck, quality is the name of the game, and Ultimate Rides offers only the best. Give us a call to learn more about any ride in our inventory, and we'll be happy to offer as many details as you'd like to hear.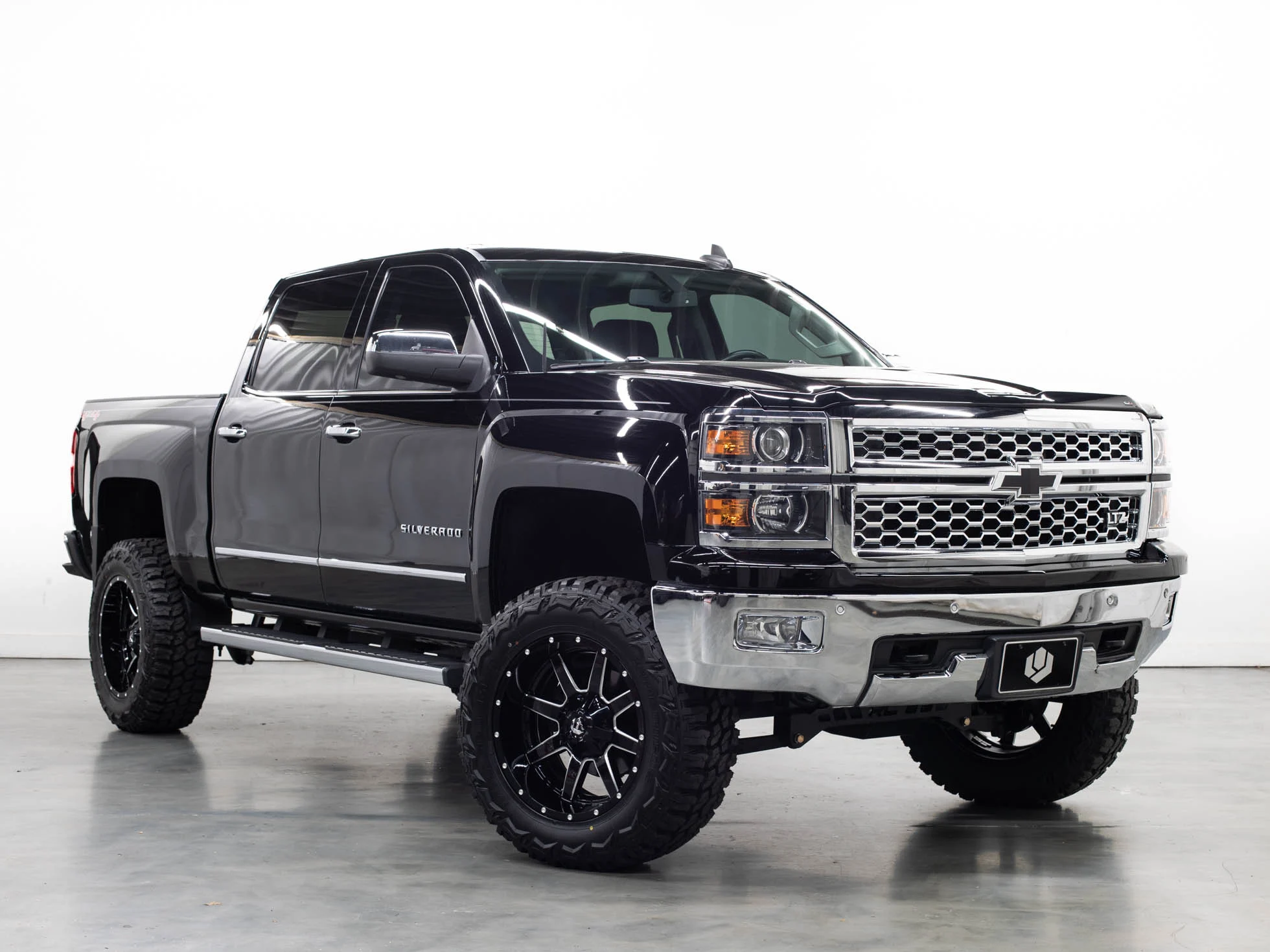 Get a Custom Lifted Truck

Delivered to You
One particularly interesting fact about Ultimate Rides is that despite being located about an hour away from one of America's biggest cities, more than half of all of our business is done with long-distance customers. In our opinion, that means we have something special to offer, and we're happy to share it with everyone. We'd recommend you get started by taking a look at the available inventory here on our website. Pick out a model from our inventory, or a few that stand out, and then give us a call. A member of the Ultimate Rides team will be able to provide you with more on the rides you've selected.
Then, once you've made a final decision, we can start arranging all of your financing and delivery details. You'll have a chance to get any further modifications made to your vehicle, and then we'll have it off! Our over-the-phone financing is safe and secure, and we'll make sure all the documents you need are sent right over to you. You'll also have the opportunity to either finance the cost of delivery alongside your lifted truck, or pay for it up front. If you have any questions about the process, please feel free to give our office a call! We're always happy to answer your questions. Once you're through with the process, we'll be able to get your custom ride out within a week, set up just the way you asked for.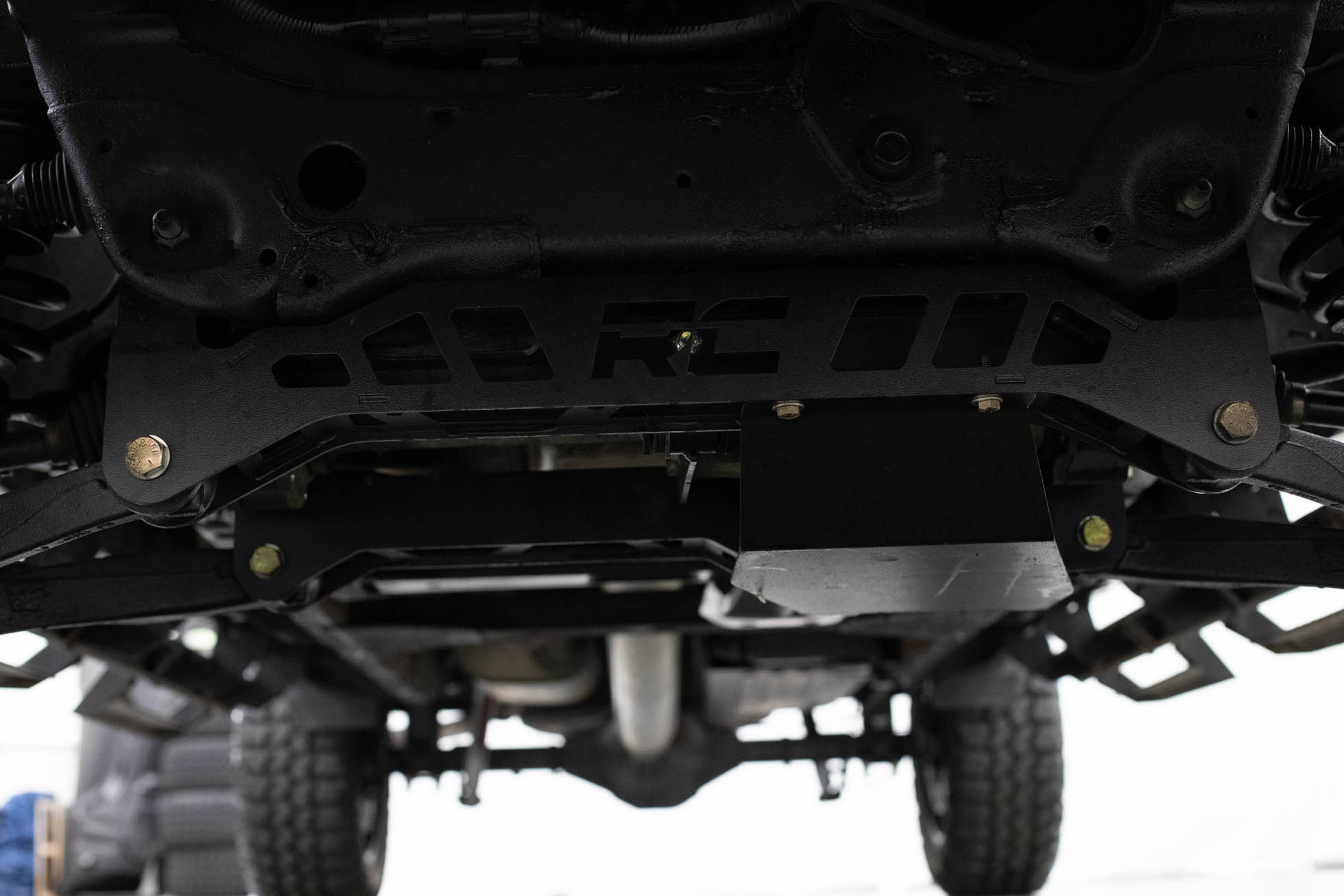 Our Custom Lift Center Provides the

Best Vehicles Around
The vehicles at Ultimate Rides aren't quite like anything else you'll find out there. That's because our vehicles are customized right here at our shop. We have a staff of highly trained technicians who work on all of our vehicles. They're ASE-certified, and we genuinely believe they're the best around at what they do. Not all mechanics can handle the difficulty that comes with custom vehicles, but our team is ready for anything.
Each time you buy a vehicle from us, you'll be able to send it over to our lift center if you'd like. There we can offer a number of options, such as performance chips, custom tire and wheel packages, stereo system installation, light bars, running boards and more. You'll have an opportunity to change the color of the pickup or SUV, such as a shiny new black, or changing from a black coat of paint to something else entirely. We recommend getting in touch with our office for the full rundown of services we have to offer. Similar to our delivery, you'll be able to choose if you want to finance the cost of these services, or pay now separate from your new ride. Whatever is easiest for you works for us!
On top of that, our service center is open to the public as well. If you want us to upgrade your current truck with a lift kit and more, let us know! We're always happy to offer our services. Our prices are fair, and we can transparently explain how we arrived where we did. Get in touch to find out more!
Popular Upgrades for Today's
Custom Vehicles
There's little doubt that lifted pickup trucks are more popular on the road today than ever before. That's why it is probably safe to say a lift kit of some kind if going to be the most popular upgrade. They offer a huge number of benefits, and drivers from all over love them. We specialize in suspension lifts, but there are other kinds of lift kits out there to consider. If you have the budget, though, a suspension lift is going to offer the best performance.
Additional upgrades that have a lot of support today are running boards. These accessories can go especially well with custom trucks. They make it easier for you and your passengers to enter and exit the pickup truck. Additionally, if you install a suspension lift, you're likely also going to want a new, larger set of tires. The trick is finding the right set of tires for your typical driving situations. Contact our team and we can help.
Other popular upgrades to consider include LED headlights, an enhanced towing setup, and even an engine performance chip. This last accessory can give you more precise control over your engine, letting you turn off unwanted features and tweak performance in a number of ways. If this sounds interesting to you, let us know and we'd be happy to install one! Our team is accurate, works fast, and will go the extra mile to make sure you're happy.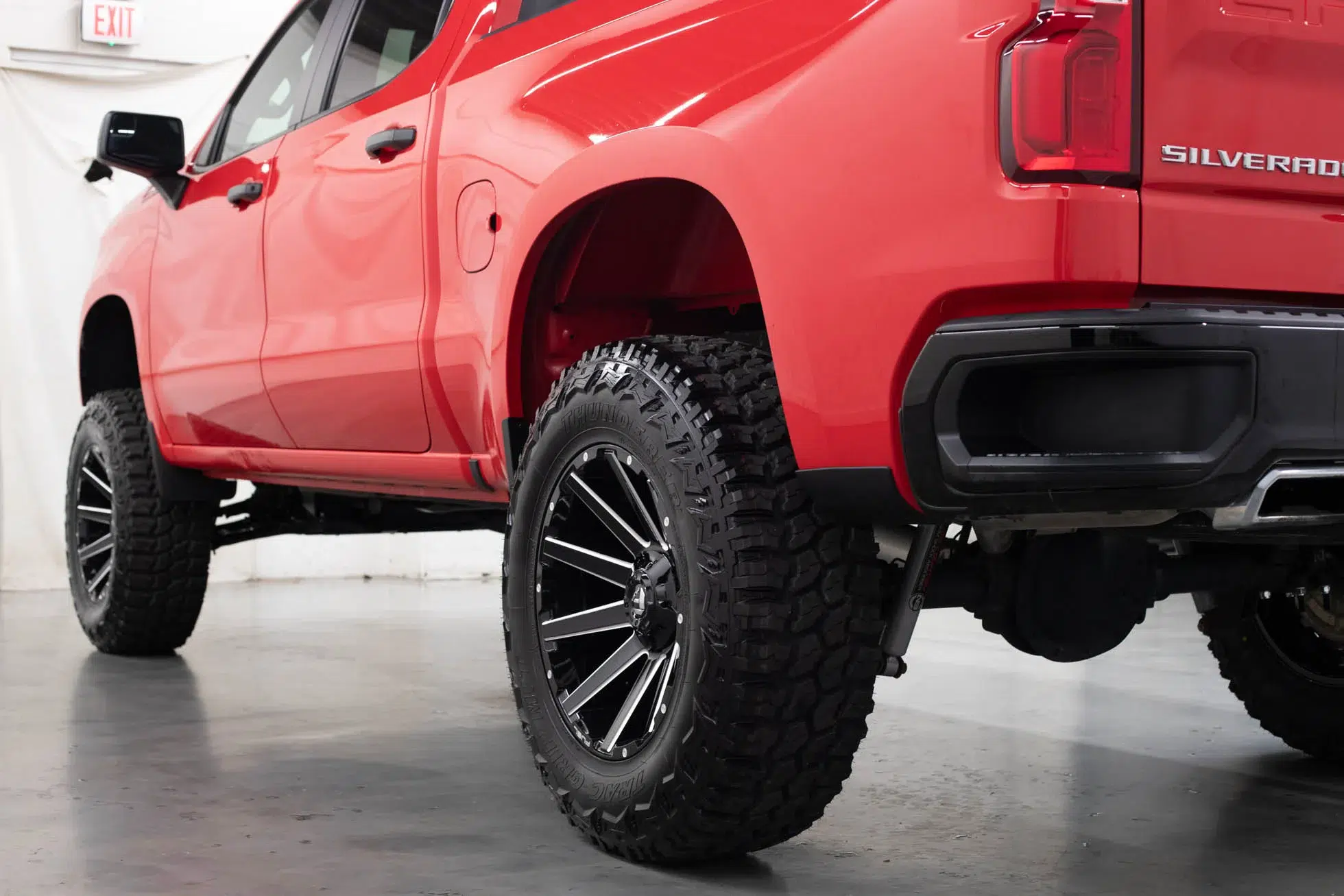 Rust-Free Inventory at Your

Lifted Trucks Dealer
Another element that helps Ultimate Rides stand apart is the quality of our vehicles. We don't just take any old truck, customize it and sell it. We specialize in high-quality vehicles. That means trucks that run great, and are free of rust damage. You may be wondering how we're able to accomplish this while being located in the Midwest. It's not easy! The moisture from frequent rain and snow, mixed with the heavy presence of salt on the roads, makes this region a haven for rust on vehicles.
We circumvent this by bringing in our rides from warmer parts of the United States, such as California. Our buyers head out to find the best vehicles out there and we bring them back to our shop to get ready for you! Most auto dealers in your local area probably have an assortment of vehicles that vary in quality. Here at Ultimate Rides, you'll find only the best rides waiting for you. If you're tired of playing a game of chance each time you go shopping for a different ride, visit the best custom auto dealership around: Ultimate Rides.
Get the Best Price Possible with
Ultimate Rides
Finding a good price on a lifted truck isn't always easy. There are many places out there that will jack up the cost of a truck as much as possible. That's not something you'll have to worry about at Ultimate Rides. While you'll certainly find that custom trucks do cost more than a standard model, we work very hard to keep the cost down as much as possible. This ensures that you get a fair deal, no matter what model you decide to purchase. We offer an inventory of models like the Ford F-Series (including Super Duty models), GMC Sierra, Chevy Silverado, and many more at market value plus the cost of upgrades. If you're concerned about the price of one of these vehicles, get in touch with us and we'll be happy to try to find something that fits square within your budget.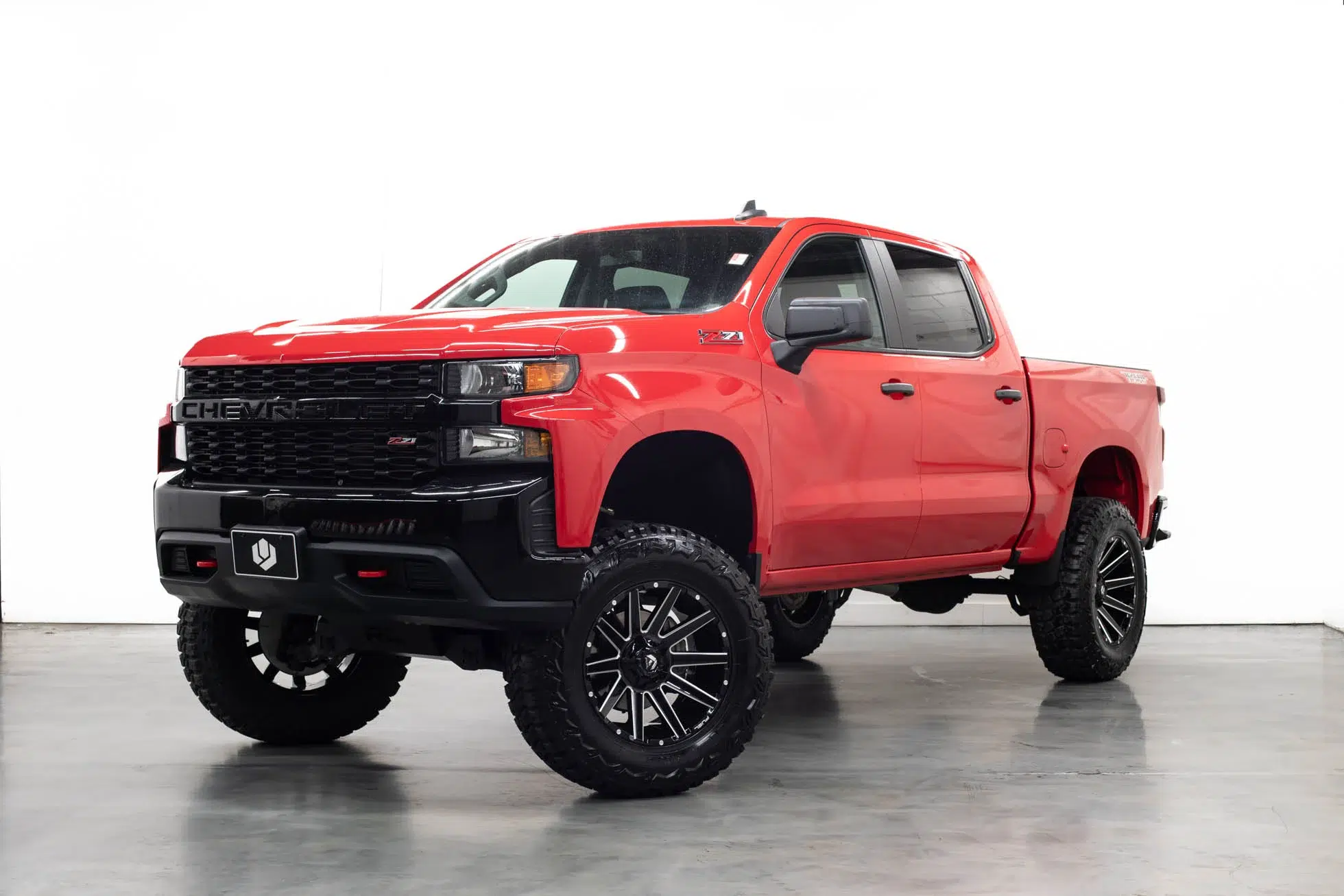 Customer Service That Respects

You and Your Time
It's no secret that auto dealers have developed a pretty negative customer service reputation over the years. At Ultimate Rides, we're a family business, and we take that seriously. You'll find a completely different customer service experience at Ultimate Rides than what you've come to expect from an auto dealership. We're a custom trucks dealer that treats our customers with understanding and respect. We're not out to convince you to buy a certain new ride. Instead, we want to help you find exactly what you want.
Additionally, our staff will go the extra mile to make sure our customers have a great experience. We can help you track down a vehicle you've been searching for, for instance. Just let us know what make, model and model year you want, and leave a small deposit with us. Our buyers will keep their eyes peeled for the right model, and you'll know as soon as we find it. It shouldn't take too long, as our buyers see a ton of vehicles in their searches. On top of that, if there's something else you think Ultimate Rides can help you with, just let us know.
Driving a Lifted Truck –
What to Expect
If you have never driven a lifted truck before, it's okay to be unsure of what to expect. The truth is that it can be different from your standard driving experience in a number of ways. The basics are all the same, of course. You won't have to re-learn how to drive! However, you will definitely notice some differences. You'll be higher up off the ground, allowing you to see over most of the other vehicles around you. This certainly has some advantages, but there's an important drawback to remember. It'll be harder to see things that are really close to your vehicle, so you'll need to be careful when you get near anything else.
You'll find a number of off road performance upgrades when you raise your pickup. With more ground clearance, you'll be able to avoid rocks, sharp grass, and many different obstacles as you drive. Additionally, you'll have a better angle of approach for uneven terrain. With the right set of tires, you can even have a better time in the mud, ensuring you don't get stuck on accident.
The last thing we want to mention here is your truck's center of gravity. When you raise up the body or suspension, you're also raising that center of gravity. That means you must be more careful when you turn. Take those turns slowly. Otherwise, you risk the chance of flipping your truck. As long as you keep up safe driving habits, you won't have to worry!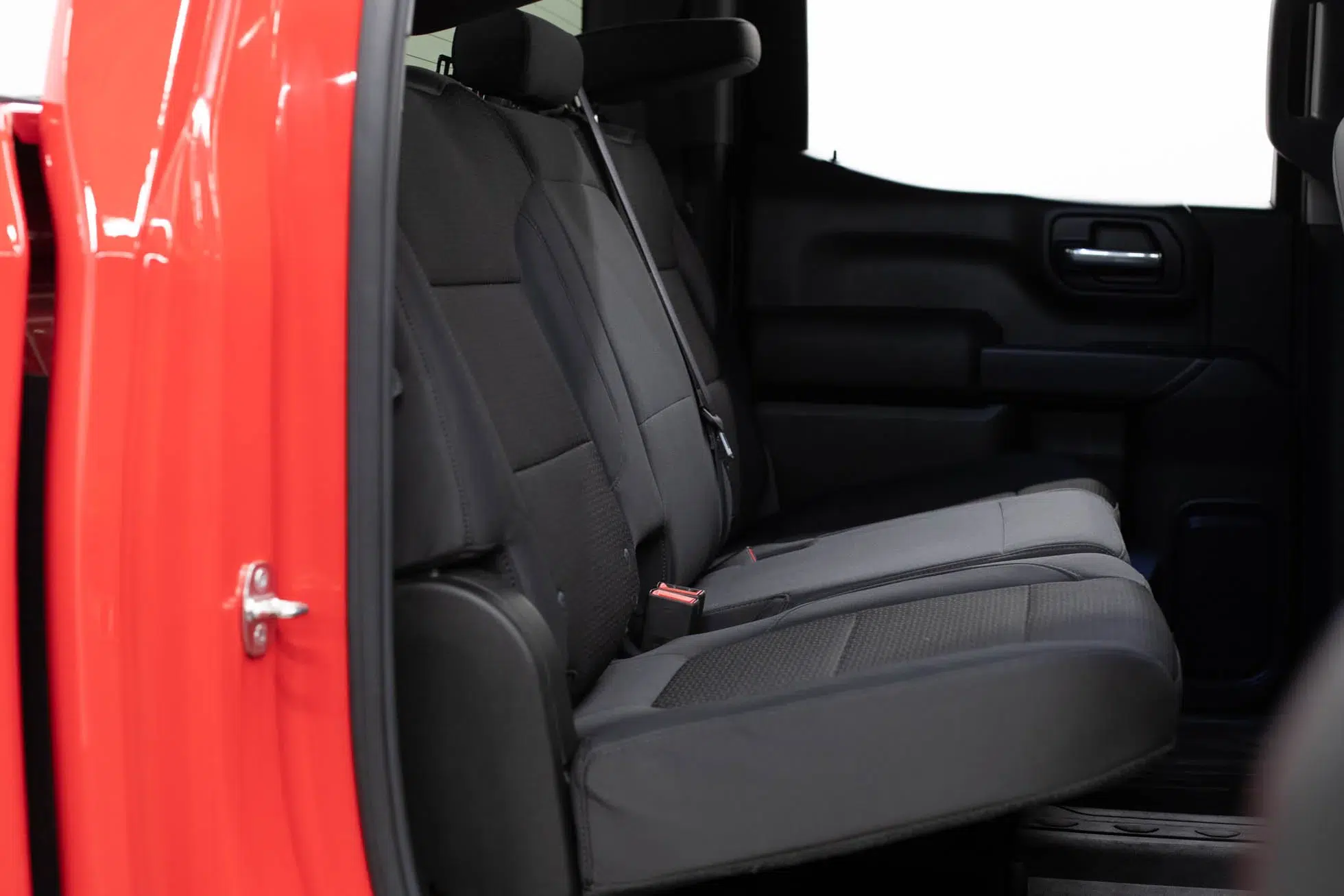 Repair, Maintenance and

Detailing Services
Along with everything we've already talked about, Ultimate Rides also offers a number of other services for your automobile. Whether you purchased your ride from us or not, our shop is open and available to you. We provide repair services for your pickup, SUV or car for problems both big and small. Whether it's something major like engine problems or a minor lingering problem, let us know and we can help. Additionally, you'll find maintenance and detailing services available here. We're the place you want to visit to get your vehicle in better shape than ever before. Just get in touch to set up an appointment for your ride.
Benefits of Driving

Lifted Trucks
At this point, you may be wondering why exactly you'd want to opt for a lifted truck. We're happy to tell you! There are a number of advantages offered by lifted suspension, and that's especially true for drivers interested in heading off-road. By lifting your suspension, you'll have more clearance between your truck and the ground. This will help you avoid scratches and other damage from rocks, bushes and other terrain. You'll also have a higher vantage point to see from, allowing you to see obstacles farther away than you normally would.
Even if you're not interested in off-road driving, you'll find some distinct benefits from your lifted suspension. It adds a stylish aggressive look to your truck, making it the envy of your neighborhood. You'll also notice a difference in the way your truck drives. It's difficult to explain, but lifted suspension just has a different feel to it. If you think it's right for you, come to Ultimate Rides for the best lifted vehicles.
Give us a call at 815-634-3900 if you want to speak to a member of the team. You can also find our office at 38 W. Division St., Coal City, IL 60416 if you want to stop by.
---
Two Brothers With a Dream

,

Building The Best Ultimate Rides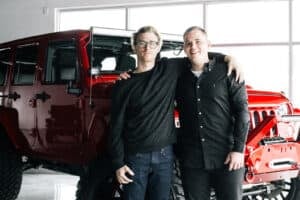 Ultimate Rides consists of two brothers who have been buying and selling custom vehicles for over ten years. Selling lifted trucks by day and writing these awesome reviews by night! They started their Ultimate Rides journey with a third brother Jake, who was a big part of building the business they have today. In 2016 Jake passed away and losing their brother was the hardest thing they ever had to deal with. Even though they had a tragic loss they plan to continue to set a new trend for the auto industry, keeping customers number one. Pushing the envelope on the lifted truck market, these guys love researching and learning about everything in the auto industry!
 — Nick and Alex Bulanda, Founders of Ultimate Rides