Lifted Trucks for Sale in PA
Need a Rust Free Lifted Truck in Pennsylvania?
We've Got You Covered
Whether you're driving on city streets or across the turnpike, it doesn't take very long before a vehicle starts to gather a good deal of rust in Pennsylvania. When you go out to buy your next vehicle, nobody really wants a vehicle with rust but in the northeast it can be hard to find any without it. If you are looking for lifted trucks for sale in PA that are still in great shape and without rust, we think you might like what we have to offer. Despite being based out of Chicago, we service the entire country in providing rust free lifted trucks, including and especially the state of Pennsylvania.
We send our specially trained truck buyers out across different regions of the United States in search of high quality vehicles that are free of rust. Those trucks are brought back to our home base and in some cases sent to our lift center for custom work. We have plenty of lifted trucks for sale in PA already in our inventory, but if you see something you like but want adjusted you can always have it sent to our lift center before we ship it out to you. We'll be able to add, remove or adjust a lift kit, install custom grilles, headlights, tires, wheels and more. If there's some custom work you want done on your truck before it's shipped out, there's an excellent chance that we can do what you need.
Lifted Trucks for Sale in PA at
Incredible Prices
We've established that we have a fantastic inventory of lifted trucks for sale in PA that you can choose from, but there are more reasons we think you'll have a great experience buying from us. One of those reasons is the fact that we have highly competitive prices even including the cost of transportation, which can be financed as a part of your deal. We do everything we can to keep our prices down, and first and foremost we don't try to take advantage of the people who decide to spend their money on our vehicles.
Ultimate Rides began over a decade ago as a business run by brothers with a passion for lifted trucks and a vision for a better business model that could take shape. Ever since, Ultimate Rides has been run with a mentality that we can do better than that. We don't try to pull any tricks or use transparent sales tactics. Our staff is friendly and knowledgeable about the product, and we'll do everything we can to make sure you have a great experience when you shop through us. Any time you have questions or concerns, before or after you buy, simply give us a call and we'll be able to help.
Unparalleled Customer Service Offered

at Ultimate Rides
At Ultimate Rides, we have a team of customer service representatives standing by ready to help. We understand that the car buying process can take time, and there's a lot of information to digest. Our team will be helpful, friendly and respectful, ensuring you don't feel your time has been wasted. Just give us a call! We can fill you in on all the details of our inventory, as well as help you out in a number of other ways. While other dealerships can often be found trying to dodge questions or squeeze as much money as possible from consumers, that's not our style. Instead, we believe it's our job to satisfy you as best as we can. That way, you can tell your friends about us as well as come back for your next vehicle in the future!
One of the things we can do to go above and beyond for our customers is help you track down the vehicle you've been looking for. If there's a specific make, model and model year that you've been having trouble tracking down, with a small deposit we will have our buyers stay looking out for it. Our buyers travel to far areas of the country to pick out the best vehicles we can find. As soon as we can track one down, we'll bring it back to our shop, get it cleaned up and then have it ready for you. You will be able to either come and pick it up from us or we'll have it delivered for a small additional fee.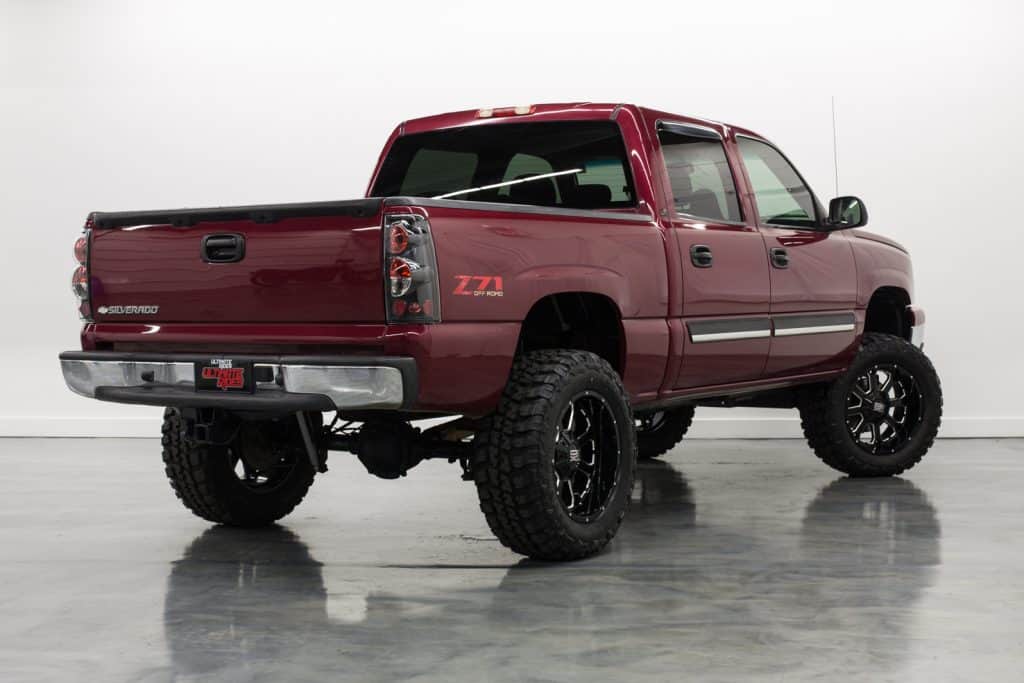 Find and Customize
Lifted Trucks for Sale in PA
Another reason to check out Ultimate Rides is the easy availability of our lift center. We have a team of service technicians who work with these vehicles pretty much every day. This kind of custom work can be difficult for mechanics to complete, and a screw up can be incredibly costly. That's why it's important to hire technicians you can trust, and the kind of lifted trucks for sale in PA that you're looking at now are exactly our specialty. When you use our lift center, you'll get a fair price with a reliable team, and we can even include the cost of service within your truck financing deal.
In our lift center, which we built back in 2017, we are able to install a variety of custom grilles, bumpers and headlights of varying type and color. There are also of course lift kits we can install, such as a full suspension lift kit to get you way up off the ground. With a lift kit you are likely going to want a bigger set of tires and wheels, and we have plenty of very cool custom ones for you to choose from. Like we said before, this stuff is our passion, and we hope that it shines through in our work.
History and Background on

Lifted Trucks in America
If you were to go back and look at the history of trucks with lifted suspension, you may be surprised at what you find. Though many assume this to be a newer trend, the history of lifted suspension goes all the way back to the early years of the automobile. With the advent of World War I, the military decided to adjust the suspension of their 4×4 vehicles to help them move around in difficult terrain. That tradition continued onward, but it wasn't until way later in the 1970's that the trend began picking up steam with citizens.
During this period, mechanics began tinkering with their own vehicles. They'd outfit them with custom lifted suspension, often so they could also traverse more rough ground. The trend continued to grow in popularity, but slowly. It wasn't until the late 80's and early 90's that aftermarket kits became easier to find. This allowed everyday drivers to outfit their trucks with lift kits. In the time since aftermarket kits were introduced, the lifted truck has seen an explosion in popularity.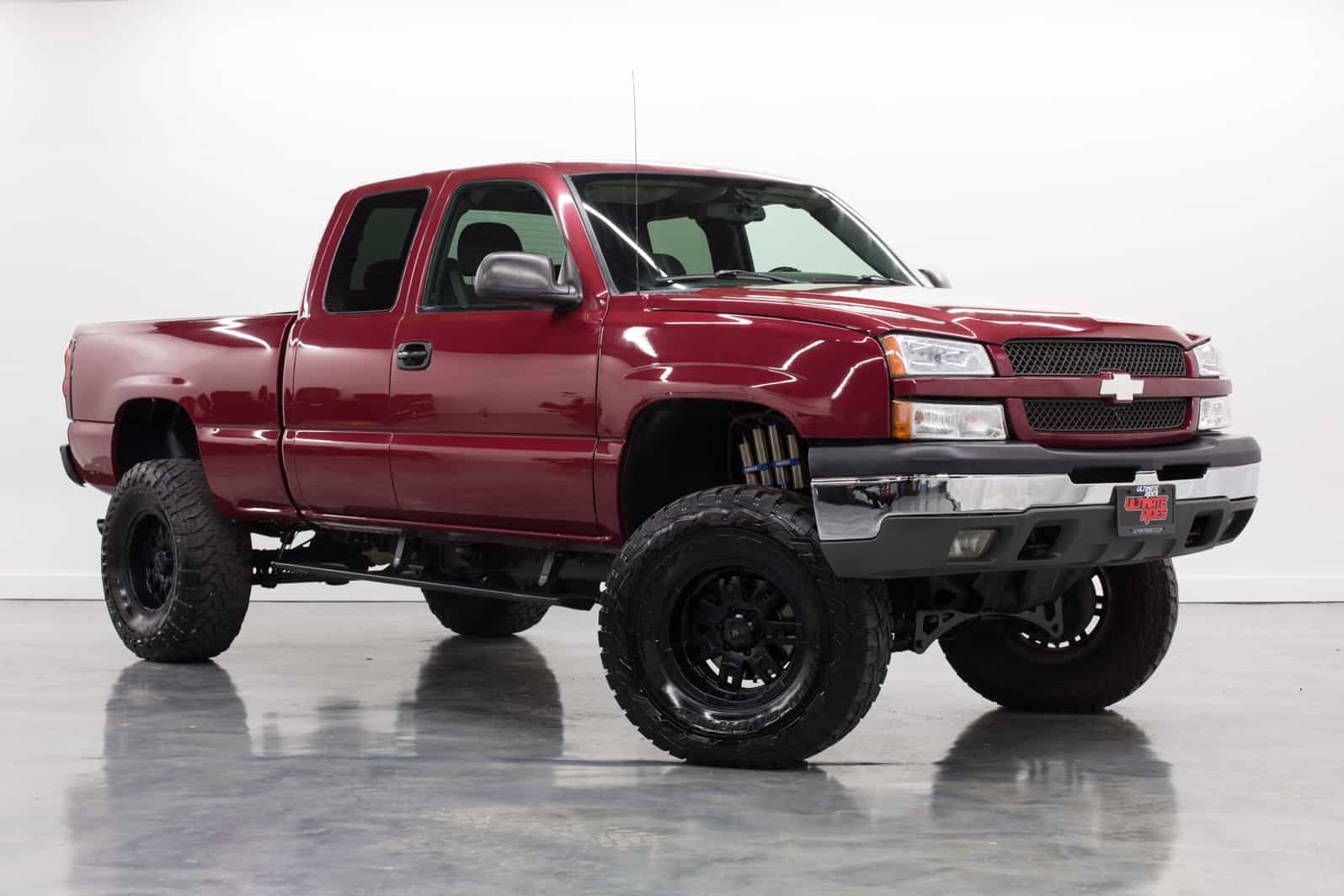 At Ultimate Rides, We'll Find or Put Together
Your Dream Truck
If you've been scouring your local area and online for a specific truck model and you have yet to find any luck, we might be able to help. If we don't already have the truck you're looking for in stock, you can leave a deposit with us and we will make sure our buyers stay on the look out for the vehicle you are searching for, and we'll have it sent back to our lift center for work and shipped straight to you. Any kind of lifted trucks for sale in PA that you're looking for, we can find. It's just one more way we try to go above and beyond to prove ourselves to our customers.
We know how hard it has become buying a truck, new or used. The process is long and drawn out, and often filled with annoyance. We are aiming to change that with the way we do business. If you're in need of a lifted truck, we think we can help, and hopefully convince you to let your friends know how awesome we are! We have a huge variety of available vehicles, and more coming in all the time, so if there's something you're looking for in particular we will be able to help.
If you'd like to give us a call and find out how to move forward, you can reach us at 815-634-3900, or visit our Contact Us page to leave us a message! If you would instead prefer to come and meet in our office, you will find us at 38 W. Division St., Coal City, IL 60416. That's about one hour south of Chicago!
---
Two Brothers With a Dream

,

Building The Best Ultimate Rides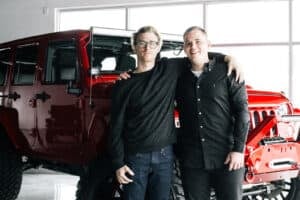 Ultimate Rides consists of two brothers who have been buying and selling custom vehicles for over ten years. Selling lifted trucks by day and writing these awesome reviews by night! They started their Ultimate Rides journey with a third brother Jake, who was a big part of building the business they have today. In 2016 Jake passed away and losing their brother was the hardest thing they ever had to deal with. Even though they had a tragic loss they plan to continue to set a new trend for the auto industry, keeping customers number one. Pushing the envelope on the lifted truck market, these guys love researching and learning about everything in the auto industry!
 — Nick and Alex Bulanda, Founders of Ultimate Rides