Used Lifted 4×4 Trucks for Sale Near Me
The Best Used Lifted 4×4

Trucks for Sale Near Me
Are you looking to purchase your next pickup truck soon? If you are, we highly recommend taking a look at the inventory available here at Ultimate Rides. We offer a wide selection of high-quality custom vehicles available at fair prices. Best of all, we can deliver a vehicle straight to your home. That means no matter where you are, Ultimate Rides has the best used lifted 4×4 trucks for sale near me. In today's guide, we'll be breaking down all of the things that make Ultimate Rides different from your everyday auto dealer. Stick around if you want to find to find the perfect truck!
We're excited to tell you all about our custom lift center, where our vehicles go from standard to extraordinary. Additionally, we've got details concerning our customer service philosophy, the high standard of quality for our vehicles and much more. If you're currently in the market for a custom pickup truck, you owe it to yourself to check out Ultimate Rides and all we have to offer. Once you're ready to get the buying process started, all that's left to do is give us a call! You should also feel free to pay a visit to our office in you're in our area. We're located just about one hour south of Chicago in Coal City, and we're always happy to meet new people!
Count On Ultimate Rides

Working for You
At Ultimate Rides, we pay extra attention to our customer service and the way we treat people. We're very aware that the used auto industry has developed a very negative reputation with customers. We have set out to change that perception for the better. Hopefully you find that we do it through our actions, offering the best customer service experience possible. It starts with our customer service team members, but the mentality extends to everyone employed by Ultimate Rides. We aren't just out to make a quick buck by unloading vehicles. Instead, we want to be the dealer that matches you up with your ideal vehicle.
Additionally, there are some ways we can go the extra mile to help. If you think there's something we can do for you, don't hesitate to let us know! We'll also pick you up from the airport and drop you back off if you decide to fly out to come and see a vehicle. If you're searching for a specific vehicle but haven't had any luck in finding it, be sure to tell us. With a small deposit, we'll have our buyers track down this vehicle and bring it back to our HQ. From there you can come and pick it up or even have it delivered right to your driveway! Whatever we can do to ensure you have a good experience, we will do. That's why so many customers choose Ultimate Rides for used lifted 4×4 trucks for sale near me.
Our Vehicles are

Rust-Free and Totally Clean
One thing that you can always rely on is finding rust-free vehicles at Ultimate Rides. This isn't always easy, especially because we're located in the Midwest. Rust thrives in wet, salty conditions, and that is exactly what you find on Midwest roads. So what is our solution?
We send our vehicle buyers out to warmer areas of the United States. This includes places like the Southwest and California. There they select the best vehicles they can find and bring them back to our shop. We get them cleaned up, and oftentimes will customize them in our lift center. From there, they get listed on our website and sold!
You can always rely on the vehicles you find at Ultimate Rides. That is one of the major things that sets us apart from your average local auto dealer. It can be difficult to know exactly what you're getting there. With us, you'll have a guarantee of quality that you can rely on. Just get in touch if you'd like to learn more, or if you are ready to buy!
Used Lifted 4×4 Trucks for Sale Near Me –

Delivered!
Another one of the reasons Ultimate Rides is so popular with customers is our vehicle delivery. It means that despite being located in the center of the country, we can get a vehicle to you no matter where you are. That's why we're the go-to choice for used lifted 4×4 trucks for sale near me. We would recommend starting out by looking at the inventory shown here on our website. This will allow you to get your eyes on our vehicles. Pick one, or a few. Then, when you're ready, you can give our office a call.
We'll help answer all of your questions about the vehicle you're interested in, as well as provide more photos. Once you've made a final decision, we can arrange all the financing and shipping details right over the phone. Our process is secure and simple. Before too long, we'll be getting your vehicle ready to be sent out! You will even have the option to finance the cost of delivery, or pay for it ahead of time. Either way works for us, so once again you can choose the option that's desirable for you.
Custom Lift Center Services at

Ultimate Rides
Back in 2017, Ultimate Rides completed construction on our brand new lift center. With it, we have access to all of the newest and best equipment and tools to work on vehicles. However, without our team, all of that would mean nothing. The Ultimate Rides lift center team is made up of some of the best auto technicians around. We're ASE-certified, and have tons and tons of experience working on custom vehicles. As we said before, we have a very high standard of quality. That applies to our own work as well as the vehicles we bring in!
Each time you purchase a vehicle from Ultimate Rides, you'll have a choice to make. You can either take the vehicle as-is, or you can have it sent over to our lift center for more work. We can adjust the size of the lift kit, as well as offer custom tire and wheel packages, performance chip installation, running boards, custom lighting and more. All of the work you decide to have done on the vehicle can either be paid for upfront or financed along with the vehicle. We want to make sure you have plenty of options, so choose whatever works best for you!
Plus, even if you decide not to buy a vehicle from Ultimate Rides, our lift center is still available to you. Bring in your current vehicle and we can upgrade it with whatever you'd like. Before you know it, your plain old vehicle can become something truly special. Just get in touch with our team to move forward!
Further Information About

Lifted Suspension
If you're not already a truck hobbyist, you may not be sure what exactly lifted suspension is. That's okay! We're here to tell you. Lifted suspension is exactly what it sounds like. We raised the suspension of a vehicle to bring it higher off the ground. There are multiple ways of doing this, but lifting the suspension the good old fashion way is the most reliable. It is also, however, usually the most expensive. There are cheaper lift kit options available that raise up the body of your vehicle with blocks or other equipment. These aren't necessarily bad, but you won't find the same quality you will from true lifted suspension.
Are you wondering what the advantages are that come with lifting a vehicle? The primary thing people are looking for is that upgraded look. Additionally, vehicles with lifted suspension simply just drive differently. You'll understand once you find yourself behind the wheel of one. On top of that, you'll also find a number of off-road performance benefits. Find used lifted 4×4 trucks for sale near me and you'll be a lot more prepared to head into the wild. Lifted suspension provides greater ground clearance, protecting your vehicle from obstacles and debris. It also provides a higher vantage point for you to see from!
Auto Repair, Detailing and Maintenance

Available Here
On top of everything else we offer, our shop is also open to the public for repairs, maintenance and detailing. If you want to get your current vehicle running and looking better than ever, Ultimate Rides is the place to go. We understand that it can often be difficult to track down a team of mechanics that you can actually trust. That is exactly what we set out to do in our shop. Our pricing is fair, and we'll be totally transparent with you about how we arrived where we did.
If you have any questions about the services we offer, or you want to schedule an appointment for your vehicle, simply give our office a call. We've got the most helpful staff around, and we want you to have a great experience. You'll get your vehicle back in a timely matter, with all the agreed upon services completed. You can count on us to take great care of your ride.
Choosing the Perfect Truck

for Your Needs
We stay stocked up with a wide variety of vehicles at Ultimate Rides. If you're searching for used lifted 4×4 trucks for sale near me, we've got the selection for you. You'll find all the most popular trucks in a number of different models years, including 2020. Choosing the right one depends upon your needs and your budget. We have all the most popular models right here, including the Ford F150, Ram 1500, Chevy Silverado 1500 and more. Take a look at our inventory to get an idea of what's currently available. You can also feel free to give our office a call and find out exactly what's waiting for you here at Ultimate Rides. We're confident your ideal truck is here.
It's All Here at

Ultimate Rides
So there you have it! Today we've provided you with a truck-load of information on Ultimate Rides. We're located in the heart of the Midwest, but you can bet that we'll serve you no matter where you live. Just give us a call to order a vehicle over the phone, and it'll be on its way soon! We also have the best custom truck shop around.
If you're in the area, you can find us at 38 W. Division St., Coal City, IL 60416. Otherwise, get in touch with us over the phone today at 815-634-3900.
---
Two Brothers With a Dream

,

Building The Best Ultimate Rides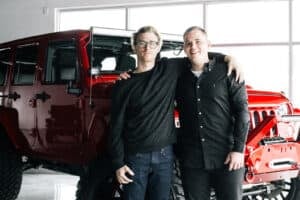 Ultimate Rides consists of two brothers who have been buying and selling custom vehicles for over ten years. Selling lifted trucks by day and writing these awesome reviews by night! They started their Ultimate Rides journey with a third brother Jake, who was a big part of building the business they have today. In 2016 Jake passed away and losing their brother was the hardest thing they ever had to deal with. Even though they had a tragic loss they plan to continue to set a new trend for the auto industry, keeping customers number one. Pushing the envelope on the lifted truck market, these guys love researching and learning about everything in the auto industry!
 — Nick and Alex Bulanda, Founders of Ultimate Rides