Lifted GMC Denali for Sale at Ultimate Rides
Visit Ultimate Rides to Secure a

Lifted GMC Denali for Sale
Do you feel like it's time you started shopping for your next vehicle? Here at Ultimate Rides, we have a stunning inventory of custom vehicles available right now. Plus, with our vehicle delivery, it doesn't even matter where you live. We can get one of our vehicles brought straight to you securely. If you're tired of dealing with untrustworthy auto dealers and technicians, Ultimate Rides is meant to be a breath of fresh air. We hope you'll take a look at this guide to see if you might find your next vehicle waiting here.
Whether you're in search of a lifted GMC Denali for sale, or you're still not exactly sure what you need, we can help you find it. Many of the vehicles for sale here already have custom modifications from our team. On top of that, you'll also be able to customize any one of our vehicles before you take possession. Read on to learn more about Ultimate Rides!
An Inventory Filled with

Rust-Free Vehicles
It's more than just custom modifications that set our vehicles apart. Ultimate Rides also has a high standard that we keep for all the vehicles we bring in. That includes being rust-free. It's not easy, but we go the extra mile to ensure we provide top-level vehicles to our clients. It starts by sending our buyers out to warmer regions of the United States. They track down the best vehicles they can and bring them back for us to customize and pass on to you. You won't find an inventory quite like this anywhere else, and that's just another one of the things that makes Ultimate Rides different than your average auto retailer.
Custom Trucks and SUVs Built at

Ultimate Rides
Our lift center is something special, and one of the reasons we're able to provide such incredible vehicles. We have our own team of ASE-certified technicians on-site, who customize the vehicles you see in our inventory. Our team is the best there is at customizing vehicles, and we think their work speaks for itself. Take a good look at our inventory to see what we mean. You'll find options like a lifted GMC Denali for sale, as well as plenty of other choices to consider. Best of all, any time you buy one of our vehicles, you'll have the opportunity to customize it even further. Let us know what you'd like done and we can make it happen. Plus, you'll be able to choose whether to pay for this service now or finance it and pay it off alongside your new vehicle.
If you feel like now isn't the right time to upgrade into your next vehicle, we can still help you out. Our service center is open to the public, meaning you can let us customize your current car, truck or SUV. While it's great to have access to a custom lifted GMC Denali for sale, sometimes sticking with your current vehicle for a few more years is the right move. That doesn't mean you have to give up on some awesome modifications though. Get in touch with us and we can schedule an appointment to work on your ride soon!
Learn About Ultimate Rides'

Vehicle Delivery
Though we are located in the Chicago area, Ultimate Rides is able to provide custom vehicles for folks all across the country. That's because we offer a smooth and simple delivery service that ensures you can have your dream vehicle brought right to you. No matter where you're from, feel free to give us a call or continue browsing our site. When you're ready to get into details, a member of our team will tell you everything you need to know. We'll even be able to provide you with more pictures and details of the vehicle you want.
When you've made your final decision, we can handle financing and shipping with you over the phone. You can decide whether you'd like any additional work done on the vehicle. If so, we'll get right to it and send the vehicle out as soon as the job is done. You'll also be able to decide if you want to pay for shipping upfront, or if you'd rather finance it. That will allow you to pay the cost of delivery off along with your vehicle in a single monthly payment. Either way, we want to make our vehicles accessible to everyone. Whatever works best for you is fine with us! To learn more about our delivery, get in touch with our office soon!
Customer Service That Keeps You Coming

Back for More
After buying a vehicle through Ultimate Rides, you won't ever want to deal with another auto dealership again. We work hard to separate ourselves from the pack, and one of the main ways we do that is through unparalleled customer service. Sure, our inventory and lift center are very important, but none of it would matter if our customers didn't feel we respect them. At Ultimate Rides, we are here to match you up with your ideal vehicle. You can trust that we won't try to unload any unwanted inventory on you, or try to make a quick buck off you. Instead, we see ourselves as a specialty dealer for customers who want next level custom vehicles. That means we're here to serve you!
If there is a way you think we can help you out, just let us know and we'll do everything we can to assist you. If you come in (or call us) knowing exactly what model vehicle you want, our team will line you up with it. Not everyone is certain exactly what vehicle they want. If you have a general idea, we can help you narrow down your choices to find the right model. Sometimes the right vehicle isn't currently available in our inventory. Ultimate Rides can also help you track down any specific vehicle you want to find. Just let us know and with a small deposit we will have our team search for it. As soon as we have it in our hands, we'll let you know and we can arrange pickup or shipping! This is just one of the many services you'll find at Ultimate Rides.
Detailing, Maintenance and Vehicle Repairs

Available Here
Our service center is capable of more than just customizing vehicles. If you're having issues that you need solved, or you want to get your vehicle clean as can be, choose Ultimate Rides! As we said before, our team is truly the best around. Too many people have gone through trial and error only to find out they can't rely on auto mechanics. Well, we're out to change this aspect of our industry too. Choose us for your auto needs and you'll find a team that's ready to tackle any problem, big or small. Along with maintenance and repairs, we also offer detailing for your vehicle. You can rely on us to get it sparkling and shining like never before, inside and out. If you have any questions or want to make an appointment, we're just a phone call away!
Closing

Words
Does it sound like Ultimate Rides could be the right place to find your next vehicle? There's nowhere better to track down a lifted GMC Denali for sale, as well as a huge variety of other vehicles. Give us a call today at 815-634-3900 to start the buying process, or to find out more about any of our vehicles. If you're in the Chicago area, you can stop by and see us today at 38 W. Division St., Coal City, IL 60416. See you soon!
---
Two Brothers With a Dream

,

Building The Best Ultimate Rides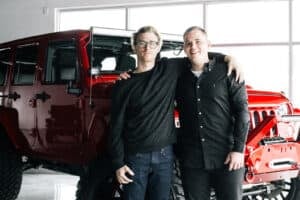 Ultimate Rides consists of two brothers who have been buying and selling custom vehicles for over ten years. Selling lifted trucks by day and writing these awesome reviews by night! They started their Ultimate Rides journey with a third brother Jake, who was a big part of building the business they have today. In 2016 Jake passed away and losing their brother was the hardest thing they ever had to deal with. Even though they had a tragic loss they plan to continue to set a new trend for the auto industry, keeping customers number one. Pushing the envelope on the lifted truck market, these guys love researching and learning about everything in the auto industry!
 — Nick and Alex Bulanda, Founders of Ultimate Rides