Best Leveling Kit for 2020 Silverado 1500 | Leveling Kits
How to Choose the Best Leveling Kit for

2020 Silverado 1500
Did you buy a 2020 Silverado 1500 only to find that the vehicle has a slight sag towards the front end? You're not alone there. Whenever we buy a truck, one of the first things we do is outfit it with a leveling kit or a lift kit to even things out. However, it's not always easy to find the right kit. There are countless options for leveling your Silverado, and each one has slight differences.
At Ultimate Rides, we consider ourselves lift and leveling experts. We have experience installing kits of all styles and sizes, and that includes a ton of options for the Silverado in particular. With that in mind, we've put together a guide that we think will help you find the best leveling kit for your 2020 model of the Silverado 1500 truck. There's a list featuring eight of our favorite kits below. Some of them are regular leveling kits, while others are lift kits that raise up the front slightly higher to make sure things are even. Whatever style you decide on, we're confident one of the kits below will work for you.
After our list, you'll find a buying guide that will offer up some more advice for you. Once you're through with this guide, you should be armed with all the knowledge you need to find the right kit. If you're unsure about any of the kits we've shared, feel free to contact the Ultimate Rides office. We'll tell you more about installing these kits on your 1500, as well as offering more general advice on leveling a Silverado.
---
1. TORCH Off Road 2.5″ Front Strut Spacer Leveling Kit 
In our opinion, pound-for-pound, the best leveling kit for Silverado models is this option from TORCH Off Road. This company is one of the best providers of kits meant for leveling out a Silverado truck. While most 2020 models of the Silverado 1500 likely won't have this much of a front suspension sag at this point, it does certainly happen. You could also pair up this with a set of rear blocks and get a nice little boost to your truck while also leveling it out. While suspension kits are better for increasing the height of a Silverado, blocks and spacers are the kind of kits that can get that done at a more affordable price. TORCH Off Road is a trustworthy manufacturer, and you'll find a nice lifetime warranty for these strut spacers. The company also has great customer service and fast delivery. The installation instructions may be a bit hard to follow at points, so that's something to be aware of. However, we think you'll have a great time with theses once you install them.
---
2. TORCH Off Road 2.5″ Front 2″ Rear Leveling Lift Kit
Next up, we have another kit from TORCH Off Road. This time, it's a combination leveling lift setup. If there's a half-inch difference in your front and rear end, but you also want to raise up your vehicle by a couple of inches, this is the kit for you. These kits are still quite affordable, and can give you a taste of what it's like to drive a Silverado with a lift. Installation isn't too difficult to accomplish on your own at home, and once again the product comes with a useful lifetime warranty. However, we feel pretty confident you won't ever have to use it. Everything you need for installation is found in this package, so go ahead and pick it up with confidence today! It features truly great customer reviews, and offers a way to lift your Silverado without having to tinker with suspension. On top of that, you'll find that it's excellent for leveling out your vehicle.
---
3. Maxracing 2.5″ Front Leveling Kit with Strut Spacers
Our next leveling kit comes from manufacturer Maxracing, and offers 2.5 inches of lift for your front end. This kit is simple and efficient, and has very strong customer reviews. It features bolt-on installation, making it a solid first step for someone looking to start in this hobby. With just a few parts, you should not have a difficult time leveling out your Silverado truck with one of these leveling kits. Additionally, it comes with a useful set of instructions for installation, and should hopefully just take a few hours of your time. Something to be aware of is that this kit does not fit on Trail Boss models of the Silverado. That won't be a problem for most people, though. We feel confident this is up there as a contender for the greatest way to level out a Silverado pickup truck. While there are kits out there that offer better overall performance for your Silverado, you'd wind up spending a lot more money to do so, making this a good choice for those looking to give things a try without altering suspension.
---
4. ReadyLift 66-3921 1.75" AT4 and Trail Boss Leveling Kit
If you do happen to own a Trail Boss Silverado, this could be the right kit for you. It's made by manufacturer ReadyLift, who is one of the leaders in the industry for lift and leveling kits. While many of their options are suspension kits, this front body kit is a very solid choice for leveling. It will raise your front end by precisely 1.75 inches, so make sure to do some measurements before picking this up to see if it's right for your truck. If it is, you should get plenty of use from this leveling kit. It will make sure your Silverado is looking aggressive and as good as ever. It includes a pair of control arms, two spacers, and all the hardware you'll need for installation. Most drivers will have no problem leveling out their Silverado with this kit at home. It has a five-star rating from customers, making it one of the top leveling kits to consider.
---
5. Maxracing 2″ Front Leveling Kit with Strut Spacers
Next up, we've got another kit for you from Maxracing. You should know about this manufacturer of leveling kits by now. This time, it's a basic two-inch front leveling system. This is one of the most common kits out there, and this is a strong pick for its size. It's very affordable, and will get the job done. What more is there to ask for in a leveling kit? While you'll likely be able to find better quality and performance if you spend more money, this is the best kit to level out a Silverado if you are on a tight budget. With proper installation, it'll still do good work for you in the long run. Just be sure to measure out the front and rear of your Silverado to ensure that a two inch lift will do what you need it to.
---
6. Supreme Suspensions 3.5″ Front 3″ Rear Leveling Lift Kit
One of the most popular lift and leveling kit manufacturers out there is Supreme Suspensions. We're actually a little surprised that one of their kits hasn't already appeared on our list, but that may be because they offer a slightly higher lift for Silverado drivers compared to many other leveling kits out there. If you're looking for a nice three-inch boost to your truck, while also raising the front end by an extra half-inch, this is gonna be the right kit for you. It's available now at a pretty great price for everything you're getting. While you may want to opt for expert installation, the end result will be something you're definitely proud of. Go ahead and get this kit today if you want a new look and feel for your Silverado.
---
7. KSP Performance 2″ Rear Block Leveling Kit
Now for something just a little bit different. It's a set of rear blocks that will raise up the back end of your truck instead of the front. Rear suspension sag is far less common than front, but it is still an issue for some people. Additionally, you could use a set of these in combination with a front leveling kit to get the right size for your needs. KSP Performance is a brand that we trust, and we're confident you'll find this kit suitable. These leveling kits should be fairly easy to install as long as you have the right equipment at home. Just set aside a few hours and make sure to do your research beforehand on how to install the kit on your 1500 truck. Check one of these leveling kits out and be sure to let us know how it works out for you!
---
8. TORCH Off Road 3″ Front 2″ Rear Leveling Lift Kit
Finally, we've got one more kit from TORCH Off Road that we'd like to share. It's another leveling lift setup that raises up your entire vehicle, but offers one inch more for the front end. This is a great choice for drivers of the 2020 edition of the Silverado, as an inch difference is often what you'll find on your vehicle. This will take care of that while also offering a quality spacer and block lift. If you have any questions about this lift system or installation, go ahead and get in touch with our office!
---
Best Leveling Kits for 2020 Chevy Silverado 1500

Buying Guide
You've now had a chance to look at some of our very favorite leveling kits. Hopefully you were able to find a kit that matches your needs. If you're still unsure exactly what kit you need, we're here to help. Here are a few important factors you'll want to consider as you shop around!
Height: This is the first thing you can use to narrow down your options. Before getting started, we recommend heading outside with a tape measure. Measure the distance between the ground and both the front and rear ends of your vehicle. If the front or rear end is a little lower to the ground, determine what the difference between the two heights is. That is the lift height you want to go for.
Compatibility: If you stick the kits you find here on our list, this won't be a problem. However, it's definitely something to pay attention to if you start browsing other kits. Every lift setup is made for a specific vehicle make, model, model year and configuration. If you own a 2020 edition of the Silverado 1500, it's important to find a kit that fits your ride.
Quality: Finally, now that you have your options narrowed down, it's time to start looking at quality. Take a look at customer reviews on different websites, as well as videos dealing with specific lift kits. You may be surprised at the vast amount of information available. Once you find a kit you think you can trust, you have everything you need!
Installing Leveling Kits at Home vs.

Professional Installation
Another thing to keep in mind as you shop is your plan for installation. Think about your level of experience working with trucks, as well as the kind of equipment you have at home. If you have confidence in your abilities, a basic leveling kit can be a good starting point for those with interest in vehicle suspension. You're not actually altering the suspension, but you're getting under the truck and doing some basic work. Now, on the other hand, if you're not sure that you're up to the task, we recommend seeking out the help of a professional.
When it comes to working on your vehicle, it's always better to be safe than sorry. Once you find the best leveling kit for Silverado models, a team of mechanics will easily be able to handle installing a lift kit or leveling kit. That means you shouldn't have to worry about safety concerns. That's especially true if you choose Ultimate Rides for your installation needs. We're suspension experts, and we can completely upgrade your vehicle with whatever you like. We're located in the Chicago area, and we're always happy to help our customers.
Visit Ultimate Rides for

Assistance Today!
Whether you decide you want to purchase a new vehicle, or you want us to upgrade your current one, Ultimate Rides is here. We hope that you were able to find a leveling kit that suits your needs on our list. If you need help with installation, don't be afraid to give us a call! We can schedule your vehicle in and get it back to you in no time! Reach out to us over the phone today at 815-634-3900 if you're interested. If you're in the area and would like to stop by our office, you can find Ultimate Rides at 38 W. Division St., Coal City, IL 60416.
---
Frequently Asked

Questions
Q: What's the difference between a lift kit and a leveling kit?
A: A lift kit is a broad term that describes an aftermarket piece of equipment that raises up your vehicle. A leveling kit is a specific type of lift kit. These kits are meant to raise one side of the vehicle up, evening out sagging suspension issues. Sometimes, there are combination lift-leveling kits that raise up the vehicle as a whole, but with a higher lift on one end. You'll find both standard leveling kits and combination lift-leveling kits on our list.
Q: Is there any important maintenance I need to know about for my vehicle after installing a lift kit?
A: As a matter of fact, there is! It's important to have a steering alignment done in the aftermath of lift kit installation. Your steering could be altered, and it's important a professional readjusts things to ensure the vehicle's safety. Once you do this, you should also continue keeping up with all other standard maintenance procedures. Doing this can help ensure long life for your Silverado.
---
Two Brothers With a Dream

,

Building The Best Ultimate Rides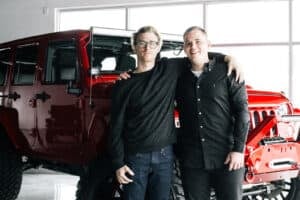 Ultimate Rides consists of two brothers who have been buying and selling custom vehicles for over ten years. Selling lifted trucks by day and writing these awesome reviews by night! They started their Ultimate Rides journey with a third brother Jake, who was a big part of building the business they have today. In 2016 Jake passed away and losing their brother was the hardest thing they ever had to deal with. Even though they had a tragic loss they plan to continue to set a new trend for the auto industry, keeping customers number one. Pushing the envelope on the lifted truck market, these guys love researching and learning about everything in the auto industry!
 — Nick and Alex Bulanda, Founders of Ultimate Rides