Custom SUVs for Sale at Ultimate Rides
Custom SUVs for Sale Near Me

Today
These days, shopping for a vehicle can be something of a chore. If you can't find a dealership that treats you right, it can feel like torture picking out your next ride. At Ultimate Rides, we want to make buying an SUV a good experience once again. Not only do we offer incredible custom vehicles, but you'll also find customer service that treats you like the VIP that you are. We are a family business, and that informs every aspect of how we operate. Additionally, our custom lift center allows our vehicles to stand apart from anything else out there. There is no better place to find custom SUVs for sale than Ultimate Rides.
In today's guide, we want to provide you with more information on our business. That way, you'll be able to make an informed decision on your next ride. If you like what you hear, we encourage you to call us or pay a visit to our office. We're located in the Chicago area, but thanks to our easy delivery service, you can purchase a vehicle from us no matter where you live. Check out Ultimate Rides and decide if your next SUV or truck could be waiting right here!
Ultimate Rides Offers

Simple Vehicle Delivery
The ability to deliver vehicles securely and in a timely matter is a game changer. It's one of the many reasons our business is so popular with drivers from all over the United States and beyond. If you live outside the Chicago area and don't feel like making a drive out to see one of our available models, our inventory is still easily available to you. We recommend you start by taking a look at the inventory on our website. Once you've found a ride that you're interested in, go ahead and give us a call. Our team will be able to offer up plenty more information on the model you desire. If you decide that it's right for you and you want one of your own, we'll be able to arrange financing and shipping over the phone.
You'll have the option to either pay the delivery costs now, or you can finance them with your existing payment plan. At Ultimate Rides, we want to make sure our customers can pay the way that works best for them. Along with that, you can also decide if you want us to make any adjustments to one of our SUVs or trucks before we send it out. This includes any of the services we offer in our lift center. To learn more about that element of our business, go ahead and keep reading! For now, you can rest assured that your chosen ride will be safely in transit and on the way to you soon.
A High-Quality Inventory

Unlike Anywhere Else
The SUVs at Ultimate Rides aren't the same old models available at a standard dealership. Not only are our vehicles customized, but we also offer cars, trucks and SUVs that are free of rust. If you know anything about vehicles, you know how common rust can be, and how much of an annoyance it is. With Ultimate Rides, you won't have to worry about buying a used model already damaged by corrosion. Once you take possession, it's up to you to stop rust from forming. There are products you can purchase to help, as well as tips to follow such as parking your ride in the garage during winter. Work hard and you can keep that vehicle in great shape!
It's not easy for us to bring in rust-free vehicles, but we feel that it's well-worth it. Our customers expect only the best, and we're happy to deliver. We accomplish this by sending our team of buyers out to warmer areas of the country. These places don't deal with rust as commonly as we do here in the Midwest. They find the best vehicles that match our needs, and we bring them back to our office and service center to get them ready. You can always find the strongest custom rides for sale at Ultimate Rides.
Customizing Vehicles in the Ultimate Rides

Lift Center
Ultimate Rides has a custom service center onsite that helps us create the vehicles you see before you. We're only able to do this because of the hard work performed by our incredibly talented technicians. The team at Ultimate Rides is the best around at what they do. It should just take a brief look at some of our inventory to see the level of talent we're working with. One of the best parts about buying from us is that you'll always have a chance to make more adjustments before you take possession of your new ride. If you like the lift kit but want a different height, we can do it. Want a performance chip installed? Just ask us. There's a huge list of features we can offer, so we hope you'll contact our office so we can tell you more.
Even if you aren't buying a model from us, our service center will be open to you. Our rates are affordable, and there's no better place to take your ride for upgrade work. Just give us a call and we'll set up an appointment for your ride! We work pretty quick, so you shouldn't be without a means of transportation for too long.
Our Team Builds the
Best Lifted Trucks Around
While we always offer the service of customizing a ride from our inventory, we can also build you something to drive from the ground up. Let us know what kind of ride you'd like to start with, and we'll have the ability to customize it in countless ways to bring your vision to life. This is quite common with Jeep models, but you can start from any model you can think of. From a Jeep Wrangler Rubicon to a Ford F150 pickup truck, our team will hear everything you have to say, and then work to create the right combination of parts and features until you're completely satisfied. Get on the phone with our customer service and sales team to talk budget, and we'll be able to put our technicians to work shortly after. Whether you want to start with something you've seen in our inventory or need us to track down something we don't currently have in stock, you'll be able to count on Ultimate Rides to provide you with the right vehicle.
Repair and Maintenance from

Our Crew
Our service center is available for more than just modifying your next ride. If you are in need of a team of mechanics you can trust, look no further. We already know how difficult it can be tracking down reliable mechanics for trucks and sports utility vehicles. If you choose Ultimate Rides for your vehicle repairs and maintenance, you can expect a professional team of experts who have your vehicle back to you in a reasonable time and do work for reasonable rates. We can take care of problems both large and small, so don't be afraid to give us a call the next time your vehicle shows signs of trouble! We should be able to get you back up and running in no time. That includes something as simple as an oil change or tire rotation, or major issues such as engine and transmission repairs. We even offer detailing! Reach out and someone from our team will be happy to schedule an appointment for you.
Refreshing Customer Service

Available to You
There's a few reasons we're able to maintain so many return customers, and it's more than just our wide selection of 4x4s for sale. One of the most important reasons people keep coming back is that we treat every single customer with the respect they deserve. We have all heard horror stories about buying vehicles from shady salespeople. That is not an issue you'll run into at Ultimate Rides. Our team is kind and knowledgeable, and our goal is to help you find exactly the right model you're looking for. Whether you decide to pay us a visit in person or want to complete your purchase over the phone, you can expect the same level of attention and quality of service. If you have any questions for us, please feel free to give our office a call and someone will be able to help you out.
Common Reasons to

Lift Your Ride
There has been quite a sharp increase in custom trucks and SUVs on the road in recent years. Have you been wondering what all the hubbub is about? It's actually pretty simple! For most people who upgrade, they simply want a new and impressive look for their vehicle. Getting a new aesthetic for any truck can be a huge boost in confidence and happiness out on the road. There are also certainly some performance enhancements, especially when it comes to off-road driving. Additionally, you'll be able to install larger tires and wheels on your ride. This is another big reason for people to upgrade. However, everyone is different. The next time you see someone driving a custom ride, ask them what made them decide to upgrade. Who knows? Maybe they even got their new set of wheels from Ultimate Rides!
The Difference in Driving a
Lifted SUV
Right away you should notice a big difference when driving your lifted SUV. You'll have a better view of the road and surrounding area, adding another degree of safety to the vehicle. There are also a number of off road performance benefits, such as offering improved angling for uneven terrain. If you're someone who likes to head out on the trail, you'll find one of these upgrades incredibly useful, making it easier to plot your own course and have an adventure. Suspension lift kits will also help you avoid bottoming out when towing heavy loads.
You should also be aware of some things when you start driving one of these vehicles. With the higher vantage point comes difficulty in seeing things up close to your truck. You'll have to be extra careful when parking or when you get close to any people, vehicles or objects. Additionally, the vehicle's center of gravity will be higher. Make sure to take your turns slowly, or you risk the chance of flipping over. As long as you practice safe driving habits, these issues should be nothing to worry about.
Buy Your Next Ride
Right Here
Our sales team at Ultimate Rides works incredibly hard on a daily basis to provide the best experience for our customers. We've told you about our excellent customer service, as well as the quality of our inventory, and even the great price selection you can find when you shop with us. All that's left to say is that we treat everyone who walks through our doors or calls us with immense care and respect. In addition to our upgraded inventory, you'll have someone here to work with you to find the perfect ride, whatever it might be. Check out our customer reviews online and you'll find everything you need to feel reassured. From California to Texas to New York and everything in between, we're happy to provide our inventory to you.
In

Conclusion
Does it sound like we're the SUV dealership for you? At Ultimate Rides, we make it easy to find high-quality stock for sale. We hope you'll take a look at the inventory on our website to see if any vehicles catch your eye. We're always excited to share our work, so don't hesitate to get in touch! You can contact us over the phone today at 815-634-3900. We're also available to meet with you in person at 38 W. Division St., Coal City, IL 60416. Hopefully, we see each other soon!
Frequently Asked
Questions
Before you head out, stick around to check out the answers to some of the most common questions we hear from drivers. Whether you're shopping for a custom SUV or thinking about installing a lift kit on your current one, this information may be useful to you.
Q: What are the differences between a suspension lift kit and a body lift kit?
A: This is definitely one of the most common questions we get. The answer is actually quite simple. Body lift kits use spacers or similar objects to raise the vehicle's body. Suspension lifts are more involved, and require changes to the vehicle suspension to lift it up. Suspension lift kits are more expensive and difficult to install. However, they'll offer the best ride quality compared to the more inexpensive body lift kits.
Q: Should I buy and install my own lift kit at home?
A: While this is possible, it's not something we recommend for most drivers. Unless you're very experienced and have all the right equipment, lift kit installation is probably going to be too much for you to handle safely. Some body lift kits can be somewhat simple to install, but they won't offer the same level of quality as a more extensive kit. Even with these simpler kits, we strongly recommend doing lots of research before attempting to install on your own.
Q: How much does professional lift kit installation cost?
A: This answer depends completely on a few different factors. First, what kind of lift kit are you looking for? That will of course factor into the cost. The difficulty of installation will also play a role, as will the type of vehicle you drive. Additionally, some areas may have greater labor costs associated. The key is to get in touch with the right team of installers, like our crew here at Ultimate Rides. We'll set you up with high-quality work for a fair price.
---
Two Brothers With a Dream

,

Building The Best Ultimate Rides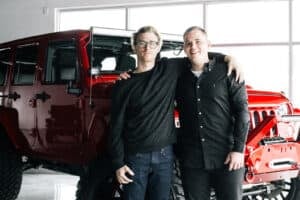 Ultimate Rides consists of two brothers who have been buying and selling custom vehicles for over ten years. Selling lifted trucks by day and writing these awesome reviews by night! They started their Ultimate Rides journey with a third brother Jake, who was a big part of building the business they have today. In 2016 Jake passed away and losing their brother was the hardest thing they ever had to deal with. Even though they had a tragic loss they plan to continue to set a new trend for the auto industry, keeping customers number one. Pushing the envelope on the lifted truck market, these guys love researching and learning about everything in the auto industry!
 — Nick and Alex Bulanda, Founders of Ultimate Rides