Custom Lifted Trucks for Sale Near My Town
Custom Lifted Trucks for Sale Near My Town

Today
It's not always easy when searching for your next vehicle. Folks often feel limited by the dealerships in their local area, but the selection isn't always the best. If you are looking for custom lifted trucks for sale near me, your best option may in fact be to look online. Despite being located about an hour south of Chicago, with Ultimate Rides' delivery, we can get you a vehicle no matter where you are. In this guide, we'll go through all the reasons why you may want to consider shopping with us for your next truck.
Custom vehicles often move quickly when sold at standard auto dealerships. Even then, there's no guarantee as to what kind of shape they're in, and how good the installation is on any modifications. When you buy from Ultimate Rides, you will know that you're getting a high-quality vehicle with equally high-quality installation. We've built our reputation on offering the best vehicles around with unparalleled customer service to boot. Check us out and you can decide for yourself if we're the right place for you.
Custom Trucks Available from Our

Lift Center
There are a number of things that set us apart from your standard everyday auto dealer. First and foremost, we'd say it's our lift center. Completed back in 2017, our lift center has helped us customize countless vehicles ever since. Our service center is staffed by an incredible team of ASE-certified technicians, and they're well-equipped with the latest tools and equipment. Our team is handpicked and consists of some of the best mechanics around. They're highly trained, and quite experienced in working on custom vehicles. That can trip up standard mechanics, but that won't be the case here.
Each time you buy a vehicle from Ultimate Rides, you'll be able to ask for any additional modifications you like. Whether that means an adjusted lift kit, new bumpers, stereos, lighting or something else, we'll make it happen. Then you can choose whether you'd like to cover the cost of this installation up front, or you'll be able to finance it right along with your truck. Give Ultimate Rides a call today if you'd like to hear more about what our lift center can accomplish! It's one of the defining features of our business, and folks come from all over to buy our rides. You could be next!
Every Customer is a VIP at

Ultimate Rides
Our industry has earned a bit of a nasty reputation for lackluster customer service over the years. One of the reasons folks choose Ultimate Rides for custom lifted trucks for sale near me is due to our dedication to customer service. We're a family business, and our reputation means something to us. We treat every customer exactly like we would want to be treated, and the results have been phenomenal. Customers come back to Ultimate Rides for all their vehicle needs because we treat people with respect, kindness and understanding. At the same time, we don't try to give you the run-around. We're transparent, helpful and can get you exactly what you need in a vehicle.
Give us a call or stop by our office to meet our team. You'll be met with a smile and a helpful conversation that can get you results. Whether you're trying to find out about vehicle repairs, or you're inquiring about one of the rides in our inventory, we have answers for you. Plus, you can bet that we'll go the extra mile for our customers. Whether it's a ride from the airport or searching for a rare vehicle, you can come to us and we'll make it happen.
Rust-Free is the

Way to Be
There's one more very important thing that sets Ultimate Rides ahead of the pack. Each and every vehicle sold from us is free of rust, and in great driving shape. You won't have to take any gambles when you purchase a vehicle from here. Our buyers go out to warmer states like California and bring the best options they find back to us. We carefully inspect every vehicle, and many times it will receive some custom work in our shop. Then, we list the vehicle and it's sold to you!
Rust is a telling indicator of quality on a vehicle. It works fast once it gets started, spreading across the vehicle and corroding key elements. There are ways you can prevent rust from acting up even in the Midwest, so be sure to ask us if you'd like to learn more. One thing you can be sure of is that you're getting a clean vehicle that won't have rust damage at Ultimate Rides. Our vehicles may be slightly more expensive than at your corner dealership, but you will be getting another level of quality here. It's well-worth the extra money for the quality available here!
Vehicle Delivery Provides Custom Lifted Trucks for Sale

Near My Town
Because we offer such hard-to-find vehicles, Ultimate Rides receives customers from all across the country. More than half of all of our business is done with folks outside our area. This is often made possible through our very helpful delivery service. Any time you buy a vehicle from us, we can deliver it straight to you! Start by taking a look at the inventory seen here on our website.
From there, you can give us a call. We'll start by providing you with all the details you need on the vehicles you're interested in, as well as more photos if you'd like. Once you're ready, we can start getting into delivery and financing costs. You'll be able to choose to pay for delivery separately, or you may finance it with your vehicle! At Ultimate Rides, we're all about making sure you have the best possible experience, so choose whatever works for you.
Advantages of

Lifting a Truck
There are a number of reasons why someone might want to drive one of the custom lifted trucks for sale near me. Primarily, you're either a fan of the looks, the increased off-road performance, or both. With a lifted truck, your off-road performance is improved by better ground clearance, a higher vantage point, and better-tuned suspension. We're able to accomplish all that here at Ultimate Rides, and it can make for a truly fantastic off-road experience. Additionally, many folks simply like the look of a lifted vehicle. It offers a change from the norm, and without a doubt a different driving experience. Try it out today by visiting us here at Ultimate Rides if you'd like to decide your next move! People searching for custom lifted trucks near me will find exactly what they're looking for at Ultimate Rides!
Vehicle Maintenance and Repair

Available Here and Now
Our lift center isn't just available for our own vehicles. You can also bring your current ride to us to upgrade! We also offer a full range of maintenance and repair services here, from big to small. Our pricing is fair and transparent too, which can be hard to come by for some. The next time something is going wrong with your vehicle, or you just want to make sure it's in good working order, get in touch with Ultimate Rides. We'll set you up with an appointment to bring your vehicle in, and we'll work from there.
Finding a reliable mechanic shouldn't be difficult, but all too often it is. Many shops are not used to working on custom vehicles, leading to mishaps and accidents that set you back and leave you without a vehicle for longer. We've already gone over how talented and experienced our team is, and we can be trusted to get your vehicle back to you in better shape than it was before.
Choose Ultimate Rides for

All Your Vehicle Needs
So there you have it! There's a lot to gain from buying your next vehicle at Ultimate Rides. From our high-quality selection to quick and secure delivery, we can help you into the vehicle of your dreams. We are your go-to place for custom lifted trucks for sale near me. If you have any questions for us, or would like to find out more about a vehicle, please give us a call at 815-634-3900. If you are in the Chicago area, you can find Ultimate Rides at 38 W. Division St., Coal City, IL 60416.
---
Two Brothers With a Dream

,

Building The Best Ultimate Rides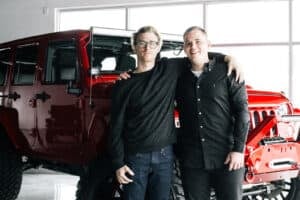 Ultimate Rides consists of two brothers who have been buying and selling custom vehicles for over ten years. Selling lifted trucks by day and writing these awesome reviews by night! They started their Ultimate Rides journey with a third brother Jake, who was a big part of building the business they have today. In 2016 Jake passed away and losing their brother was the hardest thing they ever had to deal with. Even though they had a tragic loss they plan to continue to set a new trend for the auto industry, keeping customers number one. Pushing the envelope on the lifted truck market, these guys love researching and learning about everything in the auto industry!
 — Nick and Alex Bulanda, Founders of Ultimate Rides