Custom Lifted 4×4 Trucks for Sale
Ultimate Rides is the Best Place to Find

Custom Lifted 4×4 Trucks

for Sale
If you're looking to buy a custom 4×4 truck, there's only one place that has what you need at the right price and quality: Ultimate Rides. We aren't your average local auto dealer. Instead, we prioritize high-quality custom vehicles that are in great shape. While you may be able to go around the corner to your nearest dealer and find lackluster vehicles that won't last for years to come, the opposite is true when you visit Ultimate Rides. We offer custom lifted 4×4 trucks for sale to all those who are interested.
When you take a look at our inventory of available vehicles, you'll find a lot of rides that have been customized right here in our own shop. That's yet another way that we set ourselves apart from other dealers. Our service center is a major part of our business, and you'll learn more about it by reading our guide here today. The bottom line is that Ultimate Rides has set out to make sure each one of our customers is satisfied with what they buy. While you'll always be able to go take a look at any old dealership to see what they have available, you never truly know what you're going to get. However, with us, you'll always know that quality is what awaits you.
Rust-Free Vehicles

Available Today
The first thing we do to make sure our vehicles are in excellent shape is ensure that no ride we bring in has rust damage. This can prove to be quite a challenge, as we're located in the Midwest. Here, vehicles often take on rust damage in just a matter of months or even years. However, we're able to get it done by shopping for our vehicles in warmer areas, such as the Southwest or west coast. We bring these vehicles back in great shape. From there, we get them cleaned up and often customized so they can be sold to our customers.
Each time a vehicle is brought to our shop, it undergoes a thorough inspection by our team. We make sure that there are no rust spots, or any other damage that would cause concern. When you buy a vehicle from Ultimate Rides, you should expect the utmost quality. That's why we go through a lengthy process to make sure that every vehicle that passes through our doors meets our high standards.
Quick, Safe and Easy

Vehicle Delivery
One of the other major benefits of shopping with us is our delivery. If you live far away from our office, you still deserve the right to shop our selection of vehicles. We make it easy by offering simple and affordable delivery for any vehicle you choose. That means you can find our custom lifted 4×4 trucks for sale no matter where you are! All you have to do is take a look here on our website to see what rides are available. When you're ready, give us a call. We can provide you with additional vehicle details, as well as more photographs.
Once you've made your final decision, we can take care of the financing and everything right over the phone. From there, we'll get your shipping details, and soon the vehicle will be on its way to you. You'll have the option of paying for delivery up front, or financing it alongside your vehicle. Either way, before long you'll be the owner of an awesome custom truck.
Shop In-Person or

Over the Phone
Whether you're having a vehicle delivered or not, you'll always have the option of buying with us either in-person or over the phone. The choice is yours, and we will accommodate you however we can. We've been in business for quite a while now. In that time, we've honed our skills and smoothed out the process of buying over the phone. We're confident that it's just as safe and easy as it would be buying in person! If you're interested in learning more, all you need to do is give us a call. Our team is standing by and ready to help.
The Ultimate Rides

Lift Center
Perhaps the biggest feature that sets us apart at Ultimate Rides is our lift center. While many dealerships have their own service centers, few put as much emphasis on it as we do. Custom vehicles are our specialty, and it all happens over in our lift center. Our shop is staffed by a team of ASE-certified experts with plenty of experience building and fixing vehicles. Just about every day, you'll find our team inside working on the latest vehicle to come through our doors.
Vehicle Customization at

Ultimate Rides
Each time you pick out a vehicle to buy from us, you'll have the option of sending it to our lift center. There are any number of modifications or customizations we can make to your ride before you pick it up. If you want to have the lift height adjusted, a set of custom tires, new lighting or anything else installed, let us know! You will have the option to finance the cost of the service to pay for it right along with your vehicle financing. That is just one of the many features that puts Ultimate Rides ahead of the pack, especially when it comes to custom lifted 4×4 trucks for sale. Plus, if you aren't planning on purchasing a vehicle, and you'd like to have us work on your current truck, we can do that as well!
Maintenance, Repairs

and More
If you're in need of repairs or maintenance for your current vehicle, Ultimate Rides is here for you. Our service center is available to the public as well! Our team comes highly recommended, and you'll find no better mechanics to work on your vehicle. We handle everything from day-to-day maintenance such as tire rotation or oil changes, all the way up to major repairs such as engine reconstruction. Give us a call to let us know what's causing problems for your vehicle. We'll do everything we can to help you take care of it in a timely manner.
Customer Service

For the People
At Ultimate Rides, we understand that people are tired of being treated like nothing more than walking dollar signs by many dealerships. That is why we've set out to change the game. We don't offer lackluster vehicles at ridiculous prices. Instead, you'll find the highest quality rides at prices that make sense. On top of that, you'll also find a helpful team of customer service representatives to help you out. We won't give you the run-around, or try to wheel and deal. Instead, it's our goal to help you find exactly what you're looking for. If you'd like to see first-hand what other customers think about our team, all you have to do is take a look at our reviews online to see that we mean business.
Custom Lifted 4×4 Trucks for Sale

History and Background
The popularity of custom trucks with raised suspension has blown up in recent years. However, this trend of lifted trucks didn't just spring up over night. In fact, vehicles with raised suspension have been around for about 100 years now, beginning with World War I. The military realized they could use motor vehicles to their advantage, but needed a way to get them to traverse rough and difficult terrain. However, lifted suspension didn't become a thing for consumers until way later, around the 1970's.
That is when aftermarket lift kit products began seeing the market. It wasn't until the 1990's when lift kits became truly popular though, and even then it was still only a hobby niche for most. As time has gone on, lifted vehicles have become increasingly popular on America's roads. You shouldn't have to drive too far to see one for yourself. Today, these vehicles are more popular than ever before, and Ultimate Rides is the place to go to find the best of them.
Shop Ultimate Rides for the

Best Vehicles Around
Do you like what you've learned from our guide today? If so, be sure to contact Ultimate Rides to learn about our custom lifted 4×4 trucks for sale! We have plenty of options, and we're confident you'll find something to love. You can contact us over the phone today at 815-634-3900, or stop by and meet with us at 38 W. Division St., Coal City, IL 60416.
---
Two Brothers With a Dream

,

Building The Best Ultimate Rides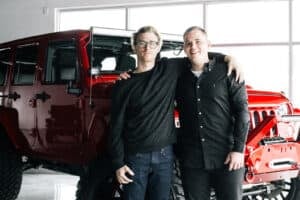 Ultimate Rides consists of two brothers who have been buying and selling custom vehicles for over ten years. Selling lifted trucks by day and writing these awesome reviews by night! They started their Ultimate Rides journey with a third brother Jake, who was a big part of building the business they have today. In 2016 Jake passed away and losing their brother was the hardest thing they ever had to deal with. Even though they had a tragic loss they plan to continue to set a new trend for the auto industry, keeping customers number one. Pushing the envelope on the lifted truck market, these guys love researching and learning about everything in the auto industry!
 — Nick and Alex Bulanda, Founders of Ultimate Rides