Lifted Trucks for Sale in Ohio
Ultimate Rides Lifted Trucks

for Sale in Ohio
Here at Ultimate Rides, we take pride in being the very best lifted truck dealer in the Midwest. No matter what kind of truck brand you want, we guarantee our selection has just what you need. Also, our talented team of ASE mechanics and certified lift kit installers are productive and professional. As a result, customers should look no further for the best lifted trucks for sale in Ohio.
Lifted trucks are a huge trend that many truck enthusiasts are buying into. Now, lifted trucks are not for everyone. So we encourage customers to do some research on this style of truck and more. Then, if this is something you want, reach out to our team. We provide customers with a great customer service experience. Plus, we have some really awesome lifted trucks for sale in Ohio as well!
Customers should take time to check our inventory today. Read some more information below about lifted trucks, lift kits, and everything in between. It is always important to make sure you are informed before buying a product. Then, contact our team for the best truck buying experience possible.
All The Facts On Lift Kits & Lifted Trucks

for Sale in Ohio
Lift kits are widely popular amongst truck drivers but this is not new. As a matter of fact, lift kits have been used for quite some time now. Now, it is important to note the difference between body kits and lift kits. A suspension lift is used to improve off-road driving. Therefore, off-road drivers are looking for lifted trucks that can take on any type of terrain. However, we offer other kinds of suspension lifts here at Ultimate Rides as well.
A body lift is usually implemented on a truck to increase the ride height of a truck. Spacers are installed in between a truck's body and a truck's chassis to create this enhanced ride height. Many truck enthusiasts look for life trucks for sale in Ohio to increase their tire size. That way, they can enjoy a muscular looking truck out on the open road.
Here at Ultimate Rides, we are able to recommend the best suspension products on the market. This includes products from premier companies and brands like Rough Country and BDS. So customers can enjoy only the best recommendations and trucks from our dealership. Plus, we even offer body kit installations for customers as well!
Along with all of this, if there are any specific parts or accessories you want us to use on your future vehicle, we can order them for you! Our goal is to help you wind up with your ideal vehicle, and we'll do whatever we can to make it happen.
Benefits of Buying Lifted Trucks

for Sale in Ohio
First and foremost, the best benefit of buying lifted trucks for sale in Ohio involves the installation process. As previously mentioned, we recommend suspension lifts from the cream of the crop. Therefore, customers that want high-quality recommendations should contact our team. However, anyone that wants a body lift kit installation is in luck. We have great lifted trucks and can offer a body lift kit installation as well! After all, this is a difficult installation process that customers should not be bogged down by.
A suspension lift is one type of a body lift. Drivers that want to enjoy the best suspension kits need to come to Ultimate Rides. We have talented mechanics and certified lift kit installation experts. Lift kits feature rare products that are hard to come by on the automotive market. As a result, the installation process is complex and difficult.
While some people may be mechanics that work on cars as a hobby, others are clueless. You should be able to enjoy lifted trucks for sale in Ohio regardless of car knowledge. Let our talented team work on a lifted truck for you today! We have the best lift kit installation in Chicago and we offer some of the best lifted trucks in the Midwest. As a result, customers do not need to do any work to enjoy our and more. So let us do all of the hard work while you sit back and relax.
Off-Road Driving, Lift Kits,

& More
Lifted trucks for sale in Ohio are so popular because people love off-road driving. As a result, we highly recommend our lift kit installation and lifted trucks for off-road drivers. Expert lift kit installation is a huge deal for off-road driving. The lift kit installation process requires modifying the steering wheel and axle, the brakes, and braking as well. Therefore, customers should let the pro's do it so that their truck performs best out on the open road and off-road as well.
An active suspension system involves so many details. Force acts on wheels and a spring helps absorb the energy. As a result, a vehicle's wheels are able to take on the road and all of the bumps. While many people prefer a normal suspension system, other drivers want something a little different. Due to this reason, lifted trucks for sale in Ohio are incredibly popular. Contact our team for more information on some great lifted trucks and more!
A Better Customer Service

Experience
There's no getting around that fact that auto dealers haven't earned the best reputation with customer service over the years. If you have had a bad experience in the past, you are definitely not alone. However, at Ultimate Rides, we work very hard to change peoples' perception on that issue. Whether you are in touch with Ultimate Rides over the phone or stop by our office in-person, you'll receive the same great service. Our team members will treat you with respect, and listen to everything you have to say. Our goal is to help you find or create your ideal vehicle. We'll do whatever is in our power to make that happen.
If you have questions for us, we'll answer. Additionally, we'll probably have some questions for you. For example, what kind of things are you looking for in a custom vehicle? What's most important to you? Together we can find the best option for your needs. Here at Ultimate Rides, we have a huge selection to choose from.
Are you unable to find the model you're looking for? We can help with that too. Just let us know and we can come up with an arrangement to have our buyers seek out the vehicle you need. As soon as we can get our hands on it, we'll let you know! We've helped many customers with this in the past and they've been able to find just the vehicle they were looking for.
Rust-Free Trucks

Available Here
While our custom work certainly attracts a lot of buyers, that's not the only reason to shop at Ultimate Rides. While you may find a wide range of quality at most auto dealerships, we only deal in high-quality rust-free vehicles. While rust may not be the be-all-end-all when it comes to quality, it's certainly a good indicator of how well a vehicle has been maintained. When you're buying used, ideally you want one without rust. At Ultimate Rides, you won't have to worry about checking to make sure the vehicle you like is one of the better ones. Here, they're all the better ones!
By sending our buyers out to warmer parts of the US, we're able to bring the best vehicles we find back here. We customize them and get them ready to sell to you after that. Every vehicle undergoes an inspection, and as long as it passes we go ahead and list it. Take a look at our inventory to find vehicles free of rust now!
Simple Vehicle Delivery

Ready Today
You might be wondering how the logistics work for someone who lives in Ohio to buy a truck from a dealership in the Chicago area. It's actually super easy! While we have some customers make the drive over and pick up the vehicle themselves, many decide to opt for delivery. It's easier than ever before, and we can guarantee it's secure for both your information and the vehicle itself.
We suggest you start by finding a few models that catch your eye on our website. Once you have those picked out, give our office a call and someone will be here to assist you. We'll provide you with more details on the vehicles, as well as additional photos if you'd like. When you decide which one you'd like to buy, we can get right to work.
It's just a matter of getting all your financing details together first. After that, we can start talking about if you'd like any customizations on your truck. Once we have your shipping details together, you'll also be able to decide if you'd like to pay off the delivery fee upfront or finance it and pay it off with your truck. Whatever works best for you is great for us! From there, we'll be able to take care of the actual transaction over the phone, and we'll work on getting your vehicle shipped out as soon as possible!
Last Words On Lifted Trucks

for Sale in Ohio
Here at Ultimate Rides, we take great pride in helping customers find vehicles that fit their needs. Therefore, customers that want some of the best lifted trucks for sale in Ohio should come to our automotive center. We have a great inventory of vehicles and a capable team of workers. Customers will enjoy great wheel, great deals, and a pleasant customer service experience as well!
We highly encourage customers to take time to read more about lift kits, trucks, and everything in between. Information helps customers make better purchases and decisions when looking for a certain type of product. Therefore, customers can enjoy a better experience buying lifted trucks for sale in Ohio. Ultimate Rides wants customers to get what they believe is the best possible vehicle for their lifestyle. If you want to learn more then visit our website to check out our inventory. Customers can also reach us by phone at 815-634-3900. However, anyone that wants a personal visit can find our automotive center located at 38 West Division Street, Coal City, Illinois, 60416.
---
Two Brothers With a Dream

,

Building The Best Ultimate Rides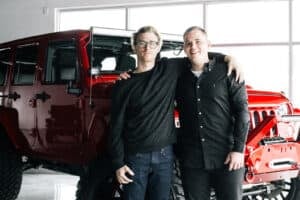 Ultimate Rides consists of two brothers who have been buying and selling custom vehicles for over ten years. Selling lifted trucks by day and writing these awesome reviews by night! They started their Ultimate Rides journey with a third brother Jake, who was a big part of building the business they have today. In 2016 Jake passed away and losing their brother was the hardest thing they ever had to deal with. Even though they had a tragic loss they plan to continue to set a new trend for the auto industry, keeping customers number one. Pushing the envelope on the lifted truck market, these guys love researching and learning about everything in the auto industry!
 — Nick and Alex Bulanda, Founders of Ultimate Rides