Lifted Trucks for Sale in GA
Ultimate Rides Has A Variety of Excellent
Lifted Trucks for Sale in GA
If you're currently shopping around in person or online for lifted trucks, it's a good thing you found us. At Ultimate Rides, we have a huge selection of lifted trucks for sale in GA that are in excellent shape. Whether you're looking for a custom Ford F-150 from the early 2000's or something state of the art and brand new, we have got you covered, even if it's not in our inventory. If you're looking for a specific vehicle but having trouble getting your hands on one, simply let us know and with a deposit we can send the word out to our buyers that travel the United States to keep their eyes out for what you're looking for. That's just one of the many ways we attempt to go above and beyond for our customers.
Though Ultimate Rides is based in Coal City, IL, just about an hour south of Chicago, we provide trucks to buyers from all around the world, and that means when you need lifted trucks for sale in GA, you can turn to us. We specialize in lifted trucks and SUVs that both look and drive incredibly, and we've got a team of experienced and highly trained service technicians to prove it. When you shop at Ultimate Rides, you'll have the ability to take a look at our inventory and, should you decide on a vehicle you like, have it sent over to our newly built lift center for customization. We can install lift kits, custom grilles, tires, wheels and more. If there's something you want done to your new truck that isn't already a feature, just let us know and we can likely make it happen.
Simple and Affordable Vehicle Delivery

Available in Georgia
If Ultimate Rides is located in Illinois, you may be wondering why you should have any interest if you live in Georgia. The answer is our delivery service. Through it, we can provide high-quality custom vehicles to people all over the United States and beyond. Not everyone has a custom auto shop or dealership in their area, and even fewer have one that they can fully trust. At Ultimate Rides, we've been providing customers with top-tier vehicles for more than 10 years. Plus, our vehicle delivery is made even more affordable through financing, ensuring that just about everyone can have access to an amazing custom ride.
We recommend you begin by taking a look at the inventory on our website. You'll find an excellent selection of custom cars, SUVs, and most importantly trucks. There you can decide which one(s) you're interested in, and then call our office. Somebody from our team will be able to tell you all the details of the vehicle, and even offer up some more photos. When you've made your final decision, we can take care of the entire process right on the phone, from financing to shipping. Before long, the vehicle will be sent out to you, arriving safely and soundly at your desired location. Feel free to contact us if you have any questions about this process! We'll offer a bit more information on this later, but it can always be easier to speak with a member of our team directly.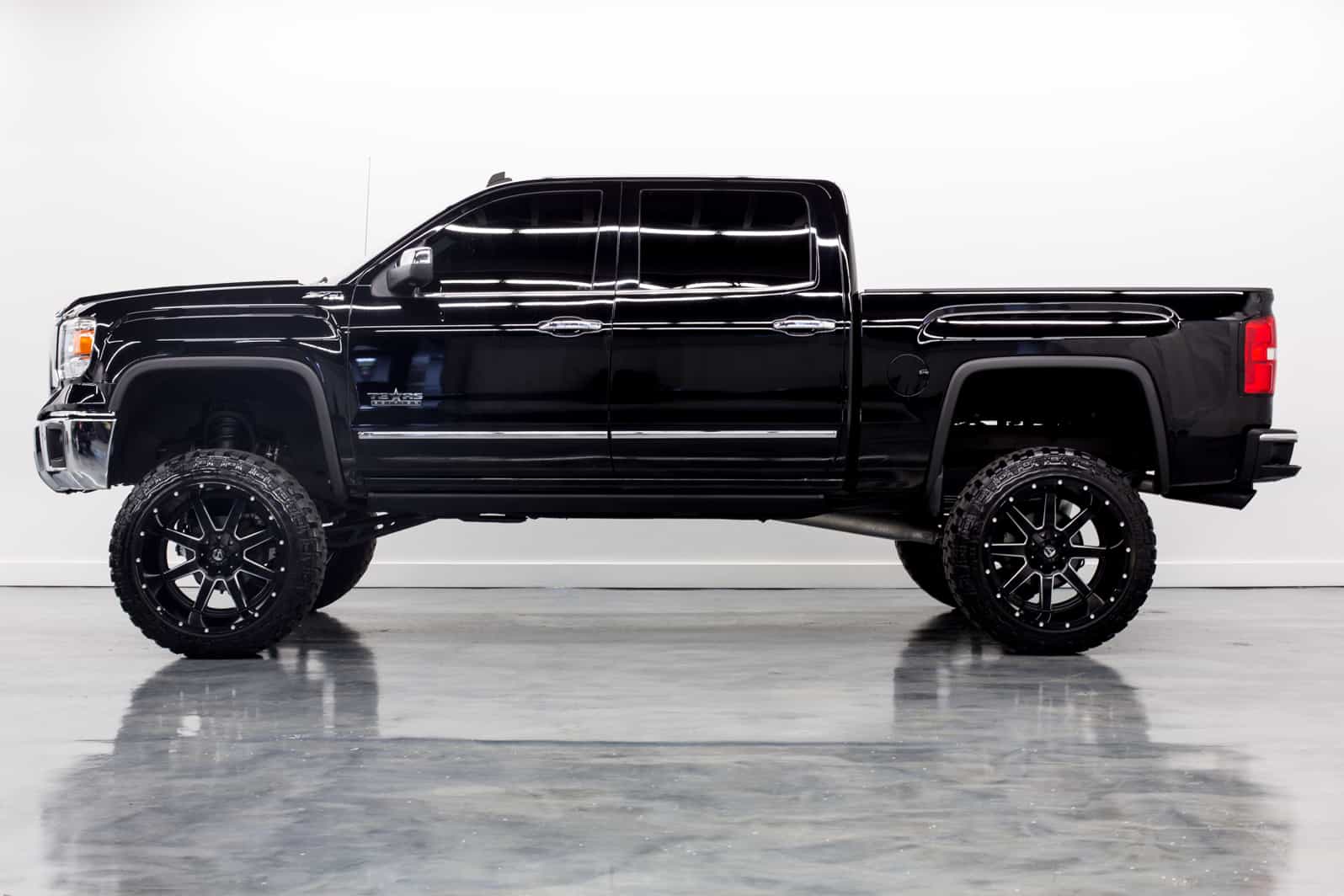 More Than Just
Lifted Trucks for Sale in GA
At Ultimate Rides, we aren't just about customizing and selling awesome lifted trucks. We do all that, but without the other negative aspects you've come to expect out of a used auto dealer. Our sales team isn't going to give you the same old song and dance to try to wring as much money as possible out of you. Times have changed, and we do not think that kind of thing flies anymore. We know that our customers already have a good idea of what they want in a truck, especially if they are seeking out high quality lifted trucks for sale in GA. Georgia is an excellent truck state, and you will know quality when you see it. That's why we think you're gonna love everything we have to offer in terms of our vehicles and our customer service experience.
From the very beginning, Ultimate Rides has been a family-run business that has been out to change the game. We feel we've made a lot of headway towards that goal, but we don't play on stopping any time soon. That's why we've made it as easy as possible for customers from all over the place to order trucks from us. We provide plenty of lifted trucks for sale in GA, and if you've never ordered a major purchase online or over the phone we can easily walk you through the process. All you have to do is give us a call and we can provide you with high quality photographs of the truck you're interested in. We'll answer any and all of your questions, and you'll have as much time as you need to think it over. Once you're ready to move forward with financing, we can discuss specifics and get some details, and we'll even be able to include the cost of shipping your vehicle within the financing deal so you can avoid the upfront charge. It's a simple and easy process; so much so that over half of our sales our down with non-local buyers.
If you're not comfortable with buying over the phone without seeing the vehicle in person, we'd be happy to accommodate you however we can. We're not too far from the airport, and if you decide to fly in we can pick you up in your prospective truck and drive you back to our headquarters. We'll be able to sit down and work out the deal as well as let you get a look at any other trucks you might be interested in. You can decide if you'd like to have your truck worked on, and we can go from there!
Rust-Free Trucks

Waiting for You Today
It isn't just our customizations that set our vehicles apart. We also have an incredibly high standard for every ride that comes through our doors. Rust is a huge factor for us when looking at what vehicles to bring in. If you've ever shopped for a used vehicle before, you already know how prevalent rust can be, especially if you're in an area with a lot of rain or snow. For those of you tired for shopping around only to find junk everywhere you look, the time has come to check out Ultimate Rides. You'll find a completely different sensibility when it comes to our inventory. Our goal isn't to buy cheap vehicles to unload onto you for as much as we can. Instead, we try to provide top-quality rides to customers who know what they're looking for.
In order to find these vehicles, we send our buyers out to the parts of the country with the most favorable climate. There they track down the vehicles that best suit our needs and bring them back to our office and service center. There they undergo a thorough inspection to ensure they reach our standards. If the vehicles do, many of the vehicles start by getting some custom work in our shop before we list them online for you! Many of the trucks for sale in our inventory already have suspension lifts. If you find one that does not, we can always install it for you before we send the vehicle out! Simply let us know what you're looking for.
You won't find vehicles like this at most other dealerships, including many local to Georgia. If you want to ensure you're getting the best, Ultimate Rides is the place to buy from. Have questions for us about our vehicles? Feel free to contact us any time during business hours and someone will be able to assist you.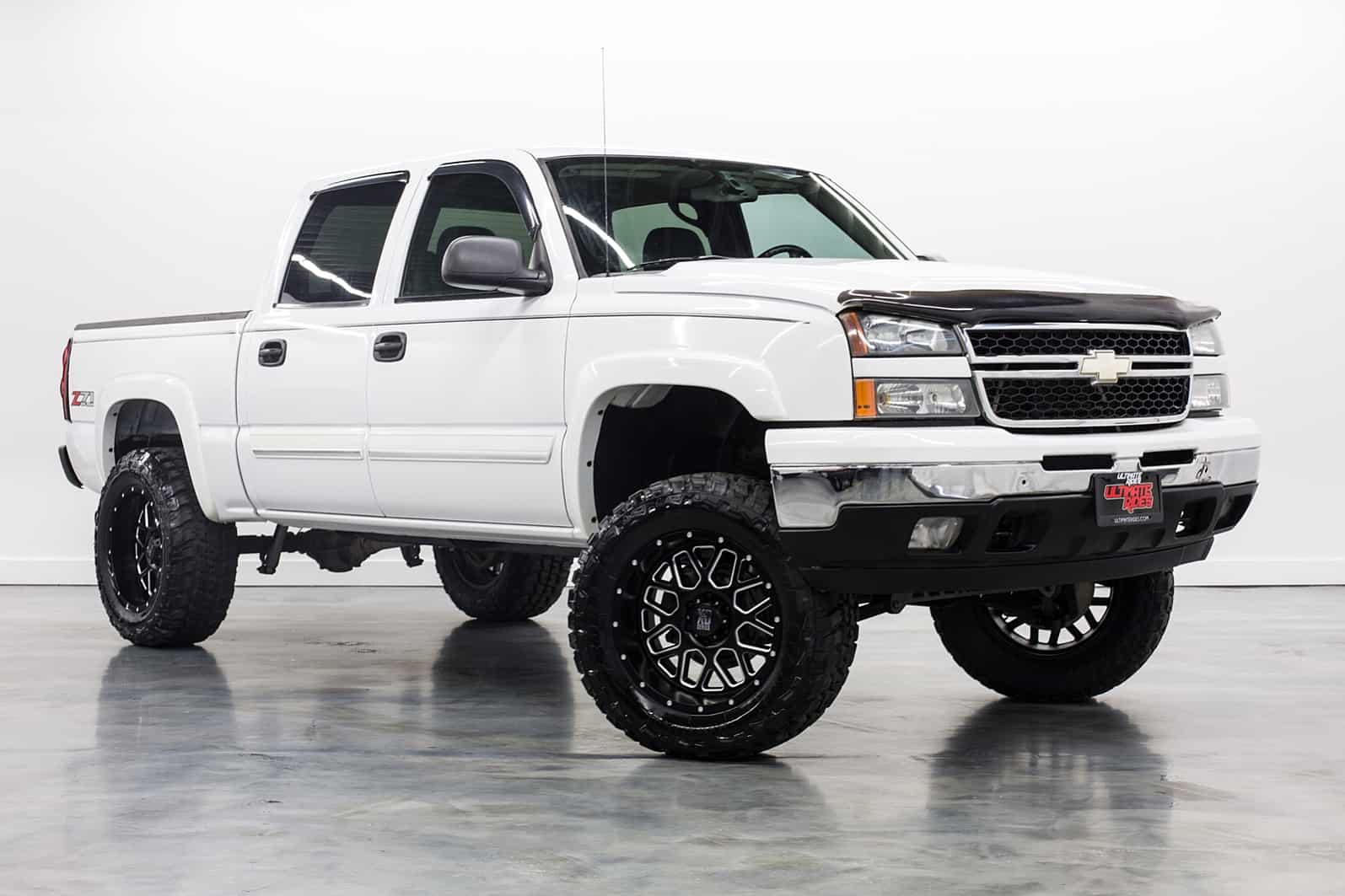 The Undeniable Appeal of a
Lift Kit
If you're buying a truck, chances are you're a certain kind of individual. You want something a little more out of your vehicle, and we totally get it because we are the exact same way. If you consider yourself a truck lover but have yet to dip your toes into a lift kit yet, we recommend giving it some strong consideration. A lift kit will give your ride a whole new look and feel, inside and out. You'll be sitting at a higher vantage point on the road, high above most other cars around you. You'll also command the attention of everyone in your vicinity. Driving a lifted truck is more than just a choice, it's a lifestyle. With a trip to our lift center, our techs can have your truck outfitted with all kinds of custom goods like you see in the Silverado above. Come and see what your next truck could look like at Ultimate Rides.
Along with that, lifting your suspension can get your truck ready for heading off-road. It'll allow you to install a larger set of wheels and tires, which is also something that we can help with. Improved lighting, performance chip installation, and even a custom stereo setup are just a few more ways we can upgrade your vehicle.
If you'd like to get in touch with our sales or service staff, please give us a call at 815-634-3900. It would be our pleasure to work with you on finding the perfect truck, and we have plenty of awesome rides to choose from. On top of that, our customer service will be unlike anything else you've found in this industry. If you ever find yourself in the greater Chicago area, we'd love to meet with you down at our office. We are located about one hour south of the city at 38 W. Division St., Coal City, IL 60416. At Ultimate Rides, you can always count on getting the help you need.
---
Two Brothers With a Dream

,

Building The Best Ultimate Rides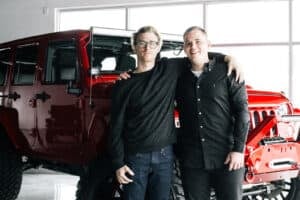 Ultimate Rides consists of two brothers who have been buying and selling custom vehicles for over ten years. Selling lifted trucks by day and writing these awesome reviews by night! They started their Ultimate Rides journey with a third brother Jake, who was a big part of building the business they have today. In 2016 Jake passed away and losing their brother was the hardest thing they ever had to deal with. Even though they had a tragic loss they plan to continue to set a new trend for the auto industry, keeping customers number one. Pushing the envelope on the lifted truck market, these guys love researching and learning about everything in the auto industry!
 — Nick and Alex Bulanda, Founders of Ultimate Rides