New Lifted Ram Trucks for Sale at Ultimate Rides
Ultimate Rides Offers New

Lifted Ram Trucks

for Sale
Custom trucks are more popular today than ever before. While it's possible for you to buy a new truck and take it to a shop to customize later, there is a better way. Here at Ultimate Rides, we offer new lifted Ram trucks for sale, along with a variety of other vehicles. In this guide, we want to give you the rundown on what Ultimate Rides can offer. We believe we're able to provide a better caliber of vehicle, as well as service you can count on.
Stick around to learn about our on-site custom service center! It's where most of our inventory receives custom modifications like lifted suspension, running boards and more. We'll also tell you more about our vehicle delivery, which allows buyers to order a vehicle from anywhere. You can hear about how important our customers are to us, as well as the high-quality inventory we carry. When you feel like you're ready to buy, get in touch with Ultimate Rides! We'll help you find or build the right truck today.
Rust-Free

Equals Stress-Free
At Ultimate Rides, we sell vehicles both new and used. One thing that they'll all have in common is that they are completely free of rust. There's no denying that rust is one of the best indicators of vehicle quality. We make a point to only sell the highest quality vehicles. That way, you'll know what you're getting from us, and it's only the best. This often makes our prices higher than your standard used dealership. However, it is important to remember the old saying- 'You get what you pay for.' In this case, it's very true. Our vehicles are usually customized in our shop. On top of that, you're getting reliability that you won't find there. Remember, there are new and used vehicles available here. New vehicles are always going to be rust-free, so this is more applicable to our used selection.
For our used vehicles, we send our buyers out to warmer regions of the United States. The vehicles in these areas don't undergo the same strenuous activity, like driving through snow and over salted roads. Because of that, we're able to track down plenty of high-quality cars, trucks and SUVs. We bring them back to our HQ and our team gets them ready to sell. Those are the used vehicles that you'll see in our inventory! We also offer new lifted Ram trucks for sale, so keep that in mind as well!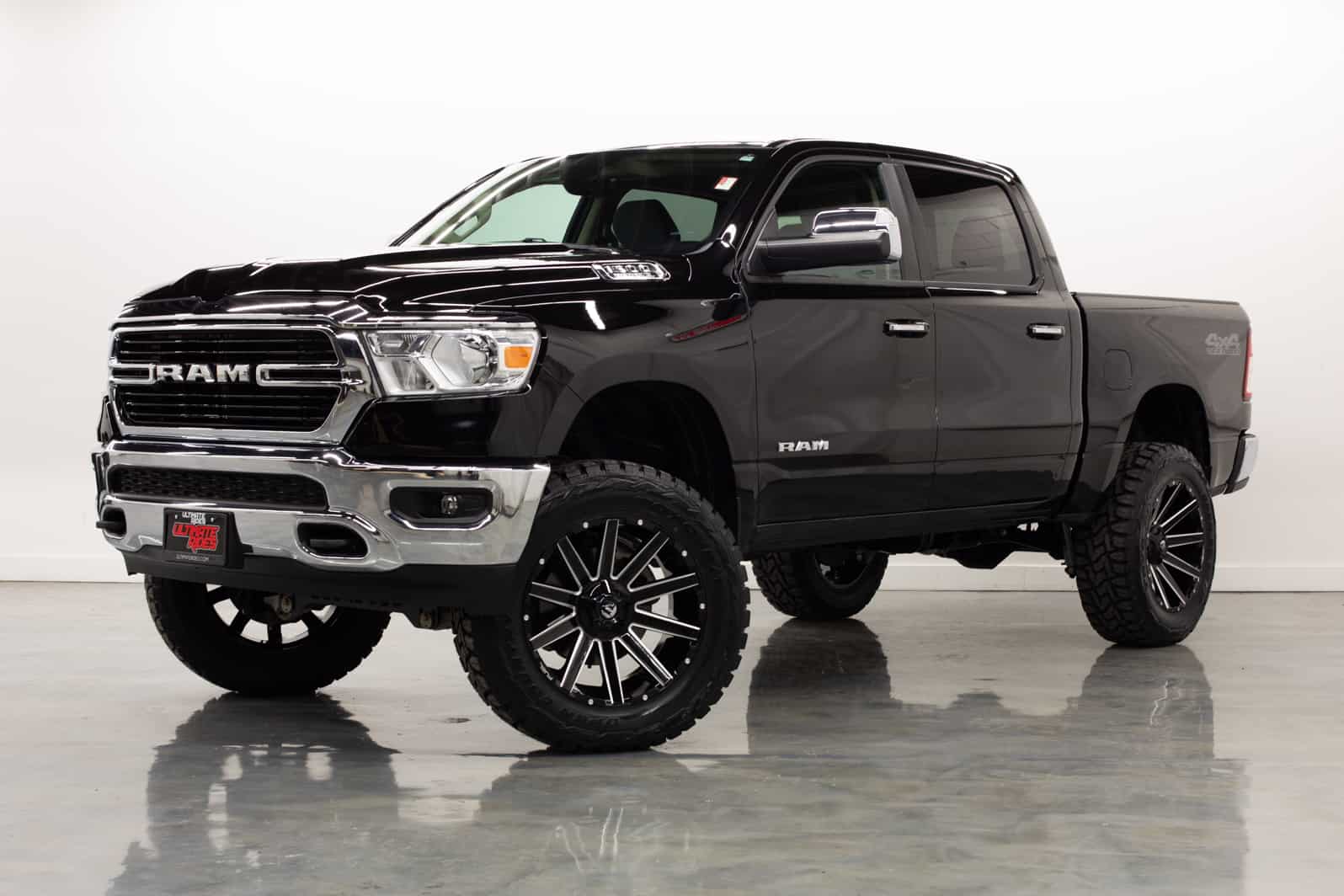 Custom Vehicles Built

How You Want
Another thing that customers love about shopping at Ultimate Rides is having access to our on-site lift center. As you've seen, many of the vehicles we sell have already been customized. However, there's more where that came from. Any time someone buys a vehicle from us, they'll have a chance to send it back to our lift center. There the vehicle can get whatever work you'd like. We offer a huge range of services in our shop. That includes suspension lifts, custom tire and wheel packages, running boards, lighting setups, stereo installation and much more. To get a full list of everything you can get done in our shop, give Ultimate Rides a call.
Custom vehicles are more popular now than they've ever been in the past. It seems like everybody is trying to get in on the trend. For us, it's more than just a trend; it's a way of life. Instead of buying your truck from the dealership and spending lots of extra money to customize it, visit Ultimate Rides. We'll take care of the entire process, providing you with a high-quality new vehicle with some truly awesome modifications. Call our office and a member of the Ultimate Rides team can walk you through step-by-step.
Our shop is open to more than just customers looking for new lifted Ram trucks for sale. You can also bring your vehicle here for custom work! We can upgrade your vehicle with anything you like. That includes lifted suspension as well as the other modifications we discussed before. Let us know if you're interested and we can set up an appointment!
Our

Customer Service

Philosophy
It's not just our lifted Ram 2500 trucks for sale that keep customers coming back to Ultimate Rides. It is also the way that we treat them. Other auto dealerships have earned a negative reputation over the years for screwing customers over. That's not the way we do things at Ultimate Rides. Instead of trying to squeeze you for every dollar, our goal is to line you up with your ideal vehicle. We think that by doing our customers right, we'll attract more customers because of our reputation for quality and honesty. Plus, it's just the right thing to do. That makes it an easy decision for us.
When you call or stop in at our office, you won't be met with a pushy salesperson who tries to pull a fast one on you. Instead, our friendly team members will listen to everything you have to say, and do our best to help. They're knowledgeable and straightforward. That last one is something we've felt has been missing from the auto industry for too long, and we're happy to provide it.
Order New Lifted Ram Trucks for Sale with

Delivery
Despite being located in Chicago, Ultimate Rides provides vehicles for customers all across the country. It's easy with our simple and secure vehicle delivery. Just give us a call and we can send you an awesome custom vehicle. Take a look at the inventory on our website to see if there's anything that catches your eye. Then contact our office and we can start getting into details.
You'll still have a chance to customize the vehicle before we send it out. Additionally, you can choose if you'd like to pay for delivery now or finance it with your vehicle. Whatever the easiest way for you to buy is, we can get behind it. From there, we'll just arrange the final details. As soon as the vehicle is ready, we'll send it out to you! It won't be long before the ride of your dreams arrives at your doorstep.
Ultimate Rides Also Offers Maintenance, Detailing and

Auto Repair
Whether or not you bought a vehicle from Ultimate Rides, our service center is available to you for all of our services. In addition to customizing vehicles, our team offers repair and maintenance services along with detailing. Our technicians aren't only adept at vehicle customization. They're also ASE-certified and some of the best around to fix your vehicle. If you live in the Chicago area, we encourage you to give us a shot. Our prices are fair and common-sense. Plus, our team is incredibly reliable and surprisingly fast. You won't have to worry about your vehicle when it's in our hands.
We don't just do the easy jobs, either. Ultimate Rides can take on engine repair, transmission replacement and more. Along with all of that, we also handle the small stuff. The next time you need an engine replacement, feel free to give us a call! We strive to be your go-to destination for everything vehicle-related. If there's a way you believe we can help, we're always happy to give it a shot.
Find Your Next

Custom Vehicle

Right Here
You've now learned the basics about Ultimate Rides. However, there's a lot left to know! Give us a call if you'd like to find out about our new lifted Ram trucks for sale, or any of the other vehicles available. We're always bringing in new inventory, so who knows what you might find? If you're in the Chicago area, please feel free to visit our office today at 38 W. Division St., Coal City, IL 60416. Otherwise, we can help you over the phone at 815-634-3900.
---
Two Brothers With a Dream

,

Building The Best Ultimate Rides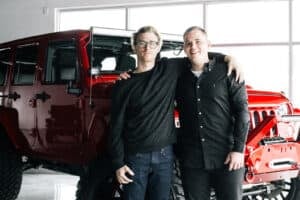 Ultimate Rides consists of two brothers who have been buying and selling custom vehicles for over ten years. Selling lifted trucks by day and writing these awesome reviews by night! They started their Ultimate Rides journey with a third brother Jake, who was a big part of building the business they have today. In 2016 Jake passed away and losing their brother was the hardest thing they ever had to deal with. Even though they had a tragic loss they plan to continue to set a new trend for the auto industry, keeping customers number one. Pushing the envelope on the lifted truck market, these guys love researching and learning about everything in the auto industry!
 — Nick and Alex Bulanda, Founders of Ultimate Rides