Lifted Square Body Suburban | Vehicle Lift at Ultimate Rides
The history of the Chevrolet Suburban can be traced all the way back to the days of the Great Depression. In 1935, the first Suburban was released, and it's quite unlike the version drivers have access to today. In the many years since, Chevy has built upon previous iterations, creating a versatile SUV that gets the job done for families, workers, and so much more. No matter where you need to go, you'll be able to rely on your Suburban to get you there. It's even possible to find older models of this vehicle still in great shape, ready to drive for years more. The square body style stopped being manufactured quite a while ago, but here at Ultimate Rides, we'll be happy to help you find one of your own, and customize it just how you want. Read on to learn more about getting behind the wheel of a custom Suburban in just a matter of days.
Driving a Lifted Chevy Suburban
Have you driven a lifted Suburban or any other truck or SUV in the past? If not, you're missing out. Getting behind the wheel of something like a lifted square body Chevrolet Suburban is a life-changing experience, and many drivers have difficulty going back to driving standard vehicles. Lifted rides, whether it's a body lift or custom suspension, raise up the height of your vehicle. When you're out on the road, you'll be sitting up higher, giving you an entirely difference experience. Additionally, custom suspension setups can also help outfit vehicles for use off-road, and that includes the Suburban.
Whether you drive a new Suburban or an older model, it's always a good time to outfit the vehicle with a suspension setup, enhancing performance and making driving a pleasure once again. Contact Ultimate Rides or check out our inventory. It's quite possible we have a custom Suburban ready for you today. If not, our team will be happy to help you track one down, even a Suburban square body.
Custom Body and Suspension Work
When you decide to upgrade your vehicle, it's important to carefully consider how you plan to go about those upgrades. Depending on how handy you are, it may be tempting to install these upgrades at home yourself. It all depends on your skill level as to whether that's a good idea or not. The quality of work on your vehicle will have a strong effect on performance as well as safety, making it key to choose a team of professionals that you can trust. It's not a bad idea to have a discussion with said professionals ahead of time, figuring out everything you can do within your budget. Whether you choose Ultimate Rides or another team of experts, it'll be worth your time to figure things out in advance so you don't have to make any last-minute decisions with regard to your Suburban.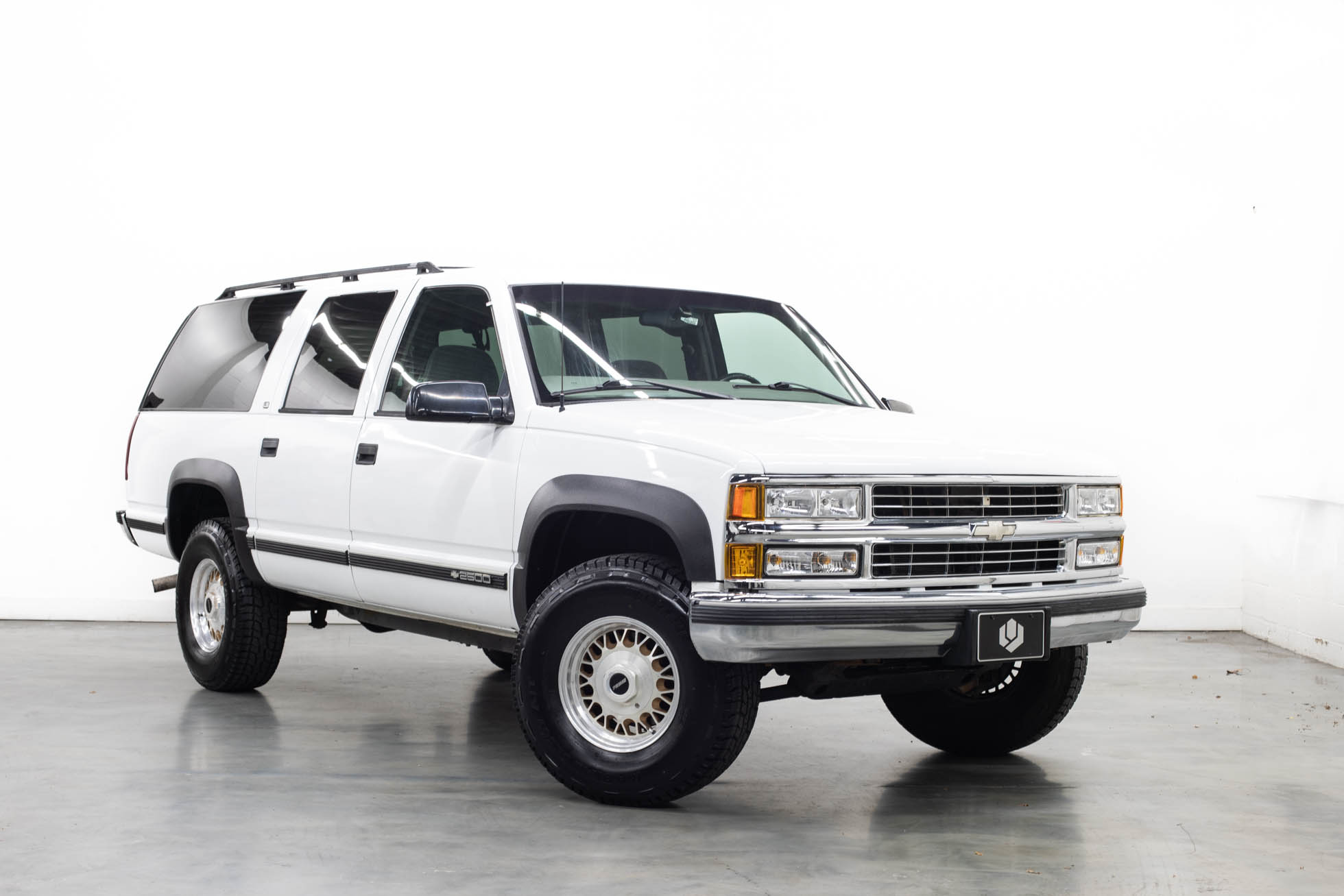 Square Body
Chevrolet has released different versions of the square body Suburban over the years. The option pictured here is from 1999, still offering a unique style that was even more pronounced during the 1970s and 1980s. If you're intent on picking a Suburban with the square body style, that means you're going to have to find a retro model that's still in great condition. That's one of the things we specialize in here at Ultimate Rides. We're not the only place you can find one of these vehicles, but you'll be able to count on our team to set you up with an option.
No matter where you go, make sure to look into the quality of the Suburban under the hood. Has it been taken care of? Is the vehicle free of rust? These are the questions you'll want to ask yourself as you shop around. It becomes especially important to pay attention to quality when you're considering an older vehicle as your primary ride. Feel free to contact the Ultimate Rides team and we'll be happy to answer any questions you might have about a specific Chevy Suburban or the model in general.
Taking Care of an Older SUV
Another important thing to remember when purchasing an older vehicle is that it will require more maintenance to keep in good condition. If you have a trusted mechanic that you use on a regular basis, it's never a bad idea to take a prospective vehicle to them before you make any long-term decisions. Once you do buy, make sure to stay up to date not only on oil changes, but other pieces of regular maintenance, such as checking joints and ball bearings, keeping all fluids full, and checking your steering alignment.
Also be sure to keep the age of the Suburban in mind as you drive. Don't take the vehicle off-road unless you fully outfit your ride for that kind of situation. Otherwise, you could end up doing some lasting damage that makes the Suburban hard to drive going forward.
Keeping Rust Away
One of the most common problems with older vehicles is the accumulation of rust. Ideally, when you buy a vehicle, you won't find that. However, if you don't take the right precautions, you may be surprised at how quickly it can start to appear. First of all, park your vehicle in a garage when possible, especially in poor weather situations and in the winter season. Older cars, trucks, and SUVs require more frequent car washes to prevent rust, and it helps if you have the vehicle dried and apply a wax coating. On top of that, there are a number of products you can utilize to keep rust away. Look into these products and find one that seems like the right choice for your Chevy Suburban. If you're not exactly sure, feel free to consult with your favorite vehicle experts regarding a product recommendation.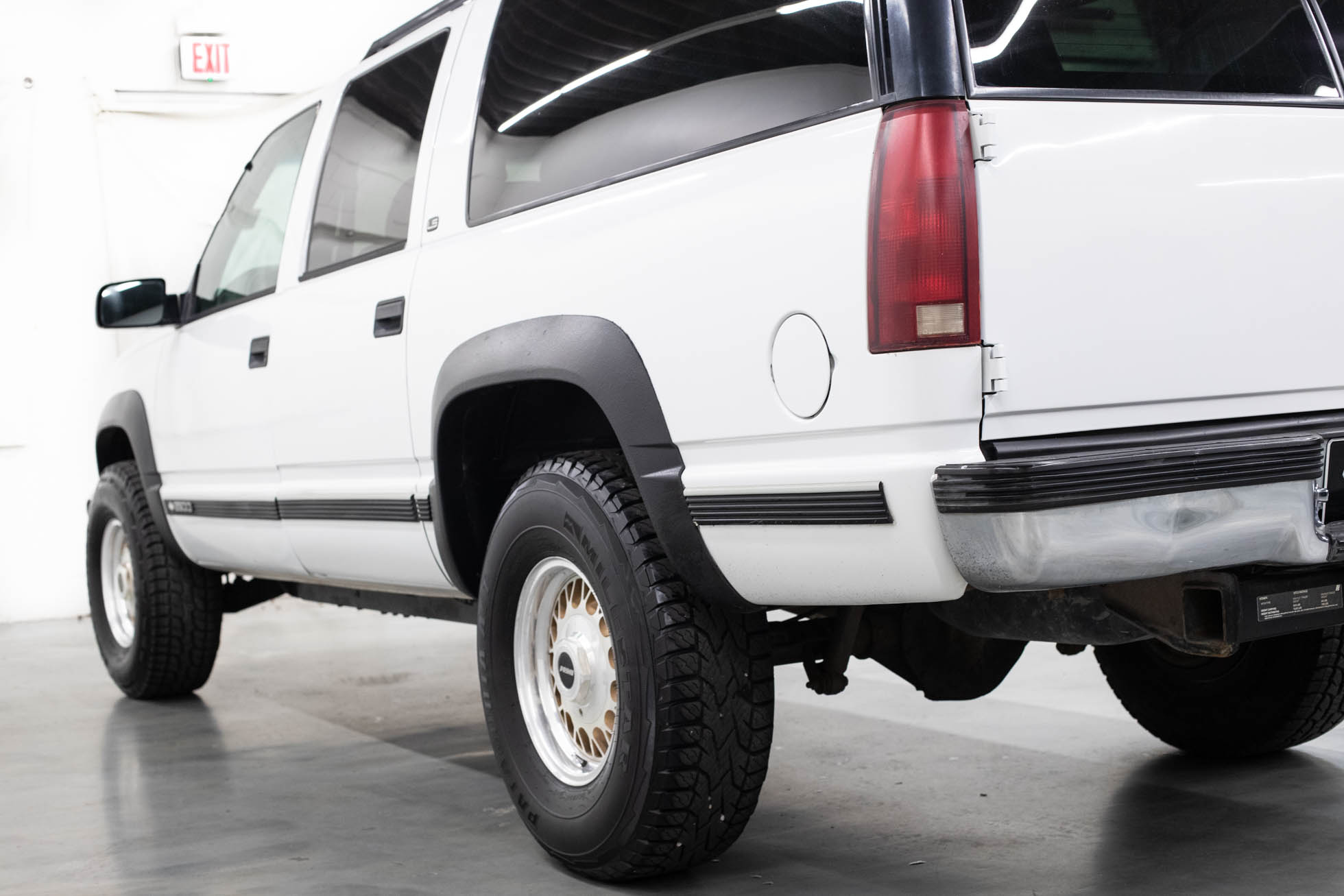 Lifted Vehicles – Everything You Should Know
Lifting your Suburban can be an awesome experience, but it's important to know what you're getting into. As with any lifted truck or SUV, you'll first have to figure out which type of setup you want to go with, and how high you'd like to lift the vehicle. There are kits that raise up the vehicle's body online, usually just be a couple of inches. These kits are more affordable but they can have a negative effect on performance. If you're able to spend more on a higher-quality setup, you'll want to upgrade your suspension. That allows you to install larger tires, and you'll have greater clearance underneath the vehicle, which can be useful for off-road adventures. Just be aware that any lifted vehicle needs to be driven with extra care, especially around turns. With a higher center of gravity, it becomes easier to flip the vehicle when traveling at a high speed. However, as long as you stay safe and follow the rules of the road, we're confident you'll love getting behind the wheel of a lifted ride.
Top-Tier Customer Service, Affordable Shipping, and More at Ultimate Rides
When you're ready to start shopping for this specific style of Chevy Suburban, Ultimate Rides can be of great help to you. We have a huge inventory of vehicles ready to drive today, as well as the ability to track down any specific models that we might not have in stock. From the Suburban to other trucks like the Ford F150, we're here to help our customers start driving their perfect ride. We offer customization options for every single model, including suspension lifts and much more. On top of that, we can also offer affordable shipping to drivers around the world. Get in touch with our team for details, including the cost of shipping, helping with financing, and much more. All of our rides are rust-free, and we're ready to get to work finding or building the perfect Suburban for your needs.
Does it sound like Ultimate Rides might be able to help you find a Suburban? Give us a call today and a member of our team will get to work helping you find what you need. Our office is open seven days a week, and we have a team of experts standing by to offer more information. You can reach us at 815-634-3900, or those of you in the greater Chicago area can find us at 38 W. Division St., Coal City, IL 60416. That's about one hour south of the city, but keep in mind that we're happy to ship vehicles out affordably all across the globe! Reach out today if you believe that we can help you out in any way.