Best Lifted Trucks for Sale in South Carolina
Tackling Adventure with a Custom Truck in SC
If you're a resident of South Carolina, you're lucky enough to live in a state that offers a wide range of natural beauty, as well as history and culture that are worth learning about. From coastal plains to lakes and mountains, the state is an outdoor lover's dream. If you are planning on experiencing everything that the natural world has to offer, there's no better vehicle to choose than a lifted truck. A suspension lift allows for easier off-road driving, letting you make your own trail instead of following someone else's. Additionally, these vehicles handle highway driving as well as city roads.
Some of South Carolina's most attractive locales are located in the Blue Ridge mountains, and there's no better kind of vehicle to navigate this area with than one of our custom trucks. Along with the mountains, there are a variety of national parks and historic sites that are worth your time. If you're in need of lifted trucks for sale in South Carolina, Ultimate Rides has what you need. Click the button below to view details of our large inventory, and contact us if you have any questions!
Choose Ultimate Rides for the Best Quality
Though we're located in Illinois, Ultimate Rides provides vehicles for customers all across the country. Though custom pickup trucks are more popular now than ever before, reliable shops and dealerships can still be hard to find. We're different than your standard auto dealer in a wide variety of ways. No matter where you live, you can order a vehicle from us and we'll get it to you. Our delivery is secure, affordable and quick. We also have our own custom lift center, which is where we modify our inventory. In addition to offering custom vehicles, you'll also find that all of our cars, trucks and SUVs are free of rust.
To get started with Ultimate Rides, we encourage you to take a look at our inventory. From there, you'll be able to see what options we currently have available. Give us a call once you find something you like. Someone from our team will be able to help you through the rest of the process, whether you choose vehicle or delivery. For now, read through the rest of this guide for more details on our lifted trucks for sale in South Carolina.
Simple and Affordable Custom Truck Delivery
At Ultimate Rides, our vehicle delivery is one of the most important elements of our business. Around half of all our vehicle sales are with customers outside of our area. That's because we offer a level of quality that many drivers don't have in their own area. With our delivery, there's no reason not to choose us for your next custom vehicle!
The process is very easy. All you need to do is give us a call. A member of the Ultimate Rides team will go through our inventory with you, helping you find that options that suit you best. Once you decide upon which vehicle you want, we can start getting into the details of financing. You will be able to choose if you'd like to pay for the cost of shipping now, or you can finance it and pay it off along with your truck. We'll get through the financing process, and you'll be able to decide if you want to make any adjustments to the vehicle. Either way, as soon as the vehicle is ready, we'll get it sent out to you! Our process is pretty quick, and it should not be long before your new vehicle arrives at your door.
Building Quality Vehicles in the Ultimate Rides Lift Center
We finished building our new lift center just a few years ago. Because of that, you'll find it loaded with all the best equipment and tools money can buy. However, none of that would matter if we didn't have a team that could pull it all off. We have a staff of ASE-certified professionals in our service center, and they're some of the most talented technicians around. While suspension lifts are our specialty, we offer a huge variety of ways to customize your vehicle. That includes running boards, custom stereo setups, and installation of larger tires and wheels. We can provide so much more than that, so we encourage you to get in touch with someone from our office. We can fill you in on everything that's possible for you and your next pickup truck.
Whenever you purchase a vehicle from Ultimate Rides, you'll be able to have it sent to our lift center. There we can install any number of accessories or modifications. You can choose whether you'd like to cover the cost of this service upfront, or finance it. If you do finance it, you'll simply pay a little bit extra on each monthly payment towards your vehicle. We're the place to find lifted trucks for sale in South Carolina, because we can bring that vision in your head to life.
A Customer Service Team You Can Count On
Over the years, the auto sales industry has developed a pretty negative reputation with customers. This has become so prominent that people often dread having to shop for their next vehicle. However, at Ultimate Rides, we are out to change this perception. We're a family business, and that is very important to us. When you choose us, you'll be met by a friendly customer service team member who can help you through the buying process.
Our goal is not to unload whatever vehicle we can on you. Instead, we want to help you find your perfect ride. Whether that's something we already have ready, or we have to build it or find it for you, we will make it happen. The customer service team at Ultimate Rides listens closely to everything you have to say. Once we get all the information we need, we'll do everything we can to line you up with the right vehicle. Take a look at our Google reviews and you'll see that we're serious about this.
Lifted Trucks for Sale in South Carolina at Great Prices
These days, it's getting more difficult to find high-quality trucks at a fair price in SC. Your best option is to shop around, and we're confident Ultimate Rides provides the best combination of quality and a fair price. We scour the country for the best trucks we can find, bring them back to our HQ and improve upon them. From there, we keep the prices of our inventory as low as possible. You may find that our vehicles are more expensive than some local auto dealers, but you also have to take into account the quality and level of customization that goes into each one. If that sounds like the right fit for you, we encourage you to look at our inventory of Chevrolet, GMC, Ford, Ram, and other pickup trucks.
You Won't Have to Worry about Rust
Another one of the reasons so many people from across the country choose Ultimate Rides is because our inventory is hand-picked, clean, and free of rust. That last one is a pretty big deal. If you've been to many other used auto dealers around the country, you have probably come to expect rust. However, we work hard to ensure our lifted trucks for sale in South Carolina don't have any. This is possible by sending our buyers out to warmer areas of the country, where the vehicles don't deal with nearly as much salt and snow. They find the options that best suit our inventory, and we get them back to our lift center for inspection. As long as the vehicle passes our inspection, we'll either put it right into our inventory or spend some time customizing it before we do. Either way, it'll soon wind up here on our website for you to buy. We've got the right model waiting for you today.
Diesel Engine Options for Sale and So Much More
Looking to drive a diesel engine rather than a standard drivetrain configuration? We can help. At Ultimate Rides, we pride ourselves on offering a wide range of models in our inventory. That almost always includes some options equipped with diesel. If not, we'll always be happy to track one down for you. That applies to any kind of specific model you're looking for. With a small deposit, we'll have our team go out in search of the vehicle, and we'll let you know as soon as we find it. We're the places to go to find lifted trucks for sale South Carolina, no matter what you're searching for.
Lifted Truck Drivetrain and Transmission Repair, Maintenance, and Detailing
Our team is here to help with repairs and everyday maintenance in addition to getting you set up with your next vehicle. We have a state-of-the-art service center, staffed with an expert team of techs who know their stuff. We can diagnose problems, fix major issues like transmission problems, and even offer detailing to get your ride looking fresh. Whether you drive a big GMC truck or a small sports car, give us a call and we'll schedule an appointment for you to come in. We'll get the work done as quickly as possible to get you back out on the road without disruption.
Ultimate Rides is America's Custom Truck Destination
Do you like what Ultimate Rides has to offer? Please feel free to give us a call and we can offer you more information! We'll also be able to help you get started with buying one of our trucks. Get in touch over the phone today at 815-634-3900. If you ever find yourself in the Chicago area, we're located about one hour south of the city at 38 W. Division St., Coal City, IL 60416.
---
Two Brothers With a Dream, Building The Best Ultimate Rides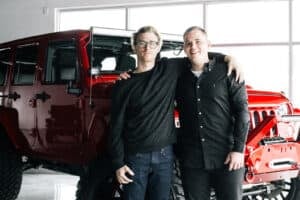 Ultimate Rides consists of two brothers who have been buying and selling custom vehicles for over ten years. Selling lifted trucks by day and writing these awesome reviews by night! They started their Ultimate Rides journey with a third brother Jake, who was a big part of building the business they have today. In 2016 Jake passed away and losing their brother was the hardest thing they ever had to deal with. Even though they had a tragic loss they plan to continue to set a new trend for the auto industry, keeping customers number one. Pushing the envelope on the lifted truck market, these guys love researching and learning about everything in the auto industry!
 — Nick and Alex Bulanda, Founders of Ultimate Rides