Clean and Rust-Free Lifted Trucks for Sale in Louisiana
The Best Lifted Trucks for Sale in

Louisiana
It's not always easy finding reliable used trucks. This is especially true when you're in search of a custom vehicle. Despite the rising popularity of lifted trucks across the US and beyond, quality custom shops and dealerships are still few and far between.
However, Ultimate Rides is here to help with lifted trucks for sale in Louisiana. Though we are located in the heart of the Midwest, we provide vehicle delivery to drivers all around the world. If you live in Louisiana and are having trouble locating the right truck, we can assist you.
Take a look at our inventory page, and read through the rest of this guide. You'll find details on everything you need to know to get started with us. From our custom service center to our awesome financing options, we're confident Ultimate Rides has what you need. If you have any questions for us, please make sure to give our office a call. Our team works hard to help as many people as they can, so don't be shy! In the meantime, take a look through this page for more information.
Driving Through One of America's

Greatest States
Louisiana is one of America's most culturally diverse and significant states. It has a long and rich history, as well as important cultural sites and parks that are well-worth a visit, even for lifelong residents. If you want to be well-prepared to traverse across the state, you can't do much better than a lifted truck. Whether you wish to take a visit to the Poverty Point site, which is considered a pre-historic relic of an ancient people, or something more modern like a camping trip in the Kisatchie National Forest, you can count on one of our trucks to get you there.
This state is well-known for deltas and swamps, but Louisiana has so much more geological diversity than that. If you are looking to head off-road, you had better make sure you are properly prepared. Our trucks are great for taking off-road, as lift kits are very useful in this regard. A road trip through Louisiana can be an incredible experience, offering insight into history, modern culture, and of course some truly beautiful sites to see. With one of our trucks, you'll be able to experience the full beauty of the state without trouble.
Custom Trucks Built in the Ultimate Rides

Lift Center
At Ultimate Rides, you won't find the same old trucks available at other auto dealers. We have built our own state of the art lift center on-site, and have a team full of ASE-certified professionals who work on our vehicles. If you take a look at our inventory, you'll see that many of our lifted trucks for sale in Louisiana also feature other upgrades, such as custom paint jobs, lighting setups and more.
Any time you decide you want to buy one of our vehicles, you'll be able to send it over to the lift center. There our team can outfit the vehicle with any changes you'd like. There's a vast assortment of options, and we encourage you to give us a call to learn more about what we can offer. If you decide on this, you'll be able to either pay for the cost of these services now, or finance it and pay it off alongside your truck. We want to make this work affordable for our customers, so there are multiple ways to pay.
Additionally, if you don't feel like the time is right for you to upgrade, we can work on your current vehicle. That's right! We take vehicles in from the public as well. Our team is incredibly talented, and drivers come in from all over to have us work on their rides. To learn more, call our office and someone from the team can fill you in, and even set you up with an appointment.
An Inventory Full of Rust-Free

Custom Rides
When it comes to what vehicles we allow into our inventory, our standards are quite high. Here at Ultimate Rides, you'll find rust-free trucks that are in good running shape. That is one of the primary things that separates us from your standard auto dealer, and it's something that we are very proud of. Ensuring this level of quality is not easy, but we know that it's well-worth it to provide our customers with the best custom vehicles that we can.
The process begins with us sending our buyers out to areas of the US with favorable climate for vehicles. The Midwest and northern areas of the US tend to get lots of snow and ice, which then results in salted roads. Moisture and salt are the perfect combination for rust to form, so vehicles in warmer areas of the country are often easier to take care of. We look for rust-free vehicles that are a good fit for the kind of rides that we offer.
Once our buyers find a vehicle that suits us, it gets brought back to our HQ, where we clean it up and get it ready for you. All of our vehicles undergo a strict inspection to make sure they meet our standards. As long as they do, our team usually gets right to work customizing them!
Simple Vehicle Delivery

Ready for You
Our delivery is what allows us to serve customers from all across the United States and beyond. If you've never ordered a vehicle for delivery before, the process may feel a little bit intimidating from the outside. However, we work hard to ensure the process is as simple as possible. Additionally, our delivery is secure both for your vehicle and your financial information.
Start by giving us a call. We'll walk you through the inventory of lifted trucks for sale in Louisiana here on our website, and provide you with further details on any of the models that catch your eye. We can even send you more detailed pictures if you'd like! When you've decided which vehicle you want, we'll be able to take care of the whole process right there over the phone.
Just like with our lift center, you can decide if you wish to pay for shipping now, or finance the cost. Either way, we'll have the vehicle ready and on the way in no time!
Visit Ultimate Rides for A New Kind of

Customer Service
At Ultimate Rides, our main goal is to help you find the right vehicle, no matter what it is. While other auto dealers are out to make money by offloading as many vehicles as they can, we see ourselves more as a specialty dealer. While you may find that our vehicles are a little bit more expensive, the quality is always there.
Our customer service team is friendly and knows all about our inventory and services. If you have any questions about any aspect of our business, we'll be happy to help. We even have the ability to help you track down a specific vehicle if it's something we don't already have on hand. Choose Ultimate Rides and you'll have access to the best team around.
Find Your Next Truck

Right Here
Do you have any questions for us, or would you like to get started on buying one of our lifted trucks for sale in Louisiana? You can get in contact with our office today by calling 815-634-3900. If you ever find yourself in the greater Chicago area and want to stop by, you'll find us at 38 W. Division St., Coal City, IL 60416. Whether it's in-person or over the phone, we hope we can speak with you soon!
---
Two Brothers With a Dream

,

Building The Best Ultimate Rides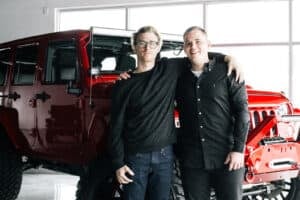 Ultimate Rides consists of two brothers who have been buying and selling custom vehicles for over ten years. Selling lifted trucks by day and writing these awesome reviews by night! They started their Ultimate Rides journey with a third brother Jake, who was a big part of building the business they have today. In 2016 Jake passed away and losing their brother was the hardest thing they ever had to deal with. Even though they had a tragic loss they plan to continue to set a new trend for the auto industry, keeping customers number one. Pushing the envelope on the lifted truck market, these guys love researching and learning about everything in the auto industry!
 — Nick and Alex Bulanda, Founders of Ultimate Rides