Best Lift Kit for GMC Yukon (Review & Buying Guide)
Choose a Lift Kit for

GMC Yukon SUVs
Do you own a GMC Yukon? If you're looking to upgrade it with a lift kit, this guide is here for you. With it, you'll learn about the best lift kit for GMC Yukon models, as well as find tips on installation, choosing the right option and more.
Every year, the popularity of lifted suspension continues to grow. In fact, in many places, it's hard to travel down the highway for long without seeing a custom truck or SUV. The GMC Yukon is an excellent vehicle to upgrade with a lift kit, and it's all just about finding the one that suits you best.
Below, you'll find a list containing some exciting lift kit for GMC Yukon. Make sure to pay close attention to the compatibility of each product to ensure it will fit on your vehicle. As long as it does, you can count on finding an excellent lift experience waiting for you. After our list, stick around and read our buying guide for additional information. If you need assistance with installation, Ultimate Rides is here to help you out. Just give us a call to set up an appointment and we'll get your vehicle outfitted with everything you need. For now, take a look at some of our recommendations!
---
1. Rough Country 6″ MagneRide Lift Kit 16230 
Compatibility: 2014-2020 GMC Yukon
The first lift kit for GMC Yukon SUVs we want to share with you comes from Rough Country, and it's quite a doozy. With this kit, you'll be able to raise the height of your vehicle by six inches, giving you a serious boost in style and performance. You'll be able to install just about any size tires and wheels you want, as well as a number of other enhancements. The product comes with a lifetime replacement warranty from Rough Country, and is made from truly high quality materials. Installation can be quite intensive, so we recommend it only for experienced mechanics. However, as long as you're okay with hiring professional help, this is definitely the lift kit that we'd suggest for you. It'll make a huge difference on your Yukon.
Rough Country 6″ Lift Kit (fits) 2014-2020 Chevy Tahoe Suburban | GMC Yukon/XL 4WD | MagneRide | Suspension | 16230
---
2. Supreme Suspensions 3.5″ Front 3″ Rear Leveling Lift Kit 
Compatibility: 2007-2020 GMC Yukon 6-Lug
Next up, we've got an option from a manufacturer that will pop up multiple times on this list: Supreme Suspensions. This is a leveling lift kit, which means the front end is raised to a slightly different height than the rear. This is to compensate for the uneven suspension issues that are a problem on so many trucks and SUVs out there. In particular, this kit will raise the front end by an extra half-inch. We recommend measuring out your Yukon to see how high both the front and rear end currently are off the ground. Figure out the difference between those two measurements and you'll know what size leveling lift it you'll need!
Supreme Suspensions – 3.5″ Front + 3″ Rear Suspension Lift Kit for 2007-2020 GMC Yukon 1500 6-Lug T6 Billet Aluminum Strut & Spring Spacers PRO Kit (Silver)
---
3. TORCH Off Road 3″ Front 2″ Rear Leveling Lift Kit 
Compatibility: 2007-2019 GMC Yukon 6-Lug
TORCH is another preferred choice when it comes to lift kit manufacturers. This option is another leveling lift kit, but it offers a different size for you. These spacer kits are usually easier to install than a more advanced full suspension kit, but even still newcomers can run into problems. If you're concerned about your ability to safely install a kit, we always recommend going to a trusted mechanic. Safety is of huge importance when installing lift kits, because you don't want to accidentally cause any issues that will affect you down the line. This kit is a great choice because of its lifetime warranty, as well as the quality of parts the company utilizes.
TORCH Full Lift Kit For 2007-2019 Chevy GMC Tahoe Yukon Suburban XL SUV 2WD 4X4 (3″ Front 2″ Rear Lift)
---
4. Supreme Suspensions 1-3″ Adjustable Front 3″ Rear Leveling Lift Kit with Shock Extenders 
Compatibility: 2000-2006 GMC Yukon 4WD 6-Lug
Here we've got another leveling lift kit from Supreme Suspensions. The major difference this time is that the kit features an adjustable front end using torsion keys. This will allow you to raise the front from anywhere between one to three inches, while the rear is raised by a flat three. One thing to be aware of is that this kit is specifically for older models of the Yukon with four-wheel drive and six-lug tires. If that is a fit for you, this is definitely a great choice. It once again features a lifetime warranty, as well as a set of shock extenders for the front end.
Supreme Suspensions – Full Lift Kit for 2000-2006 Suburban & Tahoe and GMC Yukon 1500 Adjustable 1-3″ Front Lift Torsion Keys + 3″ Rear Lift Spring Spacers + Shock Extenders 6-Lug 4WD
---
5. TORCH Off Road 3″ Lift Kit 
Compatibility: 1992-1999 GMC Yukon 4WD with Torsion Bar Suspension
Next up, we've got a standard lift kit that will raise up your vehicle by three inches in both the front and back. However, it's specifically for Yukon models from the 90's, so only choose this if you're the driver of a retro model. The Yukon can be a great vehicle that lasts a long time when taken care of, so it's definitely possible for one of these to still be running great for you! With this kit, you'll be able to change up the look of the SUV and get it off-road ready.
TORCH 3″ Front 3″ Rear Lift Kit For 1992-1999 Chevy Tahoe Suburban GMC Yukon 1500 4X4 4WD
---
6. Supreme Suspensions 3″ Front 2″ Rear Leveling Lift Kit 
Compatibility: 2007-2020 GMC Yukon 6-Lug
The final lift kit we want to recommend to you for now is another option from Supreme Suspensions. It's a leveling lift kit made for modern GMC Yukon models. It's a pretty basic set, consisting of front and rear spacers. The only major change from the previous Supreme Suspensions set on this list and this one is simply the size, which is comparable to the first TORCH kit we shared. It's yet another option for you to consider when searching for a lift kit for GMC Yukon SUVs, and it's a reliable choice.
Supreme Suspensions – Full Lift Kit for 2007-2020 Chevrolet Tahoe 3″ Front Lift Strut Spacers + 2″ Rear Lift Spring Spacers Suspension Lift Kit (Black)
---
Lift Kit for GMC Yukon

Buying Guide
Did you find a lift kit that suits you on our list? If not, that's totally okay. You'll be able to use the advice from this guide to continue your search with more focus. Here you'll find information on what exactly makes a good lift kit, as well as some tips for the installation process. Finally, we've give you some details on how to get in touch with us at Ultimate Rides if you have questions or need assistance!
Finding the Right Choice
The first thing you should look out for when shopping for a lift kit is compatibility with your vehicle. Even when you narrow it down to a lift kit for GMC Yukon models, there's still model year, wheel type and more to consider. Each lift kit should tell you in detail what vehicle it will fit on, so just make sure to carefully read each product description.
Once you've determined that a kit will fit, it's time to think about quality. Usually you can trust a given kit if you know and can trust the manufacturer. It can also help to look and see what materials the product is made out of. Customer reviews can also be very useful here, especially if they come from a verified buyer. At the end of the day, it's up to you to make a judgement call on a particular kit.
Lift Kit Installation
Unless you are an experienced mechanic (professional or amateur), we strongly advise against trying to install a lift kit on your own at home. There's a lot that can go wrong in the process, especially if you're not confident in your abilities. These issues can cause safety problems down the line, and that's something you want to avoid. If you're positive that you want to install yourself, make sure to do your research before starting. There are many tutorial videos out there that should be able to walk you through the process step-by-step. Take advantage of this!
Parting Words
Here at Ultimate Rides, we offer installation for lift kits and so much more. You can even buy your next vehicle from us, complete with lift kit installation. We offer delivery to anywhere in the country, so you won't have to worry about being too far away. If you'd like to call us to find out more, you can reach out to 815-634-3900, or stop by and see us at 38 W. Division St., Coal City, IL 60416.
---
Two Brothers With a Dream

,

Building The Best Ultimate Rides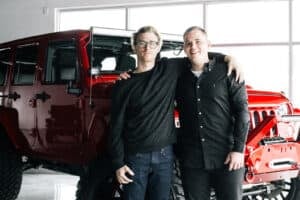 Ultimate Rides consists of two brothers who have been buying and selling custom vehicles for over ten years. Selling lifted trucks by day and writing these awesome reviews by night! They started their Ultimate Rides journey with a third brother Jake, who was a big part of building the business they have today. In 2016 Jake passed away and losing their brother was the hardest thing they ever had to deal with. Even though they had a tragic loss they plan to continue to set a new trend for the auto industry, keeping customers number one. Pushing the envelope on the lifted truck market, these guys love researching and learning about everything in the auto industry!
 — Nick and Alex Bulanda, Founders of Ultimate Rides