Biggest Tires on Stock Suburban | Choosing a Suburban Tire
Thinking about buying a custom Chevrolet Suburban, or upgrading your current one? A new tire set can be a great way to do that. However, it's important to make sure you choose the right set for your ride. Installing the largest set you can find might sound great on paper, but your vehicle's stock setup likely won't be able to support such an increase. We've put this guide together to help you determine which tire set is right for you and your SUV. We'll start off by talking about tire options for your stock setup, then you can learn more about the different tire styles open to you. We'll also talk about some of the major benefits you'll gain from driving this vehicle, and then the guide will wrap up by offering some information on what we do here at Ultimate Rides, and how we feel we can help you start driving your dream vehicle soon.
Tire Size Capabilities for a Stock Chevrolet Suburban
Each new generation of this vehicle that Chevy debuts introduces a number of changes and size adjustments, so it's impossible to provide an exact answer on the biggest tire you can install without knowing the model year and trim level. In general terms, many Suburban models will work with tires as large as 33 inches, but keep in mind this may not be the case for every model. More modern models may only be able to support up a tire up to 31 inches. The best thing you can do is take your vehicle to an expert, such as a trusted custom shop in your area. The team there will be able to tell you what size tire you can safely install, and they should be able to take care of the job for you. Installing larger tires on a truck or SUV can be a lot of fun, but it's important to go about things in a way that's as safe as possible, especially if you want to protect yourself, your vehicle, and everyone else on the road.
The Search for the Right Tire Style
Once you determine the size tire you're able to install, it comes time to choose the exact tire for your needs. There are tons of different varieties available, from styles meant primarily for highway driving to those designed to perform best off-road, and everything in between. Think about what you'll be doing with your SUV. If you use the vehicle as a daily driver, helping you and your family get around town, a set of all-season tires might work best for you. If you're trying to turn the SUV into a versatile off-road model, all-terrain or mud tires will likely be your best bet.
Budget also plays an important role in the search for a good tire. Keep in mind that you have to buy a set of four. Once you get a look at prices, it'll be easy to see how one could quickly surpass $1,000 or more for a high-quality set. The key is to chose the best quality option within your budget range. Shop around at different stores, checking both online and physical locations. It might take a little bit of time, but in the end you'll be glad you didn't rush into buying the first appealing set that you came across, instead choosing a tire that fits your lifestyle.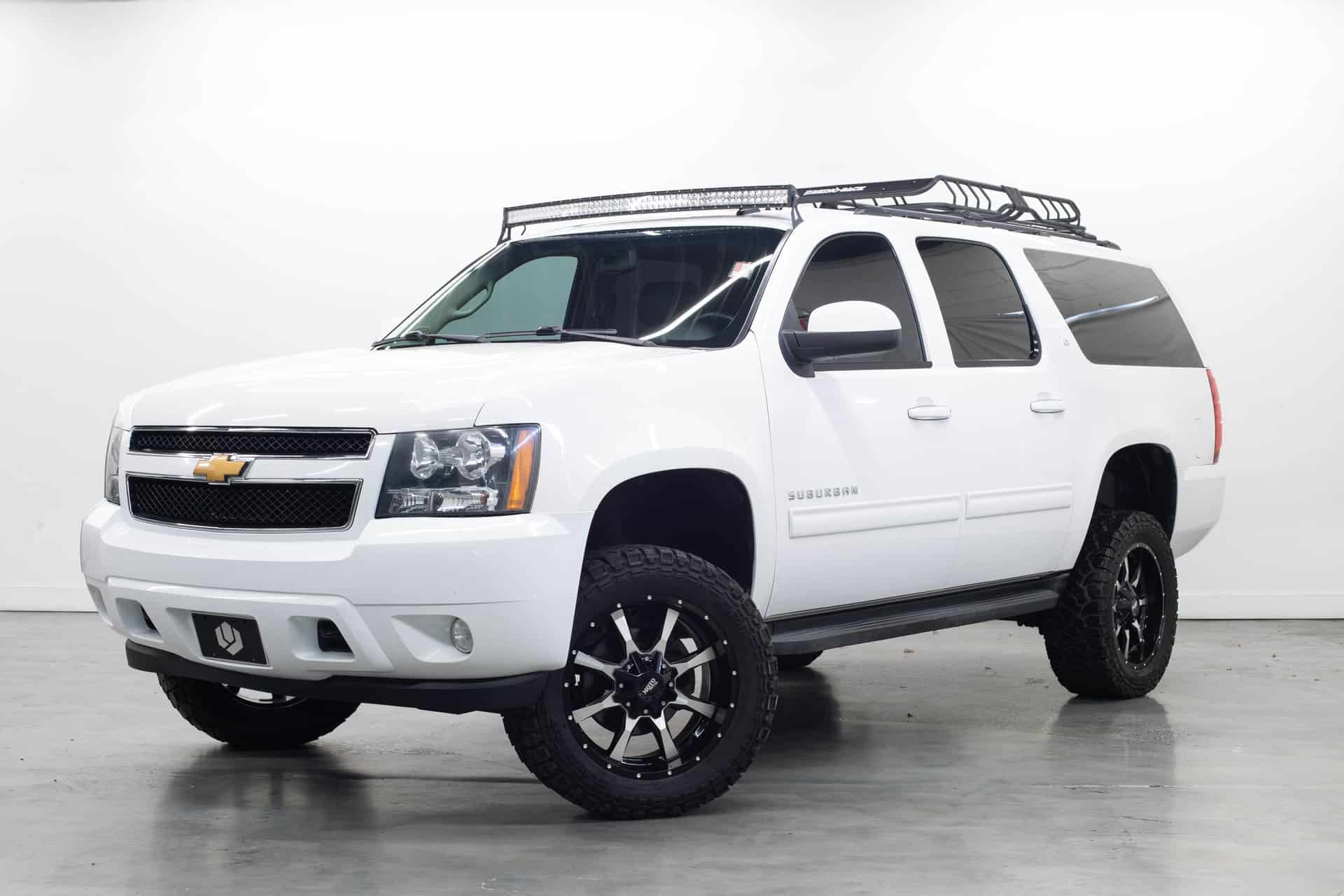 Benefits of the Suburban
There's a reason this Chevy SUV is so popular with drivers. Over the years, it has offered excellent performance capabilities, great safety features, a comfortable interior, and so much more. It's great for big families as well as adventurous folks who need plenty of room for storage. When you buy your own Suburban, you will join an exclusive club of drivers with access to one of the most exciting vehicles around. Whether you just use it to get to work and back, or you find yourself driving it on weekend trips across the country, it's an excellent vehicle to choose. An added benefit is that it's fairly easy to customize the SUV in exactly the way you want. From finding a new tire style to installing custom wheels or stylish rims, applying a new paint job, and so much more, the possibilities are truly endless.
Join the Custom Chevy Suburban Club
When you decide to customize your vehicle, you become a member of an even more exclusive club. There are many amazing ways to customize an SUV, from upgrading the suspension to life the vehicle up and allow you to install even bigger wheels, to more subtle changes like custom iconography or accessories like a set of running boards. While you could search around until you find the right custom model, it's also worth considering an upgrade to your current vehicle. No matter what you decide, know that the Suburban is a fantastic choice, and it's one of the vehicles we find ourselves consistently recommending to our own customers. Check one out and decide if it could be the vehicle for you.
Ultimate Rides can help you out with all of this and more. We're located about an hour south of Chicago, supplying people in our area as well as around the globe with high-quality custom vehicles. You can come pick your new ride up from us, or we have the ability to ship it out to you, no matter where you live. Take a look at our current inventory to see what kind of custom rides we have to offer today. We also encourage you to give us a call to learn more about how we can help. Reach us today at 815-634-3900, or if you find yourself in the greater Chicago area, you can pay our office a visit at 38 W. Division St., Coal City, IL 60416.