Ultimate Rides Has Lifted Trucks for Sale in Mississippi
Mississippi: The

Hospitality State
Spending time in the great state of Mississippi, one of the first things you will probably notice is the abundance of incredible geography. The fact is that it's a fantastic place to spend some time outdoors, whether you live there or you're visiting. There are rivers, lakes, forests, historical sites, and even some beaches! It's a great place to plan a camping or hiking trip, or you could spend some time swimming in the Gulf of Mexico.
No matter what you decide to do, it's always nice to have a reliable truck when you're headed outdoors. One of the best things you can outfit your truck with is a suspension lift, especially if you plan on heading off-road in Mississippi. Throughout this guide, you'll learn more about the lifted pickup truck options that are available to you, specifically from us at Ultimate Rides. Take a look and you may wind up finding your next vehicle right here!
High-Quality Lifted Trucks for Sale in

Mississippi Today
Ultimate Rides is a custom auto dealership and service center that provides vehicles for drivers from all across the country and even beyond. We are able to accomplish this through reliable shipping, getting you a custom truck in a timely manner. If you don't happen to have a dealership that specializes in custom vehicles in your area, it can be quite difficult to find the right option. When you choose Ultimate Rides, not only will you have access to our inventory full of these vehicles, but you'll also be able to customize them even further before we send it out to you. More than half of our business is done with customers outside of our area, and that should show you that we mean business.
Beyond just our delivery, there are quite a few other reasons why people continue to choose us when it comes to lifted trucks for sale in Mississippi. Our trucks are all free of rust, which is very important to us. We also inspect each one to ensure it's in good shape. Ultimate Rides only offers quality vehicles, and that is a big part of what makes us different from other dealers. Additionally, we believe customer service is essential. You can expect to be treated with respect and kindness when you shop with us, and the same can't always be said for other auto dealers. Read through this guide and decide if Ultimate Rides is right for you. If it is, feel free to give us a call and get started!
Simple Delivery Available for

Mississippi Drivers
For our customers, the easy access to reliable delivery of lifted trucks for sale in Mississippi is one of the biggest reasons to choose Ultimate Rides. We strongly believe that everyone should have access to custom vehicles, and that's one of the reasons why we're so big on delivery. You can start the process either by browsing through our inventory, or by giving our office a call. Someone from our team will be able to walk you through our options, from the models we currently have available through all of the customizations you can find.
When you've figured out which vehicle you want to buy, we can take care of financing right over the phone. Speaking of financing, you should know that you can even finance the cost of shipping. This makes the process affordable for just about everyone!
Our delivery works in a timely manner. Shortly after we get off the phone with you, we'll get the process started. If you are getting any custom work done on your vehicle, we'll take care of that first. As soon as that part's done, we'll get the vehicle ready to send out to you. We'll be able to give you further details over the phone, so don't hesitate to get in touch.
Customize a Truck in the

Ultimate Rides Lift Center
At Ultimate Rides, we can bring to life the vision in your head when it comes to your ideal truck. Our lift center features a staff of ASE-certified technicians, each one with plenty of experience and knowledge. While our specialty is certainly suspension lifts, we offer a huge range of different services for your vehicle.
Any time you purchase a ride from us, you'll be able to send the vehicle to our lift center. There we can outfit it with all the accessories and adjustments you'd like. If you give us a call, we'll be able to tell you all the different options available. This includes the installation of performance chips, running boards, new wheels and tires, stereo systems and much more. Plus, you'll be able to either finance the cost of these installations, or pay for it upfront to get it out of the way. Whatever makes it easier and more affordable for you is fine with us!
We even work on vehicles for the public. If you're located in Mississippi, it might be a little bit of a drive. However, if you want the top technicians available to fix up your ride, you know exactly where to find us. Get in touch over the phone and we'll be happy to provide you with further details on this entire process.
High-Quality Trucks Means

No Rust
Whenever you're shopping for used vehicles, one of the most important things to keep an eye out for is rust. Rust is quite common, especially on older vehicles. However, if the vehicle is well taken care of, this doesn't have to be an issue. At Ultimate Rides, we only sell vehicles that are free of rust, clean and ready to drive for years ahead.
We send our buyers to some of the warmer parts of the US to find the right vehicles. From there, they bring them back and each one undergoes a strict inspection. If the vehicle is not up to our standards, we won't sell it, plain and simple. We want to ensure our customers have access to the best inventory around, as that is one of the things that sets us apart from your everyday dealership. Take a look at our inventory to decide if we have the right lifted trucks for sale in Mississippi!
Reliable Customer Service That's

On Your Team
Our customers are very important to us at Ultimate Rides. We are a family business, and that means we care a great deal about our reputation. Thankfully, people seem to agree that we're one of the best places to buy a vehicle in the United States. We have excellent reviews on Google, and you can guarantee that we'll go above and beyond to help you find what you need. It starts with respect, and all of our staff will treat you with just that. However, it goes beyond that.
If there's a specific vehicle you wish to find, Ultimate Rides can help you locate it. Just let us know what exactly you want to buy. If we don't have it in stock, we have no problem with seeking it out for you. Just leave a small deposit with us and our buyers will start their search. As soon as we're able to find it, we'll let you know! Our team goes through countless vehicles each week for our inventory, so it shouldn't be long before we locate it for you.
The Best Trucks are Waiting at

Ultimate Rides
If you like the way Ultimate Rides does business, we encourage you to get in touch with us to hear more. Someone from our office will be happy to offer up more details on any of our lifted trucks for sale in Mississippi. As soon as you're ready, we can handle the entire process simply over the phone. You can reach us at 815-634-3900, or feel free to visit our office at 38 W. Division St., Coal City, IL 60416.
---
Two Brothers With a Dream

,

Building The Best Ultimate Rides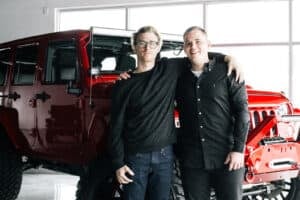 Ultimate Rides consists of two brothers who have been buying and selling custom vehicles for over ten years. Selling lifted trucks by day and writing these awesome reviews by night! They started their Ultimate Rides journey with a third brother Jake, who was a big part of building the business they have today. In 2016 Jake passed away and losing their brother was the hardest thing they ever had to deal with. Even though they had a tragic loss they plan to continue to set a new trend for the auto industry, keeping customers number one. Pushing the envelope on the lifted truck market, these guys love researching and learning about everything in the auto industry!
 — Nick and Alex Bulanda, Founders of Ultimate Rides