Lifted Trucks for Sale in North Dakota
Tracking Down Lifted Trucks for Sale in

North Dakota
Despite the increase of popularity in custom trucks, that doesn't mean it's always easy to find them out in the wild. Depending on your area, you may not have a reliable custom truck dealer in your area. That may make it difficult to find quality lifted trucks for sale in North Dakota. That is where Ultimate Rides comes in. We're a Midwest-based dealership that offers high-quality custom vehicles for delivery. No matter where you live, we can help you find the right vehicle.
In this guide, we want to tell you about the benefits of driving lifted trucks in North Dakota, as well as everything you'll be able to find here at Ultimate Rides. Have a look and then, when you're ready, go ahead and look through our inventory page. Once you find a vehicle or two you're interested in, give us a call and someone from our team will help you out the rest of the way. We can also answer your questions about the buying process and more! For now, read through the rest of our guide and you may find the answers you're looking for.
North Dakota: A Land

Untamed
Few places in the United States, or even beyond, are able to match the natural beauty of North Dakota. The state offers mile after mile of untouched wilderness, and there's no better place to own a lifted truck. Whether you're a hard-working farmer who needs a reliable work truck, or an outdoor adventurer looking for reliable transportation, we have a vehicle for you. With one of our lifted trucks, you'll be able to traverse rough terrain, leaving the roads and forging your own path. Additionally, we've got trucks that can handle heavy loads of cargo and tow thousands of pounds without breaking a sweat. If you are searching for a vehicle you can count on to serve you throughout North Dakota, just take a look at what we have to offer. We think you'll find something that catches your eye.
Get a Custom Truck

Delivered to Your Home
Despite being located an hour south of Chicago, Ultimate Rides does more than half of its business with buyers from outside our area. That's because we offer simple delivery for our vehicles, and customers know they can't get rides like this anywhere else. The process is truly easy. Start by browsing our inventory page. You can also give us a call right away if you'd like someone from our team to walk you through the options. Either way, we'll be able to help you find exactly the kind of vehicle you're looking for.
When you've made a decision as to what you want to buy, we'll help you get set with a financing plan over the phone. Additionally, we'll finalize shipping details here. You'll be able to choose if you'd like to pay for the cost of shipping at this point, or finance it along with your vehicle. Either way, we work hard to ensure shipping is affordable for as many people as possible. When we're through, we'll get the vehicle ready and send it out to you! We make buying lifted trucks for sale in North Dakota easier than ever before.
Choose from an Inventory of

Rust-Free Trucks
In addition to their modifications, the Ultimate Rides inventory stands apart for being completely free of rust. Rust is usually a very good indicator of quality when it comes to vehicles, and we pride ourselves in offering only the best. In areas that are often hit with snow, like both Illinois and North Dakota, it can be difficult to maintain a truck without rust. However, there are ways to do it, and it's an important part of vehicle maintenance.
Rust-free vehicles aren't always common at auto dealerships, and Ultimate Rides sends our buyers out to warmer parts of the country to find the vehicles. They track down the options that go best with our inventory and bring them home for us to get ready for you! If you're tired of seeing the same old poor-quality lifted trucks for sale in North Dakota, it may be time for you to start shopping at Ultimate Rides.
Create Your Ideal Truck in the

Lift Center
Our lift center is one of the main reasons we stand apart. In it, our team builds unique trucks unlike anything else you'll find out there. Additionally, whenever you buy one of our vehicles, you can choose to customize it even further. Just let us know what kind of work you want done and our team will be able to take care of it before you pick up or we ship out. You'll even be able to choose if you want to cover the costs of this work now or finance it.
There is a huge range of possibilities for ways to customize your next vehicle. At Ultimate Rides, we specialize in suspension lifts, but that's only the beginning of what we can offer. Running boards, LED headlights, custom stereos, towing kits, performance chips and much more could all be waiting for you here. Give us a call and someone from the Ultimate Rides team can offer up more information. Do you have an image in your head of what your perfect truck looks like? If so, we want to help you bring it to life.
Ultimate Rides: Where Customers are

Treated like Family
It's certainly no secret that the used auto industry doesn't have the best reputation for customer service. However, at Ultimate Rides, we've set out to change that. Everyone who calls us or visits our office is treated with the utmost respect. We believe that buying a vehicle shouldn't be different from any other major purchase. With that in mind, we want to help you find exactly what you want, as opposed to other auto dealers who are just trying to unload unwanted inventory. Our lifted trucks for sale in North Dakota are all high-quality, so it's just a matter of matching you up with an option that suits you.
Our team will even go beyond what's expected to provide you with a great experience. If there's a vehicle you want that we don't have in stock, we'll locate it for you. Our buyers see tons of vehicles each day, and with a small deposit we will buy the vehicle the next time we see it. As soon as we're able to find it, we'll let you know. From there, we can set up a good time for you to pick up the vehicle or we'll arrange shipping details. At Ultimate Rides, we'll do whatever we can to make sure you find the right car, truck or SUV for your needs.
Find the Vehicle of Your Dreams with

Ultimate Rides
Does it sound like we might be the place for you to buy your next vehicle? You won't find rides like this for sale anywhere else. From custom lifted suspension to power adjustable running boards to all new lighting setups, Ultimate Rides does it all. Give us a call today at 815-634-3900 if you have questions or want to discuss our inventory. If you're ever in the Chicago area, you can stop in and see us at 38 W. Division St., Coal City, IL 60416. We'd be happy to show off any of the vehicles we have in stock, as well as help you build the ride of your dreams.
---
Two Brothers With a Dream

,

Building The Best Ultimate Rides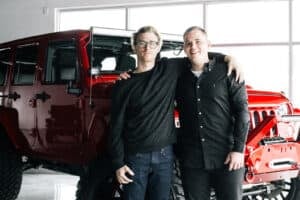 Ultimate Rides consists of two brothers who have been buying and selling custom vehicles for over ten years. Selling lifted trucks by day and writing these awesome reviews by night! They started their Ultimate Rides journey with a third brother Jake, who was a big part of building the business they have today. In 2016 Jake passed away and losing their brother was the hardest thing they ever had to deal with. Even though they had a tragic loss they plan to continue to set a new trend for the auto industry, keeping customers number one. Pushing the envelope on the lifted truck market, these guys love researching and learning about everything in the auto industry!
 — Nick and Alex Bulanda, Founders of Ultimate Rides