Top 10 Best Jeep Gladiator Bed Cover | Ultimate Rides
Choosing the Best Jeep Gladiator

Bed Cover
In our opinion, the Jeep Gladiator is one of the best new vehicles to be released in the last several years. For a long time, Jeep lovers were clamoring for the company to make another pickup truck, and what they came out with does not disappoint. If you're lucky enough to drive a Gladiator from Jeep, we recommend outfitting your truck with some upgrades to protect it. One of the options you can consider is a bed cover, otherwise known as a tonneau cover.
It's important to protect your Jeep if you want it to keep running great. You'll likely want to pay special attention to the bed of the truck. That's because the bed typically sees the most wear and tear. If it's exposed to the elements, it won't take long before it starts to wear down. A tonneau cover can help protect against this kind of damage. With the right cover in place, you'll be able to keep your Gladiator in great shape and maintain the value of the vehicle in the years to come.
In this guide, we'll help you pick out the best Jeep Gladiator bed cover to defend your ride. The trouble is, there are countless options out there when it comes to bed covers. However, the quality can vary greatly from product to product. In our guide, we want to go through some of our favorites to help you find the best Jeep Gladiator tonneau cover out there today. Below you'll find a list featuring eight of our preferred options. There are both soft and hard covers out there, and we recommend double checking the sizing for each product to ensure it fits your truck.
After our list, we've written up a buying guide meant to help you narrow down your options. It will offer some additional details and advice on choosing the right bed cover based on a number of important factors. We'll also give you some information on Ultimate Rides and what we can offer! That includes installation for your Gladiator tonneau cover and so much more. Check it all out and be sure to let us know if you have any questions when we're through.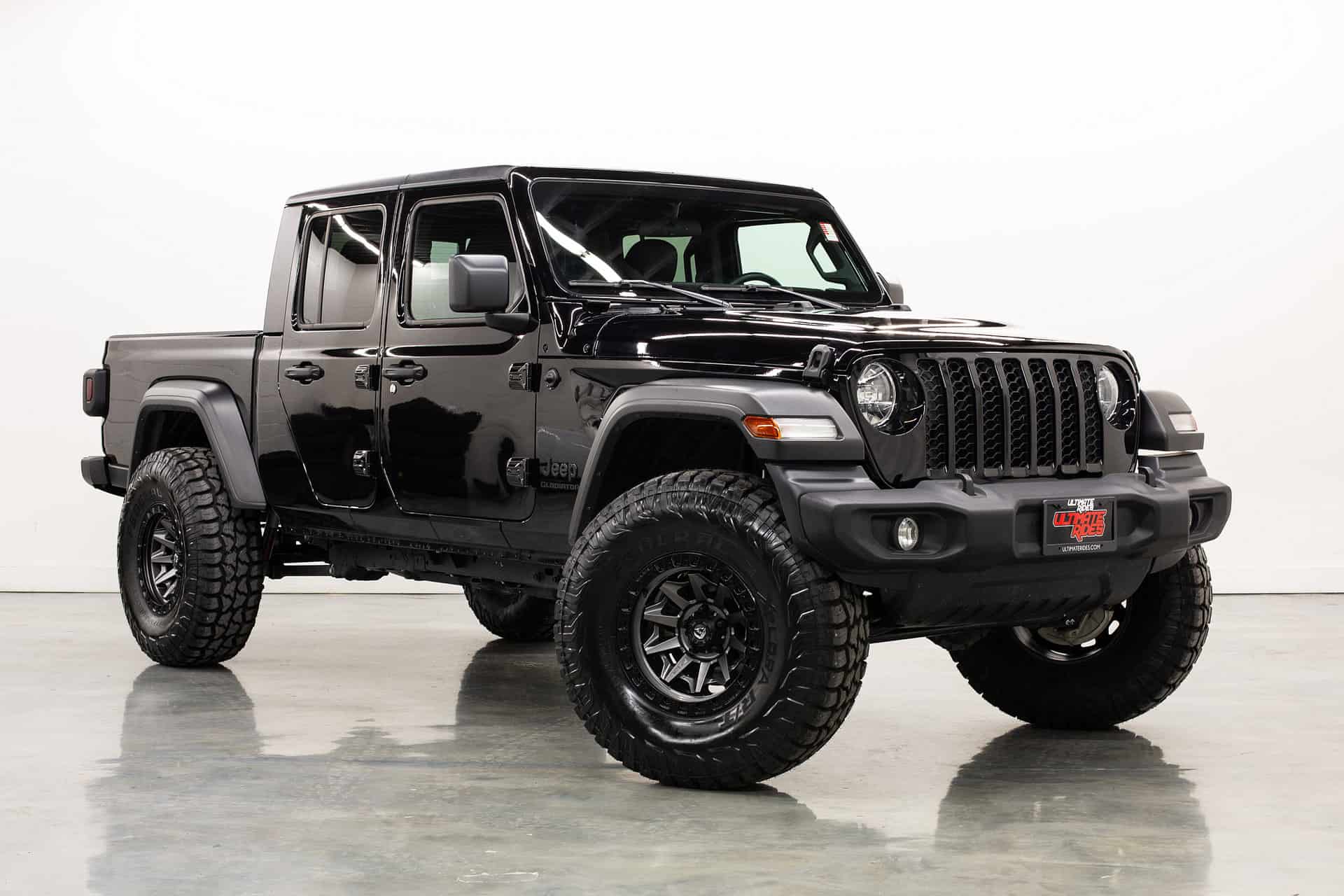 ---
1. Undercover Ultra Flex Hard Folding Truck Bed Tonneau Cover UX32010
Our favorite tonneau cover for the Jeep Gladiator comes from manufacturer Undercover. Yes, it is a little bit pricey. There are certainly more affordable options on our list, but we don't think there are any that provide this level of protection for your truck with such easy access. Plus, the item comes with a five-year no-hassle warranty from the company. On top of that, you'll also find a soft layer on the inside of the cover to help defend your cargo from scratches and other damage. Most importantly, the bed cover was manufactured here in the United States and features high-quality materials and construction. You'll even find an integrated set of LED lighting! For all these reasons, we believe this is the best Jeep Gladiator tonneau cover available today.
Undercover Ultra Flex Hard Folding Truck Bed Tonneau Cover | UX32010 | Fits 2020 – 2021 Jeep Gladiator 5′ Bed (60″)
---
2. 

Extang Solid Fold 2.0 Hard Folding Truck Bed Tonneau Cover 83895
Next up, we have another hard cover available for your truck. While it's still in the upper price range, it is more affordable than our top pick. It still offers strong protection, though we don't think it quite lives up to the expectations set by the best tonneau cover for the Gladiator from Jeep. All the same, this still could be the one for you, especially if you just don't want to spend those extra few hundred dollars. This product still offers a great degree of protection both for your truck and the cargo in the bed. You can easily lock it in place, and it won't be difficult getting items out from the vehicle. For these reasons, we'd say this is one of your best options out there, especially for this price range.
Extang Solid Fold 2.0 Hard Folding Truck Bed Tonneau Cover | 83895 | Fits 2020 – 2021 Jeep Gladiator (JT) w/o rail system 5′ Bed
---
3. GATOR EFX Hard Tri-Fold Tonneau Cover for Truck Beds GC34010 
Here we have a product from Gator, who is one of the more popular manufacturers of truck bed covers out there. Their product is a great choice, though it may not be our overall favorite. It's the cheapest cover on our list so far, and may offer the best value out of all the items you'll find on our list. It comes in at nearly half the price of our top item, and offers a comparable degree of protection. While it may not have all the same bells and whistles, it's most likely the choice if you want a hard cover but are looking to save as much as you can. It features a three-year warranty, and won't be a problem to install as long as you have the right size. This would be a great addition to any Jeep Gladiator pickup truck.
GATOR EFX Hard Tri-Fold Truck Bed Tonneau Cover | GC34010 | Fits 2020 – 2021 Jeep JT Gladiator 5′ Bed (60″)
---
4. Tyger Auto T3 Soft Tri-Fold Truck Bed Tonneau Cover TG-BC3J1060
For our first soft cover on the list, we went with one of the most trusted manufacturers of truck bed covers on the market: Tyger Auto. You'll see their products available in different styles for all kinds of vehicles, including the newest Jeep pickup truck, the Gladiator. If you are set on buying a soft cover, we'd say this is probably the best Jeep Gladiator bed cover on your radar. It's easy to install and makes it simple to get inside your truck bed without any hassle. The product itself is made of heavy-duty marine-grade vinyl material, and comes with an aircraft-grade aluminum frame. The product even has a lifetime limited warranty, which will be helpful if you happen to find any rare defects or problems with the cover.
Tyger Auto T3 Soft Tri-Fold Truck Bed Tonneau Cover Compatible with 2020-2021 Jeep Gladiator (JT) | TG-BC3J1060
---
5. oEdRo Soft Roll Up Truck Bed Tonneau Cover 
If you're looking for a very affordable soft cover, this option from oEdRo could be great for you. While it won't be able to stop anyone with the right tools from breaking into your truck bed, it does offer a basic but reliable level of protection from the elements. You shouldn't have difficulty getting it installed, either. Once the cover is on there, you should still be able to get in and out of the truck bed quite easily. This is the option we'd recommend for someone looking for a bed cover on a tight budget.
oEdRo Soft Roll Up Truck Bed Tonneau Cover Compatible with 2020-2021 Jeep Gladiator, Fleetside 5 Feet Bed
---
6. Roll-N-Lock M-Series Retractable Truck Bed Tonneau Cover LG495M
If you have plenty of room in your budget and want an advanced hard cover, this product from Rock-N-Lock is probably the one we would recommend. It offers a retractable cover that you can lock into place at any point. The cover also features high-strength materials, and can protect the material of your bed from rain, snow, hail and more. It was made right here in America and features a three year warranty from the manufacturer. Check it out and decide if this could be the cover for your Gladiator!
Roll-N-Lock M-Series Retractable Truck Bed Tonneau Cover | LG495M | Fits 2020-2021 Jeep Gladiator w/Trail Rail System 5′ Bed (60″)
---
7. oEdRo Soft Tri-fold Truck Bed Tonneau Cover
Next up, we have another possible cover for you from oEdRo. It's a tri-fold soft cover, similar to the other product from this company but in a slightly different style. The product has been tested for quality, and should do a great job protecting your vehicle from UV rays, rain and other weather, and so much more. The process of getting the cover installed should be a breeze as well. Because of these reasons, we'd recommend this to just about any Gladiator driver who wants to go with a soft cover.
oEdRo Soft Tri-fold Truck Bed Tonneau Cover Compatible with 2020-2021 Jeep Gladiator, Fleetside 5 Feet Bed
---
8. MOSTPLUS Tri-Fold Hard Truck Bed Tonneau Cover
With our next selection, we have yet another useful hard cover to share with you. It is for 2020 Jeep Gladiator models without the utility track system, though you may also be able to install it on the 2021 edition of the vehicle. You'll have to room any bed side rails or cargo racks that may be installed as well. While all this may seem like a hassle, you will be able to get a great hard cover at a very appealing price. That is the real strength of this item compared to many of the others available. If you're okay with some extra work, or your Gladiator doesn't have these restrictions, feel free to pick this cover up today!
MOSTPLUS Tri-Fold Hard Truck Bed Tonneau Cover On Top Compatible for 2020 Jeep Gladiator 5 FT
---
9. Rough Country Low Profile Hard Folding Tonneau Cover
One popular manufacturer that hasn't yet made an appearance on our list is Rough Country. This cover is one of the best choices to protect a Gladiator bed. It's made from aircraft-grade aluminum, designed to withstand natural elements as well as falling branches, heavy accumulating snow and more. Additionally, the protective coating will ensure the cover stays looking great for years. The cover is easy to use, and won't be too difficult to install at home. It even comes with a lifetime warranty backed up by Rough Country, and was designed and built right here in the USA. This cover is around the middle of the price range for these accessories, and should come under consideration for anyone who is serious about protecting their Jeep bed.
Rough Country Low Profile Tonneau Cover for 2020-2022 Jeep Gladiator | 5′ – 47620500
---
10. BAK BAKFlip MX4 Hard Folding Truck Bed Tonneau Cover
Finally, we have one more good choice to think about to cover your Gladiator bed. BAK is another leader when it comes to tonneau covers, and you can rely on this item to secure your Jeep Gladiator bed and protect it from a wide range of damage. The cover can support as much as 400 lbs. over your bed, ensuring you won't have to worry about it collapsing under any normal circumstances. Additionally, it looks great on the Gladiator, helping maintain the Jeep style while also protecting your cargo and vehicle quality. If you have the extra room in your budget, you'll be happy you went with this cover to keep your Jeep in good shape.
BAK BAKFlip MX4 Hard Folding Tonneau Cover | 448701 | Fits 2020 – 2023 Jeep Gladiator 5′ Bed (60.3″)
---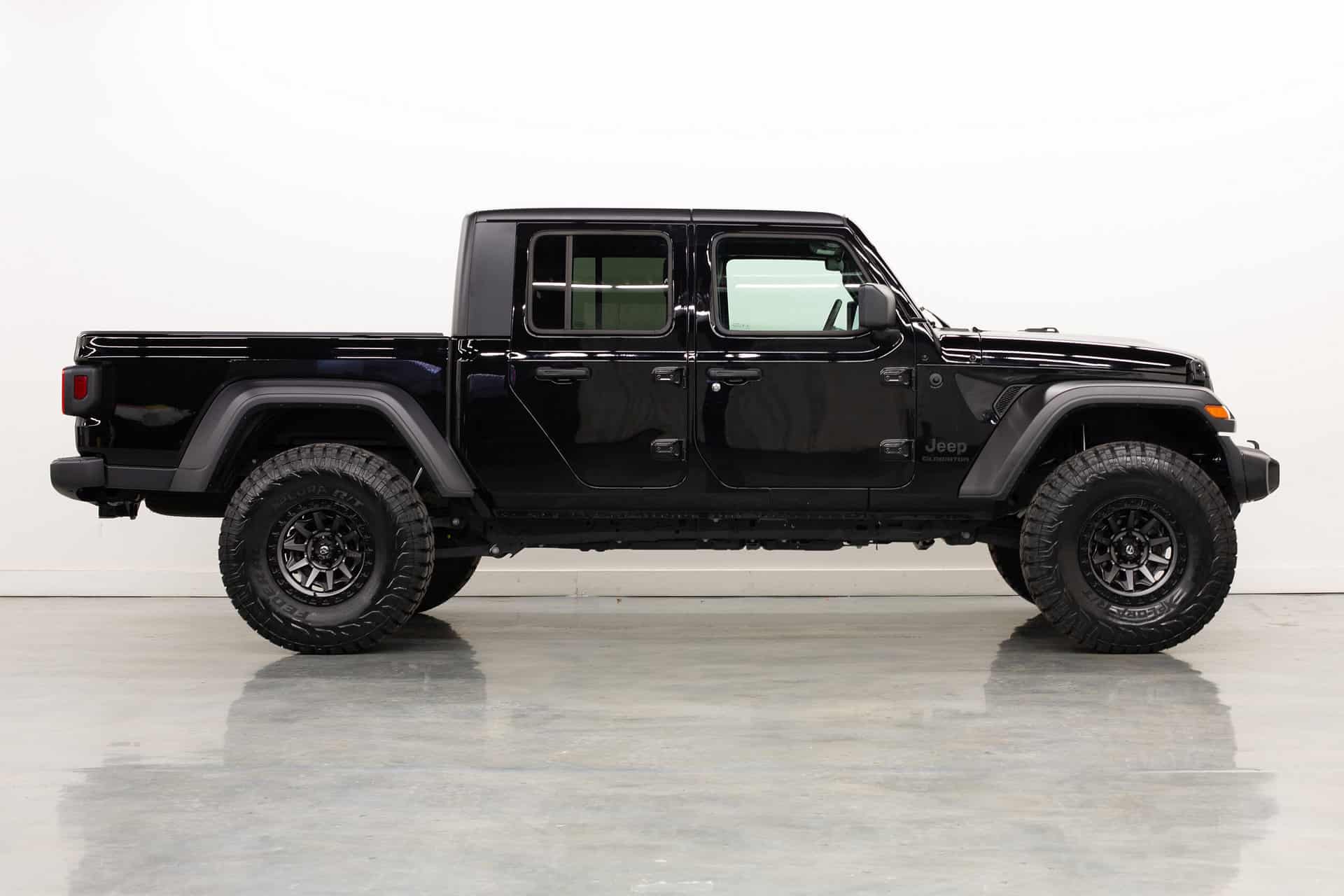 Best Tonneau Covers for Gladiator Trucks

Buying Guide
The Jeep Gladiator is a much newer vehicle than most other models out there. Because of that, there may be fewer truck bed covers available. However, you shouldn't have too much trouble finding an option that fits, because the Gladiator has proven to be quite popular. Additionally, more and more options to protect your bed are being released as the months and years go by. In our list, we included our personal favorite options to cover your Gladiator bed. In the following sections, we'll tell you what factors to look out for to determine if a Jeep bed cover is right for you. Additionally, you'll learn about the differences between hard and soft covers, and why having a bed cover is important in the first place. Finally, we'll leave you off with some more information on what we do at Ultimate Rides.
Factors of Focus: Shopping for a Truck Bed Cover
When looking for the best Jeep Gladiator bed cover, you first have to determine what your budget is, and whether you want a soft or hard cover. Hard covers are always more expensive than soft covers, but in turn they offer better protection for your vehicle and cargo. However, soft covers are easier to get on and off, and can be great for the summer and those who live in favorable climates.
Once you figure out what kind of cover you want for your Jeep, it's time to start looking for a quality product. After all, who doesn't want to get the most bang for their buck? What you want out of a bed cover is something that can hold up to the elements. Ideally you want something that locks as well to keep the contents of your truck bed secure. If you're often taking things in and out of the truck bed, you'll need a cover you can remove conveniently. Finally, you want a high-quality product that's going to last you a long time. Keep all these factors in mind as you shop around! The items on our list should encompass all or most of these ideas as well.
Benefits of a Top Bed Cover for Your Jeep Gladiator
One of the first accessories we would recommend for a Jeep Gladiator is a tonneau cover. While the rest of the truck's exterior is well-protected from damage, the truck bed can be vulnerable to the elements and more. With a bed cover, you'll ensure that your truck maintains as much value as possible. Additionally, the right kind of cover can help you protect whatever items you store in your truck bed. A hard cover with a lock is all you need to keep your cargo safe. Additionally, a truck bed cover can even help you save money on gas. Without wind dragging in your truck bed, your vehicle will be more fuel efficient. There are many reasons to think about buying a cover, especially if you don't have a garage that you can store your Jeep in at night. Spend some time shopping around to find a cover that fits your truck and you'll be all set!
Visit Ultimate Rides for Custom Gladiator Trucks and More
The next time you're looking for a vehicle to buy, or want to customize your own vehicle, we hope you'll check out Ultimate Rides. We're a custom auto dealer located in the Chicago area. However, we ship our trucks, SUVs and cars all throughout the United States and beyond. We especially love Jeep SUVs and trucks, so make sure to take a look at our inventory the next time you're looking to buy. We might even have a custom Gladiator ready and waiting for you, with some protection for your bed pre-installed. Our vehicles are rust-free and feature high-quality modifications from our very own lift center. To learn more, give us a call today at 815-634-3900. If you ever find yourself in the Chicago area and want to visit, you'll find our office at 38 W. Division St., Coal City, IL 60416.
---
Two Brothers With a Dream

,

Building The Best Ultimate Rides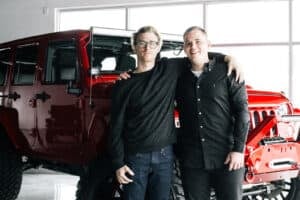 Ultimate Rides consists of two brothers who have been buying and selling custom vehicles for over ten years. Selling lifted trucks by day and writing these awesome reviews by night! They started their Ultimate Rides journey with a third brother Jake, who was a big part of building the business they have today. In 2016 Jake passed away and losing their brother was the hardest thing they ever had to deal with. Even though they had a tragic loss they plan to continue to set a new trend for the auto industry, keeping customers number one. Pushing the envelope on the lifted truck market, these guys love researching and learning about everything in the auto industry!
 — Nick and Alex Bulanda, Founders of Ultimate Rides