Jeep Grand Cherokee Suspension Upgrade Kits (Review & Buying Guide)
Choosing a Jeep Grand Cherokee

Suspension Upgrade
If you are the owner of a Jeep Grand Cherokee but have not installed a lift kit, your vehicle is not at its full potential. Lifted suspension is an asset for any Jeep, giving you stronger performance and a great new look. However, it's usually not as easy as searching for a lift kit and picking out the first option that catches your eye. Lift kit compatibility can get a little confusing, and it can be even harder to determine quality. That's where we come in!
We are experts when it comes to lift kits. As you will see from browsing our inventory, our team upgrades many of the vehicles that come through our doors. Additionally, our service center is open to the public, offering lift kit installation and much more. That means we know our stuff. Below you'll find a list featuring a few of our favorite Jeep Grand Cherokee lift kit suspension upgrade kits. Read through our list and pay close attention especially to vehicle compatibility and the height of the kit. That should help you find the right option for your Jeep.
After our list, you'll find a buying guide. There we provide you with even more details on choosing the best kit, as well as installation and more. Stick around and be sure to give Ultimate Rides a call if you have any questions or want to learn about professional installation!
---
1. Rough Country 2.5″ Lift Kit 60300 (ASIN – B07KFMP15W)
Compatibility: 2011-2020 Jeep Grand Cherokee WK2
The first Jeep Grand Cherokee suspension upgrade we'd like to share with you is from Rough Country, who you'll see pop up a couple of times on this list. They're one of our favorite lift kit manufacturers for a few reasons. First, their lift kits come with a lifetime warranty, reassuring their customers of the quality of their parts. Additionally, Rough Country kits can be bought on a budget but still serve you very well on any vehicle. This kit is for the previous generation of Cherokee models, from 2011 through 2020. It'll raise up your vehicle by 2.5 inches, allowing you to install a set of new tires and wheels, and head off-road without trouble. Thought installation can be a pain, you should find that the results are worth all that effort (or money in the case of professional installation).
Rough Country 2.5″ Lift Kit (fits) 2011-2020 Jeep Grand Cherokee WK2 | Suspension System | 60300
---
2. ReadyLift 69-6420 SST Leveling Lift Kit 2″ Front 1″ Rear (ASIN – B084H7SVK3)
Compatibility: 2014-2021 Jeep Grand Cherokee 4WD
The next kit we have to recommend comes from another popular manufacturer, ReadyLift. However, be aware that it only fits on 4WD models of the Grand Cherokee from 2014 through 2021. It utilizes smart suspension technology to offer an excellent quality ride for your SUV, with basic but high-quality parts. The spacers here are very durable, and you shouldn't have to worry at all about them failing on you over time like some other cheaper lift kits. This kit is fairly straightforward to install, though it can still be a hassle for those who aren't experienced mechanics. As always, you'll want to get a steering alignment performed on your vehicle after installing this lift kit.
ReadyLift 69-6420 SST Lift Kit 2 in. Front/1 in. Rear Lift SST Lift Kit
---
3. Rough Country 3.5″ Lift Kit 6CYL with N3 Shocks (ASIN – B00C0W8WAQ)
Compatibility: 1993-1998 Jeep Grand Cherokee ZJ 4WD
With the next option we'd like to share, we're throwing it back to the very first generation of Grand Cherokee models. When taken care of, these SUVs can last a very long time, and it's not out of the question for someone to have one from the 90's that still runs. If you'd like to upgrade your retro Jeep Grand Cherokee, this kit from Rough Country is a fantastic choice. It will raise up your vehicle by 3.5 inches, and comes with a set of N3 shocks to complement your new suspension. The set includes Rough Country's lifetime warranty, ensuring you get everything that is promised without an issue. There's no denying this is an excellent Jeep Grand Cherokee suspension upgrade.
Rough Country 3.5″ Lift Kit (fits) 1993-1998 Jeep Grand Cherokee ZJ 4WD | 6CYL | N3 Shocks | Suspension System | 636.20
---
4. Supreme Suspensions 3.5″ Front 2″ Rear Leveling Lift Kit (ASIN – B07LG8LML8)
Compatibility: 2005-2010 Jeep Grand Cherokee WK
Supreme Suspensions is yet another popular choice among lift enthusiasts, at least among cheaper kits. You can always count on their products to be made using high-quality parts despite their relative affordability. This kit fits on both 2WD and 4WD models of the Jeep Grand Cherokee from 2005 through 2010. If you have a disparity between the height of your front and rear end, this kit will help you take care of that. Just be sure to measure out both sides of the vehicle to find the difference and see if this is a good fit. As long as it is, you can count on this kit to upgrade your Jeep.
Supreme Suspensions – Full Lift Kit for Jeep Commander XK & Grand Cherokee WK 3.5″ Front Fork Clevis + 2″ Rear Spring Spacers High-Strength Steel Lift Kit
---
5. Freedom OffRoad 2″ Front 1.5″ Rear Leveling Lift Kit (ASIN – B08834L6LP)
Compatibility: 2005-2010 Jeep Grand Cherokee WK
Here we have another leveling lift kit for you to consider, available again for the Grand Cherokee WK generation. It's a more modest two-inch front and 1.5-inch rear lift, so it's great for those with only a small difference between the front and rear. Still, you'll be able to feel a difference in your SUV with this kit installed. It features a lifetime warranty, and is made from carbon steel, providing you with quality parts at a great price. That's why we recommend this as a Jeep Grand Cherokee suspension upgrade.
Freedom OffRoad 2.0" Lift Leveling Kit 2005-2010 Grand Cherokee WK Commander XK Front + Rear
---
6. Supreme Suspensions 2″ Front and Rear Lift Kit (ASIN – B00VN5ADW6)
Compatibility: 1999-2004 Jeep Grand Cherokee WJ
Finally, we have one more Supreme Suspensions kit to share with you. It's for the Jeep Grand Cherokee WJ, which was the generation from 1999 through 2004. It'll provide two inches of lift in both the front and rear, and it does it well. Plus, you'll find that this lift kit is available at a really attractive price, and you won't have to sacrifice quality. Definitely consider this if you're looking for a modest raise in the height of your Jeep!
Supreme Suspensions – Full Lift Kit for 1999-2004 Grand Cherokee WJ 2″ Front + 2″ Rear Suspension Lift High-Density Delrin Spring Spacers 2WD 4WD (Black)
---
Jeep Grand Cherokee Suspension Upgrade

Buying Guide
We hope that our guide was able to offer you a lift kit that suits your ride. If not, you can use our buying guide to help you find an option that works. Below you'll learn about the most important factors to consider while shopping for a Jeep Grand Cherokee suspension upgrade. We'll also provide some more information on lift kit installation, as well as what else you can find at Ultimate Rides!
Factors of Focus
The most important thing for you to pay attention to as you shop for a lift kit is compatibility. It's important to make sure the kit you're buying will fit on your vehicle. That means you'll have to look out for model year, 2WD/4WD configuration, and sometimes other features. Amazon has a useful tool that allows you to input your vehicle info and it should tell you whether a given kit will fit.
Additionally, you are going to want to consider what height you want. Sometimes it'll be the same between the front and rear, while other times you may want to consider a leveling lift kit to even out your suspension. Once you've determined this, it'll narrow down your options quite a bit.
Lastly, pay attention to the quality of a given product. The material that the parts are made out of can often be a good indicator of quality, but not always. Read through customer reviews to see what other buyers have to say!
Installing a Lift Kit
Getting one of these kits installed on a vehicle can be a real chore, especially if you're not highly experienced with the process. We always recommend considering professional installation for lift kits, most importantly for safety reasons. If you are committed to installing your kit at home, make sure to watch tutorial videos, ensure that you have the right tools and equipment, and set aside plenty of time to get it done.
Final Thoughts
If you are in the Chicago area, you can count on Ultimate Rides to help out with proper installation. Our prices are fair, and we have an incredibly talented team of technicians ready and waiting to help. We also sell vehicles that come pre-installed with lift kits and other modifications. Plus, we deliver anywhere across the country, so everyone can have access to our inventory. Give us a call at 815-634-3900, or stop by our office at 38 W. Division St., Coal City, IL 60416 to learn more!
---
Two Brothers With a Dream

,

Building The Best Ultimate Rides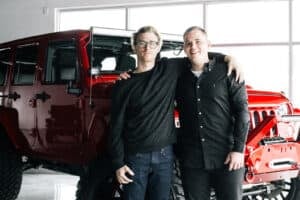 Ultimate Rides consists of two brothers who have been buying and selling custom vehicles for over ten years. Selling lifted trucks by day and writing these awesome reviews by night! They started their Ultimate Rides journey with a third brother Jake, who was a big part of building the business they have today. In 2016 Jake passed away and losing their brother was the hardest thing they ever had to deal with. Even though they had a tragic loss they plan to continue to set a new trend for the auto industry, keeping customers number one. Pushing the envelope on the lifted truck market, these guys love researching and learning about everything in the auto industry!
 — Nick and Alex Bulanda, Founders of Ultimate Rides